Bang and Olufsen have a strong reputation, so even those who do not know much about speakers know that it is a good brand to buy from. In 2016 it launched its most affordable Bluetooth speaker, the Beosound A1, and now we've reached the second generation of the same speaker. At a glance, you'd think you'd have the same portable loudspeaker as before, with just a few small visual changes, but under the bonnet, some significant improvements make this an attractive package for most. This is our Bang and Olufsen Beosound A1 Review.
Bang and Olufsen Beosound A1 Review: Design
$226.59
$250.00
in stock
1 new from $226.59
3 used from $186.45
Amazon.com
Free shipping
Last updated on January 15, 2021 1:41 pm
B&O usually does an excellent job of designing attractive loudspeakers, and that is certainly the case here. With a metal housing, the B&O Beosound A1 is a round disc of a device that is slightly slimmer and lighter than its predecessor of the first generation. On one side is a leather carrying strap attached with a Bang and Olufsen decorated toggle for adjustment. It makes it easy to grab and hook onto things for safety while driving.
It all looks stylish, which means we don't like to tear or damage it accidentally. Although the B&O Beosound A1 by the IP67 certified waterproofing is suitable for outdoor use, we are not convinced that we would want to risk a muddy walk. This is a waterproof loudspeaker to leave by the pool instead of going somewhere off the beaten track. All controls are located around the outside of the Bluetooth speaker.
There are buttons for Bluetooth, power, microphone, as well as volume, along with a USB-C charging port. Annoyingly, the buttons are not raised or felt in any way.
Bang and Olufsen Beosound A1 Review: Performance
The updated B&O Beosound A1 has a 3.5-inch woofer and a 0.6-inch tweeter and is powered by two 30W Class D amplifiers. Besides, the grille has a slightly different hole pattern than its predecessor. OK, so we are not sure if that makes a big difference to the sound, but the rest of the specs predict well for a strong audio performance. It now also supports Qualcomm's aptX Adaptive codec, although you should keep in mind that your smartphone might not.
Bang & Olufsen suggests the speaker for small social gatherings, offices, or medium-sized rooms, and that sounds about right to us. The soundstage is impressive in a relatively small space and gives the feeling of 360 degrees of music. However, go outside or to a much larger room, and you will realize that size does matter – or at least you will wish you had two. Back to the living room and the Beosound A1 sounds perfect.
It is consistently crispy. We enjoy our favorite songs as if we were playing them for the first time. Songs like The Weeknd's Blinding Light sound exciting, spicy and energetic, with the feel of Childish Gambino's Feels Like Summer that looks smooth and detailed. This trend continued with older hits like The Beach Boys' God Only Knows, where each instrument sounded distinctive and sharp. Simply put, everything sounded without grain or hardness, with a robust and powerful performance.
The soundstage might feel a bit wider, but you notice that in a big room. In the bathroom, bedroom, or a medium-sized living room, the B&O Beosound A1 easily attracts attention. We can only imagine that pairing with a second stereo sound device would very well counteract these problems with the sound image. It is always a satisfying feeling as if you are rediscovering music with a new speaker, and the Beosound A1 has that feeling of enjoyment.
Battery life and Connectivity
The Band and Olufsen Beosound A1 supports Bluetooth 5.1, which is a welcome step, thanks to further pairing distances, which are quite handy if you have ample space or outdoor area to use it in. Bluetooth 5.1 also improves battery life, with B&O claiming 18 hours of playback at a "typical" volume, with even more options at lower volumes. In our tests, we found this to be about right, although the number of miles certainly varies if you increase the sound to very high levels.
But, that's not bad at all, and it also charges quickly, thanks to USB-C connectivity. Don't expect anything more complicated than the USB-C port. For example, there is no room for a 3.5 mm AUX-in port. That keeps the Beosound A1 sleek and minimalist, but you may want an extra option for connectivity, especially if you prefer the stability of wired playback.
Bang and Olufsen Beosound A1 Review: App
Perhaps the most defining feature here is the Alexa mentioned above support, even though the Beosound A1 is a Bluetooth-connected speaker only. B&O states that it is a world-first for a Bluetooth speaker to offer Alexa without Wi-Fi support. Of course, it still depends on Wi-Fi (instead of magic, we assume), but that comes from the smartphone you connected to the speaker. It's simple enough to set it up, but it's flawed.
Besides the obvious drawbacks to having to keep the speaker within range of the phone (although Bluetooth 5.1 helps there), it's a bit slower than a direct response. We also found that despite the three-microphone array, the B&O Beosound A1 does not always respond the most to the 'Alexa' wake word. This is not a loudspeaker to buy when Alexa support is vital, but it's a neat bonus, and it means it can be doubled as a smart loudspeaker you can use to control your smart home appliances.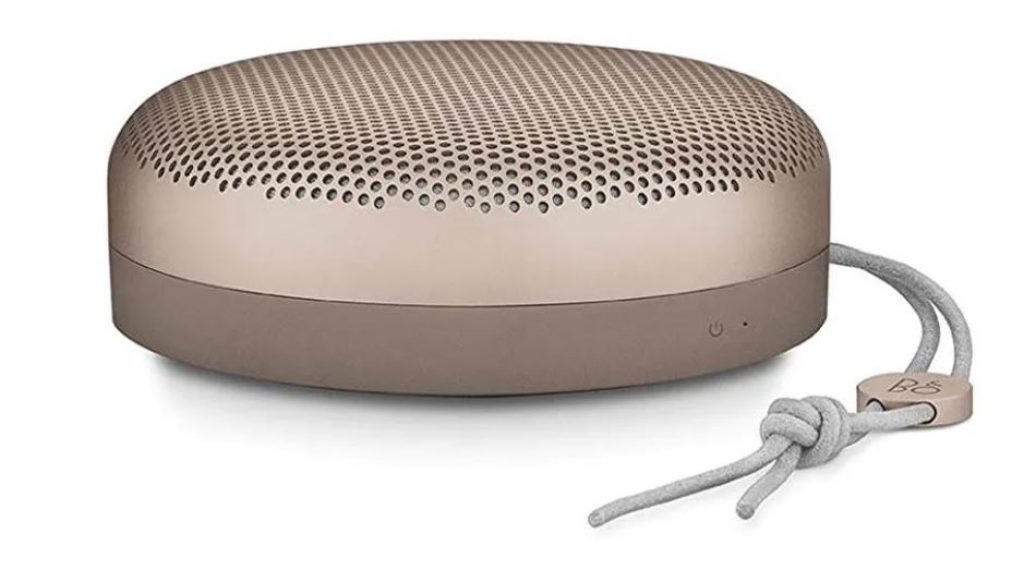 The B&O Beosound A1 is entirely compatible with the B&O app. You can adjust the volume, enable or disable Alexa's support and tweak listening modes via an equalizer. This means that even if you don't technically mind, you can immediately notice the difference between presets such as Ambient, Party, and Speaker. It is also possible to adjust them to get the sound exactly the way you want it. There is also the possibility to pair two A1 speakers for stereo sound, although unfortunately, you can't do this with an older first-generation device.
Price and Availability
The B&O Beosound A1 was launched on 14 May 2020 and had a recommended retail price of $250/ £200. That amounts to about AU$360, although we are still waiting for the official Australian prices. Don't expect any discounts yet as it is a brand new device. Be careful to watch out whether you're buying a first or second-generation device, as there are significant discounts for the first one now, but you'll miss out on some essential features.
There are two colors available – Black Anthracite and Grey Fog. Both look pretty stylish and the kind of things you could easily place in your living room.
Bang and Olufsen Beosound A1 Review: Conclusion
If you're looking for one of the best portable Bluetooth speakers – and can forgive the lack of AirPlay, Wi-Fi, and a 3.5mm port – then the Bang and Olufsen Beosound A1 2nd Gen is second to none. With the added Alexa voice control and waterproofing, it's superior to the already excellent original. For many, the main issue will be the asking price of the Beosound A1 2nd Gen. No, this is not a cheap speaker.
But, yes, it is a high-quality loudspeaker that delivers a massive sound from a beautifully crafted package. It may be small, but the Beosound A1 2nd Gen has a large punch making it worth every penny.
For more options, check out our list of Best Bluetooth Speakers
Our Verdict
Visually almost imperceptible from the original A1, the Bang & Olufsen Beosound A1 (2nd generation) is an attractive and highly portable Bluetooth speaker. It somehow lacks Alexa support, despite being exclusively a Bluetooth speaker. It's not perfect, but for those who want both style and content, there's a lot to love.
PROS
Crisp sound quality
Lightweight design
Waterproof
CONS
Not rugged enough for outdoor use
Buttons are tricky to find