There comes a point in everyone's life that they are in a situation where they need someone to talk about their problems. There are many benefits of talking about someone's problems instead of keeping them bottled. Much has been written about the benefits of counseling. Counseling can help you address problems that worry you, help you understand yourself and help you reach your goals. And many people find it useful to talk to an objective person who has training and experience in the problems people often struggle with.
When it comes to therapy treatment, you want what is best for your child and for your family. While you do your research and make treatment plans, you will find that the available options can become overwhelming very quickly. Via online therapy, we treat parents, families, children, and teenagers with ADHD/ADD, child fear, autism spectrum disorders, mood disorders, behavior, and oppositional defiant disorders, depression in children and sleep disorders in children.
When Online Therapy is Appropriate?
Online counseling is suitable for many issues such as anxiety, depression and relationship problems. And it is convenient. For many, planning and logistics are important factors in keeping office-based agreements. Over the past few years, an increasing number of individuals have sought online therapy. With online therapy, the client and therapist meet each other online for text, telephone or video chat at an appropriate time. It is comparable to the traditional face to face therapy but offers more flexibility. Many online therapy sites offer extended payment plans with unlimited sessions and e-mails. These are particularly useful for people who experience an emotional crisis, stress or anxiety.
Online Therapy Opens Doors for Healing
Sometimes, when individuals undergo an important change in life, such as a new job, job loss, divorce or the death of a loved one, the simple task of composing an email with a therapist can have a huge positive effect. The e-mail becomes a symbol of action and thus helps to relieve feelings of helplessness. When the therapist answers, he or she has had time to review the e-mail, assess the content, compare it with previous e-mails and possibly conduct research on a topic. A clear advantage of online therapy is the convenience. It is not necessary to spend the time during the day to go to an appointment at the office, and that means more time and energy for the individual to concentrate on himself and the matter.
Benefits Of Online Therapy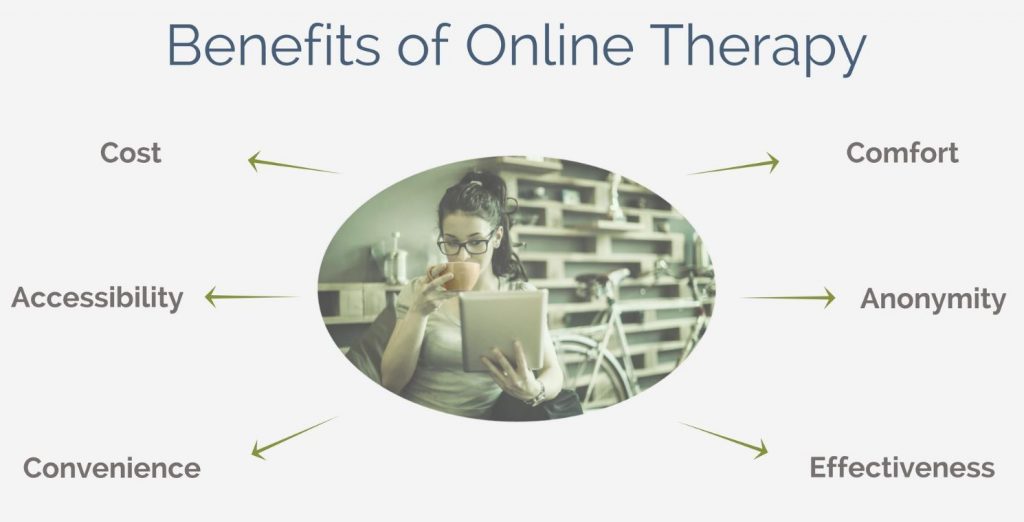 More contact with a therapist
The first is that you or your child will have more contact with your therapist more often. Traditional therapy often happens once a week, but online therapy can provide you with the opportunity for more support and consistent contact with a therapist through texting or online chatting. This can be beneficial for those who need frequent care in their treatment plan.
More ways to communicate
Talking may not be enough for you or your child to fully express themselves during their therapy session. With online therapy, you have the opportunity not only to express yourself through live video sessions but also to blog, text and/or chat online and to send documents or images. Having more ways to communicate with your therapist can help increase overall engagement and successful results.
Get the therapy sooner than later
Traditional therapy can take a while – by the time you make schedules, compensate driving time and actually enter sessions. Online therapy often starts within 24 hours of signing up for a program. In addition, your online counseling provider uses all types of therapists who specialize in certain areas and can quickly match your needs with the right healthcare provider. Depending on your physical location, you may not always have access to a professional who meets your needs.
More comfortable
In addition to ease of access to counseling just about anywhere and anytime – online therapy is a great option for children who are stressed or scared of new environments and new people. Your child can feel less stress and pressure and can be more comfortable in his familiar environment and choose how he/she communicates with the counselor.
Anonymity
Unlike traditional therapy to go public, online treatment offers you and your child anonymity. For some children, their biggest fear is that they walk into the child psychologist office or run the risk of running into a classmate. By participating in online counseling in the privacy of your home, children can feel more open and cooperative towards the therapy.
Accessible
Finally, online therapy has given more people access to therapy treatments that would otherwise not have these options. Because of the convenience and lower costs, many rural and remote families now have the opportunity to participate in a useful treatment. Moreover, online therapy can be a great solution for families who have difficulty leaving their home with their child.
Conclusion
With most mental health problems or psychological problems, it can be of great help to have someone with whom you can talk and handle problems. Knowing that someone is an e-mail, the individual can help to put things in perspective and because the sessions usually take place via e-mail and chat, customers have the opportunity to re-read e-mails from previous sessions and process information before going to the next one.