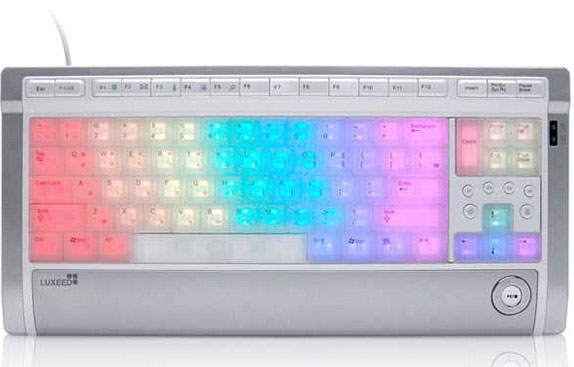 Update - 2018.08.03
Best Keyboard – If you're looking for a new keyboard, you've more options than ever before. That's a good thing, except that it's hard to hold down the best of one for your specific needs. We've probably looked at several keyboards before we came up with these final 10. So check out our list of the Top 9 best keyboard below and leave comments if you like it!
Best Keyboard – List
1. Logitech diNovo Edge
FOR BUY
Choose the winner was quite easy – and a few of my gadget friends picked the same winner. The combination of glossy black Plexi brushed aluminum and the cool lighting effects make it a stunning keyboard.
2. Apple Wireless keyboard
FOR BUY
Apple's wireless keyboard introduced in 2003 is a true beauty. It uses Bluetooth to transfer data and the keyboard highlight 16 function keys, full numeric keypad, inverted-T, audio control and the capability to eject optical media.
3. Microsoft Sculpt Ergonomic Keyboard
FOR BUY
The Microsoft's Sculpt series of keyboards has long been a favorite of ergonomic fans. The modern desktop set includes a unique split design that lifts and turn your hands to a more suitable position, and the large pad keeps your wrist comfy. The number pad is separate and wireless, allowing for placement on the left or right side.
4. Wireless entertainment desktop 8000
FOR BUY
This photo does not give the Microsoft's Wireless entertainment desktop 8000 the credibility it deserves. It's, in fact, a really good looking keyboard. The best thing with the keyboard is the fact that it's completely backlit and the comfort curve makes it feel very relaxing and easy to use.
5. Luxiium Luxeed keyboard
FOR BUY
The Luxiium Luxeed built-in LED lights in every single key. The key can be enter to display any of the available 512 colors that makes it possible to do program some really cool night effects. This keyboard is also available in a white model with transparent keys.
6. CM NovaTouch KL
FOR BUY
Mechanical keyboards aren't only for gamers. The extra travel in the switches is often preferred by those who need to type for hours at a time for work. The Cooler Master has adjusted its Storm designs specifically for typists, and the result's the NovaTouch TKL. Custom Hybrid Capacitive switches, integrated media controls, a ten keyless design, O-rings for sound dampening, and a movable USB cord for easy wire routing are the some of the premium features in the design.
7. Microsoft Sculpt Comfort Keyboard
FOR BUY
This is built for comfort, with formed keys and a special pad to hold your wrist and limit injury. Together, the shape keeps your hands in an ergonomic position while you're sat – it is not impressive, but it will keep you healthy in the long term.
8. Optimus keyboard
FOR BUY
Optimus keyboard is probably the most talked-about keyboard so far. It is one of the most digged stories always (currently one of the Optimus stories has 12 888 Diggs), and the release date has been pushed ahead a couple of times. The keyboard isn't out yet, and the last thing I heard was that the keys weren't going to be in color – black and white only.
9. Logitech K310 Washable Keyboard
FOR BUY
This is waterproof, strong and ready for a great scrub; perfect for any workspace that might get dirty – or for anybody prone to desktop spillages. It's not as beautiful or as comfortable as others, but it's durable and tough.
So above is all about Top 9 best Keyboard. Hope you like it so please don't forget to share this post with others.