The evolution of laptops has been driven by the drive towards thinner, lighter and more energy-efficient projects, but in recent years these requests have come together in what could be the perfect expression of laptop design,"The Ultrabook". What exactly determines this category? In general, best ultrabooks weighs 3 pounds or less, have 14-inch or smaller screens, use more powerful Intel Atom processors and offer enough battery life to survive for almost the entire day at work.
Best Utrabooks
Laptop Name
Laptop Type
Laptop Rating
Apple MacBook Pro 13
Best MacBook
9.5 out of 10
Dell XPS 13
Best Windows 10
9.4 out of 10
Asus ZenBook 13
Best Overall
9.3 out of 10
HP Spectre 13t
Best Looks
9.3 out of 10
Lenovo Yoga 920
Best 2-in-1
9.2 out of 10
Microsoft Surface Book 2
Best Detachable
9.2 out of 10
Acer Swift 7
Slimmest
9.1 out of 10
HP Spectre x360
Thin 2-in-1
9.1 out of 10
Apple MacBook Air 13
Budget MacBook
9.0 out of 10
Razer Blade Stealth
For Gaming
8.9 out of 10
These systems are faster than ever, are suitable for travel and come with a variety of features and display resolutions large enough to meet everyone's needs. You may have seen laptops of this breed called ultrabooks or stream books, but these are primarily attempting to attribute a brand to the same ultra-portable base model. The design always returns to the same essential elements: thin, light and long-lasting.
Things To Remember Before Buying An Ultrabook
Although all ultra-portable laptops may look elegant, there are some key differentiating factors among the models. The first to consider is the price. There is a massive difference between a system that costs $ 300 and one that costs $ 1,300, even if they have the same brand and similar appearance and characteristics. At the lowest level, there are entry-level systems, which usually run $500 or less (sometimes less than $200). For casual users, this is the only price range that is worth watching, but there are some warnings to keep in mind.
Midrange systems are better, but they cost even more, ranging from around $ 500 to $ 1,250. The materials and specifications that were once exclusive to high-end ultraportable products are now the norms in midrange systems, including features such as Full HD resolutions (1,920 x 1,080) or QHD (2,560 x 1,440), touch displays, chassis metallic and more. Battery life and storage space have also improved, making it easier to get better value for money in this price range. At the top of the price tag, there are premium systems, which we classify as something that costs $ 1,250 or more.
With these high-end systems, top-quality materials, cutting-edge components, and features are produced, along with excellent performance that will speed up photo editing and other productivity tasks. Here you'll also see 4K or 4K resolution displays, quality audio hardware (often from brands known as Bang & Olufsen), spacious and fast storage and other exciting features, all while the system's form factor remains slim and compact.
For consistent performance and pleasant user experience, you'll want to be demanding about your processor. Even in a less expensive system, the average processor is more capable than ever to handle routine tasks, but if you need power, select carefully. At the top of the lot are the Intel Core i5 and Core i7 processors, which can be found in midrange and premium models. Most of the ultraportable at this time uses Intel's eighth generation Core CPUs (codenamed Kaby Lake R), typically coupled with 8 GB of memory, although some premium systems boast up to 16 GB of RAM.
Apart from Intel's nearly ubiquitous CPUs, you'll see some less expensive systems with processors from other manufacturers, mainly AMD. While AMD chips support the same range as Intel chips, from web browsing to video/photo editing and gaming, they're not as familiar in ultraportable. If you are unsure of the model used in the system you are considering, take a look at our reviews (especially the results of our benchmark tests) to see how it will end up in real-world conditions.
Finally, in the low end, there are the Intel Atom and Celeron processors. These budget processors are both cost-effective and energy efficient, but experienced users may feel frustrated with slow performance, limited RAM allocations (up to 2 GB), and 32-bit rather than 64-bit software support. Surely you will feel a difference in the speed of performance, but you can probably do it if you are an occasional user.
Equally important is the graphics processor. Ultra-portable systems rely almost exclusively on integrated graphics, such as Intel's HD Graphics 620. This power level is usually sufficient for streaming media and perhaps for editing the odd photo, but not for a substantial game. If you want to do more with the multimedia and maybe some games, you will need a discrete graphics card, such as the Nvidia GeForce GTX 1070.
These cards require more power and cooling and, in general, are only seen in the bulkiest gaming laptops or on the desktop – repositioning notebooks. There are a growing number of exceptions that are both portable and ready for the game, however, like Razer Blade, but in general, the systems most suited to travel are not suitable for games. Do not expect integrated graphics to be enough to play much more than some less demanding games with lower detail settings.
Fast hardware is all right, but you also need a place to keep all your digital stuff. For most ultraportable products, this means a solid state drive (SSD). These compact flash-based storage devices are lighter and less prone to data loss from damage because they do not have moving parts, which is ideal for systems that travel a lot. Some SSDs use a connection standard called M.2, which is smaller than traditional SATA connections, and smaller connectors allow smaller designs, but both are repairable. Some (but not all) of these units connected to M.2 use a PCI Express (PCIe) connection for faster data transfer (and therefore faster overall performance).
As for a more visible portion of the laptop, the ultra-portable screen is available with a wide range of display options. These include an ever-widening range of resolutions, from standard high-definition (from 1,366 to 768) to full (1,920 to 1,080) and even Ultra HD or 4K (from 3,840 to 2,160). Low-resolution screens are more frequently found in entry-level systems simply because they are the least expensive alternatives. They work well for reading and typing text, and usually, YouTube is always set lower than Full HD, so less demanding users can get satisfactory results.
Full HD screens (often called 1080p) are intended for midrange systems and are still used in a lower number of high-quality ultraportable products. It's becoming quite standard that even some cheaper options now offer HD displays, far from where we were when technology debuted. These screens offer support for 1080p video and are better equipped for multitasking since you can insert more legible text and two windows side by side on a 13-inch screen. This is a sharp, true HD resolution, generally ideal for most everyday uses.
Ultra HD is currently the ideal solution for high-end ultraportables. Since 4K displays have a resolution four times higher than a Full HD display, you can adapt them a lot. The high number of pixels requires more power, however, and systems with 4K typically see a significant decrease in battery life compared to similar Full HD systems. There is also the question of content. Although 4K televisions and displays are becoming more common, there are not yet many places to stream 4K video (this is slowly improving on some streaming services), and 4K gaming is far more than most ultraportable ones can adequately support.
More and more ultraportables are released as what we call "convertible" or "2-in-1" hybrids. These "mash-ups" allow you to take advantage of both laptop and tablet functionality, thanks to hinges and swivel joints that allow you to fold the display you can use it without a keyboard, even if the systems do not split like the detachable hybrid slides. More and more manufacturers are adopting this project, including adding convertibility to new models of existing laptop lines.
With ultra-thin, light and powerful ultraportable now available than ever, there's something in the category that meets everyone's needs. Regardless of your brand, display or feature set preferences, you can choose from a wide range of form factors and prices. Below are 10 Best Ultrabooks we have tested. We often update the list to include the latest products, but due to a large number of laptops we review every year, not all products with the best ratings are cut.
Check out our Detailed list of Best Ultrabooks Of 2018.
Apple MacBook Pro 13
Winner: Apple MacBook Pro 13
The 13-inch 2018 MacBook Pro is very fast and the keyboard has improved, but the battery life could be better.
PROS
Blazing overall performance
Fastest SSD ever in a laptop
Quieter keyboard
Great True Tone Retina Display gets
Awesome speakers
CONS
Battery life could be better
No full-size USB port
Expensive
I'm happy to announce that the 13-inch 2018 MacBook Pro with Touch Bar has the severe increase in speed I've been waiting for. The eighth-generation Core i7 processor, 16 GB of RAM and 512 GB SSD in my setup is probably overkilling. But I do not care, because this thing is screaming fast. We're talking about the fastest SSD ever in a laptop, plus some other benchmark scores that shame some, even if not all, Windows machines. Overall, the 13-inch 2018 MacBook Pro is the best ultrabook, but battery life is not enough.
The 13-inch MacBook Pro has a design identical to its predecessor, which is both good and bad. On the positive side, the aluminum design still feels solid, and the Touch ID button makes it a breeze to access with just a touch of your fingers. The speakers still sound rich and full, without distortion at maximum volume. But as other notebook manufacturers have reduced their goods, Apple's car feels on the heavy side. And the frames around the display are thicker than I'd like, especially upwards.
On the surface, the 13-inch display (2560 x 1600 pixels) on the MacBook Pro 2018 does not look different, but with True Tone enabled, the screen is more comfortable on the eye. With its eighth-generation Core i7 processor, quad-core processor and 16GB of RAM, the 13-inch MacBook Pro also smoked the competition regarding multitasking. Regarding performance in the real world, I've never experienced spinning balls in my tests, even though I manipulated 21 tabs in Chrome while I was streaming Spotify in the background and I used the Stride messaging app on the side.
If you're looking for a full-size USB port or a microSD card slot, this is not the right laptop for you. Apple continues to offer four Thunderbolt 3 ports on the 13-inch MacBook Pro with Touch Bar. These ports provide exceptional throughput and allow you to connect up to two 4K monitors simultaneously. And, as Apple says, there are over 300 Thunderbolt 3 accessories on the market.
back to menu ↑
Dell XPS 13
Runner-up: Dell XPS 13
The Dell XPS 13 9370 offers high performance, long battery life and a stunning display in a frame that is thinner and more attractive than ever.
PROS
Attractive design
Vibrant screen
Strong performance
Good battery life overall
Remains cool
CONS
No USB Type-A Ports
Awkward webcam location
Dell XPS 13 has remained one of the best ultrabooks in recent years, thanks to its almost borderless display, its lightness, and elegant aesthetics. Now, after several generations of attacks with the same chassis, Dell's flagship premium has a new design with thinner dimensions and a beautiful combination of white and gold. In other improvements, the XPS 13 also offers an optional 4K panel, a better webcam, support for GPUs and a cooling system that promises stronger sustained performance.
If you line up the latest generations of the XPS 13, you will not be able to distinguish them, unless you look at the CPU sticker on the deck. However, the XPS 13 9370 is characterized by its new optional gold and white color scheme, along with a slightly thinner and lighter profile. Dell also sells the 9370 in the traditional silver-black aesthetic of XPS 13. The plot of the deck adds an air of sophistication and feels good against our wrists, though not as comfortable as the soft carbon fiber bridge -touch on the old XPS 13s and the silver model.
We tested the Dell XPS 13 9370 with a 3840 x 2160 touch screen (4K, Ultra HD) and a non-touch 1920 x 1080 display. Both models offered impressive brightness, color quality, and clarity, although the 4K screen was noticeably better. Also, the high-end model sported a Core i7-8550U CPU, 16 GB of RAM, a 1 TB SSD and a 4K touchscreen, while the mainstream model had a Core i5-8250U processor, 8 GB of RAM, an SSD from 256 GB and a 1080p non-touch screen. From web browsing to light games and writing parts of this review, both versions of the XPS 13 9370 ran everything we threw at them, without a hitch.
Unfortunately, when the XPS 13 was reduced to 0.46 inches, Dell had to abandon the standard USB Type A ports and the full-size SD card reader that appeared on all previous generations. On the left of the XPS 13, you will find two Thunderbolt 3 ports, which can charge your laptop or connect to high-speed peripherals. There is also a Noble lock slot and a battery indicator, which shows the charge level on a series of five white lights. On the right, you'll find a 3.5mm audio jack, a microSD card slot and a USB Type-C port, which can produce DisplayPort video.
back to menu ↑
Asus ZenBook 13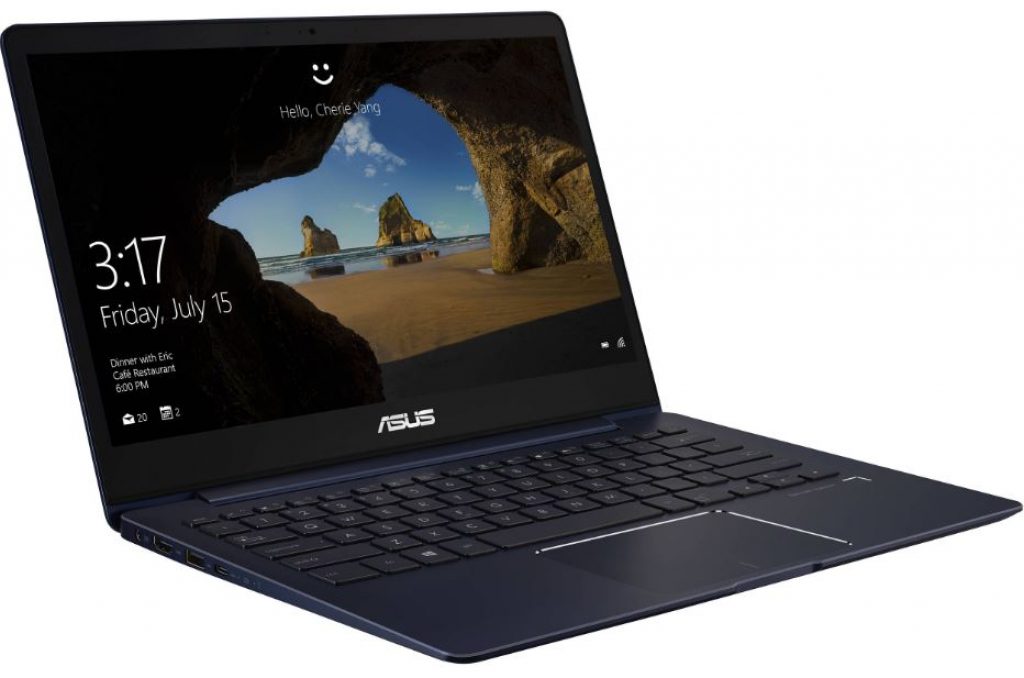 2nd Runner-up: Asus ZenBook 13
The Asus ZenBook 13 UX331UN is a beautiful blue laptop with excellent performance and long battery life. However, it could have used a faster SSD.
PROS
Beautiful design
Solid performance
Long battery life
Good display
The Asus ZenBook 13 is blue. Very blue Honestly, this is its distinguishing characteristic. It is a laptop with a solid performance from an eighth-generation Intel Core i5 CPU, 8 GB of RAM and a Nvidia GeForce MX150 GPU. What it will achieve, however, is its polished, cobalt frame that reflects light in the right way. It also lasts over 9 hours for a fee. Of course, its 256 GB SSD is not as fast as the NVD of the competition, and the webcam could be clearer. But when you look at how blue this thing is, you can fall in love with it.
The ZenBook is a dark blue, and while the lid retains the iconic Asus designs with its logo surrounded by concentric circles, they added something here. Now on top, there is a glossy layer that looks like plastic but offers a gloss similar to glass. Of course, it picks up fingerprints faster than the Boy Scouts collect merit badges, but the way the light shines is amazing.
The ZenBook screen is more than useful, with decent colors and lots of brightness. Despite the high scores, however, I hesitate to say that it is better than competing displays. The ZenBook 13 comes with an Intel Core i5-8250 CPU, 8 GB of RAM, a 256 GB SATA SSD and a Nvidia GeForce MX150 GPU. This is very much for multitasking; I've opened more than 25 cards in Google Chrome, including streaming of a The Daily Show 1080p clip with Trevor Noah on YouTube, without a hiccup.
With the laptop open, you'll find the 13.3-inch 1080p display with a pretty slim frame, dark blue aluminum frame, an island keyboard, and a fingerprint reader. On the left side of ZenBook, there is an HDMI output, a USB 3.0 port, and a Type-C port, plus space for a traditional charger. The right side houses a microSD card, a headphone jack, and another USB 3.0 port.
back to menu ↑
HP Spectre 13t
PROS:
Incredibly small
Thin and light design
Decent display
Punchy keyboard
CONS:
Average battery life
Relatively dim display
Bottom runs hot
HP Spectre 13 is undoubtedly the most well-designed piece of technology and the most beautiful ultrabook. It's smaller than ever, with a new white finish that makes the computer look like you buy it from Coach, not from Best Buy. But while you get ultra-fast performance from an eighth-generation Intel Core i7 CPU, the low battery life of HP Spectre 13 and the dim display will make you look elsewhere.
The Spectre 13, in its new white-ceramic color, looks extremely elegant. I feel like I have to wash my hands before touching it, or wear white gloves and make my best impression of Vanna White on it. (If you preferred it in the most utilitarian model of coal and coal last year, do not worry, it's still available.) The white paint surrounds the HP logo in gold, and the zipper of the laptop is a sanded matte gold. Unlike the ash-silver model, this hardly takes up fingerprints.
The 13.3-inch touchscreen display, 1080p on the Spectre 13 is colorful, but not as bright as the screens of its competitors. The Spectre 13 contains a 1.8 GHz Intel Core i7-8550U CPU, 8 GB of RAM and a 256 GB solid-state drive in a slim chassis. It is sufficient for moving to multitask; I opened 30 tabs in Chrome, including one streaming a Late Night 1080p episode with YouTube's Seth Meyers.
When you lift the lid up, you will find the touch-screen display surrounded on three sides by thin frames. The exception is the fund, which has a very thick shell. The Spectre is so thin; there is almost no room for doors. Instead, HP placed four on the back of the body: two Thunderbolt 3 ports, 1 USB Type-C port (for charging) and a microphone/headphone jack. HP has included a series of adapters in the package, so you can continue using the old devices and live your best #donglelife. They include adapters for Ethernet, USB 2.0 and HDMI.
back to menu ↑
Lenovo Yoga 920
PROS:
Long battery life
Bright, colorful display
Attractive design
Included stylus
If you're looking for a truly exceptional 2-in-1 experience with an epic battery, a colorful display, and a beautiful frame, you'll find it in Lenovo's Yoga 920. This 13.9-inch folding convertible features the sexy Lenovo strap Style-hinge, a thin bezel and a powerful eighth-generation Intel i7 CPU that offers much faster performance than its predecessor and older processor competitors. When you're not looking at its beautiful bronze body or vibrating screen, the included stylus makes it easy to use the Yoga 920 to write or draw.
The Yoga 920 is a sweet-looking 2-in-1, with its all-aluminum frame, slim sloping rails and an attractive strap-style zipper that lets you fold the lid in tablet, tent or stand mode. As for the Yoga 910, there is a skinny frame around the display, but fortunately, on the Yoga 920, the webcam is located above the screen, not below.
The 13.9-inch screen of the Yoga 920 is available in both Full-HD and 4K resolutions. The 1920 x 1080 panel on our review unit offered bright, crisp images. With the Intel 8th Gen Core i7-8550U CPU, 8GB of RAM and the fast 256GB NVMe-PCIe solid state drive, the Yoga 920 delivers dominant performance. This is the first laptop we have tested with an Intel i7 Core Intel i7 CPU, and comparing it with competitors with 7th Gen Core processors seems almost unfair.
The Yoga 920 has a decent combination of ports for such a subtle system. The left side contains two Thunderbolt 3 ports, which can be used for charging or connecting to peripherals and high-speed docks. The right side includes a USB 3.0 port for connection to traditional USB devices, as well as a 3.5mm headphone jack. There is also a single-touch fingerprint reader on the deck, so you can use Windows Hello to access the operating system with one press.
back to menu ↑
Microsoft Surface Book 2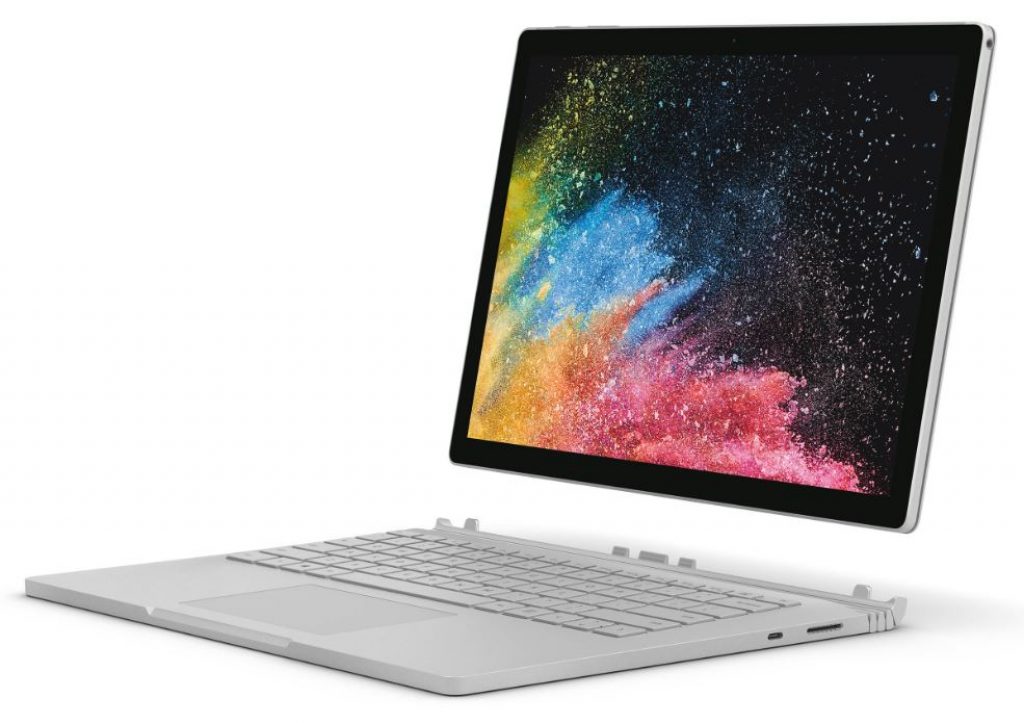 PROS:
Clean, innovative design
USB Type-C port
Brilliant display
Great stylus
Long battery life
CONS:
Expensive
No Thunderbolt 3
Slow SSD
The new Surface Book 2 continues this tradition, showing your work above all else, with a screen that comes off the keyboard to become a tablet. It has the same modern and innovative design as the latest version but with the option of an Intel 8th Gen and Nvidia GeForce GTX 1050 GPU. Imagine using a powerful enough device to edit videos in laptop mode and versatile enough to allow to draw or take notes in tablet mode.
You may not notice it by looking at it, but yes, this is a brand new laptop. From the outside, Surface Book 2 has not changed much from its previous iteration and maintained its biggest trick: unplug the keyboard to turn it into a tablet. It is still in gray magnesium with a reflective Windows logo printed on the lid. And, in the tradition of Surface Book, it does not close, preventing it from doing so with its pivotal fulcrum.
The Surface Book 2 display is still the best in its class. The 13.5 ", 3: 2, 3000 x 2000 display is crisp, bright and colorful, with an Intel Core i7-8650U CPU, 8 GB of RAM, a 256 GB SSD and a Nvidia GeForce GTX 1050 GPU with 2 GB of VRAM, Surface Book 2 offers a lot of power for multitasking. I opened 25 tabs in Chrome, including one streaming a 1080p clip from The Daily Show with Trevor Noah while I was also drawing in the Sketchpad of Windows Ink Workspace and I did not find any delay.
Surface Book 2 is a bit light on the doors compared to its competitors. On the left side, there are a couple of USB 3.1 ports and an SD-card slot, while the right has a USB Type-C port and a proprietary Surface Connect port. There is another Surface Connect port on the bottom of the tablet so that you can load it independently. The audio jack is on the right of the laptop, which is embarrassing because you'll have a bit of cable.
back to menu ↑
Acer Swift 7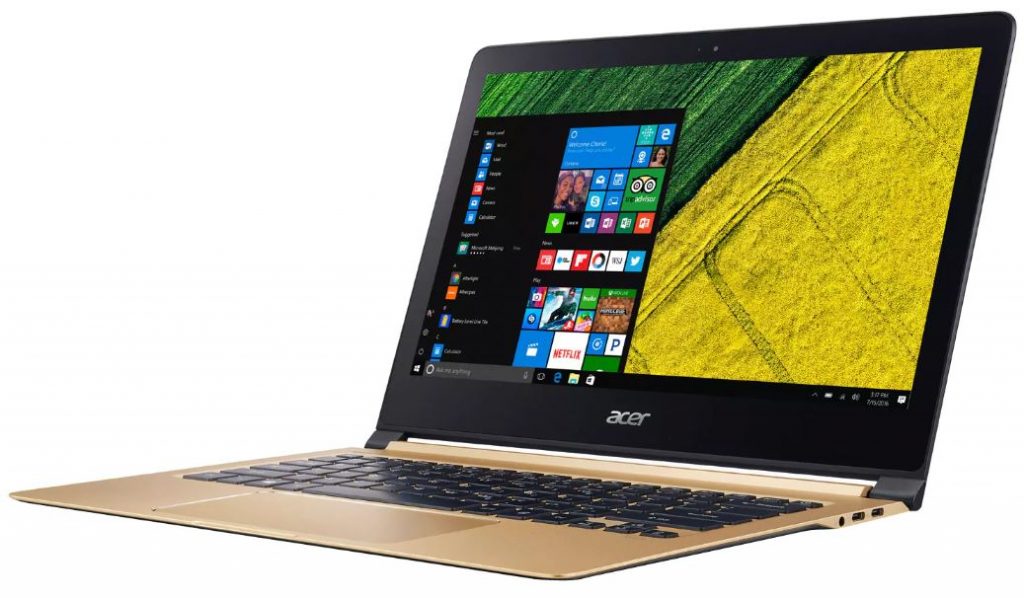 PROS:
Incredibly thin, attractive design
Bright, vivid display
Solid battery life
Comfortable keyboard
CONS:
Not as fast as other ultraportables
Quiet speakers
Acer's Swift 7 is the thinnest shell laptop in the world, with a thickness of just 0.35 inches. Somehow, Acer managed to mount a stunning 14-inch display; a comfortable full-size keyboard; and 4G LTE connectivity in that small frame. And despite having a thinner battery, the notebook has squeezed over 9 hours of battery life in our tests. But some trade-offs had to be made on the altar of elegance. For Swift 7, they are a pair of weak speakers and a 7th generation Intel Core processor that drags the fastest ultraportable.
The design of Swift 7 is a marvel. Made of black CNC aluminum, the handset is not only elegant but also surprisingly noticeable. I did not feel the innate desire to throw it away as I did with the Lenovo LaVie Z. Instead, I spent a considerable amount of time admiring the exterior, with its almost seamless structure. Thanks to its fanless body, the notebook is made of a single piece of metal, except for the rear hinges and the sparkling Acer chrome logo on the lid.
Bezels aside, the 14-inch IPS 1920 x 1080 screen of Swift 7 is bright and colorful. As modern as the Swift 7is, its 7GHz to 1.3GHz Intel Core i7-7Y75 processor is behind the times. Intel's Y series chips are specifically designed to fit fanless designs, but they tend to lack the power of regular U-series chips. It's a decision that puts this ultraportable at a disadvantage compared to its peers. However, I did not face any issues when streaming a second season episode of Luke Cage with a Twitch stream in one of the other 17 Google Chrome tabs I had opened while running Windows Defender.
When you work with a thin laptop like Swift 7, you're going to hit in the ports department. Swift 7 has a pair of Type-C USB ports and a headphone jack on the left side. On the right, there is a power button and the nano-SIM slot. In addition to the power cord, the Swift 7 comes with a multi-use dongle with a USB 3.1 port, USB Type-C, and HDMI port.
back to menu ↑
HP Spectre x360
PROS:
Stylish design
Blazing-fast SSD and overall performance
Comfortable keyboard
Included stylus
A convenient fingerprint scanner
CONS:
Stiff volume buttons
Narrow viewing angles
The Specter x360 is a 13.3-inch convertible which suggests seductively that yes, you can have it all, (well, almost). From the elegant chassis of this machine to its super-powerful Intel 8th Gen CPU, you get both beauty and beast mode. Also, the Spectre's comfortable keyboard, optional privacy display and soft speakers make it ideal for both productivity and gaming. Its screen is a bit weak, and its battery life is solid but shorter than that offered by the competition.
The Specter x360 is an elegant aluminum ribbon. A difference between the model of this year and that of last year is that the rear edge of the new version, once closed, is now a pair of hard-corner pieces, as opposed to the curved design of the previous model. I tested the silver model a bit boring, and I spent most of my time wishing to use the cooler black and copper model, which HP strangely calls Dark Ash Silver and which costs $ 10 more.
The 13.3-inch Spectre x360 1080p display provides a high amount of color that opens. The Specter x360 we tested features an eighth-generation Intel Core i7-8550U CPU, a 512 GB SSD and 16 GB of RAM, which deliver fast performance, robust productivity and even some games. I did not see any delay after splitting my screen between a YouTube 1080p video and a dozen Chrome tabs, including Giphy, Slack, TweetDeck and Google Docs.
The Specter x360 encloses the doors of both today and tomorrow, with two Thunderbolt 3 ports on the right side and a 3.1 USB port squared on the left, next to the headphone jack. We are glad to see that HP has provided a microSD memory reader to this current version, as this card port was not present in the previous model. Because it is a convertible, the fingerprint reader and the Spectre x360 buttons for power and volume are on the edges, next to its ports.
back to menu ↑
Apple MacBook Air 13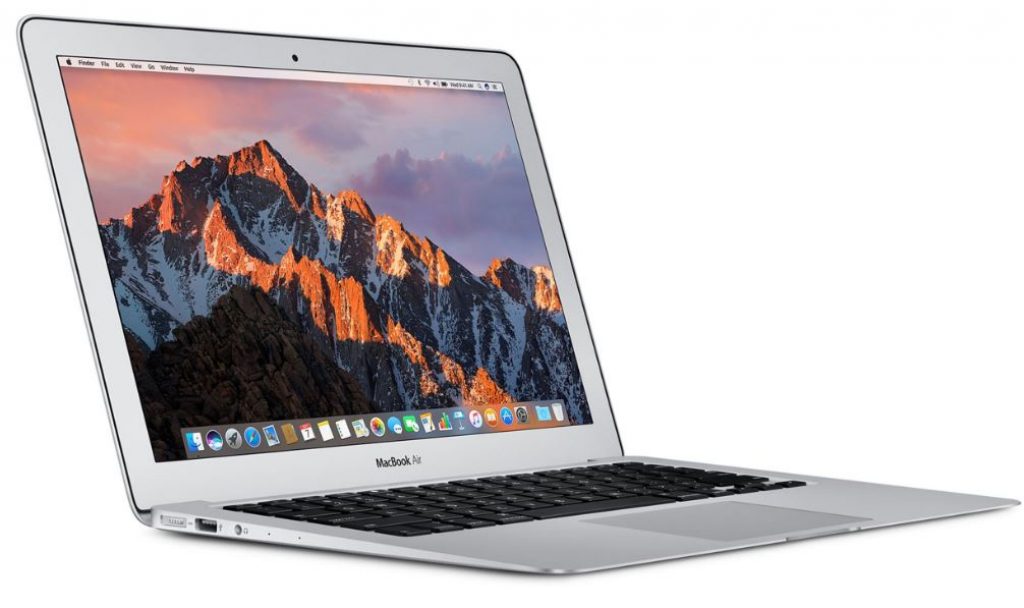 PROS:
Long battery life
Comfortable keyboard
Solid performance
Convenient MagSafe power port
CONS:
Lackluster display
Heavier than competitors
Apple recently updated MacBook Air. Specifically, the 13-inch notebook got a slightly faster 1.8 GHz Core i5 CPU, upgraded from a 1.6 GHz Core i5 processor. Although we appreciate that the Air still has the best-feeling keyboard on a Mac and its USB 3.0 ports do not send us shopping for the dongles, the low-resolution display of this machine holds it back. However, if you're searching for a relatively inexpensive MacBook Air is is of the best ultrabooks of all time.
The 1440 x 900 pixel MacBook screen has aged poorer than all of its other aspects, lacking full HD and bright colors. The Intel Core i5-5350U CPU from MacBook Air and 8GB of RAM enable smooth and fast multitasking. For example, I did not see any slowdown after splitting the screen between a YouTube 1080p video and a dozen Safari cards (including Slack, Google Docs, and Giphy).
The unibody aluminum frame of the MacBook Air is so iconic that it's related to my mind in the late 2000s and early 2010. So, it was the new guy on the streets, but now, everyone from Acer to LG, they realize even thinner metallic unibody notebooks. The Air divides its two USB 3.0 ports between the sides, with a MagSafe 2 charging connector and a headphone jack on the left and an SDXC memory reader and the Thunderbolt 2.0 port on the right.
back to menu ↑
Razer Blade Stealth
PROS:
Slim and lightweight
Bright, vivid quad-HD panel
Fast SSD
Powerful 8th-gen processor
CONS:
Subpar battery life
Expensive
The road to perfection is paved with minor changes and great improvements. Razer continues to travel that road with the latest model of the Blade Stealth. The ultraportable keeps its small size and the fascinating 13.3-inch display adding an improved keyboard and a powerful 8-gen processor, doubling the ultra-portable crown challenge. However, the system is still hampered by the battery life that is too fleeting.
Leave it to Razer to make me a liar. As much as I complain about the endless sea of gray in the laptop market, I immediately interrupted an audible ooooooooh when I laid my eyes on the Stealth. Stealth CNC aluminum looks damn good in gunmetal gray. I do not even care that the three-headed snake logo on the back does not shine. The way in which light hits the semi-glossy emblem is almost tempting.
Stealth's QHD (3200 x 1800), 13.3-inch IGZO touchscreen is bright enough. The Stealth is the latest ultra-portable to leap an Intel 8-gen processor. Intel has increased the power of the new chips by adding four cores instead of two. According to our tests, we found that the 8-gen CPUs are almost 92% faster than the seventh gen, depending on the tasks that are being performed. For example, I launched 24 tabs in Google Chrome, some of which were running YouTube, Twitch, Tweetdeck, and Slack, along with a full system scan on Windows Defender without any delay.
Outside of the color change, it is normal as usual with the Stealth. The lid opening reveals more gunmetal gray aluminum, the 13-inch QHD display, touchpad, full-size backlit keyboard and the pair of speakers that surround it. Like most modern ultraportables, the Stealth does not have much room for doors. You get a USB 3.0 port and a full HDMI 2.0 port on the right, with another USB 3.0 port, Thunderbolt 3 and a headphone jack on the left.
Final Words
If you are willing to choose one of the ultrabooks that not only illustrate the style but also the class, the list above of Best Ultrabooks Of 2019 can be very useful to eliminate those you are not interested in. However, the list is not permanent, as every week we have new names coming in the list. One of the most vital things to consider when buying your option in the category of the best ultrabook is to examine the features and specifications fully and also to see if they meet your requirements or not.