The 360° cameras are different from other cameras, so it's worth explaining what they do and what this means. The key is to imagine a scene that is not in a flat rectangle but on the inside of a sphere. You can view a 360-degree view from this sphere by moving your smart device or a window in your web browser to look around. There is only one thing. The Best 360 Cameras sound like they have an excellent resolution for photos and videos, but it is spread over the inside of a sphere. When you view and edit smaller parts of it, that resolution does not go far.
In general, there are two types of consumer 360° cameras: spherical action cameras designed to survive dangerous adventures and lifestyle cameras that are cheaper, smaller, and often easier to use. Our buying guide has four of each type to help you decide what is best for you. Let's have a look at them in our comparison table, and then we'll discuss them.
Best 360 Cameras List
Forget the 3:2, 4:3, and 16:9 camera layouts and embrace the world as it is – a 360-degree landscape where anything can happen, anywhere. That is the selling point for a new type of 360-degree cameras that usually place two fisheye lenses behind each other in different versions to let you capture the world in a completely new way. Our list of Best 360 Cameras will help you to buy the best 360-degree cameras for you.
GoPro Max
The new 360 king
Weight: 163g
Dimensions: 64 x 69 x 40mm
Waterproof: 5m
Stills resolution: 16.6MP
Video resolution: 6K/5.6K stitched
Memory: MicroSD
Mount: Flip-out mounting feet
Battery life: 78mins (5.6K)
The GoPro Max seems like a 360-degree action cam for enthusiasts, but actually anyone can use this camera. The magic of 360 and the GoPro Max is that you can record and forget about framing (within reason), and then edit your footage in the app. We put this camera at the top of our list because of the good quality of the recordings and microphones, and the way it can be used as a vlog camera and as an action camera, although not in 4K.
Regular 4K recording with one camera would have been even better, and the app experience could use some work, but considering all that the Max can do, it's still a sensational step toward what could really be the future of filmmaking and right now we think it's the best 360 camera out there.
Last update was on: October 20, 2021 9:14 am
Kandao QooCam 8K 360
The QooCam 8K shooter is the best for quality
Weight: 245g
Dimensions: 145x57x33mm
Waterproof: No
Stills resolution: 29.5MP
Video resolution: 7.7K
Memory: 64GB internal, SD card slot
Mount: Tripod
Battery life: 90mins (claimed)
The QooCam 8K is the best 360 camera right now in terms of image quality. A huge (by 360 standards) 1/1.7-inch CMOS sensor, 10-bit color and, of course, that 8K resolution take care of that. When it comes to photo and video quality, the QooCam 8K is unmatched in the 360º market. Photos have great color and contrast like we've never seen before from a camera like this.
The ability to spit out a stunning photo from a 360º video is welcome, while the detail, sharpness and fluidity of video – whether in 360º or widescreen – itself makes the QooCam 8K a great leap forward for creative filmmakers. However, it has an audible fan, the battery life isn't great, and it's not waterproof without an enclosure. It's also quite expensive.
Last update was on: October 20, 2021 9:14 am
Insta360 One X2
A creative 360 camera with easy AI editing
Weight: 149g
Dimensions: 462x113x29.8mm
Waterproof: 10m
Stills resolution: 18.5MP
Video resolution: 5.7K
Memory: MicroSD
Mount: Tripod socket
Battery life: 80 minutes
The One X2 is an impressive action camera that uses its 360º lenses not only for virtual reality, but also for a plethora of creative editing modes for widescreen videos. It consistently produces outstanding videos and photos. It takes time and patience to master, and the processing-intensive app requires the latest phones, but for filmmakers who want to try something different, the One X2 is not to be ignored.
Last update was on: October 20, 2021 9:14 am
Insta360 ONE R Twin Edition
A decent 4K 360 camera
Weight: Not specified
Dimensions: 72 x 48 x 32.4 mm
Waterproof: 16 feet (optional housings also supported)
Stills resolution: Not specified
Video resolution: 5.7K
Memory: MicroSD
Mount: Bespoke mounting bracket
Battery life: Not specified
The Insta360 ONE R Twin Edition, due to be released in early 2020, is indeed a very tempting proposition and could well signal the future of 360-degree cameras. In essence, it is called "Twin Edition" because it is two cameras in one, with two lens modules that can be easily swapped. One turns it into a 4K action camera, the other gives it the ability to take 360º images, and it also has a bunch of extra features, including 5m waterproofing (which can be extended with a special housing).
AI algorithms also improve the various shooting modes, and in particular the impressive Auto Frame mode, which can automatically find and select the action in a 360º video. A new 1-inch Leica camera mod offers another option – you can swap the 360 module for a high-end actioncam.
Last update was on: October 20, 2021 9:14 am
Insta360 ONE X
This amazing new camera makes 360 imaging so easy!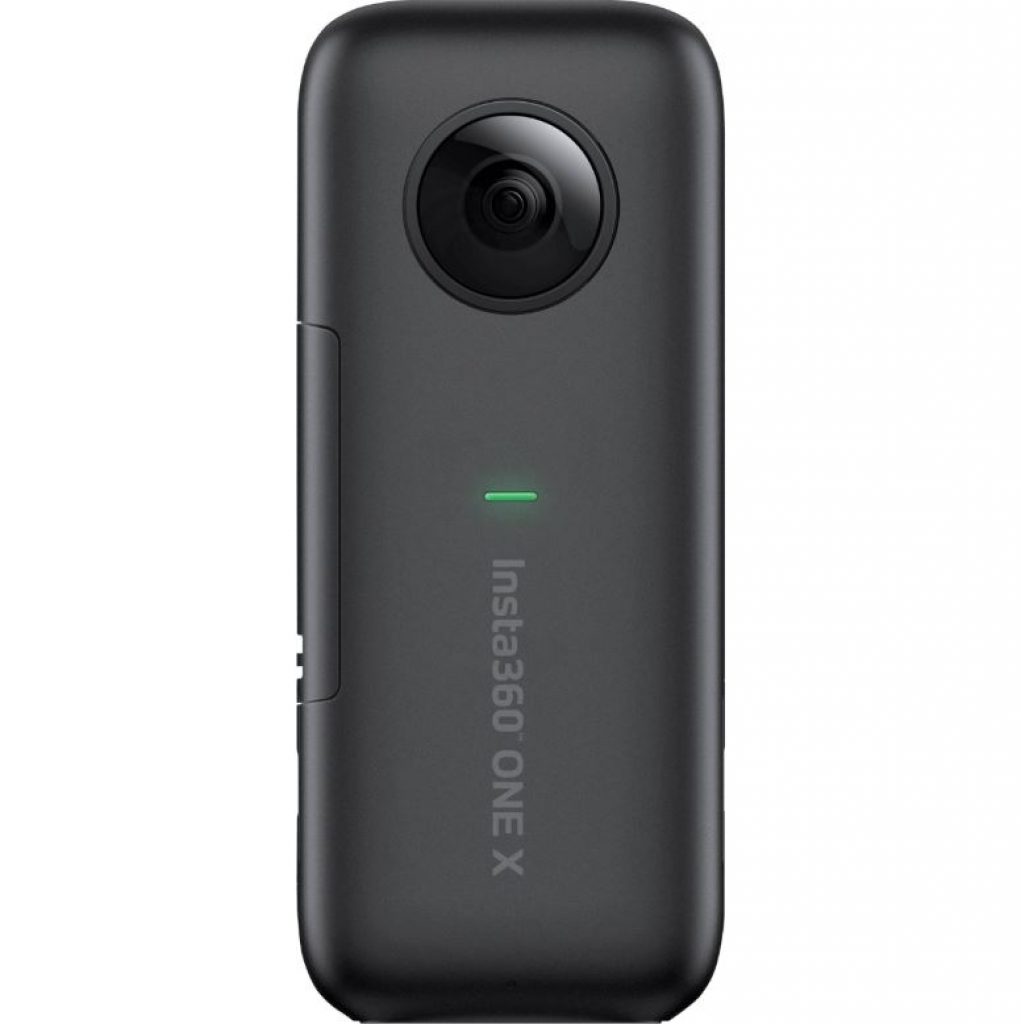 Weight: 115g
Dimensions: 115 x 48 x 28mm
Waterproof: Optional housing
Stills resolution: 18MP
Video resolution: 5.7K
Memory: MicroSD
Mount: Tripod socket
Battery life: 60mins
We found the Insta360 One, which is a little bit further in our list, but the new Insta360 ONE X is a completely different product. Or read 'great' for 'different.' It has the attractive slim shape of the Ricoh Theta V, the 5.7K 'over capture' of the Garmin Virb, and an app that offers advanced video editing and subject tracking on your smartphone. Insta360 makes a great game about the 6-axis gyro system and the 'FlowState' stabilization of the camera, and it is just as good as they say.
We have the strange 'shimmer' in photography in low light indoors, but pretty light it is just as smooth as you want, and the playback remains the same, but you aim the camera at an angle. If you have the optional "invisible" selfie stick, it is hidden in the recorded footage, and it appears that you are a spectator in your videos and photos and do not hold the camera at all. The Insta360 ONE X feels like a huge step forward in simplicity, usability, and quality for the best 360 cameras.
Last update was on: October 20, 2021 9:14 am
Garmin VIRB 360
The VIRB 360 has everything: ruggedness, quality, and features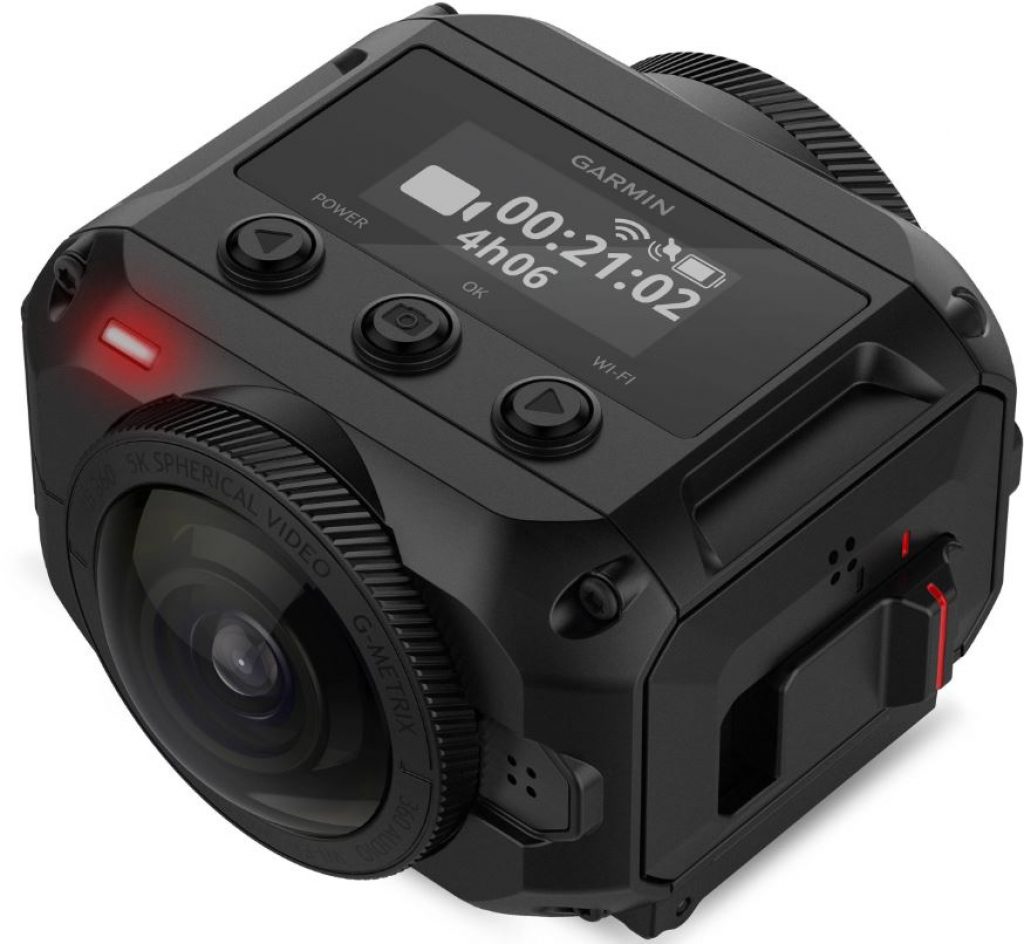 Weight: 160g
Dimensions: 39.0 x 59.3 x 69.8mm
Waterproof: 10m
Stills resolution: 15MP
Video resolution: 5.7K
Memory: MicroSD
Mount: Various, via supplied cradles
Battery life: 65mins
The VIRB 360 is a rugged action camera that is watertight to a depth of 10 m and comes with clip-on slides for both a normal tripod mount and a GoPro mount. You can operate it as a stand-alone camera via a small mono display and three multi-function buttons, or you can control it via the VIRB app. The still images of the VIRB show average sharpness, but with tiny color fringe and well-mixed seams where the two hemispherical images are sewn.
The 5.7K recording should yield better results, but you need a computer for that. In-app stitching is limited to 4K, but the app's HyperFrame Director provides efficient but straightforward tools for adding smooth camera shake and angle changes to create separate, standalone movies for storage and sharing. The built-in GPS and G-Metrix sensors also provide data overlays for extreme sports fans who want their viewers to see this extra data. If you like adventure, this is one of the best 360 cameras for you.
Last update was on: October 20, 2021 9:14 am
Ricoh Theta V
The classy lifestyle alternative if you don't need action cam toughness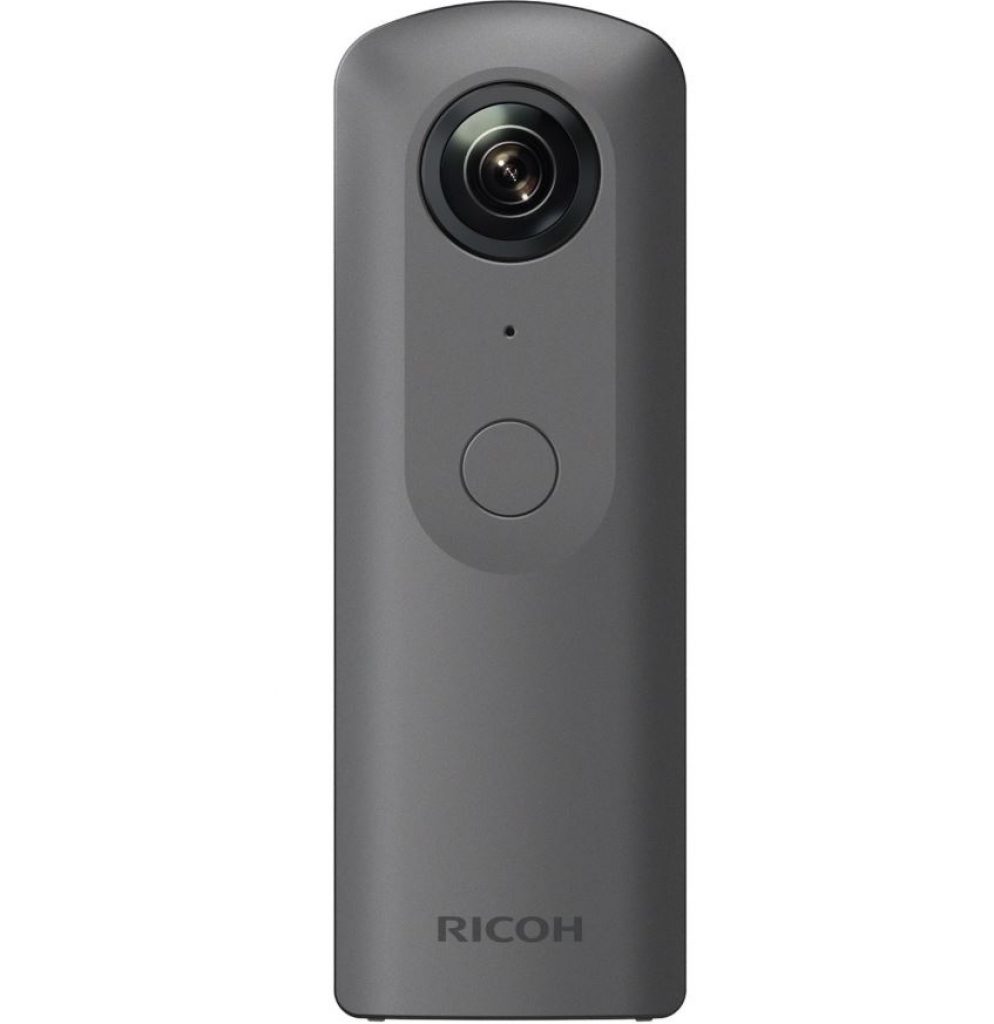 Weight: 121g
Dimensions: 45.2 x 130.6 x 22.9mm
Waterproof: No
Stills resolution: 14MP
Video resolution: 4K
Memory: 19GB internal
Mount: Tripod
Battery life: 80mins
Theta V is immediately sympathetic. The long, slender shape is perfect for holding in one hand without obscuring one of the two lenses, and you have easy access to the controls. These are very simple, and you do not need the smartphone app to start shooting. You set Theta V to the photo or video mode and press the shutter button to capture the image – and that is all you need to know. The smartphone app is equally simple.
You can browse through images on the camera and have been transferred to the app, and tap a file on the camera to view it, initiate the transfer, and delete the image from the camera's memory – and because it's fixed at 19 GB, is that probably as good. The app has simple but effective VR display options, and there is a separate Theta + app for editing your images. The quality of the still image is excellent, and the video is not bad either, although there is a strong purple edge where the two half spheres blend. It is undoubtedly one of the best 360 cameras but is now upstaged by the Insta360 ONE X.
Last update was on: October 20, 2021 9:14 am
GoPro Fusion
Powerful, tough and smart, but the dual card slots can be annoying
Weight: 220g
Dimensions: 74 x 75 x 40mm
Waterproof: 5m
Stills resolution: 18MP
Video resolution: 5.2K
Memory: 2x MicroSD
Mount: GoPro
Battery life: Not quoted
The GoPro Fusion is slimmer than the Garmin VIRB 360 and Nikon KeyMission 360 and, just like the other two cam rivals, is waterproof, but only up to a depth of 5 meters. With a maximum video resolution of 5.2 K, the Fusion uses a function called OverCapture to extract normal "flat" Full HD movies from the spherical images. The additional resolution can be used by the corresponding smartphone app or by the free downloadable GoPro Fusion Studio software.
The QuickCapture button starts recording at the touch of a button even when the camera is turned off, and there is a photo button that does the same. You can also use voice commands to start and stop recordings and add marker labels to find key moments later. Like other 360° cameras, the Fusion is two cameras, from back to back. Strangely enough, however, this requires two matching microSD cards, which makes transferring images to a computer later more difficult. Overall, this is one of the best 360 cameras to buy right now.
Last update was on: October 20, 2021 9:14 am
Insta360 One
It's iPhone-specific, but the Insta360 One is neat, easy and effective
Weight: 82g
Dimensions: 96 x 36.5 x 25mm
Waterproof: No
Stills resolution: 24MP
Video resolution: 4K
Memory: MicroSD
Mount: Tripod, Lightning port
Battery life: 70mins
The Insta360 One is designed exclusively for use with an iPhone (or iPad). It has a fold-out Lightning connector that can be plugged directly into the Lightning socket on the iPhone and can also be attached to the phone. It feels reasonably safe, but it would feel even better if there was an extra attachment point. But this direct connection offers fast, reliable, and trouble-free communication. The corresponding app is automatically started and immediately provides a lower-free live view of what the camera sees.
If you use the camera independently, you can use the single power button to capture still images or video or start the camera remotely via Bluetooth. There is no Wi-Fi, so there is no live view, and your iPhone functions as an external version. The image quality is excellent, and the editing tools in the app are second to none in rendering "flat" video from your 360 photos, with pan-and-zoom real-time viewfinder mode. A SmartTrack mode for tracking moving subjects and a pivot point to create smooth panning movements. It is not as good as the newer Insta360 ONE X, but still is one of the best 360 cameras.
Last update was on: October 20, 2021 9:14 am
Samsung Gear 360
It's cheap, and it's cute, and the Gear 360's images are decent too
Weight: 130g
Dimensions: 100.6 x 46.3 x 45.1mm
Waterproof: No
Stills resolution: 15MP
Video resolution: 4K
Memory: MicroSD
Mount: Tripod
Battery life: 130min
The Gear 360 is just as attractive as the Ricoh Theta V, but in a different way. The rounded shape gives it the cute look of a toy robot and is ideal for shooting from the hand, although there is also a tripod connection in the base. Just like the Ricoh Theta, it is effortless to use, and this time, you are helped by a small LCD screen to navigate through the camera modes, including video, photo, time-lapse, video loops, and Landscape HDR.
It is cheap enough in the UK, but in the USA, the 2017 Gear 360 is a perfect example, and the accompanying smartphone app is easy to use and offers a good number of viewing options. Still, images look somewhat soft, but the 360 video quality is not bad. We had to restart our Wi-Fi connection via the camera to an iPhone a few times, but connectivity problems are rarely far away with 360 and action cameras and smartphones. The Gear 360 is cute, cheap and straightforward, and is one of the best 360 cameras on the market.
Last update was on: October 20, 2021 9:14 am
Nikon KeyMission 360
Nearly a great product, but let down by its SnapBridge system
Weight: 198g
Dimensions: 65.7 x 60.6 x 61.1mm
Waterproof: 30m
Stills resolution: 24MP
Video resolution: 4K
Memory: MicroSD
Mount: Supplied mount base
Battery life: 230 shots
It does not take long to find the weak spot of the KeyMission 360; it is severely disappointed by the SnapBridge 360/170 app and the unreliable Wi-Fi connection. In our hands, the WiFi connection deteriorated after only a few seconds or a few inputs of the app, making any attempt to remote control both frustrating and meaningless. This is all a big shame because the KeyMission 360 is a beautiful, well-made, and substantial camera that feels like it means business. It does not offer the 5.7K 'overcapture' of the Garmin VIRB 360 or GoPro Fusion, which is limited to 4K spherical video but does have 24 MP photos.
Besides, it is shock-resistant up to a height of 2 meters, waterproof to a depth of 30 meters, and both frost-resistant and dust-proof. The KeyMission 360 can still be used as a standalone 360 camera, with photos and video later transferred to a computer for sewing and editing with the KeyMission 360/170 Utility software from Nikon. This is a simple editor that does not offer the same tracking or panning tools as other 360 editing software, but it is a start. And overall, this is one of the best 360 cameras right now.
Last update was on: October 20, 2021 9:14 am
Kodak PixPro Orbit360
This dual-lens PixPro shoots in three different modes
Weight: 156g
Dimensions: 55.0 x 55.0 x 67.6mm
Protection: Splashproof, Shockproof, Freezeproof
Stills resolution: 20.68MP
Video resolution: 4K
Memory: MicroSD
Mounts: Optional packs
Battery life: 160 shots
The mainframe of the PixPro Orbit360 (the 4KVR360 is called in the United Kingdom and Europe) is the choice of three display modes. Interestingly, it uses asymmetrical lenses to provide a wide-angle action comb display, an even wider 'dome' view, and a sewn 360-degree spherical view. Kodak makes three different 360° cameras, but the other two – the PixPro SP360 and PixPro SP360 4K are cameras with one lens to be used in pairs, and the results need to be constructed to get a full, spherical image.
The Orbit 360 4K looks cool and is easy to use. Still, while the horizontal resolution matches the 4K standard (3840 pixels), the vertical resolution is only 1920 pixels, so the Kodak is applied to many of its more recent rivals. The results are average, so it is a good buy at a reduced price, but otherwise not so attractive.
Last update was on: October 20, 2021 9:14 am