If you want to spend more time on printing than on solving technical problems, choose 3D printers that offer real quality. But you do not necessarily have to pay more than $3000 for that. It is possible to get a premium and one of the Best 3D Printers Under $1500. In this guide, we have streamlined the shopping process for you. There is no need to view dozens of products and analyze all technical details for days.
Choosing the Best 3D Printers Under $1500 is not always an easy task. There are a large number of options available, which can be overwhelming if you are not sure what to look out for. This guide has isolated some of the best available printers, which will mean a long way to finding the right printer for your needs. Above, we have mentioned some of the best 3D printers under $1500.
List of the best 3D printers under $1500
ROBO 3D R2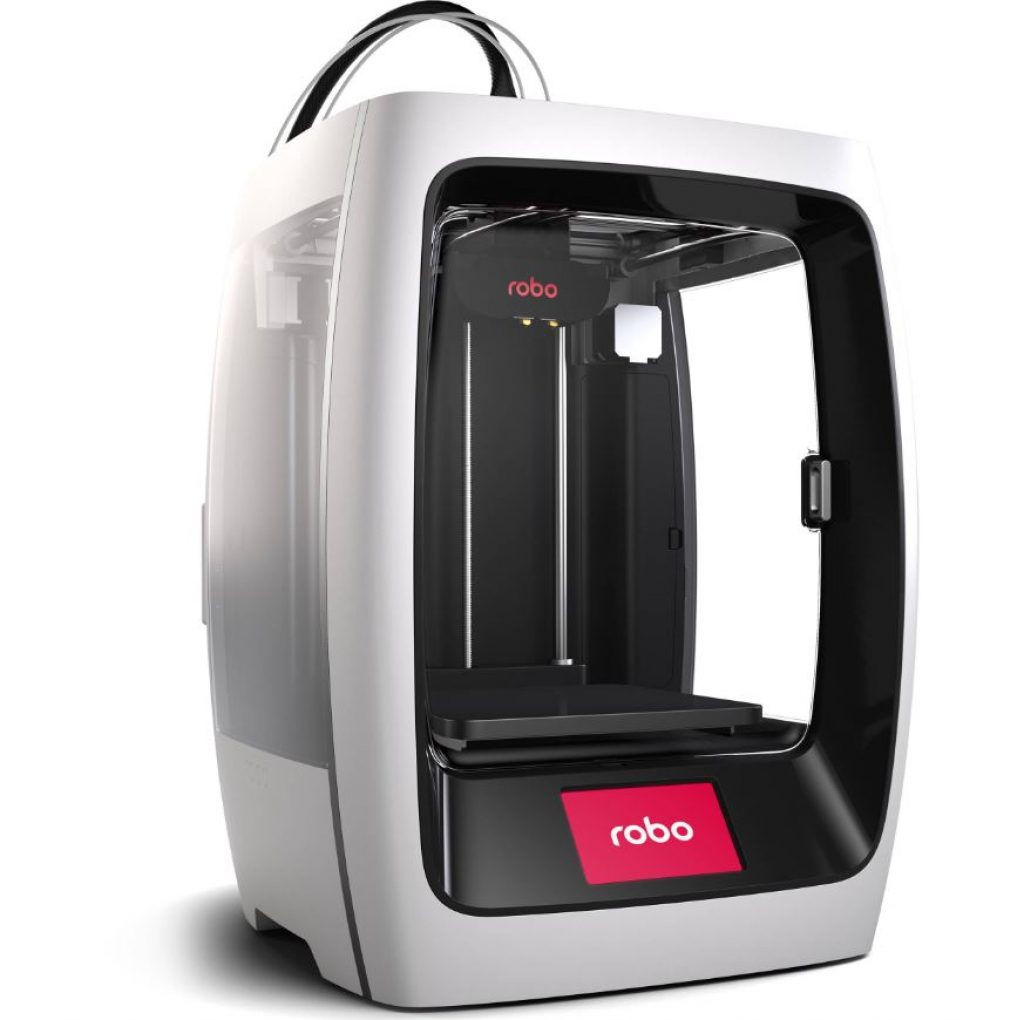 Say hello to the R2, a Kickstarter-backed 3D printer from Robo 3D. It is a premium 3D printer that is so packed with useful features and is one of the best 3D printers under $1500. If you do not want to be sorry to spend more than a thousand dollars on a 3D printer, you can buy this product. It is a user-friendly 3D printer that allows you to start printing in less than an hour. If you already have experience with 3D printers, the first installation does not take longer than 30 minutes. Everything you need to start printing immediately is included in the package, including a coil with a filament.
Robo 3D has created the R2 to make 3D printing simple and easy for everyone – and nothing represents that idea more than the touchscreen interface. Using the 5-inch touchscreen, you can prepare your 3D models without a computer, thanks to the built-in slicing software. It can also load saved 3D models stored in a built-in memory that can hold up to 500 files. Besides, the R2 can be remotely controlled via Wi-Fi, making it the complete convenience package. The R2 delivers on all fronts. It is a reliable machine that can print various types of filaments, including ABS, PLA, nylon, and wood.
It has a large size and includes a heated print bed with excellent adhesion, which is necessary for certain types of filaments. It is equipped with a filament detector and can interrupt a print at any time. At first glance, the R2 seems to be completely enclosed. But on closer inspection, it is exposed at the top. While the enclosed sides help to maintain the temperature, the open-top exposes you to harmful fumes. For safety, we recommend keeping the R2 out of your room, even if you have a tolerance for the smell of plastic. If you want to see how the print works, you can always check from a distance – the R2 has a built-in surveillance camera. Overall, this is one of the best 3D printers under 1500 dollars.
Pros:
No need to assemble from scratch
Ready to print in less than one hour
Fantastic print quality
Touchscreen interface with onboard slicer
Integrated interior camera
Wireless connectivity
Heated print bed with excellent adhesion
Cons:
Single extruder
Noisy fans
Qidi Tech I
The Qidi Tech I is proof that not all 3D printers from China are nonsense. It is a 3D printer with a double extruder that costs less than $700, making it one of the most affordable dual extruder 3D printers on this list of the best 3D printers under $1500. From the moment you unpack the Qidi Tech I, let it be known that it is not your average Chinese copycat. It comes in a well-protected package, which is crucial as it is shipped from abroad. Everything is well sealed, with the right amount of filling to keep everything in place. The box is packed so well that it takes about 10-15 minutes to get everything out, which says something.
The Qidi Tech I arrives almost assembled. All you have to do is install the remaining parts, and you are ready to go. It takes no more than an hour to connect everything, although the process could have been faster if the manual was more detailed. Including the manual calibration, the first setting should take about 1-2 hours, depending on your familiarity with electronics. The supplied software is user-friendly and must be kind enough to help you on your way. But if you want the best experience, we strongly encourage you to purchase the Simplify3D software.
It helps you to get the best out of the Qidi Tech I. It's another $ 150 off your wallet, but it's definitely worth the purchase. The Qidi Tech I has a robust design. It is wrapped in a metal frame with acrylic windows on the sides. The top is also sealed, making the machine environmentally friendly. However, you may need to adjust the covers if you use certain types of filaments. For example, if you use ABS, you can get the best seal the entire printer, not only for protection against the odor but also for temperature control. Overall, this is one of the best 3D printers under 1500 dollars.
Pros:
Dual extruder setup
Good print quality
Decent build size
Heated print bed
Includes two rolls of starter filaments
Sturdy and stable construction
Cons:
Power switch located at the back
Bad SD card slot placement
Instruction manual needs to be more detailed
Last update was on: October 19, 2021 12:31 pm
FlashForge Dreamer
The FlashForge Dreamer is, in fact, a more polished version of the FlashForge Creator Pro and is one of the best 3D printers under $1500. The most crucial selling point of the Dreamer is that it is less an open-source, mod-happy 3D printer and more a plug-and-play 3D printer, making it more suitable for beginners. A 3D printer with a double extruder, the Dreamer, is completely wrapped in a plastic frame. It is well built and aesthetically more attractive than the Creator Pro. It is compact enough for placement on the desktop, although it is not recommended to place it on your desk because of a specific hardware shrinkage that we will talk about later.
For direct access, the Dreamer has a 3.5-inch touchscreen interface, which is a massive upgrade of the button-operated interface that can be seen on the Creator Pro. It is straightforward to navigate, thanks to the simple options. Of course, it does not come close to the cutting machine-equipped interface of the Robo 3D R2. But for essential operation and calibration, the work is done. A small error in the design is the internal coil holder. It works well for filaments manufactured by FlashForge. But for filaments from third parties, it is better if you print your external spool. Since FlashForge filaments have limited color options, you are likely to purchase third-party filaments.
So print a coil holder for your first project. The Dreamer offers the complete package in terms of connectivity. It can connect via USB for a connected printer-to-computer connection. It can connect via Wi-Fi for remote printing. And for stand-alone printing, there is the SD card slot. Of the three connectivity options, the latter is the most convenient, especially since you do not have to open your computer, which saves electricity. The wireless connection is the worst because the transfer rate is considerably slower. Still, this is one of the best 3D printers under 1500 dollars.
Pros:
Fully enclosed
Decent build size
Responsive touchscreen interface
Dual extruder setup
Includes heated build plate
Supports different materials
Built-in memory
Cons:
Slow transfer rate during wireless connection
Plastic frame
Very noisy
Last update was on: October 19, 2021 12:31 pm
LulzBot Mini
If you want a 3D printer that is ready without drama, the LulzBot Mini is for you. It is one of the most user-friendly 3D printers on the market, making it an excellent candidate for one of the best 3D printers under $1500.
In contrast to our top three picks, the LulzBot Mini is an open-frame 3D printer that fully reproduces the printing mechanisms on all sides. However, it is still housed in a large frame, so it is more stable than other non-embedded 3D printers. Because it is not fully enclosed, this 3D printer is not recommended for children because they can accidentally touch the heated parts.
Built for both beginners and hobbyists, the LulzBot Mini arrives fully assembled. It is ready to go less than 30 minutes after it is unboxed. It has an automatic leveling system that works, changing the initial calibration into a cakewalk and comes with custom Cura software. But once you understand the 3D printing settings, we recommend switching to more extensive printing software. The LulzBot Mini is equipped with a full metal hot-end and a heated bed with print and is compatible with various types of filaments, including ABS, PLA, and PETG. The print bed has excellent adhesion.
You do not have to resort to tricks such as the use of hairspray and glue to keep the 3D model in place. Once heated, the bed with printing takes care of everything else. The print quality is excellent. When the LulzBot Mini is set to the best possible resolution, it can produce highly detailed items that can impress owners of 3D printers with a value of $3000 and up. It is a reliable workhorse that can run non-stop for days with little to no problems. And overall, this is one of the best 3D printers under 1500 dollars.
Pros:
Auto-leveling
Easy to use and maintain
Heated print bed with excellent adhesion
Heats up fast
Completely open-source
Has an active community
Cons:
Not fully enclosed
No support for standalone printing
Limited build size
Last update was on: October 19, 2021 12:31 pm
Dremel DigiLab 3D40
3D printers intended for beginners must check all boxes to shine – and in that respect, the Dremel DigiLab 3D40 saves them from the park and is one of the best 3D printers under $1500. Well almost. It comes fully assembled and requires only a few adjustments to take it into use. It has an auxiliary system for leveling the bed that efficiently takes care of the first calibration, so that is a little less worrying for non-techies. All in all, you can go from unboxing to printing in about 30 minutes, perhaps an hour, if you take the time to check the product for hardware errors that have occurred during shipping.
When you are done with the first installation, everything else is relatively simple. 3D40 is very easy to use. Even children will have little trouble using it. It has a responsive touch screen interface that contains useful information, including an example of what you are printing, which is cool. For connection, the 3D40 enables both tethe red printing and wireless printing. The first is more reliable, while the second is more convenient. Some consumers have reported that they have problems with the wireless connection. More specifically, it seems that the wireless module sometimes has problems to connect to a computer, which is never a good sign.
In terms of performance, this 3D printer excels in more than one way. The print quality is impressive. It is detailed and accurate, but a lot of adjustments are needed to consistently produce high-quality results, which also applies to all other 3D printers. The print speed is relatively fast compared to other products in the same class. But the real highlight is the noise level. The 3D40 works so quietly during operation that you have to check it now and then to make sure it is still printing. Overall, this is one of the best 3D printers under 1500 dollars.
Pros:
Initial setup takes less than 30 minutes
Easy to use
Touchscreen interface with useful tools
Very quiet while printing
Relatively fast printing speed
Excellent customer support
Cons:
Limited to PLA filaments
No heated build plate
Default software not the most user-friendly
Last update was on: October 19, 2021 12:31 pm