While all the best VPN services offer an Android VPN, the wide variety can make it challenging to choose the best Android VPN for you. Downloading an Android VPN can be your first step into real web security, so it's essential to know and understand what you need. If you're out of the house a lot, your Android device may be the best way to connect to the web, and you probably also use public Wi-Fi. That is why it is crucial to have the best Android VPN because you might trust it more than you think.
Besides the public Wi-Fi protection, a VPN on Android can also let you watch Netflix and access your mobile banking abroad, avoid location-based price targeting, and stop Google ads from following you. There are plenty of compelling reasons to get one – the most challenging part is figuring out what the best Android VPN is for you.
Best Android VPN
While you will find ExpressVPN at the top of this guide, we have brought together five worthy participants who offer different user experiences. All you have to do is keep scrolling – it's time to choose the best Android VPN for you and regain the internet's privacy.
ExpressVPN
The absolute best Android VPN today
ExpressVPN is the best Android VPN (read the full ExpressVPN review here) thanks to high connection speeds, excellent security, and near-perfect 24/7 customer support. Also, it is the most powerful VPN for Android and one of the easiest to use. With a clean, simple interface and tons of servers in all the locations you could wish for, it's no surprise that we rate it as the top Android VPN on the market.
When you're on the go, you'll have access to any Netflix library you want, as well as your iPlayer, Hulu, and Amazon Prime accounts. Express doesn't stop there. If you're going to delve into the app's guts to configure it the way you want, there's a lot of power under the hood. Just like with the desktop client, you can switch between a selection of protocols, activate a kill switch to protect you if your connection fails, and even split if you want to choose which apps to route via the VPN.
Exciting development as of September 2020 is the introduction of ExpressVPN's Lightway protocol. It is built from scratch; it is incredibly light and promises excellent speeds. For most apps, it is currently in private beta, but Android users will be the first to sign up for the public beta and access Lightway. Although the limit of five devices isn't the largest, it's enough to get all your mobile devices plus your desktop computer and smart TV up and running. If you have a problem with that, the leading online support and live chat will help you within minutes if you need it.
While there is no trial version – few VPNs offer one – there is a standard 30-day money-back guarantee if you discover it's not quite right for you. However, as the very best Android VPN available today, it's unlikely to come to that. Read more in our ExpressVPN Review.
Surfshark
Bargain-basement yet fully-featured Android VPN
Surfshark is a bit of an anomaly – since when is a specific budget product delivered, just like the big batters? The first thing you'll notice is the excellent app, which keeps things simple and allows you to configure a reasonable amount of money – including a kill switch, split tunneling, and additional beta features such as HackLock and BlindSearch.
Another notable feature is Surfshark's policy for unlimited connections. No matter how many devices you own, you can install this VPN on any device and use it at the same time – that sounds like a challenge if we've ever heard of one. Surfshark is also excellent for unblocking streaming content, and the connection speeds are consistently outstanding. So, wherever you are in the world, you can access your favorite shows and stream them in HD.
What's more, Surfshark's party piece is its price – for less than $2.50 a month, you'll have top-notch VPN protection. While the apps and support don't quite meet ExpressVPN's gold standard, Surfshark should be one of the first to consider spending as little as possible on the best Android VPN. Check our Surfshark VPN review for more.
NordVPN
The biggest name is still one of the best Android VPN
If you've only heard of one VPN, it's probably NordVPN. With over 10 million downloads in the Play Store and excellent reviews, the VPN title is a tempting proposition. NordVPN has given priority to the safety of its customers. It offers dual VPN and Onion over VPN plus a good selection of protocols if you want to change them, and you also get Nord's CyberSec malware and phishing protection. Nord has recently been certified by a second independent audit to be truly zero-logging, so if privacy is a priority, it will be a big hit.
The app is powerful, and there is plenty of configuration available if you venture into the settings. One drawback, however, is the awkward design. The VPN on Android mirrors the layout of the desktop client and opens with a map-based interface. Although this works well on a larger monitor or tablet, a limited amount of real estate on the phone can make it challenging to find the same server you're looking for. There is a list of servers available, but we would like to see it immediately.
That one grip aside, NordVPN is not for nothing as successful as it is. Secure and fully featured apps, a great support network, and an excellent price mean it's still the best Android VPN. Read more in our NordVPN Review.
IPVanish
Reliable US-based veteran still doing well.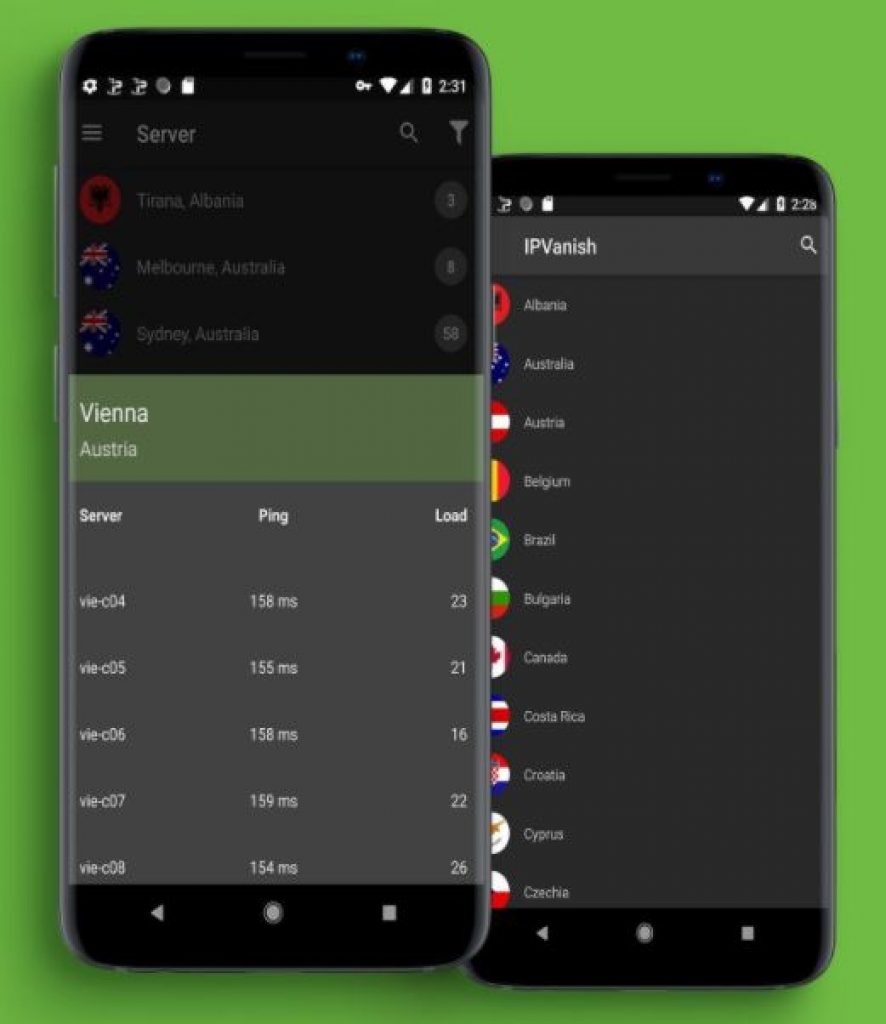 IPVanish offers users a powerful Android VPN that retains a lot of functionality from its desktop client. The first thing you notice is the amount of information you get – for VPN novices, it might be a bit much, but for those who like to keep an overview of servers, IP addresses, and more, it's all good stuff.
IPVanish also offers excellent introductory pricing for both one- and 12-month plans, so it's a super affordable way to package a perfect Android VPN. However, be aware that prices will rise after that, and the previously free SugarSync cloud storage is now a paid extra (although it's still much cheaper than buying it alone).
In July 2020, IPVanish announced a change in its connection policy, going from a limit of 10 to a truly unlimited number of available devices with a single plan. Together with Surfshark, IPVanish is one of the few VPN providers to offer this. While in practice, IPVanish's Android VPN may not be as polished as ExpressVPNs (and speeds are also marginally slower), if you're looking for an unmistakable technical experience plus the ability to cover any of your devices, it's the best Android VPN for you. For more info, read our IPVanish VPN Review.
Hotspot Shield
Fast, simple, and effective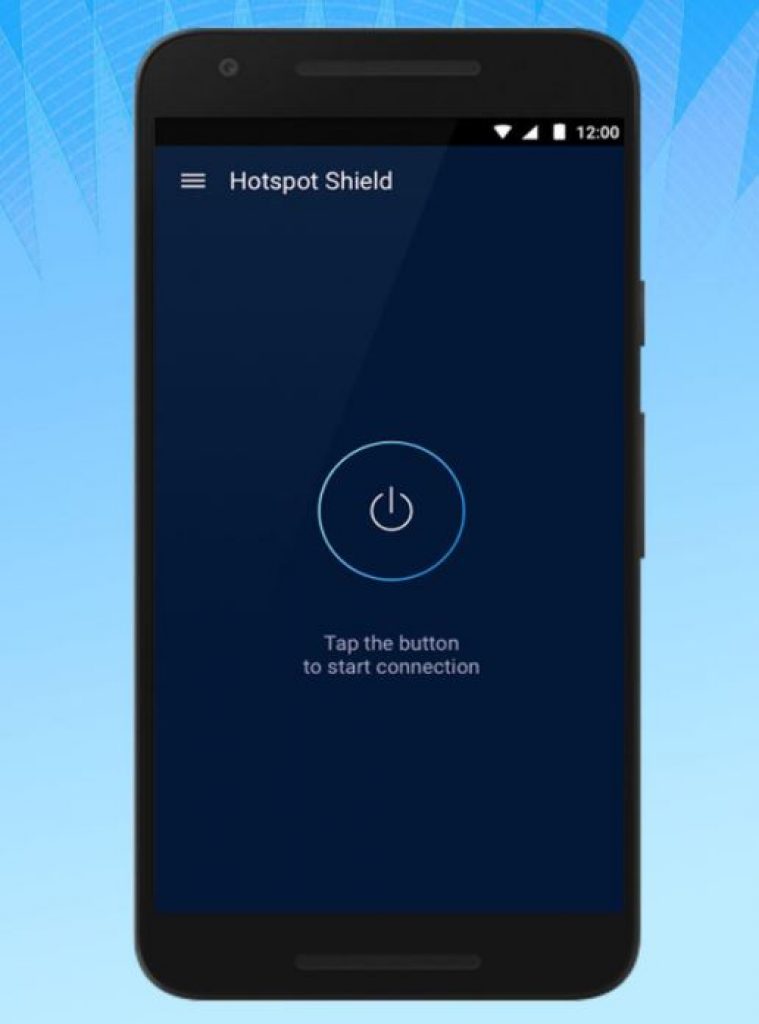 If you want speed and security without having to do anything, Hotspot Shield can be the best Android VPN for you, and while it is known for its quality free VPN, the paid versions are also excellent. The Android version uses the same Catapult Hydra protocol as the desktop clients, which means you can get over 400Mbps – if your internet connection can handle it, that is.
App-wise, it's super easy to get started. You can connect at the touch of a button, and a list of different global servers is just one tap away. But if you're looking for an in-depth configuration, you'll be unlucky – Hotspot's mobile VPN offering is handy but doesn't let the user change much. But it may be suitable for many users, and its incredible speeds more than makeup for this lack of advanced functionality.
If you want a VPN that can get the most out of the incoming 5G speeds, Hotspot Shield could be the best Android VPN. Read more in our Hotspot Shield VPN review.
Private Internet Access
Balances performance and price to score well in Play Store
The Android app from Private Internet Access is easy to use with many options and settings you can customize. Users love it, which is reflected in a remarkably high score in the Play Store.
Yes, it lacks the neat favorites system that some other VPN providers have, but many other features exist. You have port forwarding support, proxy support, UDP, and TCP protocol settings; you can define local and remote ports, choose custom encryption and handshaking methods, even vibrate the handset to indicate when you are connected. You also have an automatic connection when you join a VPN and a kill switch.
As mentioned before, the app is relatively easy to use, with a large power button in the center of the screen and the region/IP address at the bottom. The performance wasn't bad either, and the privacy policy is also favorable. It does feel like PIA lags behind some of the other best Android VPNs out there with a lack of live chat support, however.
While there is no free trial, the subscription is reasonably affordable, no matter what plan you choose. Of course, the multi-year plan gives you the best savings. Read our Private Internet Access VPN review for more.