So you want to complete your studio with one of the Best Audio Interfaces? For us, this is one of the essential parts of making music, and we regard it as the star on top of the Christmas tree. Without an audio interface, you can not optimally record. Your stuff mostly misses half of the power and potential without one of these in your studio.
The best audio interfaces help us with sound quality, phantom power, and amplification, more general control over our equipment, the organization of all our inputs/outputs in one device, and ultimately, the annoying concept of latency disappear. Today we highlight our the best audio interfaces available on the market and give you some information to facilitate your shopping adventures.
What Is An Audio Interface?
An audio interface is a device that connects your various audio equipment to your computer (microphones, MIDI keyboards, studio monitor speakers, etc.). Some have even called them 'external sound cards' because the components built into computers cannot cut (not for anything – they are usually too expensive or not big enough).
In terms of possibilities (and it depends on which model you go), they can supply phantom power to amplify your microphones, connect any instrument or controller you've gotten through MIDI, and use XLR ports for microphones. Audio interfaces convert the analog information into digital signals for your production computer or music laptop to recognize and record your songs.
List of the best audio interfaces
There has never been a better time to buy a great-sounding, flexible Best Audio Interfaces for your home studio. With the power and excellent sound quality offered in these units, it comes down to how many inputs/outputs and which functions you need. Above, we have mentioned some of the best audio interfaces offered today, shared by whether you need USB or Thunderbolt.
Audient iD4 MkII
The iD4 MkII is probably the best audio interface you can buy for less than $200. It's a simple two-in/two-out with a mic preamp – complete with phantom power for using condenser mics – and an instrument-level DI for connecting your guitar or bass, plus a smart scroll wheel that lets you adjust settings in your software. Plus, there's a main output for your speakers and two headphone outputs.
The whole thing is powered via USB-C and, with Apple's camera connection kit, can also work with an iPhone/iPad. The studio stuff is in the details, though: Audient really has thought about everything with value and usability in mind, making what is a budget solution feel anything but cheap. The Audient iD4 MkII is, quite simply, the best audio interface we've seen at this price in a long time.
Last update was on: October 17, 2021 2:36 pm
SSL 2+ audio interface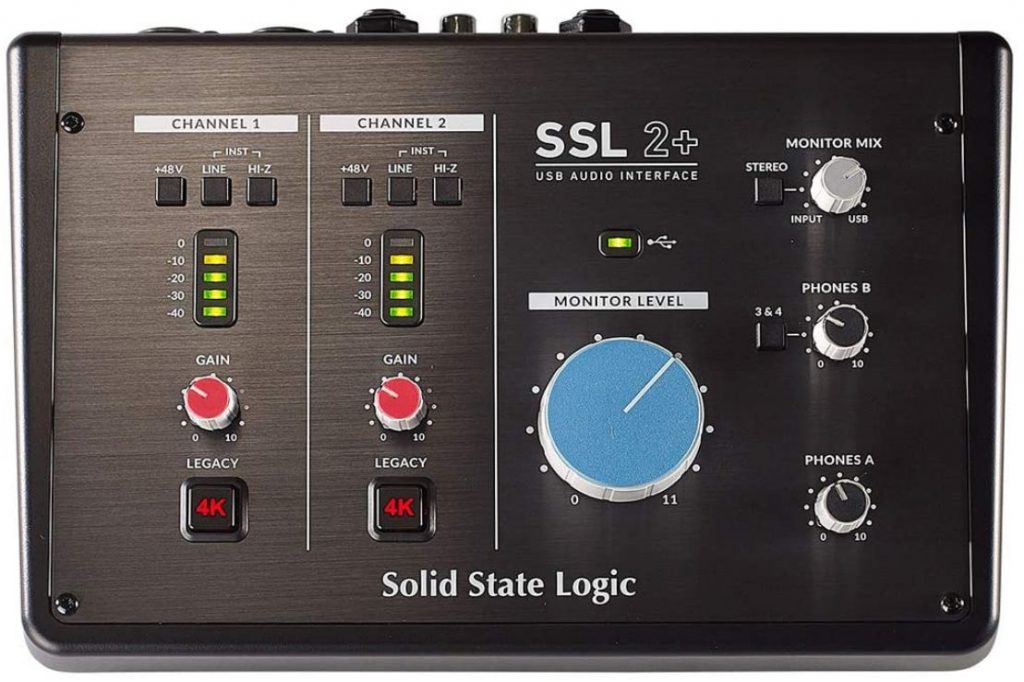 Compact interfaces with pro features and connectivity, the SSL2+ promises an affordable version of "the SSL sound," putting the feeling of a million recordings made in 7-figure recording studios within everyone's reach. This is the big brother of the standard SSL2, with the main difference being that the 2+ adds two outputs to the 2-in, 2-out configuration of the 2, MIDI In/Out plus an additional independent headphone output (with both able to monitor different mixes).
There's also the 4k button which adds some extra presence and high-end zing (and, more importantly, makes you feel just that little bit more 'pro'). There are two combo mic/line inputs with Hi-Z (impedance) options to switch between guitar and bass signals or those from synths or drum machines. A +48v option also allows the connection of both condenser and dynamic microphones. With great monitoring and recording quality and flexible I/O configuration, the SSL 2+ comes highly recommended. Overall, this is one of the best audio interfaces.
Last update was on: October 17, 2021 2:36 pm
Focusrite Scarlett 4i4
Focusrite's Scarlett USB interfaces have traditionally combined excellent sound quality and audio flexibility at an affordable price, and the third generation of units continues on the same path. All units in the series have received physical and technical upgrades, with improved preamps (now up to 56dB gain), balanced connectivity throughout, and the inclusion of Focusrite's ISA transformer preamp emulation option (Air). On the bus-powered Scarlett 4i4, you get two mic/line/instrument inputs with gain, two line-level TRS inputs and four TRS outputs.
The 4i4 supports Focusrite's Control app, which means a number of settings can only be made in the software. The app also provides low-latency monitoring. As we have come to expect from the Scarlett series, the sound is neutral and the drivers are reliable. The Air option tilts the frequency response toward the high frequencies, and this can be great for tempering unwanted proximity or adding elevator in the high frequencies. Overall, this is one of the best audio interfaces.
Last update was on: October 17, 2021 2:36 pm
Focusrite Scarlett 2i2
In our opinion, this is one of the best audio interfaces available. This Focusrite interface is best for home and semi-professional studios (I have two friends who make full-time music using this). The Scarlet 2i2 gives us a high-quality preamplifier, very robust construction for stability and portability, and a good number of selections for the ins and outs. The name "2i2" actually means that it has two inputs and two outputs, as well as two built-in preamplifiers (the other models you will see have similar names related to the connection options).
This is talked mainly about amp-quality, compared with mechanisms found in many condensers and ribbon microphones and more expensive interfaces. Another significant advantage of this is that it comes with Ableton Live Lite, a very popular digital audio workstation among music heads. This is especially perfect if you are looking for a software to start with or want to switch to one of the most famous pieces of software today – Ableton comes together with this package and makes this a must. Ultimately, it's just a simple interface for considerable costs – one of the most popular choices available.
Last update was on: October 17, 2021 2:36 pm
Universal Audio Apollo Twin
Then we have a mac interface, and this thing is mighty. It is a 2 x 6 lightning bolt connection, and the audio conversion is quite revealing at 24-bit/192 kHz for some of the brightest, zero-latency sound that is now possible. It has real-time UAD processing, so tracking with compressors, EQs, and amplifiers for different instruments is the real deal.
It is only compatible with Mac, but it is one of the best out there – Universal Audio brings us quality versions that will last a long time, so this is an investment. You need a lightning cable for this, but it's worth it if you use the full 9 – the Universal Audio Apollo Twin will not let you down if you have the money. It is one of the best audio interfaces, quite famous, and has been around for quite some time.
Last update was on: October 17, 2021 2:36 pm
Mackie Onyx Blackjack
Mackie equipment is more tuned to DJs, but this audio interface is excellent for the price, giving us two high-quality Onyx microphone preamps that are very powerful. It provides us with some distortion protection due to the design with high headroom. Great zero-latency recording, but what strikes us is the amplifier gain control: great for electric guitars and dynamic microphones.
You can play every line in (1 and 2) to 60 dB, set the phantom power to the max on the monitor or telephones, and have even more controls at the front. The Standard ins and outs with two XLR and TSR. One step up a lot of audio interfaces, thanks to the high-quality amplifiers. One of the best audio interfaces in the lower price range, in our opinion. We recommend the Mackie Onyx Blackjack for those who need strong reinforcement for an affordable and one of the best audio interfaces.
Last update was on: October 17, 2021 2:36 pm
M-Audio M-Track Plus
Here is another of the best audio interfaces for the money. This is an excellent model in terms of structure and the overall supply of the necessary ins and outs because M-Audio equipment usually comes on the table. It is powered via USB and offers fantastic phantom power for microphones and guitars, has insert connections on each channel, and finally comes with Avid Pro Tools Express and Ignite software for the creation of AIR.
If you are looking for a good software combo, this is great. Otherwise, it is still a solid audio interface because it offers us the essence: 2 XLR, 2 TSR, and MIDI ins/outs… what else do you need? Unless you use and record multiple instruments at the same time, everything else is not necessary. The M-Audio M-Track Plus is a solid audio interface for people who want only a few ins and outs and have some clear audio quality. It is reasonably affordable and contradicts the Scarlett model that we previously recommended in terms of price.
Last update was on: October 17, 2021 2:36 pm
PreSonus AudioBox
Another 2 x 2 to view here, and this is a more budget-friendly and straightforward audio interface than many others. PreSonus equipment has a very positive reputation in the world of equipment, and the AudioBox is a favorite interface of many. You get two very high-quality pre-amplifiers, a beautiful small steel build, and two MIDI in/outs on the front. The back has your TSR-ins, a USB port for power and connectivity, as well as a left and right stereo input.
Best Professional Audio Interfaces
Finally, a headphone connection (at the back), although I usually like it at the front, oh well. Because it is more budget-friendly, it is not recommended for people with instruments that require more than about 35 decibels gain or headphones over 100 in impedance. Keep this in mind, because the power is excellent for a lower price-point audio interface, but it is also not chock-full. This is one of the best audio interfaces for people on a budget who need the standard features of an interface, and although it does not have an elegant digital conversion (like the Apollo Twin), you get what you pay for.
Last update was on: October 17, 2021 2:36 pm
Apogee Duet 2
Apogee electronics brings us one of the best audio interfaces for Mac. It is rather simplistic in terms of connectivity, but the reason that it is so expensive is that of the amplifier. It goes up to 63 dB, which is quite large for its size. Another plus is the 48-volt phantom power, but it also has a built-in condenser microphone if you think you're going to use it for that. You can only mount it and use it as a microphone while you have an audio interface at hand.
It has no MIDI ins or outs or even XLR ports, but it gives us a 1/8 "for headphones, what most people do is use a converter cable that can be connected to an external microphone, MIDI keyboard or controller, etc. Check it out because it gives us a bit of another twist on audio interfaces. Do not let the small size of the Apogee Duet 2 make you think it's powerful – it increases the quality of your music like no other (if you're on a Mac). Overall, this is one of the best audio interfaces on the market.
Last update was on: October 17, 2021 2:36 pm
Native Instruments Komplete Audio 6
We are big fans of equipment and software from Native Instruments, and this is a competitor of the Avid bundle we mentioned earlier. They were a good choice in our best VST plug-in guide. The Komplete Audio package is compelling here, not only because of the solid build that will help with a long service life but also because of the software it contains – Cubase LE 6 (a solid DAW), Traktor LE 2 and Komplete Elements, making it you get rid of 1k VSTs and effects.
As far as connectivity is concerned, you have several good plugs – 2 balanced XLRs, 2 balanced 1/4 "TRS, four balanced outputs, a MIDI in/out, and it is powered via USB for hassle-free hook-ups with a single volume button for the sake of convenience. This is a great package to see if you have the dough, especially if you also want to add some instruments and effects to your arsenal. The sound quality is evident and reliable in terms of latency reduction. The Native Instruments Komplete Audio 6 is not much cheaper than Avid's bundle, but you get Cubase instead of Pro Tools.
Last update was on: October 17, 2021 2:36 pm
Audient Evo 4
The compact Evo series was launched at the 2020 NAMM Show to great acclaim. At the back of the EVO 4 you'll find two combo mic/line inputs, and up front an instrument level input for guitar or bass (which then overrides the first input at the back). Two speaker outputs complete the connections, and a central rotary knob controls the level of that output plus a number of other levels largely determined by the knobs at the top of the panel that you press.
Namely 1 and 2 (for input levels), and output (bottom right) plus a final knob that controls the mix between the input and the DAW. Using the headphone jack means that the main rotary knob controls this level. The one-turn knob solution is beautifully implemented and designed to make the EVO a smart, compact desktop solution that sounds great. Overall, this is one of the best audio interfaces.
Last update was on: October 17, 2021 2:36 pm
Mackie Onyx Producer 2.2
With high-quality Onyx mic pres, balanced analog connectivity and operation up to 24-bit/192kHz, the bus-powered Onyx Producer 2.2 audio interface is more than capable of getting clean signals in and out of your DAW. There are two identical mic/line inputs with combined XLR/jack connectors. Each input has a manual switch with green backlight to select a Hi Z instrument, and there is a general switch with backlight for 48 V phantom power.
Input signals can be monitored without delay with the Input/DAW Mix knob, and the front panel is completed by a large monitor level knob and a headphone output with level knob. At the back you'll find a pair of 1⁄4 inch jacks for monitor output, as well as a pair of MIDI jacks (In and Out), which is very handy. Add to that the rugged metal body and you have a compact workhorse that should last for years. You also get a DAW, Tracktion T7, in the box. Overall, this is one of the best audio interfaces.
Last update was on: October 17, 2021 2:36 pm
How To Choose the Best Audio Interfaces?
When it comes to the best audio interfaces, it depends on a few factors. We want to give you a definite answer, but it is too dependent on many elements you have to take into account when shopping for the device. It depends on what you need:
Budget – Most of these are relatively affordable, but you can always go higher for several powerful functions. We have seen that audio interfaces go within a price range of $ 30 to $ 2000. We have tried to grab a few of each price point to give you options for your search.
Connectivity – You can choose the more popular USB route, FireWire, or even advanced Thunderbolt. The more sophisticated you leave USB, the more money you will have to drop; however, it can be worth the investment if you have the money.
A number of I/O – This is something to take into account, not only for now but also for the future. Many musicians who record several instruments simultaneously, such as with a band, require numerous inputs and outputs to operate all equipment. Of course,e I am a one-person band in my job, so I think it's okay with lesser inputs because we take everything separately. Do you need a pair of microphone inputs
Ports – Try to look at the acceleration around you and plan what you want to connect to your audio interface. If you plan to buy more stuff in the future, buy an interface that can provide you with a few extra connections for your future studio.