The best Bluetooth speakers are inherently designed to be portable. This is more or less the whole point of a Bluetooth speaker. Some users, however, love the wireless part of the story but want a loudspeaker that can only be used at home. If you are looking for something that fits this description, you are in the right place. We have selected the best Bluetooth speakers that work well for home use.
Finding the best Bluetooth speakers for home and other uses requires a certain amount of compromise. You will rarely find a model that was built for this purpose only, but such speakers are the re. Our selection represents what we believe to be the best choices at the moment. We have balanced prices, performance, and other factors to limit the range to various right decisions.
Each of these should give you more than decent sound at home, especially if you plan to use them in a medium-sized room. With that said, we hope you found this guide useful.
List of the best Bluetooth speakers
UE Megaboom 3
The best Bluetooth speaker overall
With excellent sound quality, long battery life and ruggedness suitable for travel, the UE Megaboom 3 is the best Bluetooth speaker you can buy right now. This big, bold portable speaker pumps out rich 360-degree sound, complete with clear highs and satisfying low end, and has a maximum sound pressure of 100 decibels. And with an IP67-rated design, it can survive drops, splashes and a fall into the pool without skipping a beat.
The Megaboom 3 is on the larger side compared to other portable speakers, and unlike many of its competitors, it doesn't have support for Alexa or Google Assistant, or any other smart features. But if that's not a game changer, the Megaboom 3's sound quality and robustness can't be beat for the price. You can also pair it with older Megaboom and Boom models for a stereo sound experience. Overall, this is one of the best Bluetooth speakers.
Last update was on: October 17, 2021 1:23 am
Marshall Kilburn II
Small and mighty
For those planning to take a portable speaker to an outdoor party, the Marshall Kilburn II is a perfect companion. It's an update of its best-selling predecessor. You get a beautiful retro amplifier-inspired design and a well-rounded sound. Although the bass can be a bit muddy at times, it's excellent for playing guitar music, and its portability makes the Kilburn II ideal for taking on the road. You can feel the weight though, as it is heavy at 2.49 kg.
The Kilburn II delivers improved sound quality compared to its predecessor. The loudness of the portable speaker is best suited for festivals and parties, as it comes with multi-directional sound and backfiring tweeters. Bass and treble controls allow you to adjust the sound to your preferences.
If you want to buy this speaker, chances are you like rock music, and that's what the Kilburn II excels at. But, if you're a bass-head or love your hip-hop, you might find a somewhat muddy sound. The Marshall Kilburn II clearly stands out from the crowd with its retro look and portable feel, and of course, it all comes at a hefty price tag. If you have the budget and are an outdoorsman, this is not a bad idea. Overall, this is one of the best Bluetooth speakers.
Last update was on: October 17, 2021 1:23 am
Anker Soundcore 2
The best budget Bluetooth speaker
The Anker Soundcore 2 is the best Bluetooth speaker for those on a budget. For less than $50, this little powerhouse delivers loud, well-balanced sound in an IPX7-rated design that can survive water, dust and snow. The speaker lasts as long as 24 hours, thanks to Anker's best-in-class battery technology, and the Soundcore 2's dual neodymium drivers ensure you get powerful sound in any environment.
The Soundcore's compact 6.5 x 2.1 x 1.77-inch design makes this speaker perfect for slipping into your bag for a quick trip, and it comes in vibrant blue and red color schemes, in addition to the standard sleek black. Its low price makes it ideal for environments where you don't mind a little bit of wear and tear. Overall, this is one of the best Bluetooth speakers.
Last update was on: October 17, 2021 1:23 am
UE Wonderboom 2
The best portable Bluetooth speaker below $100
The UE Wonderboom 2 proves that great things can come in small packages. This tiny speaker delivers massive sound in a tiny 4-inch cylinder, complete with thumping bass, balanced mids and clear vocals. The speaker can be held underwater for up to 30 minutes and is dust resistant, making it perfect for your next trip to the pool, beach or park.
Other key features include an impressive 13-hour battery life and the ability to pair two Wonderbooms together for immersive stereo sound. If you need a particularly small speaker that's easy to carry around and don't want to spend more than $100, the Wonderboom 2 is hard to beat. Add a carabiner to the clever loop to attach the Wonderboom to your bag when you head out the door. Overall, this is one of the best Bluetooth speakers.
Last update was on: October 17, 2021 1:23 am
JBL Charge 5
JBL's best Bluetooth speaker with full waterproofing
The JBL Charge 5 makes only a few changes to the formula of the Charge 4, but the improved sound output and even greater ruggedness of the new model make it a deserving member of the club of best Bluetooth speakers. The IP67 rating, which indicates a high degree of dust resistance and full waterproofing, is about the best you can get for a mainstream speaker.
JBL's app is not as sophisticated as that of, say, the UE Megaboom 3, and the Sonos Move has far more features. But the Charge 5 can show a few tricks of its own, the most important being that it can act as a power bank for phones and tablets. Running out of power when streaming music in the garden or a park? Just plug it into the Charge 5 and the speaker will recharge it. Overall, this is one of the best Bluetooth speakers.
Last update was on: October 17, 2021 1:23 am
UE Hyperboom
The best Bluetooth speaker for parties
Want to go really big? The UE Hyperboom is the best Bluetooth speaker for large gatherings, thanks to its massive size and big, thumping audio output. This 14-inch tall speaker offers huge, balanced sound that is especially ideal for barbecues and outdoor parties. The Hyperboom is as rugged as it is big, with IPX4 water resistance to survive splashes. And the battery lasts 24 hours, so you can keep your music going all day and night. Couple that with seamless Bluetooth connectivity and plenty of volume, and you have the ultimate speaker to fill a large room with great sound. Overall, this is one of the best Bluetooth speakers.
Last update was on: October 17, 2021 1:23 am
LG XBoom Go PL7
The best Bluetooth speaker for sheer style
Every Bluetooth speaker on this list delivers great sound and functionality, but only the LG XBoom Go PL7 does it while boasting awesome LED lighting. This unique Bluetooth speaker packs fully customizable LED rings on both sides, adding some unique flair to your pool parties or indoor jam sessions.
But the XBoom Go PL7 has much more than looks to its advantage. The appropriately thumping sound of the XBoom holds its own against the best Bluetooth speakers in this price range, delivering balanced bass and satisfying treble. And with an IPX5 rating, this speaker can stand up to a splash of water and just keep on going. Add in the fact that the battery lasts 24 hours, and the XBoom Go PL7 is a great Bluetooth speaker that looks as good as it sounds.
Last update was on: October 17, 2021 1:23 am
Sonos Move
The best high-end Bluetooth speaker for outdoors
The Sonos Move may not be as portable as the newer Roam, but it's still one of the best Bluetooth speakers on the market. The Move takes the well-tuned sound and rich feature set of the Sonos One and travels with it, with a battery that lasts 10 hours in a portable (albeit rather clunky) design. We found the Move delivers thumping, clear sound, complete with satisfying bass and clear vocals.
The speaker works with all major streaming services, including Spotify and Apple Music, offers support for Apple AirPlay 2 and can seamlessly switch from Bluetooth to Wi-Fi. Support for Alexa and Google Assistant lets you do everything from check the weather to control your smart home, and the Move's Auto TruePlay automatically tunes the speaker's audio output to wherever you're listening, whether you're throwing a party on the roof or rocking out in your bedroom.
Last update was on: October 17, 2021 1:23 am
V-Moda Remix
The best Bluetooth speaker for bass heads
For a premium speaker that looks as good as it sounds, look no further than the V-Moda Remix. This drool-worthy showpiece is one of the best Bluetooth speakers for design-oriented people, and it can be customized to your heart's content. The base model looks slick in aluminum or vegan leather, while those with bottomless budgets and a penchant for style can opt for steel or platinum finishes.
Most importantly, the Remix sounds great, with plenty of bass and a built-in headphone amp to enhance the sound of your favorite set of cans. The Remix's 10-hour battery life certainly makes this speaker suitable for longer jam sessions, and the reliable microphone ensures clear call quality whether you set it up indoors or out.
Last update was on: October 17, 2021 1:23 am
Tribit StormBox Micro
The best Bluetooth speaker that's both cheap and waterproof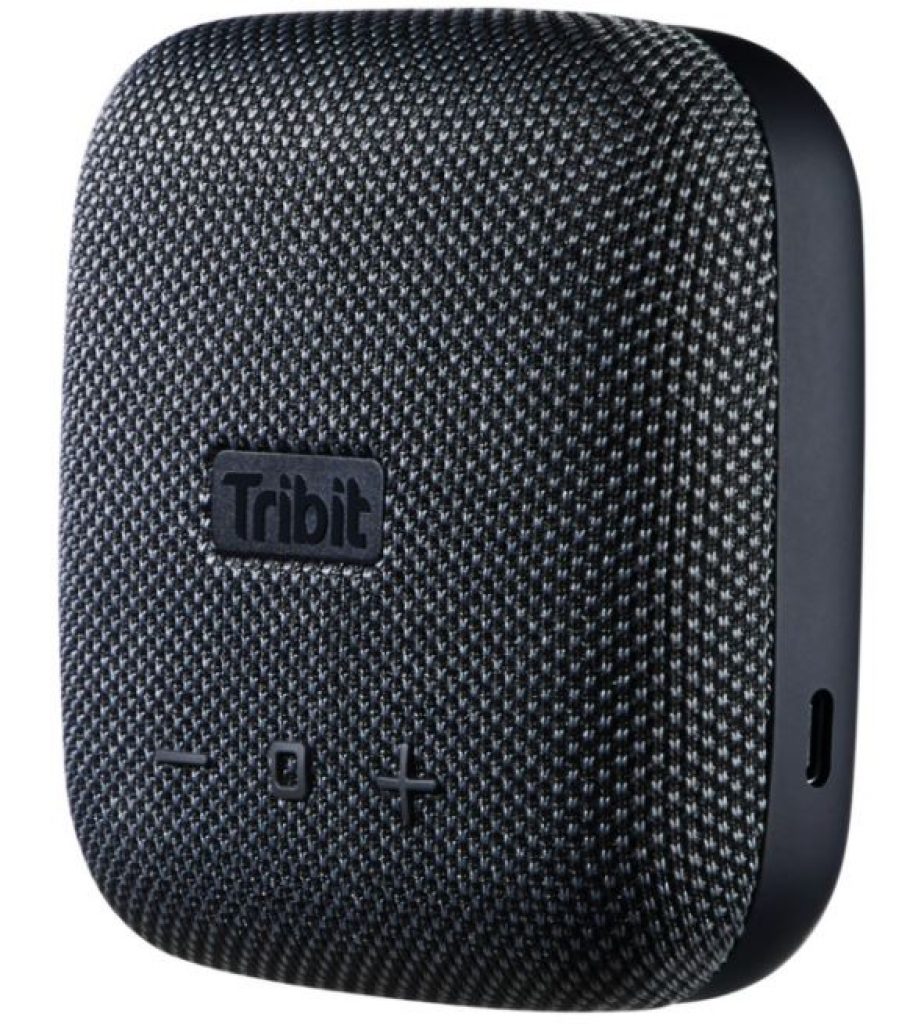 Sometimes small and easy to carry is the most important quality of a Bluetooth speaker. But the inexpensive Tribot StormBox Micro doesn't skimp on sound either. Although the StormBox Micro is only 4 inches square, it has a pretty impressive bass, especially for something of its size. The speaker has a plastic strap that makes it easy to attach to a backpack or bike, and an IP67 water-resistant rating, so it's fully protected against dust and dirt, as well as water immersion. However, there is no aux input, so you have to connect to it via Bluetooth. Overall, this is one of the best Bluetooth speakers.
Last update was on: October 17, 2021 1:23 am