Many audiophiles tell you that getting the Best Bookshelf Speakers Under $1000 is overkill. They are right in some ways. If you cut that budget by half, you might find pretty impressive speakers that deliver similar performance. This way, you can spend $500 on a good set and use the rest to get the rest of the equipment you need. However, The Best bookshelf speakers under $1000 have a lot to offer. Today we are going to see some for the Best speakers in this class and see what they can do.
List of the best Bookshelf speakers under $1000
Audioengine A5+ Wireless
First up in our top ten is this mid-range 2.0 set from top manufacturer Audioengine. They have a beautiful aesthetic with their smooth, curved edges, they are very well built and underneath their charming good looks are some impressive custom designed components.
Each component is designed and manufactured in-house whenever possible. All the inevitable outsourcing is still custom made to meet their strict design specifications and be perfectly suited to their function. Each component is also seamlessly integrated into the left speaker to be ultra-efficient. The enclosure is critically calibrated to give the high-end full-range drivers optimal sonic clarity. They feature a bass port to maintain adequate airflow and reduce unwanted bass resonance. The amplifier is of high quality, as are the crossover circuits.
The preamp sections are mounted vertically to protect them from mechanical shock and essentially make the electronics even more durable, so they last longer. They have built-in Bluetooth and stream without cables at audiophile quality. Lovers of bass may like to connect these to a subwoofer, but make no mistake despite their classification, these are fantastic units. Overall, this is one of the best bookshelf speakers under $1000.
Last update was on: September 20, 2021 8:06 am
Dynaudio Xeo2
For an alternative compact option that really delivers a magnitude of sound reproduction that is completely antithetical to its physical dimensions. They are built by Danish manufacturer Dynaudio who has quickly made a name for themselves in the wireless speaker industry. They offer a high fidelity streaming experience that many Bluetooth speakers do not adequately provide in terms of quality.
The cabinets are made of a molded composite with an aluminum soundboard. They house a durable, ultra-rigid conical 14 cm mid/bass driver, which is paired with a powerful 28 mm tweeter. The array is fairly typical, but in the circuit board and digital signal processing is where this pair really shines. They use true time coherent phase linear FIR filters, power optimization and Adaptive Bass technologies to expand the lower frequency response and make the crossover smoother.
They have digital optical and analog connections, and also have the same modern connectivity advantages as their larger companions, with their Bluetooth capabilities. They sync with or without a Dynaudio USB hub, are easy to use, and also come with a handy remote control. Overall, this is one of the best bookshelf speakers under $1000.
Last update was on: September 20, 2021 8:06 am
KEF Q100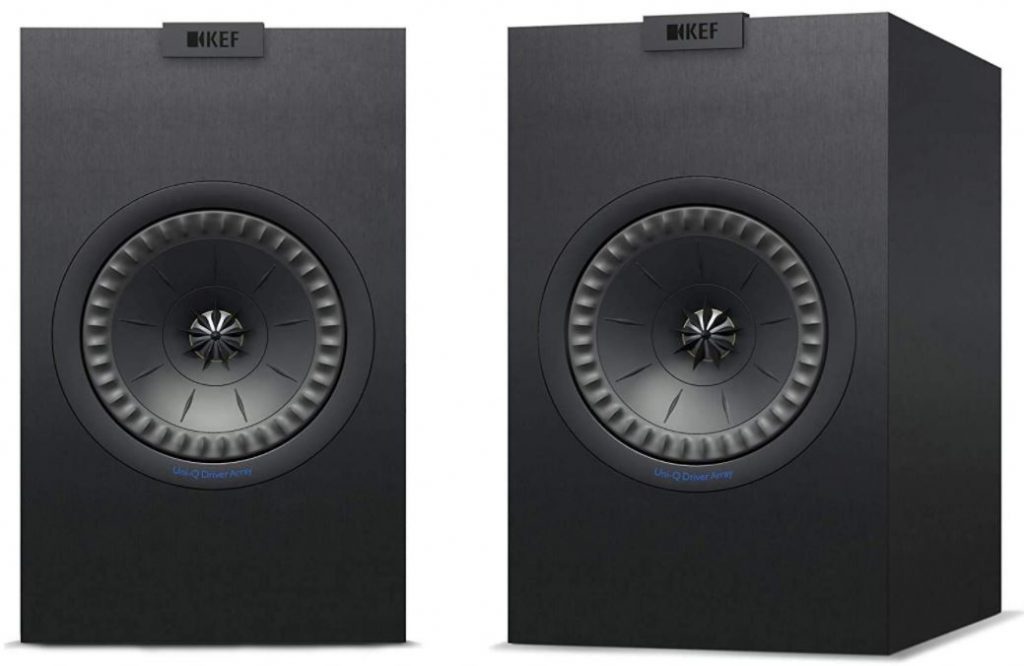 The Q100 pair is based on KEF's state of the art HF driver developed for their flagship Blade. They are essentially a smaller version of the well-received Q300s, each featuring a single 5.25 patented Uni-Q driver array carefully designed to produce a highly accurate 3 dimensional sound.
At the heart of the array is a larger, special aluminum dome tweeter with increased sensitivity and high power. The cone of the main driver is a magnesium/aluminum alloy composite. It is exceptionally stiff and can quickly handle fully balanced stereo mids. The surround is made of their patented Z-flex material to reduce distortion.
Each speaker is just under a meter tall, making it a very suitable size for a bookshelf speaker. They require an amplification power of 10-100 watts. Overall, this is one of the best bookshelf speakers under $1000.
Last update was on: September 20, 2021 8:06 am
SVS Prime
The SVS Prime set is a premium set of bookshelf speakers designed for 2-channel purists. It is one of the best built in its class and price range. They are compact, well designed and expertly crafted. They make a great base for any surround system and deliver world-class performance.
The cabinet is precision engineered from plans that are FEA and CAD optimized to reduce tweeter diffraction and get a natural uncolored sound. The bass is ample as a standalone, although these are intended to be part of a larger sound system set-up. The 6.5-inch woofer is mounted in its own sealed compartment, the cones are stiff but light.
The lightweight, super-stiff aluminum dome tweeter and its diffuser provide high sound pressure levels without distortion. The Prime set features the same advanced circuitry and top quality drivers as the Ultra line, with the 2-way crossover being the key ingredient. The patented SoundMatch crossover consists of high-quality capacitors, air-core conductors and heavy-duty trace PCBs that provide lower distortion and better heat dissipation. Overall, this is one of the best bookshelf speakers under $1000.
Last update was on: September 20, 2021 8:06 am
SVS Ultra
SVS Ultra Bookshelf Speakers offer the type of performance you get when building a loudspeaker with high-quality components. These have everything: both the looks and the sound. Within their respective price ranges, you will be hard-pressed to find something that works better.
All in all, it is one for the Best bookshelf speakers under $1000. The sound is exceptionally accurate, nuanced, and accurate. But if we could find one complaint, it would be that the image projection has a rather narrow sweet spot, which means you have to be very careful when it comes to choosing their placement in a room. It can take some experimenting before you end up with the optimal setup. Keep this in mind, and you will not have problems with these speakers.
Last update was on: September 20, 2021 8:06 am
MartinLogan Motion 15
MartinLogan has always made excellent products, and Motion 15 is also one for the Best bookshelf speakers under $1000. With a design that marries the classic luxury of sumptuous wood finishes with the soft futurism of the ribbon-folded tweeter, the sound is just as good as the aesthetics would hope it was. A great purchase. If you spend so much on speakers, bookshelves, or otherwise, you want performance across the board. The Motion 15s come close here but are defeated by competitors in this price range when it comes to their ability to accurately and vigorously produce a bass response that matches their delightful highs and rich mid-tones. Not the worst problem to have, but something to keep in mind.
Best Bookshelf Speakers Under $300
Last update was on: September 20, 2021 8:06 am
Audioengine HD6
A quick look at Audioengine HD6 will tell you precisely what kind of aesthetics they were looking for. These speakers look very old with the grids, a trend that has been popular for a while. Cabinets are made of high-quality MDF finished with furniture. This gives them a pretty natural vibe with which you can place them in virtually any environment. One of the most critical questions you generally encounter is how good a set of high-end active speakers can be? The answer is perfect.
Once you have set them up, which is a relatively straightforward process, you will soon realize that HD6 has a relatively warm sound compared to similar passive models. It feels like Audioengine has started a bit of that edge to make the HD6 more compatible with different music genres and with digital formats.
Last update was on: September 20, 2021 8:06 am
What To Expect From The Best Bookshelf Speakers Under $1000?
The perception that The Best bookshelf speakers under $1000 may be overkill for bookshelf speakers is based on facts. That's the kind of money you would spend on a decent tower setup. With this type of money, however, you get a few benefits if you need something compact. The absolute first that comes to mind is the quality of just about everything. From the cabinet to hardware. Most speakers in this price range have high-quality finishes, impeccable build quality, and significantly improved hardware. Woofers generally get more prominent, tweeters more accurate, and overall performance better.
Most brands will also integrate some of their solutions. That means we will see customized voiced transducers or specially designed cones. Anyway, you pay for both substantial upgrades and purely aesthetic upgrades. More often than not, the most crucial benefit of all that we have noted up to now will be the strength. Home speakers in this segment of the market should not struggle to saturate a medium-sized room without losing any clarity. Brands such as SVS cost a lot, but every cent invested is reflected in intangible performance. That type of approach to building speakers is not unique to the price range of $ 1000, but it is certainly more common.
What was interesting is that you can also find pretty impressive active setups here. Active speakers are usually left to a range of $300 or lower. With that said, some companies offer the right tone, along with an excellent connectivity suite. Those who value functionality will find a few reliable solutions. These active units may not have all the answers in the I / O port, but offer you the opportunity to experience excellent sound quality. Generally, shopping for a $ 1000 loudspeaker means knowing precisely what you're looking for. Otherwise, you run a real risk of getting a niche set of speakers that are not compatible with your needs.
Conclusion
Whatever you think, the Best Bookshelf Speakers Under $1000 are not expensive bags with beautiful components. There is some tangible improvement in performance. Decide whether this improvement is an investment, you have to figure out for yourself. Loudspeakers we have shown above offer an impressive sound for anyone looking for that extra step. If you already have a well-developed rig, speakers from this price range can show you what your setup is capable of. In that respect, we hope that you have discovered something new about bookshelf speakers.