Are you interested in buying the Best Bookshelf Speakers Under $200, but so far, you have not been lucky enough to find what you need? Well, you'll be glad you found this buyer's guide because we've found The Best options available in the market. We have already done the searching and researching the speakers, so that is not necessary. Moreover, you are lucky if you have never bought a pair of bookshelf speakers, and you have no idea which functions to look at because we have made a buyer's manual that covers the many small details that you should pay attention to.
We hope that at the end of this buyer's guide, you will find what you are looking for, but if you find nothing exciting in this manual, then you have at least the necessary knowledge to make the right choice when buying another one.
Best Bookshelf Speakers Under $200 List
Our list of the Best Bookshelf Speakers Under $200 offers a definite upgrade compared to cheaper models. In a perfect world, this is the price range that we would recommend you to start with if you are new to the world of quality audio. The below models are just some of the models that stand out in this highly competitive segment. Their performances have been proven many times, which was also recognized by more experienced audiophiles.
Edifier R1700BT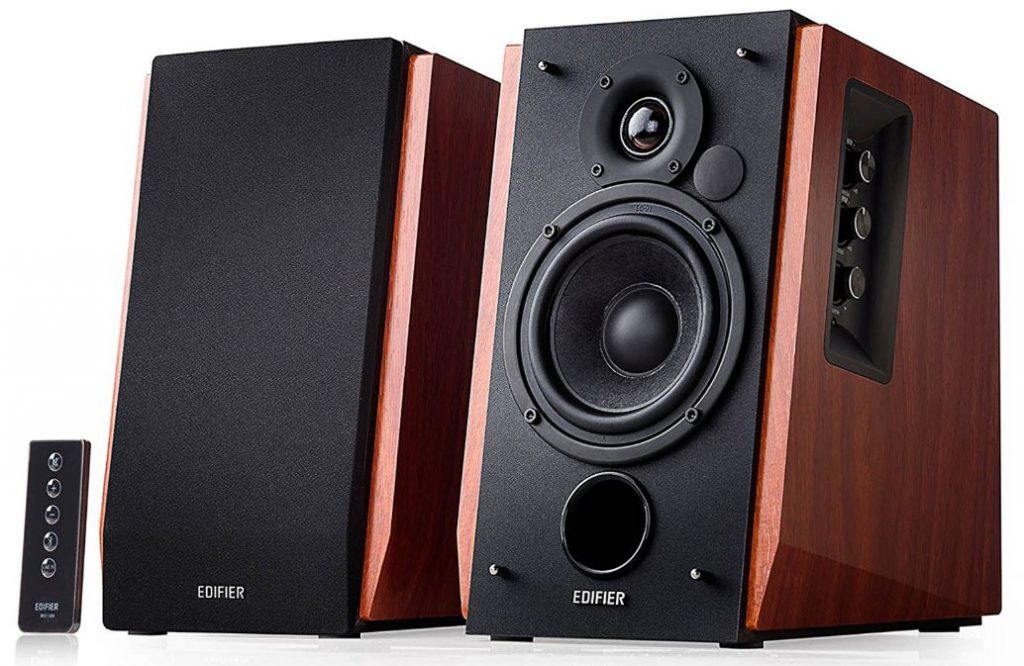 One for the Best bookshelf speakers under $200 on the market today is the Edifier R1700BT Bluetooth bookshelf speakers, because of its many useful features. Unlike most bookshelf speakers, it has Bluetooth connectivity, meaning you can quickly pair your smartphone or tablet to play beats immediately. Moreover, you can connect to the speaker via an AUX cable if you do not have Bluetooth, which is an excellent method because you can also connect other devices, such as your PC. The bookshelf speakers also have a remote control that makes them comfortable and practical to use. With the remote control, you can adjust the volume, skip beats, and mute the speaker when needed.
The design of the Edifier R1700BT Bluetooth bookshelf speakers is excellent and gives a warm, lively feeling thanks to the wooden design. When purchasing the loudspeaker, you will receive a two-year warranty covering the manufacturer's faults. The only flaw we could find with these speakers is that if you connect via the AUX cable, you need a high-quality wire, because otherwise, the audio may sound awful with many cuts and static sounds. It is also better to buy multiple AUX cables because they bend and tear easily if not properly maintained.
Pros:
Comes with remote control
Built-in EQ
Bluetooth connectivity
Cons:
Extremely heavy
May need to buy longer wires separately if you want surround sound
Definitive Technology ProMonitor 1000
The Definitive Technology ProMonitor 1000 Bookshelf loudspeaker uses an extensive frequency range of 47 Hz – 30 kHz, which means you can hear high-quality music. The efficiency of the speaker is also 90 dB so that you can play music on very loud levels and experience pushpin audio without reducing quality. Moreover, the design looks clear with black glossy color. Besides, you can remove the front of the speaker to show drivers a unique look, but this means exposing the drivers to any water/dust damage.
Furthermore, the loudspeaker is easy to use and adjust because it uses necessary wires connected to the back. You can attach the speaker to the wall if needed, which is a feature that some heavier bookshelf speakers do not have. The Final technology ProMonitor 1000 Bookshelf speaker can produce excellent sound quality, but the look is not great. The design is straightforward, and if you are looking for a speaker that fits well with your setup, these are one of the best bookshelf speakers under $200.
Pros:
Wide frequency response
Excellent audio
Glossy black design
Cons:
Water spills will easily break the drivers
No built-in EQ
Cerwin Vega SL5M 2-Way
The Cerwin Vega SL5M 2-way loudspeaker is quite large for a bookshelf loudspeaker on a third of a meter. This means that sound engineers can use more space and, therefore, can use more significant and better drivers that result in a first-class musical experience. The peak of the speakers is 85 dB, and the frequency response is 58 Hz – 26k Hz, which means you can listen to the music of incredible quality – even at full volume. Also, the power application of the speaker is 125 watts, which is quite a bit, so make sure your setup can handle the current. With a 5 ¼ "low-end driver, the bass sounds unbelievable, and with the help of the newly designed soft dome tweeter, the treble sound accurately.
Besides, the bookshelf speaker features a classic black style that also has a removable grill that reveals an orange design of the tweeter and woofer. Keeping the speaker in this way can be stylish and fits well with any orange setup. Moreover, you see that the woofer vibrates while you play music. The only downside we can think of with this loudspeaker is that it is big and a pain when you want to switch between setups. Their assembly can also be a challenge because of the large size it occupies. Overall though, they are one of the best bookshelf speakers under $200.
Pros:
Stylish orange design
85 dB peak sensitivity
Can output extremely loud pinpoint audio
Cons:
Big and inconvenient to move around
Can't tune the speaker to your preferences
Pioneer SP-BS22-LR
The Pioneer SP-BS22-LR Andrew Jones-designed bookshelf speakers use a 4-inch textured surface woofer with extra-large magnets and ventilated posts for better bass response. Also, with the help of a 1-inch high-efficiency soft dome tweeter, the higher and mid-range turns sound incredible even at high volume levels. Each loudspeaker uses about 80 watts of power, which is a lot for home appliances, and the nominal impedance is 6 ohms. Also, the Andrew Jones Designed Bookshelf Speakers from the Pioneer SP-BS22-LR are part of a complete speaker set, meaning you can buy these speakers, and if you save, you can add more devices to your setup.
Furthermore, the design of the bookshelf speakers is beautiful with a dark wood design that gives a warm, inviting look. Taking the front grill is recommended with these bookshelf speakers because they look much more attractive with the visible drivers. However, this is not a must and depends on user preferences. There are not many downsets with these speakers, but if we had to think of one, it would be that they sound much better with the whole Pioneer setup than they are solo speakers. The reason why the subwoofer provides the audio life, and with the addition of other speakers, you can give your360-degree degree experience.
Pros:
Amazing wooden design
Is part of a whole Pioneer setup, thus you can keep on adding to the collection
Great audio
Cons:
Could use a bit more bass
Looks better without the grill, but taking them off can leave the speaker exposed to various damages
Fluance HiFi Two-Way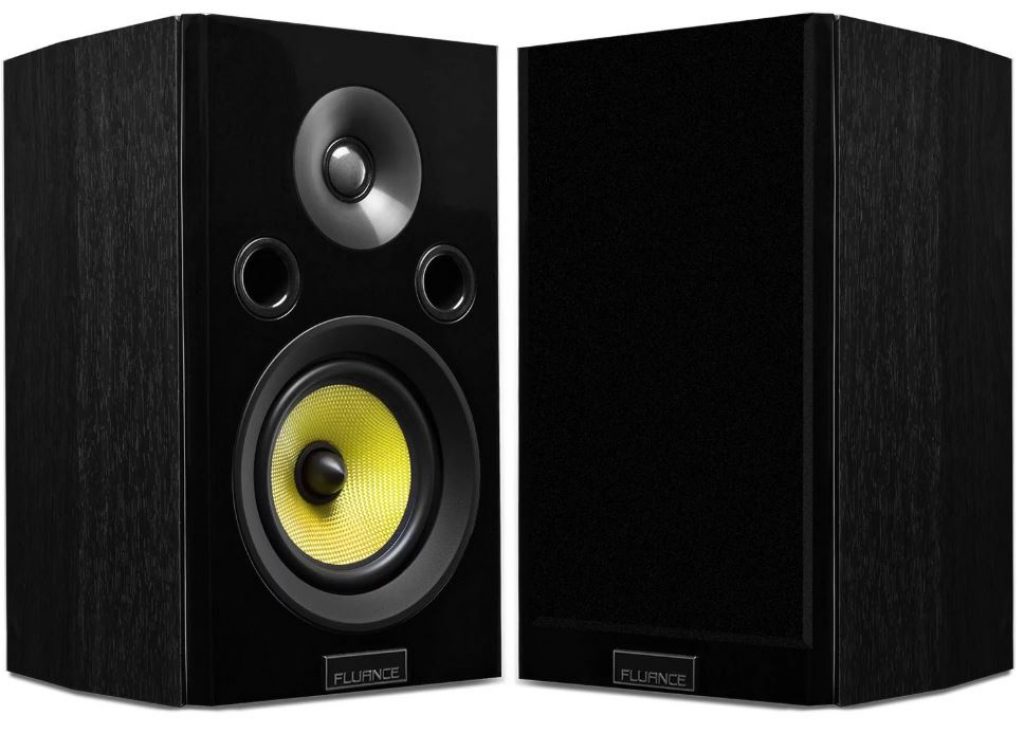 The signature series of ultra-high-end neodymium tweeters produce excellent high-frequency tones with captivating clarity and a spatial image. The audio sound is controlled, but not too aggressive because the bass of the woofer delivers life without a beat. When purchasing the Fluence Signature Series HiFi Two-direction bookshelf surround sound speakers, you will receive multiple items, including sound insulation pads, two magnetic grills at the front, a manual, and lifetime customer support.
Moreover, the materials used for making the speakers are very durable and made to last, which is excellent because you will not upgrade your speakers shortly. The loudspeaker is quick and easy to assemble, and you can place it in different locations to create a surround sound system. The only negative we could find with these speakers is that the dB level is 85, which means it will not be as loud as other speakers. However, the loudspeaker is still loud compared to the alternatives, and the quality does not change – even at maximum volume.
Pros:
Comes with noise isolation pads
Amazing audio
Easy to quickly set up
Cons:
No built-in customizable EQ
May need to buy longer wires separately if you want surround sound
Polk Audio TSi200
The Polk Audio TSi200 bookshelf speakers use a comprehensive frequency response of 43 Hz – 25k Hz, which means that the bass will sound much better than usual. Deeper bass is crucial because it gives the audio lifetime, and to amplify the loudspeaker, there are bi-laminate cone woofers with a diameter of 5.25 inches. The speaker is quick to set up because it is easy to connect cables that are in the box. The stylish look is made with wood grain finishes, a piano blacktop, and tin trim rings. The combined look creates a brilliant design bookshelf speaker.
The impedance of the bookshelf speakers is 8 ohms, which is suitable for the Best bookshelf speakers under 200 dollars. The recommended gain is also 20-150 watts – this setting gets The Best out of the speaker because it prevents the drivers from being damaged by managing the power output. The weight of the loudspeaker is 17 pounds, which can be a problem if you go through the speaker from time to time. It can also be difficult to hang it if you do not have a stable holder on the wall.
Pros:
Uses bi-laminate organic fiber cone woofers
Sound quality is great
Wide frequency response
Cons:
Very heavy to carry around
Can be tricky to mount due to significant weight
M-Audio AV42
The M-Audio AV42 20-Watt speakers with 4-inch woofer are made for desktop computers, small home studios, and are one for the Best options of the best bookshelf speakers under $200. The compact design and the used drivers take up little space while still producing beats at a high-quality level. The speakers are also great for games, DJ equipment, mixers, and other audio-related activities. RCA inputs can be used to establish connections and play in no time quickly. The broad frequency response of 75 Hz – 20,000 Hz makes the beats sound great, especially the bass.
The dimensions of the speakers are 8.4 "x 5.7" x 7.4 ", which is quite large, so you have to free up space before you place the order and the power consumption is not too high, but the speakers still use two detachable leads for extra safety The weight is quite low with just 7.6 kilos, making it easy to move the speaker. The M-Audio AV42, unfortunately, has no built-in EQ, which means that you can not adjust the audio. Moreover, these bookshelf speakers are not as powerful as some other options on this list.
Pros:
Lightweight
Made for desktop users
Excellent frequency response
Cons:
Can't mount them
Other speakers can provide louder audio
Sony SSCS5 3-Way 3-Driver
The Sony SSCS5 3-Way 3-Driver Bookshelf speaker system offers high-resolution audio because it uses the bit-rate accuracy of each sample to improve output. Thanks to a triple driver, the audio has been further improved, making the lower frequencies sound great, while the mid-tones and highs are clear to listen to. Moreover, the loudspeakers are built on solid foundations, which means that they do not wear out so quickly. This allows the speakers to play even louder audio without cracking the speakers and damaging them over time.
The loudspeaker also has a smart black finish that blends the blends perfectly with most modern interiors. The Sony SSCS5 3-way 3-Driver bookshelf speakers are part of an entire Sony system of bookshelf speakers, floor standing speakers, and a central speaker. Together they form a great sound system that can play music at an incredible level. However, using the Sony SSCS5 3-way 3-Driver Bookshelf speakers without adding the whole system is not ideal, because you lack an excellent sound experience. Overall, they are a decent contender in the list of best bookshelf speakers under $200.
Pros:
Part of an audio system
3 driver technology outputs excellent sound quality
Excellent frequency response
Cons:
Speaker cannot be mounted
Can be tricky to set up if you've never done it before
BIC America DV62SI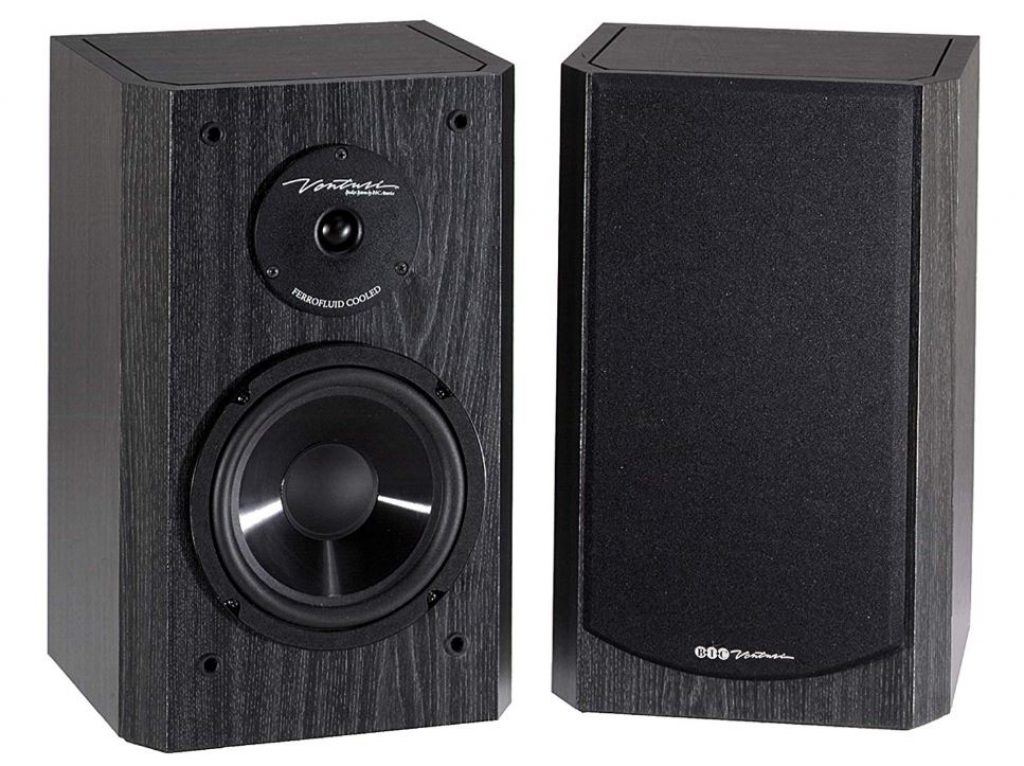 The BIC America DV62si bookshelf speakers use 6.5-inch graphite woofers that produce incredible vibrant bass. Also, using a 0.75-inch soft dome tweeter, the middle and high tones sound great. Plus, the wide frequency range of 43 Hz – 20k Hz helps the speakers produce lifelike beats. Moreover, the style of the speakers fits all kinds of decors, because it has a dark wooden design. You can switch off the grill to reveal the soft dome tweeter and woofer, allowing the appearance of the speaker to change and give it a whole new atmosphere.
The bookshelf speakers are easy to install because only two wires are needed to connect to a stereo system. The dB sensitivity is also 90 dB, so you can play the audio fairly loud without setting the volume to full power. The down point is that if you do not have a stereo system to connect via cables, you can not use the speakers. You can not mount the speakers on the wall either, so you have to make room for them in advance. But overall, these are one of the best bookshelf speakers under $200.
Pros:
90 dB sensitivity
Wide frequency response allows the speaker to play more notes than most speakers
Stylish wooden design
Cons:
No option to mount the speaker
No Bluetooth connectivity
Klipsch R-14M 4-Inch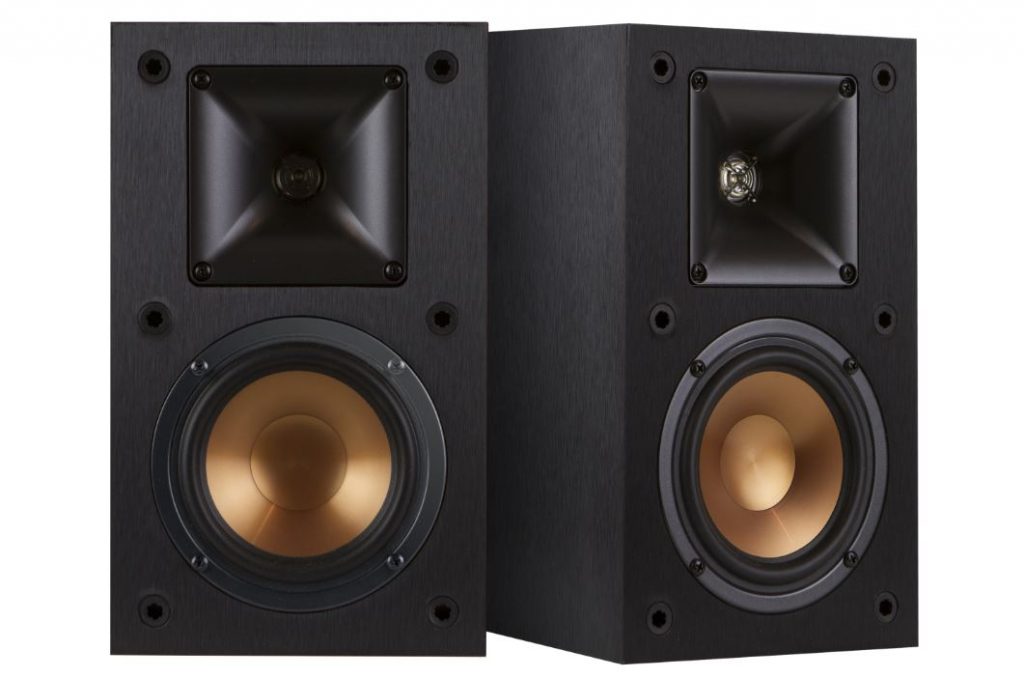 The Klipsch R-14M 4-Inch Reference Bookshelf speakers can fill a small to medium-sized room with powerful, lifelike audio. The loudspeaker uses a 1-inch aluminum linear suspension horn with a horn-loaded tweeter that produces great highs and mid-tones. Besides, the 4-inch copper spun IMG woofer with high output produces a lively bass that gives life to music. The loudspeaker is not so big at 9.75 "x 5.88" x 7.5 ", which means that you can put them almost anywhere. The copper design looks excellent, too, and is perhaps the option to combine as you want it to blend into a particular interior style.
Moreover, the bookshelf loudspeakers are light in weight of 8 pounds each. This means that you can quickly transfer them to other settings. Furthermore, the cables are easy to apply, and you can listen to music within minutes. Unlike other bookshelf speakers, the Klipsch R-14M has a copper design that might not be stylish for some people, but if this is not a big problem for you, this speaker is the right choice. Also, you can not mount the speakers as there are no hooks or designs of a keyhole. However, you can build a stand for the speakers, which is a good alternative.
Pros:
200 watts of peak power
Not too big
Stylish copper design
Cons:
The copper design may not be for everyone
Not AUX connection available
Things To Know Before Buying Best Bookshelf Speakers Under $200
Audio Specifications
Audio is an essential factor you have to look at before because if the specifications do not meet your requirements, there is no point in looking at the other functions. Here are some factors that you should take into account before buying The Best bookshelf speakers under $200:
Built-in EQ: bookshelf speakers with an adjustable EQ is a massive bonus because it means you can adjust the audio to your preferences. Sometimes the vocals are occasionally challenging to hear, so having an EQ to adjust the treble is a considerable advantage over other speakers.
Frequency range: depending on what you are going to use, the frequency response speaker is essential because it indicates how many notes a bookshelf speaker can handle. A range of 20 Hz – 25k Hz is excellent because the bass sound will sound vivid, and the high tones will be beaten.
Drivers: the drivers used are significant because this will tell you how good the audio will be. Usually, the tweezers will be less than an inch long and the subwoofer at least 3 inches or more. However, if the speaker does not have separate drivers for bass, we do not recommend them because the audio experience will be sacrificed somewhat.
Design
The design of the bookshelf speaker is essential because some are more stylish than others. Most bookshelf speakers have wooden designs that fit well with all kinds of decors. Some of them, however, are entirely black, and it is up to you to decide which you want to go. Besides, most speakers can take off the front and reveal the speakers, which can change the mood of the entire look. The only drawback is that the loudspeakers are exposed to any spilled dust particles or dust particles.
Convenience
Some speakers are more practical to use than others and therefore have a more significant advantage because you will not have to struggle with the use of the loudspeaker. Here are a few essential features that the speaker can make practical:
Remote control: A remote control can make the whole experience easy and fast because you do not have to go to the stereo every time you want to adjust the volume, skip songs, or mute the audio.
Cables: some speakers do not have their cables and have to be bought separately, which is annoying because you may not know which wires to buy. Having a speaker with pre-installed cables is a big plus because you can connect the speaker to the stereo much faster.
Easy to mount: some speakers do not have an option to install them, so they can be annoying if this is a must-have feature for you. The shape of the headrest is the keyhole, which is convenient because you only need a pre-installed screw on the wall, and the speaker can slide on it.
Brand
Buying a brand is an excellent way to know that the product you receive is premium quality. Well-known brands must keep their image, and if their condition is poor, their valuations will fall. That is why you can never go wrong by buying from a top brand. The only minus is that big brands will praise their products much higher than others, but if this is not a problem, always go for an already well-known brand. On the other hand, you can order from a lesser-known company and receive a high-quality speaker at a lower price. Make sure you do the research in advance and discover everything you can about them before you make the purchase.
Durability
Another essential feature that you should look at is the material that is used to make the loudspeaker casing and drivers, as this is a good indicator that shows you if the speaker is of a decent quality. Usually, a loudspeaker is made of plastic that does not feel premium in hand and should be avoided. However, you can buy a loudspeaker with a plastic shell that has rubber cut-offs, thus protecting the speaker from falling and having a premium feel.
Best Bookshelf Speakers Under $300
Best Bookshelf Speakers Under $200 Comparison Table
Best Bookshelf Speakers Under $200
Speaker Name
Mountable
Weight
Edifier R1700BT
Yes
14.55 Pounds
Definitive Technology ProMonitor 1000
Yes
7.8 Pounds
Cerwin Vega SL5M 2-Way
Yes
6.6 Pounds
Pioneer SP-BS22-LR
No
9.13 Pounds
Fluance HiFi Two-Way
No
9.7 Pounds
Polk Audio TSi200
Yes
17 Pounds
M-Audio AV42
No
7.6 Pounds
Sony SSCS5 3-Way 3-Driver
No
19.9 Pounds
BIC America DV62SI
No
14 Pounds
Klipsch R-14M 4-Inch
No
14 Pounds