There is a massive overlap between the world's most popular web browser and the use of VPNs (virtual private networks), so it's no surprise that so many people are hunting for a VPN for Chrome. The software has become the default choice for many people to stay safe online – and you're in the right place to discover the best Chrome VPN extension.
Google Chrome offers many possibilities. Its user-friendly design, stability, and security are some of the reasons why many of us have chosen it and said goodbye to Internet Explorer, Firefox, and Edge. Add to that the endless number of customization options you can have by using different extensions, and you can turn Chrome into a personal browser that is precisely tailored to your preferences.
Best Chrome VPN extensions
This guide will give you all the options you need to choose the best Chrome VPN extension for your PC. When you are done, you can be sure that the Chrome VPN you install is the right one for your web surfing and other online activities.
ExpressVPN
Best all-round Chrome VPN and beyond
ExpressVPN is the most powerful VPN available, period, so it makes sense that you also get a stellar Chrome VPN extension. And yes, it is a full-extension, not just a proxy as some others offer. What you get is essentially the desktop app directly available in your browser. That means you have to install the client, but you will have a lot of power at your fingertips if you do.
Unlike many Chrome VPN extensions, activating ExpressVPN in-browser gives you full protection – not just your browser traffic, but your entire device. It is also very convenient that you don't have to start the desktop app to use the browser extension – it is available in Chrome, ready to use.
You get WebRTC blocking, location spoofing, and HTTPS Everywhere (even if the extension isn't enabled) to keep you and your browser private, as well as fast connection speeds, other apps for all your devices, and a cracking support system to help if something goes wrong. Plus, the Chrome VPN blocks HTML5 geolocation to reveal your location – something the desktop app doesn't do automatically.
Find your way to a streaming services site via Chrome while abroad, and Express has you covered, as it unblocks Netflix, BBC iPlayer, Amazon Prime, YouTube, and more – impressive when you consider that these streaming services are continually trying to block VPNs actively. If you want to test the best Chrome VPN extension, ExpressVPN offers a 30-day money-back guarantee, but we think you'll find it will meet – if not exceed – your expectations of what a browser-based VPN can offer. Read more in our ExpressVPN Review.
Windscribe
Powerful and free Chrome proxy extension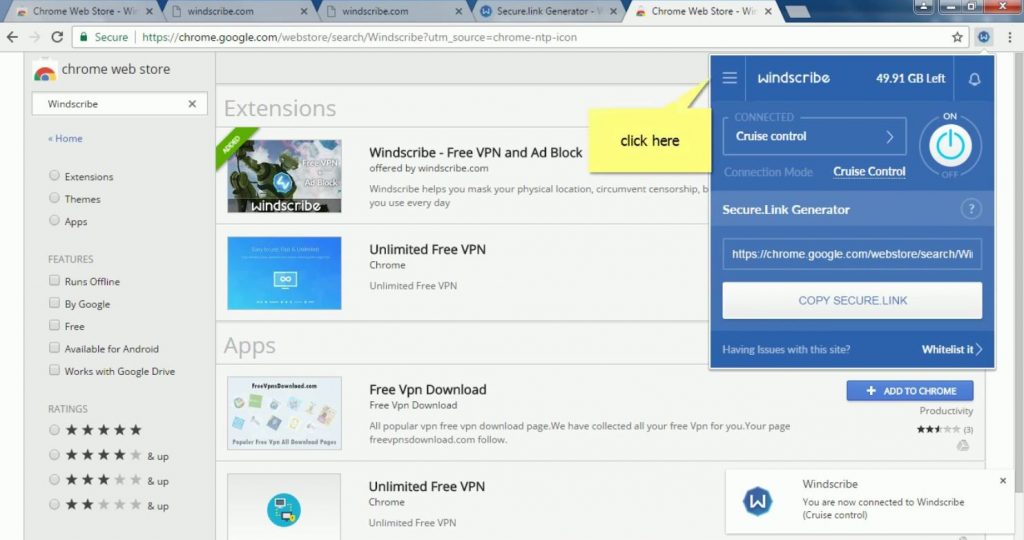 Windscribe is an excellent choice for those looking for a no-fee VPN, but what stands out is the superb Chrome VPN extension. Although the service is a proxy, you don't have to install the 'real' VPN client on your PC to get it running – that's useful for work laptops and other devices you might not want or be able to install software on.
What's more, the extension offers an impressive range of features. There are numerous blocking features, including advertisements, social media and other trackers, WebRTC, website notifications, and malware. You also get time zone and user agent spoofing, plus advanced cookie checks that can be set to remove everything when you leave a page.
Like a full-fledged VPN, Windscribe's extension can also virtually move you and give you access to geo-restricted sites. By offering servers in 10 countries (over 60 if you decide to pay for a premium plan), you should have a decent selection to choose from, including Netflix-compatible 'Windflix' servers.
There are a few drawbacks as a free service, mainly that 10GB data limit – but for such a well-equipped extension, we can apologize. If it turns out that you need more than that, premium plans also have unlimited data. Although it can't compete in real power with ExpressVPN's extension that controls the desktop client, it's an entirely different beast. This standalone Chrome VPN extension is one of the best of its kind, and for free, it's worth checking out. Read more in our Windscribe VPN review.
Private Internet Access
The best Chrome VPN extension with tons of features
Private Internet Access – or PIA – is an affordable option that offers an enormous amount of features in the Chrome VPN extension for the price. It also does this while being very easy to use, making this an ideal option for VPN novices. There are some great security features that you get with the browser VPN extension, including third-party cookie blocking, blocking or disabling Flash, WebRTC leak protection, hyperlink auditing, automatic credit card billing, and much more.
Of course, PIA will also take care of the big things like blocking your website location and access to the camera or microphone, and the download speeds remain above average with the VPN running. We also mentioned in our tests that PIA could access Netflix and Hulu – although as an iPlayer VPN, it does struggle.
Although PIA doesn't offer the number of server locations of ExpressVPN and support is somewhat lacking, it's the best Chrome VPN extension available at a great price, and it's an option worth exploring. Read more in our Private Internet Access VPN review.
CyberGhost
Great free Chrome VPN
CyberGhost is known as one of the top VPNs on the market, and another string on its bow is the free Chrome VPN extension that is offered. Although not as powerful as the paid VPN, the browser extension can work without installing a desktop client, which means it is super easy to use. With eight servers in 4 countries, there is quite a selection compared to some other free services, but we were impressed with the streaming unblocking – you will be able to watch US Netflix and BBC iPlayer.
If you want the full package, you can upgrade to a huge 6,200 VPN servers in 90 countries for a very reasonable price, plus you'll get access to CyberGhost's excellent desktop app with its streaming and torrenting streaming system. You also get a kill switch, customer support, and secure Flash access. While it's not as great as ExpressVPN, for a free Chrome VPN, CyberGhost's offering is robust and pre-eminently usable. And if you upgrade, it only gets better. Read more in our CyberGhost VPN Review.
Hotspot Shield
Incredible speeds and a decent free option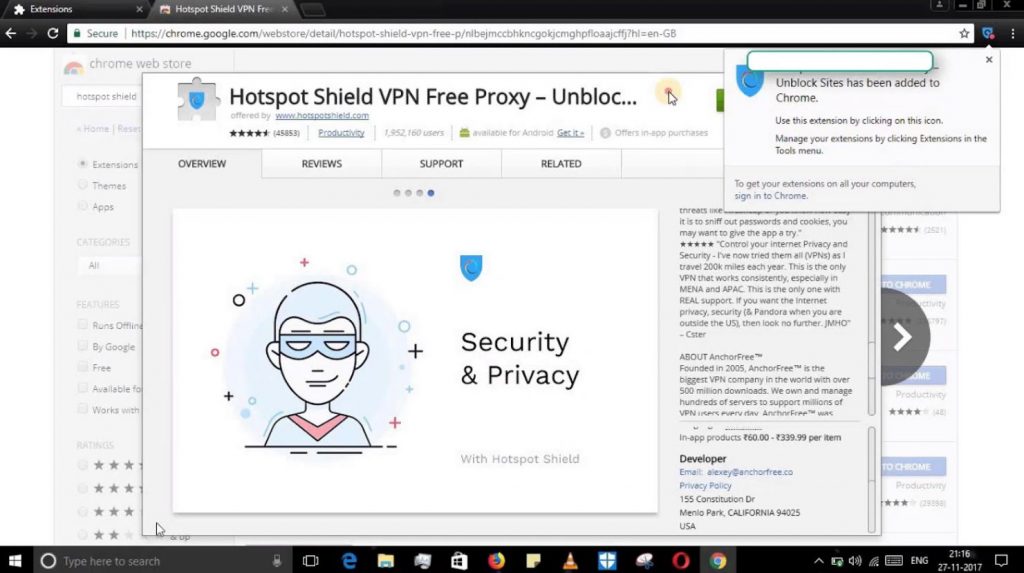 Hotspot Shield is the best Chrome VPN extension option if you want something easy to use, fast running, and free. Yup, the free version works with very few strings, although it is necessary with only four location choices – plus, it is not as fast VPN as the premium version. The reason Hotspot Shield is so simple is that when you launch it with a single click, it automatically selects the most secured server based on your location – you'll be connected instantly.
You have 256-bit encryption that takes care of you across the 1,800 servers spread across 80 countries for security. However, fans of real privacy will be disappointed with Hotspot's logging policy. Although the provider claims it does not store anything that can identify you, details such as bandwidth used and connection times are.
However, if you're looking for a fast, simple Chrome VPN, Hotspot Shield is the best Chrome VPN extension – and with a 45-day money-back guarantee, it's worth trying if you want necessary privacy when you're out and about with your laptop. Read more in our Hotspot Shield VPN review.
NordVPN
A mere proxy – but still a VPN provider of note
NordVPN does not offer a free Chrome extension, so you need to create an account with the provider to get this VPN for Chrome. One of the main advantages is the company's CyberSec feature, which is designed to block ads and prevent you from accessing sites with malware, making your browsing a more streamlined and secure experience. The extension is also lightweight and easy to use, with just a few clicks needed to get things started.
The speeds are sufficient and undoubtedly acceptable. Users have an extensive server network at their disposal, with more than 5,000 servers and counting worldwide. NordVPN also has a 'no-logs' privacy policy. There are four available plans with a 30-day money-back guarantee. Except for the monthly subscription, the plans are reasonably affordable, with the limited three-year plan being precious. Read more in our NordVPN Review.