At least for a while, give your best gaming headsets a break by purchasing the best computer speakers. Your earlobes will thank you for some recovery time. The rest of your ears will be stuck with the beautiful sound that envelopes the entire room. Computer speakers can deliver almost the same level of immersive experience, while also letting your hearing organs breathe a little.
Of course, you shouldn't just buy the first one that fits within your budget. While lesser quality products will deliver reasonable sound, it is only the best computer speakers that can truly deliver that level of immersiveness needed to bring those games, movies and music to life. Therefore, you should consider sound quality, soundstage, soundstage and features when making your choice, especially if you plan to use the speakers for games and media consumption.
List of the best Computer speakers
Enhance your digital life by making a good investment. The best computer speakers may seem secondary to the best graphics card or monitors, but they are just as important to your PC setup if you want to get the most out of your experience. Here are our top picks.
Bose Companion 2 Series III
The best PC speakers overall
The Companion 2 Series III is the best desktop speaker for most people. The 7.5 x 5.9 x 3.1 inch satellites don't take up much room on your desk, but they produce a big, full sound. The price is not expensive, and it is well worth the extra cost over cheaper units. Also remember that you are also paying for the brand name, and Bose is generally not cheap. It produces more bass than speakers twice its size, and with robust vocals and pleasant treble, it generally delivers very good sound.
The simple and elegant design has one volume control on the right speaker, along with a headphone jack so you don't have to disconnect the speakers to listen privately. With these speakers, you can't adjust the bass or treble, but thanks to the balanced sound, you probably won't miss that feature.
Last update was on: September 20, 2021 8:48 am
Logitech Z625
The best desktop speakers with a subwoofer
Lovers of bass, this system is for you. The Z625 is equipped with a monstrous 11.9 x 11.1 x 10.4 inch subwoofer that produces a deep, rich low. The 7.7 x 4.9 x 4.6 inch satellites provide a very wide and full sound. Connecting can be via 3.5mm, RCA or optical inputs, the latter being a rarity for even the best PC speakers. The right satellite has controls for volume and bass, if you want more (unlikely) or less thump from the system.
If you like low-end, these speakers are among the best computer speakers you can buy right now. Although the Z625 is more expensive than many of the speakers on this list, the subwoofer alone may make it worth the extra cost. If you include the ability to control bass and treble, you get several features that just aren't as common in cheaper models.
Last update was on: September 20, 2021 8:48 am
Audioengine A2+
Big things come in small packages
Although the Audioengine A2+ came to market four years ago, they are still probably among the best computer speakers on the market. These good-looking speakers work through your PC's USB port for uncompressed audio and stunning sound quality thanks to the built-in DAC. The Audioengine A2+ comes without a subwoofer. However, if you really need that deep bass for extra rumble, that's hardly a game changer: especially since there's an RCA output, making it easy to connect an external woofer, which Audioengine also sells separately.
Last update was on: September 20, 2021 8:48 am
Harman Kardon SoundSticks III
Space-age looks with slick sound
More than 15 years after the original SoundSticks hit the market, the design is still as space age as ever; no other desktop speaker can match the design aesthetic of these crisp speakers. The 10.8 x 9.2-inch domed subwoofer delivers rich bass, and the 10 x 2-inch satellites, each with four 2-inch drivers, produce full-bodied sound.
Despite its futuristic design, the system is very simple. You can control the volume via touch-sensitive buttons on the right speaker and the bass level via a button on the back of the subwoofer. You pay a premium for style, but you also get excellent overall sound. The SoundSticks III are the best PC speakers for audiophiles who want their computer desks to look as good as they sound.
Last update was on: September 20, 2021 8:48 am
Logitech G560
The best computer speakers for gaming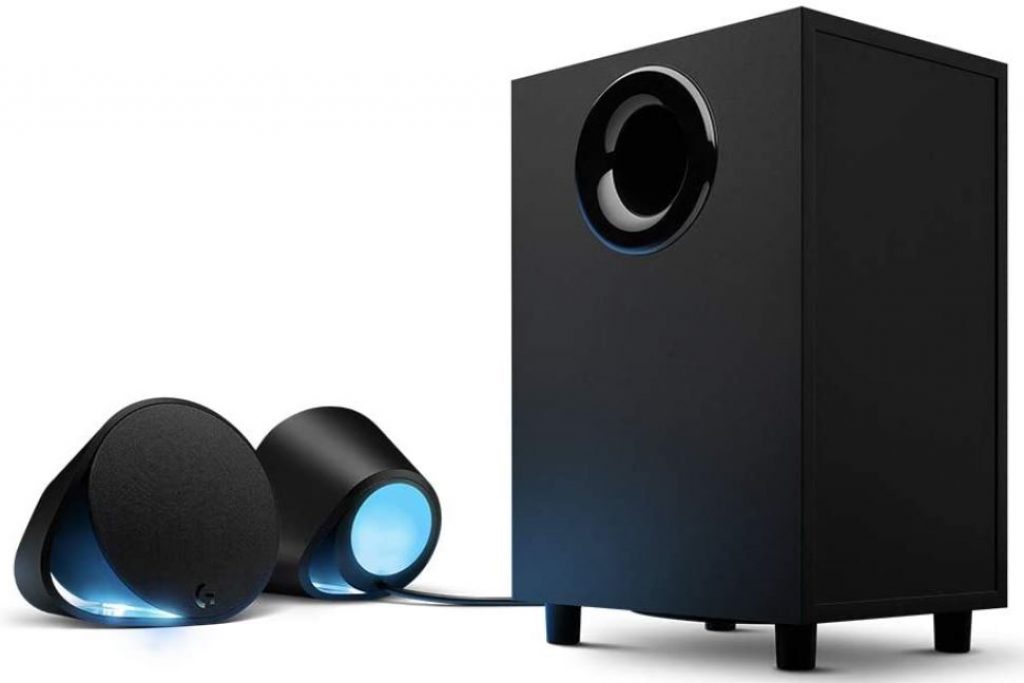 The Logitech G560 are the best computer speakers for serious gamers. The G560 produces robust sound whether you're playing a game or listening to music, and the subwoofer really adds to the experience. If you like to play loud, this system is really for you. The system also features an advanced lighting system that consists of four different zones of bright, colorful LEDs, which are fun but can also be distracting. The included software is integral; you use it to configure the lighting, activate surround sound, and even create profiles for specific games.
One handy feature of the G560 is its Bluetooth compatibility, which allows you to pull in your own music from a smartphone. This means you can play just about anything on these speakers, and you can easily transfer control from person to person. If you need something powerful for an impromptu dance party, the G560 will work in a pinch, even offering its own light show to go along with the proceedings.
Last update was on: September 20, 2021 8:48 am
Logitech Z606
The best computer speakers for home theater sound
For those whose computer is also their home theater, the Z606 is one of the best desktop speakers around. The system includes five 7.0 x 4.3 x 3.4-inch satellite speakers and an 11.7 x 11.0 x 7.6-inch subwoofer to create an all-encompassing audio experience. The heavy bass sound is a good match if you like low end, and you can adjust the level of each speaker to tailor the sound to your taste.
The satellites produce a full sound, with resonant vocals. This system is also very loud, with a power output of 70 watts. In addition to an RCA input, you can also connect wirelessly via Bluetooth. Unfortunately, the Z606 lacks the optical input you need to connect a gaming system or Blu-ray player for true Dolby 5.1 audio; instead, you need a player that supports six-channel direct output.
Last update was on: September 20, 2021 8:48 am
Creative Labs GigaWorks T20 Series II
Good sound for a reasonable price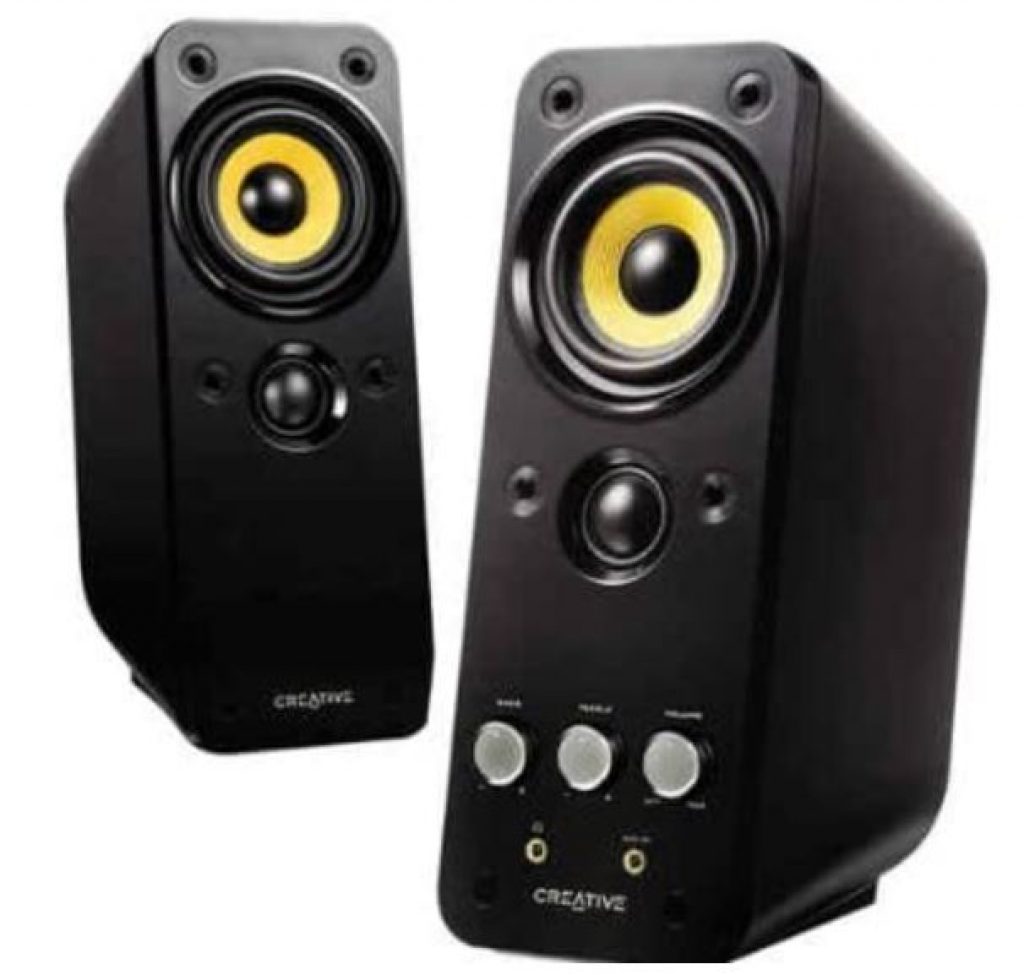 The T20s are solidly built and deliver good overall sound for the money. The long and narrow 9 x 5.6 x 3.5 inch satellite speakers produce a balanced mix of treble and bass, and you can adjust these levels. However, the speakers lack resonant vocals, so the T20 does not provide an excellent audio experience. The system has two 3.5mm inputs and comes with an RCA-to-3.5mm adapter to connect stereo sources.
With 14 watts of power per channel, the T20s are also louder than many speakers in their price range. Creative Labs also has a great computer audio pedigree, having been making discrete audio cards for PCs since 1989. This doesn't necessarily mean that Creative Labs is better at channeling computer audio than its competitors, but it does mean that Creative Labs products are made primarily with computers in mind.
Last update was on: September 20, 2021 8:48 am
Logitech S120 2.0
The best cheap computer speakers
If you're looking for a no-frills speaker system, the S120 offers the best desktop speakers at a super-tight budget. These 6.2 x 2.7 x 2.5 inch speakers don't cost much, but they don't do much either. They're easy to install – just plug them in and then into your computer's headphone jack – and produce a bigger sound than most internal speakers on a laptop or desktop, but that's about the only advantage. The S120s generally lack bass and resonance.
Still, it's worth remembering that the S120 comes from Logitech, and Logitech equipment is built to last. While there's nothing special about the S120's feature set or sound quality, you can at least be sure that your computer will enjoy it for a long time. It may even last longer than the computer you connect it to.
Last update was on: September 20, 2021 8:48 am
Razer Nommo Pro
The ultimate gaming speakers
The Razer Nommo Pro may have a funny name and a uniquely funky look, but make no mistake, this is a quality set of speakers that should be taken very seriously, and not just because of its hefty price. Try to fight the urge to run in the opposite direction of that $500 price tag, the Razer Nommo Pro has a lot to offer and is definitely a good investment.
There's the thundering down-firing subwoofer that will blow you away, and then there's the Razer Chroma feature, which makes these speakers look as great as they sound. There are certainly more reasonably priced computer speakers out there, but with this level of quality, the Razer Nommo Pro is worth the cost of entry.
Last update was on: September 20, 2021 8:48 am
Creative T100
Ideal for smaller desks
The Creative T100 proves that you don't have to have a lot of space or spend a lot of money for great sound. This stereo may not blow you away with thumping bass or surround sound, but it sounds great and offers a number of connectivity options. That's impressive considering its compact design and affordable price. And it's great for listening to music, watching movies and even gaming – as long as you're not really looking for an immersive experience.
Last update was on: September 20, 2021 8:48 am