Drones used to be expensive and limited their attraction to a small group of people. Drones have become extremely affordable in recent years. Now every budding pilot can go to heaven and control his own flying robot. You can really get lots of fun and functions for very little money. You can also dive directly and learn with a higher quality craft with more features. Best Drones For Beginners can be cheap as chips, but they do not have to be. I record a number of very affordable drones here, although affordability is not the only focus. Ease of use and pleasure flying have the highest priority.
Best drones for beginners are often cheaper because they offer fewer bells and whistles. Some high-end drones are also suitable for the novice pilot. I also include a few of those in this guide. The purpose of this overview page is to select The Best drones for beginners that are now available for the complete novice and advanced beginner. Each review here follows a simple and familiar format for easy reference.
Best Drones for Beginners
DJI Mini 2
The DJI Mini 2 is here sooner than many expected to refresh what was already an excellent drone, and it retains its key positive features: it's under 250 grams which is the weight for pilot registration in the U.S. and China, it has GPS-based return home and other pilot-assistance features, and it includes very share-friendly "QuickShots. In fact, apart from all-round object collision systems, the drone has almost everything you'd expect from a folding drone that costs more than twice as much.
The accompanying remote control is also completely new, providing up to 10 km (6.2 miles) range in FAA areas via automatic channel switching, meaning you can confidently take the drone outside in even 24 mph winds and remain confident that the drone won't get out of contact. The camera balance keeps images horizontal and shake-free while capturing up to 4K video, as well as selection of other effects that until recently were only known on DJI's prosumer models, such as panorama (and even sphere panorama). Photographers can choose Raw, manual exposure, exposure bracketing and other features they would expect on the ground.
If you're considering the Mini 2 as your first drone, but you're already familiar with cameras, this is definitely the best choice. It's also pretty handy indoors thanks to downward-facing visual and sonar distance sensors that can help it hover even without GPS, and the optional propeller guards (detachable cages to prevent any accidents while flying near obstacles). The app also makes it easy to get the footage on your phone if you don't want to wait until you get home. Overall, this is one of the best drones for beginners.
Last update was on: September 20, 2021 8:06 am
DJI Air 2S
The DJI Air 2S – the successor to the Mavic Air 2 – brings a photo-quality camera to a reasonably compact drone that is well equipped with features suitable for novice drone users, whether they specialize in video or photography. The 5.4K video offers the option to downsize to 4K without losing resolution, while the 20 megapixel camera produces great wide-angle images.
In terms of safety, the drone has all the major safety sensors – forward, backward, downward and forward facing – that allow the drone to not only detect and stop obstacles, but also plot and execute an evasive path if necessary (depending on settings). Only the sides of the fuselage lack sensors, so caution should be exercised when practicing tracking shots; usually this won't be a problem, and DJI's previous side sensors on the Mavic 2 series weren't worth the extra money.
If you're flying around physical obstacles (sensors have a harder time with water), it might be cheaper to buy a better drone with more sensors the first time; you can always learn carefully. The controller is ideal. It's strong, has a good battery, easy access to speed modes, and the location of the phone (which acts as your screen and menu) is exactly where you need it. Overall, this is one of the best drones for beginners.
Last update was on: September 20, 2021 8:06 am
Ryze Tello
With more than half of the world market, DJI has kept its technology in the serious segment of the market. However, a friendly relationship with neighboring company Ryze has led to the Tello, a compact drone that doesn't skimp on technology. It beams 720p video back to a phone within WiFi range (100m), or 5mp photos, which are recorded by the app.
This data link also gives you a battery alert, and the drone is able to take off and hover using its 14-core processor and built-in sensors. That power allows for fun features like "Throw & Go" launches and flips, but it also supports Scratch, a simple, block-based programming language meaning that literally anyone (kids included) can have fun controlling the Tello. Overall, this is one of the best drones for beginners.
Last update was on: September 20, 2021 8:06 am
DJI Mavic Mini
This drone, launched in late 2019, was aimed squarely at the consumer market (and specifically to avoid the 250-gram registration limit). It still packs quite a punch – 2.7K video, GPS, altitude hold and a mechanical gimbal – meaning that images and videos it recorded on its MicroSD card were of more than adequate quality for YouTubers or Instagrammers. As such, the drone is understandably popular (while DJI's attempt to make it a 'FlyCam' has, equally predictably, failed to catch on. Looking ahead to 2021, the only concern would be supply, but DJI continues to sell and supply the drone for now, while cautiously hinting that a newer model is in the works.
For consumers who don't feel confident about learning to fly and shoot video at the same time, the automated QuickShots offer some striking orbiting or other dramatic swooping shots while keeping your subject in focus – the DJI Mavic Mini uses its intelligence to do this from the main camera rather than incorporating additional scanners, which likely helps even this first model achieve 30 minutes of flight time (as with all official drone times, expect about 20% less). Overall, this is one of the best drones for beginners.
Last update was on: September 20, 2021 8:06 am
Parrot Anafi FPV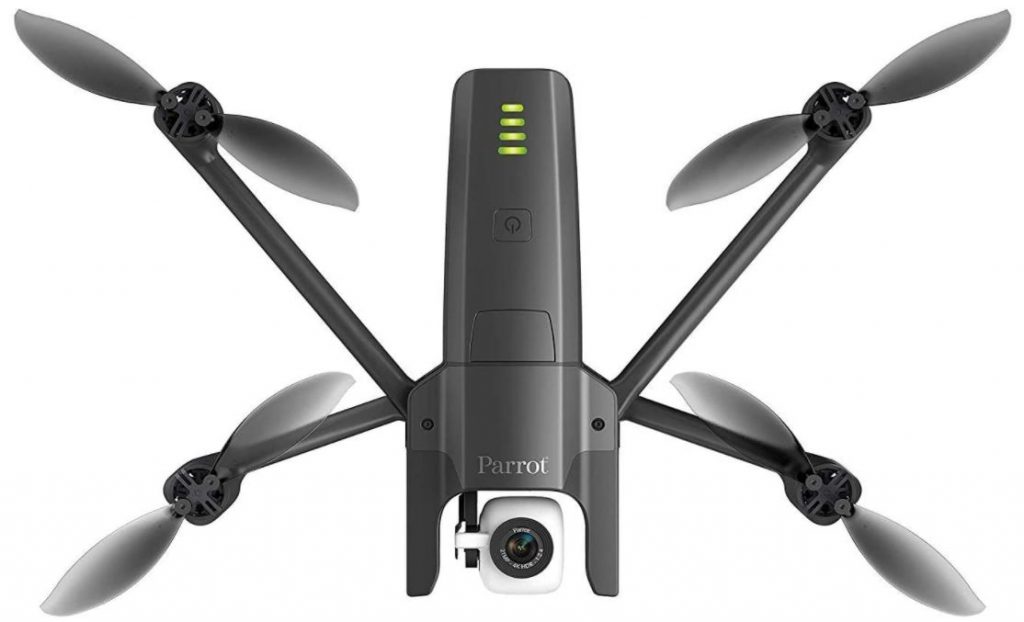 Parrot has done a great job of shuffling between the fun and functional aspects of the drone market since they essentially created it a decade ago, and the Anafi (especially the new FPV kit) embodies that.
The Anafi is a professional drone, with a 4K camera that can zoom (at least in video mode), with a gimbal stabilized camera. Some surveyors prefer it over DJI products because the camera can tilt up and down to create 3D models or, for mere mortals, get unique angles for action shots. But with the addition of First Person View (FPV) goggles, you can also vlog from the cockpit. The Parrot goggles are included in the FPV kit, and initially that was the only one supported, but a later software update means you can use other VR headsets as well.
The app has all the conveniences and is ideal for racing in Arcade mode or for photographers obsessed with settings. The only thing missing from a much more expensive device (and admittedly, this is not cheap) is a collision sensor system, but the Anafi is surprisingly robust, especially the FPV version with improved legs. Compatibility with Pix4D tools offers an interesting route into 2D and 3D survey work, should you decide to offer your services commercially.
Last update was on: September 20, 2021 8:06 am
Holy Stone HS510
This is a great little drone and it's a real shame that, like so many brands, Holy Stone has succumbed to the obsession with adding 4K to marketing materials. In this case, the plane can actually record 4K video, but only at 16 frames per second; perfectly adequate 2.7K is available at 25 fps, but that's clearly not exciting enough for HS's sales team.
Ignoring what you don't get, the HS is a sturdy but compact folding drone that isn't meant to offer professional video quality, but at least offers (via landing and manual tweaking) your choice of camera angle, as well as GPS-supported features like circling a point of interest or automatically returning home (which it can do even if it loses connection).
Not only is the device small enough to experiment with indoors, but it also includes a so-called "optical flow" sensor – a visual-light sensor that points downward and thus can maintain a reliable hover in good light, even when a roof blocks the GPS. There are minor annoyances, such as the 32 GB SD card limit, but all in all you get a lot of fun, even in bad weather, for a not too big hit on your wallet. Overall, this is one of the best drones for beginners.
Last update was on: September 20, 2021 8:06 am
Holy Stone HS100 Navigator
This excellent drone for beginners introduces not only the experience of flying, but also the basic functions of a serious photography or videography drone for a fraction of the cost. That's because it includes a GPS positioning system, and control is via a good quality phone app (a phone clips into the radio controller and serves as a screen).
Together this gives high-end features like "follow me" (the drone will track the phone's location), as well as making the drone easy to fly – release the controls and the drone will just hover, at the same altitude, even in a breeze. It can also return to its starting point with the push of a button.
The design is clearly inspired by DJI's Phantom, right down to the intelligent battery with 4 lights. That said, the battery has a built-in Micro USB connector for easy charging – DJI hasn't thought of that yet! Overall, this is one of the best drones for beginners.
Last update was on: September 20, 2021 8:06 am
JJRC H36
This spectacular little 'copter' is ideal for indoor flights because all the propellers are protected with the almost turbine-like protective covers. No camera; just a human learning to live in harmony with the machine.
After charging the small Li-Po battery using a USB socket, it snaps into place on the bottom. A bit cumbersome, admittedly, but once connected you have the power to whiz around for a few minutes and really master the flying experience and hone your skills. There's also a "headless" (easy) mode and a flip function to amaze onlookers.
The controller, powered by 2 AA batteries, has the tell-tale sign of a real pilot's drone: the left stick doesn't spring back vertically to center on release. That's because this is the throttle and during flight you have to constantly adjust it manually to maintain altitude. Overall, this is one of the best drones for beginners.
Last update was on: September 20, 2021 8:06 am
DJI FPV Combo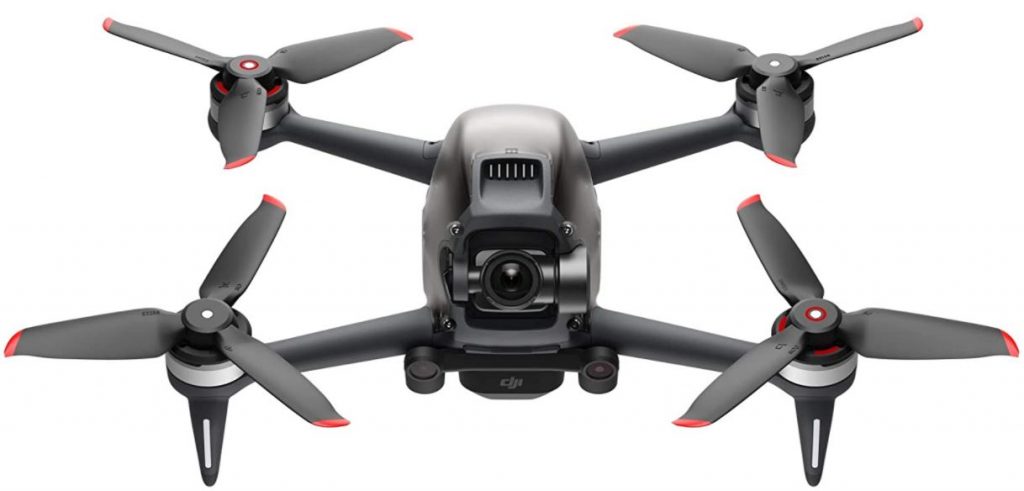 If speed and stunts have attracted you to the drone world, you'll want to climb into the virtual cockpit and fly First Person View (FPV). The problem is that FPV is not only notorious for flying, but also for the camera and radio signal that transmit video from the front of the drone to goggles and a screen that cover the pilot's eyes. In some areas, including the UK, a "spotter" must stand by the pilot to warn him of hazards that are hidden from view by his video glasses.
DJI has produced an FPV drone that brings all the speed and excitement and accompanies that with a good portion of the benefits of their more traditional photography range. The new DJI FPV features front collision sensors and while it lacks the 3-axis gimbal that stabilizes the cameras on their other products, a single-axis gimbal combined with software stabilization produces much better video than equivalent cameras on other FPV drones. Overall, this is one of the best drones for beginners.
Last update was on: September 20, 2021 8:06 am
Simrex X20
With a lower price than DJI's Mini, this drone comes with compromises, but unlike so many budget drones, it doesn't lack a mechanical gimbal or a Class 10 SD card slot. The former gives you stabilized video and the latter means you don't have to rely on a radio connection to your phone to record video, which is essential. It's also nice to have speed settings and a foldable design.
If you've seen unstabilized (or – almost as bad – digitally stabilized) video, you'll understand why those who shoot aerial footage with a drone insist on a mechanical gimbal, but it's rare to get one at a price this low. In a decent folding drone, that's even rarer, and here you have all the features (like a button press to return home) that come with GPS, convenient for safe use. Overall, this is one of the best drones for beginners.
Last update was on: September 20, 2021 8:06 am
Things To Know Before Buying Best Drones For Beginners
RC drones now have so many intelligent functions. Some of these are invaluable, while others can be a bit gimmicky. As a beginner drone pilot, there are six important functions to consider before buying The Best drones for beginners:
Flight time
Speed
Flight range
Return To Home
Camera
Controller
You can view each of these features in my no-nonsense reviews below. I record the first three items in the Technical Specifications section, along with the weight, battery type and charging time.
Let's take a quick look at these six features and why they matter:
Maximum Flight Time
One thing that bothers the beginner is the short flight time of their new drone. It takes a lot of energy to fly these things, and that quickly drains the batteries. The longer the average flight time, the better. Make sure you always have a spare battery with you. It is the only way to extend the fun. Also, note the charging times. Some batteries are charged in 45 minutes. Others can take a few hours.
Maximum Flight Speed
Some drones are fast – incredibly fast – but they are often reserved for racing. There are also speed limits. With beginners drones, you do not have to worry about these things. Some drones contain 'follow me' technology. In this case, you must ensure that the drone speed is sufficient to keep track of your actions and record them, such as cycling, motorbiking, skiing, and surfing, etc. I record the maximum flight speeds in both meters per second, written as m/s, and miles per hour, mph.
Maximum Flight Range
Beginners want to keep their drones in the neighborhood. The maximum flight range is the distance between the remote control (u) and the UAV before it loses the signal. Some starting drones have short flight distances. This can limit your ability to make cool aerial photographs.
Return To Home
If a drone flies out of range, it can still find its way back as long as he has a "Return to Home" function. This is invaluable. You set the "starting point" using GPS. This function offers safety and convenience. If a drone does not have it – and loses its signal – it will eventually fall out of the sky somewhere. The consequences of this are not blank thinking. It is always better for novice pilots to keep their drones nearby, where you can see and retrieve them in the blink of an eye. You will also want to have the habit of looking at indicators for a low battery.
Camera
Some drones have a built-in camera. Others do not, but they can have a mount so you can add your own camera. Gopro cameras and other popular models are allowed on standard mounts. Your first priority is to master your flying skills. It will not be long before you want to see what your drone sees. Make sure you understand your camera and recording options before you buy. I also include low-feature drones for those who only want to gain valuable flying experience.
Controller options
You can fly most drones with a hardware controller or with a smartphone or tablet via an app. Operating a UAV with a smartphone makes things really convenient and portable. A target controller usually offers more flight options and a better flight experience in general. But the ease of flying and driving your drone from a phone or tablet is something to consider. Some drones have the ability to use both a controller and a mobile device.
Conclusion
Thank you very much for taking the time to learn about these Best Drones For Beginners. You can indeed not fail with one of them; in addition, they all come with their list of positive and negative points. We would like to know what you think about which you chose to buy. In case you are still unable to choose The Best drones for beginners, go ahead and leave your response below so that we can do our best to help you. Our team is of the opinion that you have found this buying guide useful and do not forget to distribute it on the social channels of your preference.