You're probably tired of listening to the bad sound of those cheap earbuds that come free with phones or other devices. However, headphones on or over the ear are not the ideal solution if you want to take your music with you wherever you go. Moreover, high-quality items are not budget-friendly. So in such a case, you can best upgrade to a pair of high-quality earphones. There is a wide range of Best Earbuds Under $200 available from many brands, and people love these portable devices because of their excellent sound quality and the convenience of playing music everywhere.
Best Earbuds Under $200 List
Different models of earbuds vary in function – from noise-isolation to water and sweat resistance and Bluetooth connectivity. the best products in the line should have excellent sound quality, feel comfortable for extended periods, and stay functional for longer periods. View the most important factors to watch out for a while shopping for the best earbuds under $200.
MEE Audio Pinnacle P1
The MEE Pinnacle P1 earphones should be your first choice if you are a music lover and have an ear for better sound quality. It is the flagship headset of the company that has come to perfection after two years of effort behind the design, engineering, and refinement. The MEE team knows how to adjust the audio presentation to go into direct contact with music lovers. The technicians have also focused on quality, which results in a stable earbud that is ready for abuse.
The Pinnacle P1 comes with three pairs of foam earbuds, 6 pairs of silicone ear tips, two cables, a one-button remote control, and a stereo adapter. There is also a premium hard case with a magnetic flip cover to take with you. The earbuds exhibit a higher degree of durability and resistance to deformation due to the construction of zinc alloy. Their construction is super strong, and you should be better about the floor if you accidentally drop them!
The audio coming from the Pinnacle P1 is balanced and consistent. The ideal tonal balance does not make you feel tired, even after listening to music for hours. You will soon identify the deep bass as one of the essential features of the earbud. The bass is noticeable even in the lowest tones, which are lucid enough to show a wide range of tonal values over the bass range.
Pros:
Solid Zn-alloy build
Provides excellent fit and comfort
Balanced musical tuning and soundstage
Exceptional clarity and detail for the price
Cons:
Lacks bass sometimes
Loses clarity while playing heavily-compressed music tracks
V-MODA Zn Earbuds
The V-MODA earbuds are known for the production of advanced mobile audio products with excellent sound quality. The new Zn Audiophile headphones are in focus when you're wondering if the in-ear style contains the distinctive sound of the company. The build quality of the ear hooks is solid, and the sound quality seems lively, robust, and lively. V-MODA treats its products as fashion accessories. The Zn earphones are no exception. They have an impressive design and appearance.
It comes with the earpieces, a metal y-splitter, remote control with 3 buttons, and extra sets of earpieces. The earbud has a striking design that is emphasized by the graceful sculptural details on the metal part. The cord also looks cool with a fabric called DiamondBack. Just buy a V-MODA Zn earbud and let the music speak for itself! It delivers a loud sound, with a great balance between the tone frequencies.
As a result, you will not feel any inconvenience while listening to overly compressed songs, because the Zn makes the loud tones bearable. The rich bass response will amaze every music lover. It's an incredible performance for an earpiece priced below $200 to produce such bass detail and depth. The sound image is also wide, and noise isolation is good. You can use it comfortably in a metro or public places.
The sound quality is so good, and the earmuffs fit so comfortably that you can listen to music for a long time on a piece of music. Listener fatigue will never be a problem. Overall, this is one of the best earbuds under $200.
Pros:
Handles massively compressed recordings like a pro
The sports ear hooks help reduce cable noise tremendously
The cables are tangle-free
Cons:
Noise isolation is not top quality
Expensive
Bose SoundSport Earbuds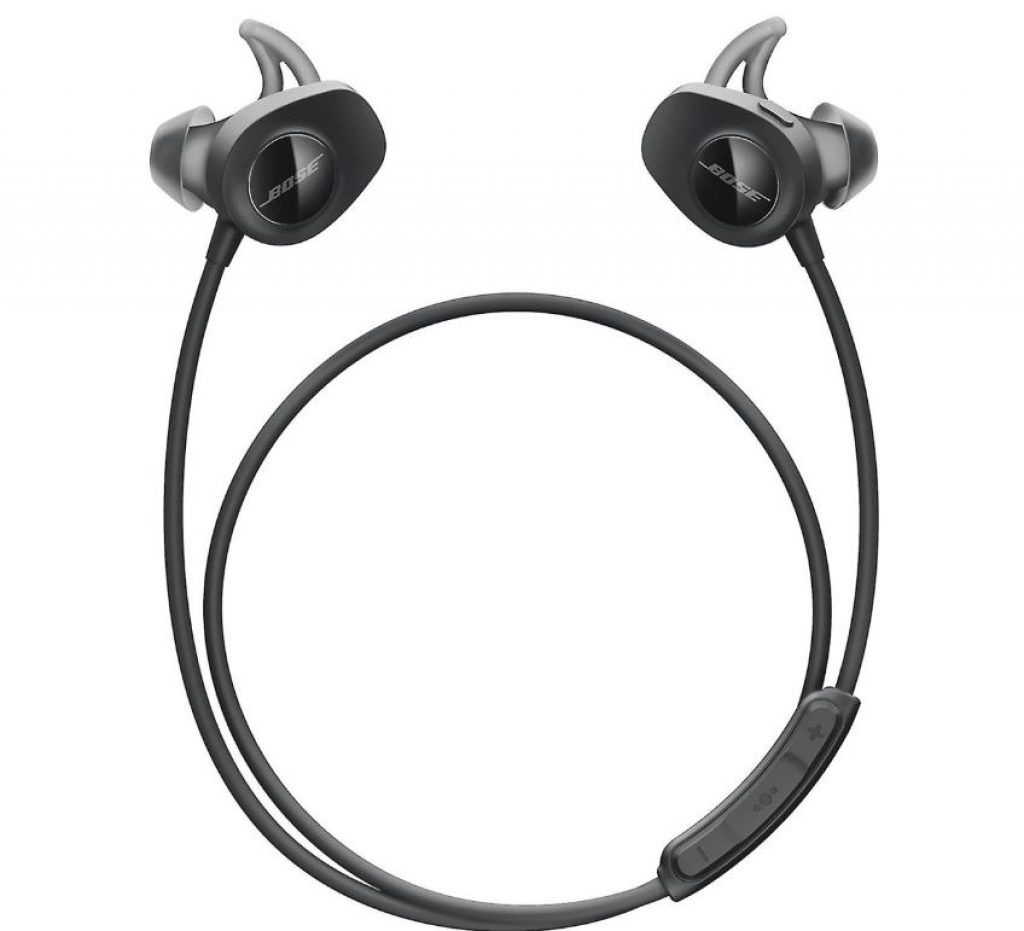 The Bose SoundSport earbuds tick all the boxes when you think of budget-friendly earbuds that are capable of delivering premium quality. The earbud is super comfortable, sweat-resistant, and stays soft in your ears. It may not offer the best of audio quality, but you can not ignore the eye-catching design and the excellent fit. Besides, it is a relief for those people who want to enjoy the sound quality of in-ear headphones without cramping the tips into their ear canal.
The SoundSport earphones come with 3 pairs of exchanges in three different sizes, remote control with 3 buttons, a matching protective bag, and a clothes clip. The earbud has a sturdy construction and has an athletic appearance. You can use it during your daily activities and intensive training because the sweat- and weather-resistant design ensures maximum comfort, and the StayHear tips ensure that you stay in place all day long. The durable cable is slightly shorter than the standard length because you do not want to let it hang during your activities.
The Bose SoundSport pumps out a great sound in all genres. It sends every detail of a song – from spicy drums to the cheerful voice of a voice – clearly to your ears. You may want more bass, especially if the volume is low. However, the result seems satisfactory if you increase the volume to rattling levels of the eardrum. In short, it delivers a clean, clear, and overall balanced sound. The bass is a bit weak, but the quality is perfect for the price. Overall, this is one of the best earbuds under $200.
Pros:
Provides overall balanced sound
The build is rugged and stable
Sweat- and weather-resistant
Sleek, sporty design
Cons:
Doesn't provide a tight seal,
Relatively weak bass
BeoPlay H3 by Bang & Olufsen
Bang & Olufsen's premium BeoPlay H3 earphones are on the verge of entertainment but lack the polished touch of a luxurious pair of in-ear headphones. However, it will not fail to impress you with its sophisticated Scandinavian design. The earpiece produces an accurate sound that will appeal to a wide range of listeners. If you want an elegant earbud that provides excellent performance for a reasonable price, the BeoPlay H3 is a great option.
Available in three different colors, the BeoPlay H3 is compact and lightweight but offers durability with a stainless steel housing. It has a subtle design that is more noticeable than noticeable, but you will still not miss the fine details like the 23 tiny vents that provide a more open sound and better acoustic performance. Remote control with three buttons on the cable offers additional functions. You also get four pairs of soft rubber ear cups in four different sizes.
The earbuds close the ear canal well, resulting in a safe, light feeling. The BeoPlay H3 delivers an almost balanced sound signature – not too many basses or overly clear and detailed highlights. However, once you have set the EQ to the right level, you can enjoy your favorite songs at crystal clear heights. There is no lack of detail and depth in the mid-tones, but they still retain clarity.
This function makes listening to rock music in this earbud a pleasure for the ears! The bass is also clean and tight, and there is no shortage of low-frequency pops, even after the volume level has kids been boosted. However, the more you listen to the warm, easy sound, the more you desire a bit more precision in the low-frequency performance. Overall, this is one of the best earbuds under $200.
Pros:
Delivers an accurate, mids-focused sound signature
Well balanced across the frequency range
Lightweight
Comfortable to listen over long periods
Cons:
Disappointing for massive bass lovers
The highs are not detailed or overly bright
MEE audio M6 PRO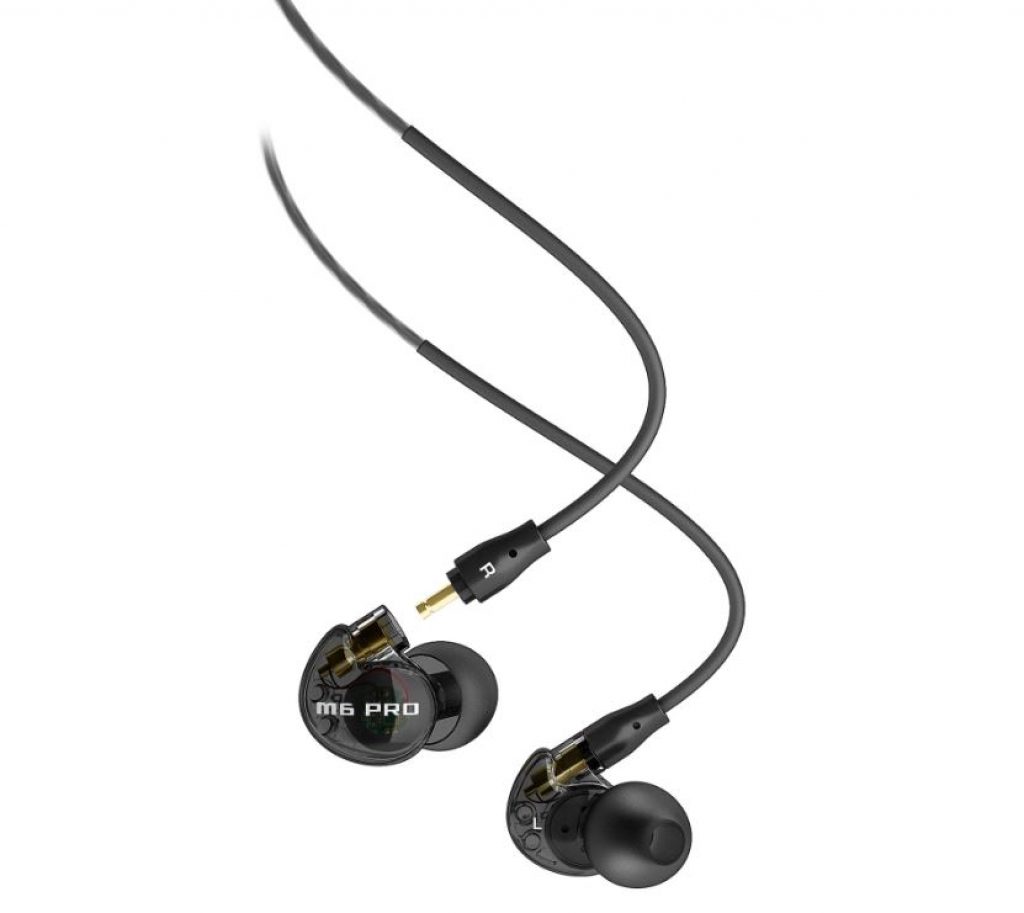 Budget earbuds are like the covers of a classic song; you will find one that is worth listening to for every 20 dudes! MEE M6 PRO is the 20th that is worth trying, but it is not quite the 'PRO' that suggests the name. The M6 PRO is a great budget-friendly earbud that can be a regular companion for your daily entertainment. However, if you are looking for a 'punch' in the audio quality, choose one that is both rhythmically and dynamically more impressive. The MEE M6 PRO makes an excellent first impression.
He has a beautiful design, and his impressive looks can easily compete with the in-ears with price codes of three digits! It has well-made transparent housings. The build looks excellent, which is designed for sustainability in the real world. It is an all-in-one earphone in the ear for on the stage, in the gym and on the street.
It offers complete entertainment with two detachable cables, remote control with 3 buttons, 7 additional tips including a pair of premium Comply tips, and a protective bag to take your music with you wherever you go. The MEE M6 Pro is a warm sounding earbud that offers a decent clarity over the frequency ranges.
The highlights are not tiring, but can sometimes become drenched, especially if the songs are sparkling and energetic. You can hear the vocals loud and clear with extended bass response. Besides, it delivers a detailed and clear sound of background instruments. The sound-isolating function of the M6 PRO is comparable to universal in-ear monitors. It works well, and with the Comply isolation tips included, you can shut out much of the outside world. Overall, this is one of the best earbuds under $200.
Pros:
Clean and clear sound
Good bass depth
Impressive design
Comply tips provide excellent noise isolation
Cons:
The overall rhythmic balance is not top quality
The memory cables can be a pain to fit properly
Sony MDR XB50AP
The Sony MDR-XB50 is a dream for every music lover who appreciates budget-friendly earbuds that fit well and sound decent. It has a few minor shortcomings, but it offers better sound quality than what you can expect from headphones with a $ 30 price. The Sony MDR-XB50 delivers high-quality sound with a lot of bass response, an anti-twisted cord that is not twisted into knots, and a handy design that stays in motion even. The MDR-XB50 looks a bit heavy and awkward and creates a presence.
It is not the smallest of its kind, but it is relatively lightweight and fits better than most earphones of its range. The earbud has a sturdy construction. The length of the cable is good, which feels exceptionally durable, and thanks to the flat design, it is useful to get entangled in music and not get confused. A handy carrying case is also included to store your new favorite headphones. You can not expect a perfectly balanced sound from an earbud for such a price, but the MDR-XB50 delivers the best bass.
Play a music track with a lot of basses, such as a hip-hop song or EDM, and you'll immediately become addicted! Because of the powerful bass, the middle and high tones can sound a bit sunk. Nevertheless, you can make them sound more precise and more detailed by slightly tuning to the EQ. The earbud is best for playing contemporary pop songs, given that they all have a fantastic amount of bass pumping. It also gives a decent performance when you play the 'quiet' type of songs. Overall, this is one of the best earbuds under $200.
Pros:
Provides good bass
Sounds decent and fits well
Sweat-resistant
Affordably priced
Cons:
Doesn't perform well with amps
Doesn't have a good-looking design
Average performance
Bluephonic Zone Earbuds
If listening to your favorite music tracks is part of your daily ritual, you will not get a better option than the Bluephonic Zone Running earbuds. The wireless design and Bluetooth option with longer battery life give you the freedom to tune into your favorite songs, whether you are running, training, cycling, dancing, or traveling to work. The Bluephonic Zone has a sleek appearance and is available in three different colors: black, white, and red.
The minimalist design is compatible with a modern lifestyle. Bluephonic keeps everything to the minimum without extra wire or buttons. There are only a few functional buttons on the right ear button. Here you can control your music by skipping, playing, pausing, etc., or calling because there is a built-in microphone. The absence of remote control with control buttons saves you the inconvenience of a cord that bounces on your neck. The sound quality of the Bluephonic Zone headphones is simply amazing.
It gives a stellar audio performance with the integration of the latest EDR Audio and APTX Beats Technology. It ticks all boxes to be in line with an earbud of the highest range – a wide range of sound, incredible clarity, and superb highs. The bass fans will love the bass reproduction that is rich and deep without being overwhelming. Turn the volume up to the maximum level, but you will not notice any distortion in the sound. The CVC 6.0 noise-canceling technology removes background noise so well that there is nothing that affects your music. Just put the earbud on and concentrate on your task. Overall, this is one of the best earbuds under $200.
Pros:
Detailed and clear sound
Bass response is good
Convenient wireless design
Extended battery life
Sweat-resistant
Cons:
ActionPie VJJB-V1S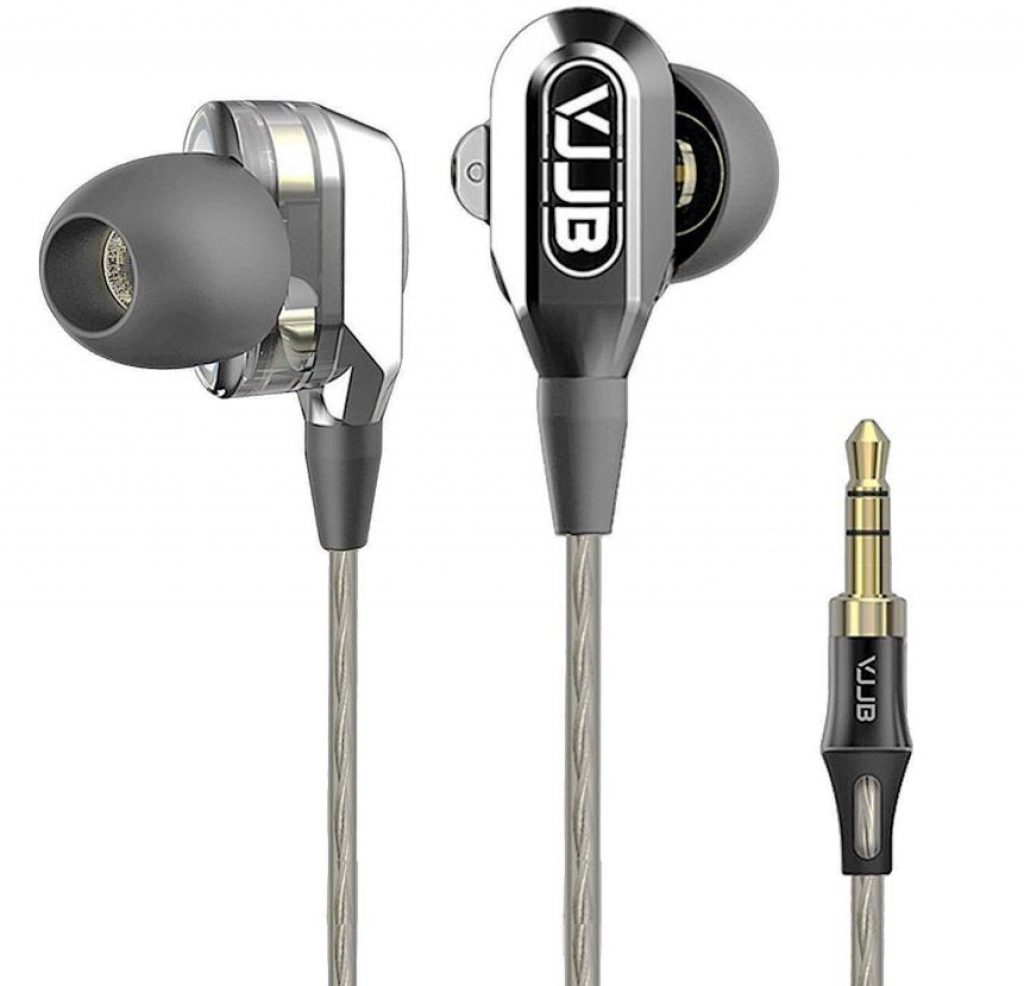 The unique design and unique sound quality of the VJJB V1S in-ear headphones ensured that everyone was ready immediately after release. Priced in the range of $ 30, it is an excellent budget option for people who like to listen to vocally-oriented music with subtle basin contents. Although the brand puts the earphone on the market as 'heavy bass,' its low bass response will disappoint the bass heads. The bass is sufficient and suitable for the price range, but not ideal for enjoying essential electronic music.
The translucent design and the combination of gold and gray colors have given an exciting look to the VJJB V1S earbuds and have been given a specific steam-punk look. The metal housing has a high-quality feel and makes building durable, together with reducing vibrations and noise, so that users can concentrate on their music without any external interference. The heavy-duty construction has also been tested for abuse during listening. Just like the looks, the sound quality is another aspect where the VJJB V1S excels many of its competitors under the same price range.
It delivers crystal clear audio, free from the coarse tonal inconsistencies in most inexpensive earphones. Although they are not exceptionally sharp, the highlights are quite lively and precise. The mid-tones are warm and produce a surround sound experience. The bass is accurate, but the response is superficial, and the presence of sub-bass is almost negative. You can also detect distorted bass sound on songs with deep bass. Overall, this is one of the best earbuds under $200.
Pros:
Excellent for vocal-oriented music
Sounds exceptional on the mids and highs
The bass is remarkably quick
Made of high-quality components
Affordable
Cons:
Sound quality won't please the audiophiles
The bass is quite shallow and shows subtle distortions
Can use a few more features
SONXTRONIC XDR-1000
The SONXTRONIC XDR-1000 Premium headphones are there to impress with their high-quality features and excellent audio performance. They deliver better than your expectation of an earpiece at such a low price. You can easily spend 2 to 10 times more money on an earbud, but the quality will only be nominally better. If you are looking for an in-ear headset with a low price without sacrificing quality, SONXTRONIC XDR-1000 Premium is the best choice.
Despite the low price range, the SONXTRONIC XDR-1000 does not look cheap. Instead, it has a surprisingly beautiful and shiny look with solid construction. You will not find any noticeable weakness in the design. The connection points of the cables, which fall out quickly with most earbuds, also look solid and better than other products in the same price range. The cable is soft to the touch, and SONXTRONIC claims that it is not tangled.
It features a fast forward /play/pause button for better music control. It comes with 'Gold Plug' that is suitable for most brands, including Apple devices. In terms of sound quality, the SONXTRONIC XDR-1000 is surprisingly good in many areas when you consider the price range. The overall sound is somewhat muddy (which is almost invisible), and the high tones lack a bit of clarity, but it still delivers pretty good sound.
Adjust the EQ slightly, and you have a balanced, clear, and pounding bass guitar, soft mid-tones, and good highlights to a certain extent. The brilliant bass response is even surprising, and you can enjoy the bass-heavy music tracks with these earbuds. Overall, this is one of the best earbuds under $200.
Pros:
Excellent sound quality considering the price range
Provides punchy bass
Tangle-free cord
Cheap
Cons:
The highs lack clarity
The overall sound is a bit muddy
TaoTronics TT-BH07U
A noise-canceling Bluetooth headset that also delivers high-quality sound is not cheap. However, the name TaoTronics offers relief for people on a limited budget or for students whose portfolio always seems anorexic. The TaoTronics TT-BH07U is an excellent choice for its noise-canceling ability, high-quality audio, and robust design. By the way, if you put the low price on top, it just becomes irresistible. The TaoTronics TT-BH07U is built with a high-quality metal finish and has a relatively simple design.
The black color and the sleek, compact design require no attention, and it remains almost invisible if you wear it with your hair down. The construction is pretty firm, and the length of the cord is just right, whether you're behind your neck or not. It is easy to operate because there is enough space between the volume and the middle button. The TaoTronics TT-BH07U produces a distinct sound that will not let you miss a beat, even in a noisy environment.
CVC noise-isolation technology reduces ambient noise very well, so you can enjoy your "quiet" music time no matter where you are. It produces a strong bass, so strong that the mid-tones and highs are a bit lost in the bass. You can also enjoy the songs with the right amount of bass guitar and the lyrically driven melody tracks. The sound quality is even better for just listening and during your daily activities. By the way, the 30-foot Bluetooth range can move freely through the room. Overall, this is one of the best earbuds under $200.
Pros:
Excellent sound quality for the price
Comes with a carry bag
Stay put even during running or sports activities
Inexpensive
Bluetooth range is around 30-foot
Battery life is 5 hours
Cons:
The design is pretty basic
Bass can sometimes be overwhelming
Things To Know Before Buying Best Earbuds Under $200
Sound Quality
The best earbuds under $200 offer a high-quality sound that maintains overall frequencies – bass, mid-tones, and treble. Most inexpensive models struggle to deliver an excellent bass response, but the quality models overcome the barrier. However, you can still not expect them to provide the spacious, deep sound of headphones with a high range. Nevertheless, good earbuds offer detailed sound, including an excellent range in all areas – high, mid-range, and bass.
Excellent Fit
The fit is just as important because you do not want to adjust it constantly while jogging in the park or while working with the subway. Traditional buds nestle gently in a normal-sized ear-hole and fit nicely through their rubber or foam ends. Some models, however, are designed to sit comfortably in your ear canal and form a very tight seal. Audiophiles certainly love that in-ear style, but some people feel uncomfortable because of isolation of background noise and the way the buttons press on the ear canal.
The fit also depends on the type of tips, which are mainly available in foam, rubber, and silicone. The squishy foam tips provide better sealing of your ears, but the rubber tips are more breathable and more comfortable to clean. On the contrary, silicone tips are available in bi- or tri-flange styles that form deep into the ear canal and provide better background isolation.
Connectivity
You can use two types of Bluetooth earbuds: either fully wireless or available with a short cable. Both models allow you to connect wirelessly to your devices. These earphones send sound within a small range. Some Bluetooth models offer additional functions such as tracking distance or oxygen consumption, which come in handy during fitness exercises. So, think wisely before you choose one of the best earbuds under $200.
Conclusion
Although Best Earbuds Under $200 price range may not offer you the best listening experience that money can buy, the key here is their ability to meet your specific requirements in more than one area of performance. So even though you may find it hard to find a pair of earphones that have reduced their list of functions to the absolute minimum and have opted for universal design. So that they can only prioritize the audio quality to compete with considerably more expensive models, you indeed come across different models for which their primary focus is on delivering above-average sound quality.
Best Noise Cancelling Headphones
Best Earbuds Under $200 Comparison Table
Best Earbuds Under $200
Earbud Name
Features
Connectivity
MEE Audio Pinnacle P1
High-fidelity silver-plated OFC audio cable
Wired
V-MODA Zn Earbuds
Noise-isolation, microphone-feature
Wired
Bose SoundSport Earbuds
Sweat resistance
Wired
BeoPlay H3 by Bang & Olufsen
Lightweight
Wired
MEE audio M6 PRO
Universal-fit noise-isolating in-ear monitors
Wired
Sony MDR XB50AP
Android-phone-control
Wired
Bluephonic Zone Earbuds
Noise Cancellation, Microphone
Wireless
ActionPie VJJB-V1S
Superb Sound with High Definition
Wired
SONXTRONIC XDR-1000
Ultra-Comfort Soft
Wired
TaoTronics TT-BH07U
Stereo, Noise Cancellation
Wireless