Are you looking for the best Gaming Chairs under $200? No one can tell you that the role of a quality gaming chair can not be emphasized enough. It is essential to have a reliable gaming chair to complete your gaming experience. Indeed, the human body is programmed to be agile, and it does not respond favorably to long hours of inaction or sitting in a stationary non-productive position. Therefore, if your passion or profession chases you to your chair, you will do well to keep your back in shape while you play.
Best Gaming Chairs Under $200 List
When choosing the ideal gaming chair, people search on sites like Google, Reddit, etc. the most comfortable and cheapest gaming chairs. For this reason, today, we decided to compile a list of the best Gaming Chairs under $200 for you.
RESPAWN-200 Racing Style Chair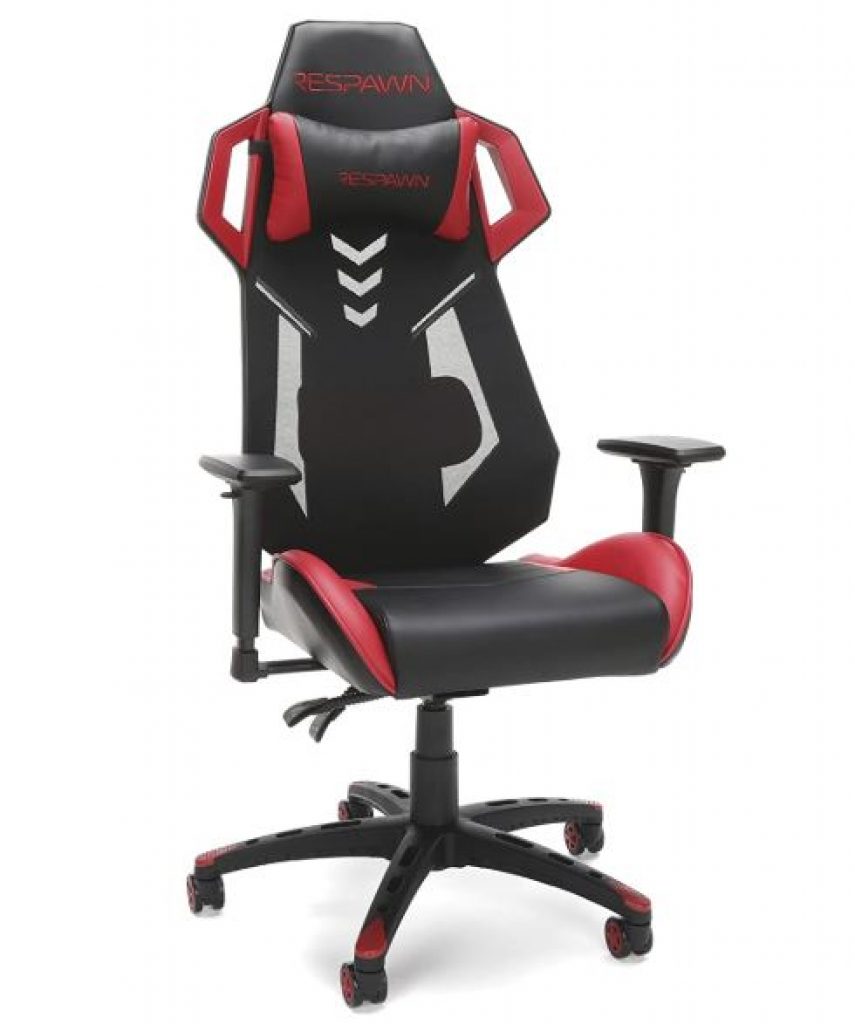 Slightly more expensive than the GT RACING Gaming Chair, the RESPAWN-200 Gaming Chair also offers the next level of comfort and a documented commitment to lifelong customer support at a budgeted price tag. Instead of the minimal plastic armrests that most gaming chairs have, the RESPAWN-110 chair features longer, fully padded armrests that give the chair a more substantial look and keep your elbows more comfortable. Users report that they are impressed with the way the armrests move backward when the chair is reclined, making them easy to use, no matter what position you are using the chair in. Currently, this is the best gaming chair under $200 that you can buy right now.
Ficmax Ergonomic Gaming Chair
Whether you have a crazy colorful setup that you want to soothe with a black chair, or you just don't want it to be colorful, the Ficmax Ergonomic Gaming Chair is an excellent option for you. It's a gaming/office chair that looks nice and is one of the most comfortable options we've tried and tested. It has a metal construction that keeps things stiff and solid when needed. However, the thick padding and comfortable armrests and sitting area still make this chair a pleasure to use as your daily option.
You do get two removable cushions, one for your headrest and one for your lumbar support, both of which form a perfect middle course between thick and plush. The back of the chair lies a lot lower and can go completely horizontal, which is ideal if you want to relax. And last but not least, the Ficmax also has leg support that you can extend from under the seat if you're going to lie down while gaming. Overall, this is one of the best gaming chairs under $200 that you can buy right now.
GTRacing Gaming Chair
If your installation can work with a black and red chair, the GTRacing should be a good option. It is reasonably priced but has all the features you would expect from a good chair. It is well built, it looks pretty nice, and most importantly, it is comfortable. To start with, it is made with a sturdy metal frame. This keeps things stable when you sit down, and it won't deform after a while. The backrest and the seat are padded, and with pretty thick padding, which makes things very comfortable.
You will love the two cushions you get, one for the headrest and one for the lumbar support. The whole chair is wrapped in PU leather, material that is relatively easy to clean and feels comfortable when you sit on it. As far as adjustability is concerned, both the seat and armrests are height-adjustable, and you can also recline the backrest so that it can be adjusted between 90 and 170 degrees. Add to this the smooth-rolling casters, and you have a great chair, even for extended play sessions. Overall, this is one of the best gaming chairs under 200 dollars that you can buy right now.
Devoko Ergonomic gaming chair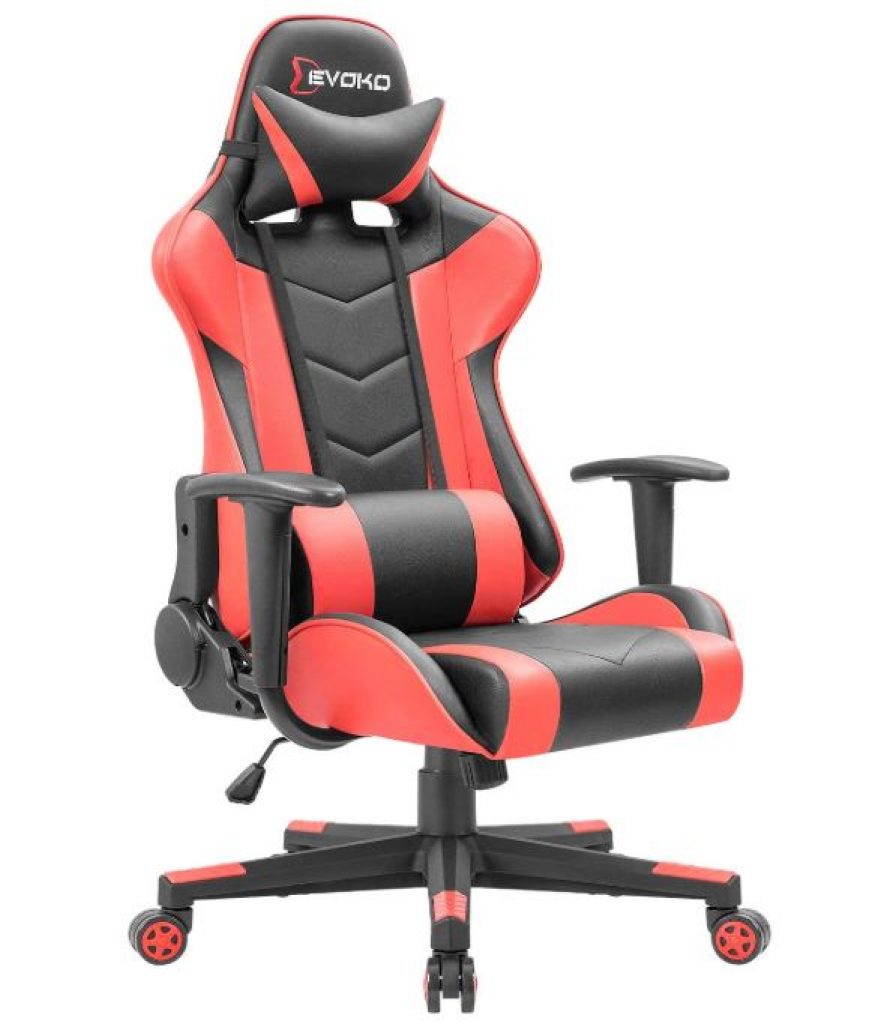 I have to admit that it is going to be difficult to rank these seats from here. You see, they offer almost the same things over and over with only minor differences. Placing the lens one above the other is, therefore, a difficult task. So when I saw that Devoko chair when I made a list, I was quite surprised.
Not by the features, they are all the same, but by design. I like this chair; it imitates (very good to be honest) a premium look from another manufacturer that I like: Secretlab.
Of course, it has a very high load capacity, 350 pounds is excellent, but that's not why I put that chair in 4th place. Because in my opinion, this is a beautiful looking chair. It could have been number one or two if it were more spacious and if it had 2D armrests. But overall, this is one of the best gaming chairs under $200 that you can buy right now.
Musso Ergonomic Gaming Chair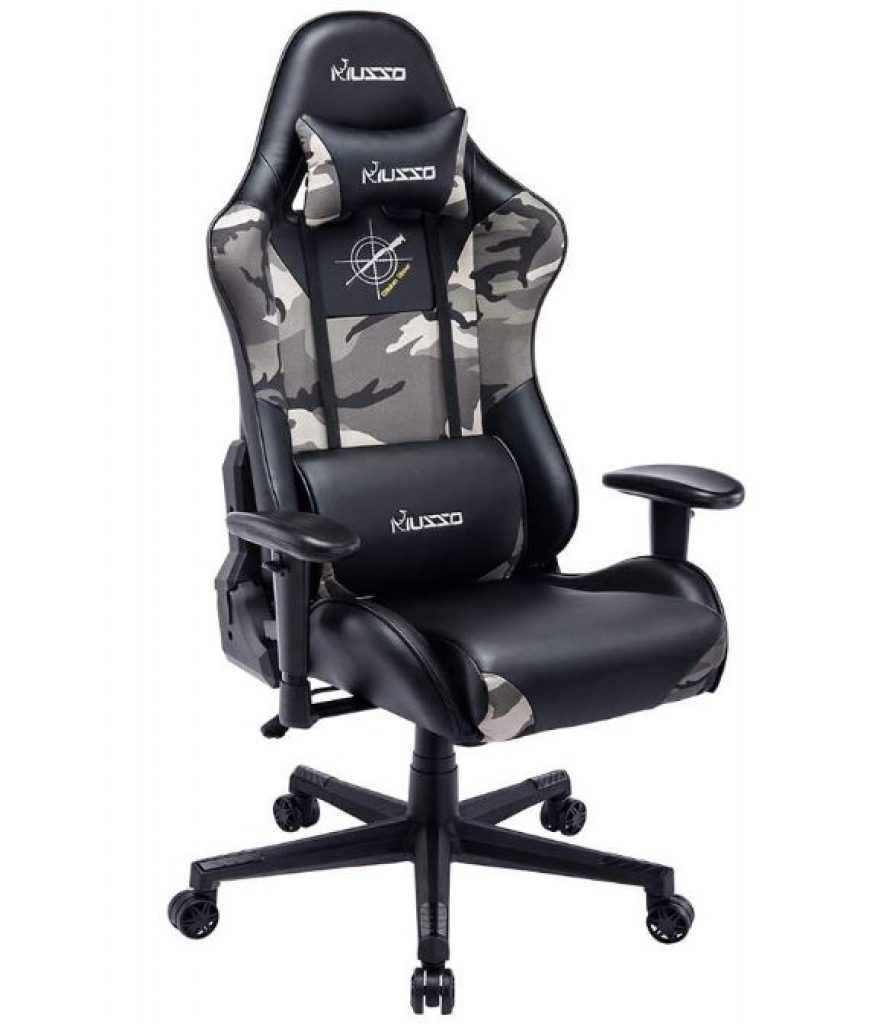 Although the Musso Ergonomic chair by HugHouse in its black and orange colors may not be the most suitable for an office scenario, it fits in a gambling setup at home. It's very comfortable, it's highly adjustable, and is made to be durable, which are all the things you would expect from such a chair. Inside, you have a rigid metal frame that is very well integrated. The whole chair is made to be very comfortable, with a padded headrest and both headrest and lumbar cushions.
The armrests are wide and ergonomically shaped, and the cushion and backrest are quite wide. All in all, there is a lot of comforts when using Musso, which makes the price worth it. Both the armrests and the seat itself are adjustable in height, and you also get a 90 to 180 degrees lying position, so you can relax when needed. Even though the Musso is a bit pricey compared to the competition, it is an excellent choice, and with a capacity of 300 pounds, the Musso is one of the best gaming chairs under 200 dollars that you can buy right now.
X Rocker Pro Series 2.1
If you want a good chair for gaming, but you're not exactly a fan of the gamer aesthetics that comes with such chairs, then the X Rocker Pro Series 2.1 might be the chair to go for. It's a thick, comfortable leather chair that stands for a gaming setup as well as a home office. This comfortable chair has thick padding all around, which makes you feel like you're sinking into the chair, and is immensely convenient. It has excellent support and a nice headrest, and the armrests are also quite comfortable.
But by far, an essential feature of the X Rocker is the 2.1 vibrating audio setup. You can connect it to a PC, Xbox or PlayStation, and you get an incredibly immersive sensation when you're gaming as if you were there yourself. You can also buy and connect multiple, but the control panel has separate volume and bass controls. Overall, this is one of the best gaming chairs under $200 that you can buy right now.
Homall Gaming Racing Office Chair
Although most of the chairs on our list are somewhat pricey, the Homall is surprisingly wallet-friendly. And even for that wallet-friendly price, he still manages to cover the basics. The only drawback is that it doesn't look much, but if you don't mind, it's a great way to save a few bucks. The inner construction is, as you'd expect, entirely made of metal, which adds a bit of durability and stiffness to the whole chair.  The high-density foam makes the chair comfortable to sit in, and it's all wrapped in PU leather, which makes you feel comfortable sitting in it.
The armrests and seats are height adjustable, and you get two cushions, one for the headrest and one for the lumbar support, which is excellent. Add to that the 90 to 180-degree adjustable backrest and the superb choice of materials, and you are looking at an outstanding and one of the best gaming chairs under $200 that you can buy right now.
Nokaxus Gaming Chair Large
While many simply enjoy the comfort of their play chairs on an as-is basis, it is undeniable that some of us would like to get some extras in that respect. And if this sounds like you, you will love the Nokaxus Gaming Chair because it has a trick up its sleeve. First of all, Nokaxus' build quality is pretty good. The metal frame does keep things stiff where they need to be, and it also ensures that the chair remains durable and retains its shape for years to come.
It is wrapped in thick foam and finished with PU leather, which is a comfortable option that is skin-friendly and easy to clean. Under the seat itself, you have an extendable leg rest with soft thick padding. You also get a headrest cushion and lumbar support that hides the mentioned trick. You can connect the pillow to a USB port, and it can massage your lower back. This is an underestimated feature that we think should have more chairs, and you'll love it. Overall, this is one of the best gaming chairs under 200 dollars that you can buy right now.
Homall Ergonomic High Back Chair
Heavier users often shrug their shoulders at the 275lb limits that many gaming chairs entail. And even if you're no heavier than that, you should get a chair that can hold at least 15 to 20 pounds more than your weight if you want it to last a good time. If this is the case with you, you should take a closer look at the Homall High Back chair, thanks to its capacity of 330 pounds. The heavy steel frame is covered with high-density foam, and at the top, you get PU leather, which is pretty much the standard combination for such chairs.
It's comfortable, it's stiff where it should be, and it's generally a pleasure to use. The class 3 gas lift keeps things at bay, and you also get a retractable leg rest under the seat. The backrest can lean back quite a bit and go completely horizontal, which is an excellent option if you just want to lie down and relax a bit. Overall, this is one of the best gaming chairs under 200 dollars that you can buy right now.
AutoFull Gaming Chair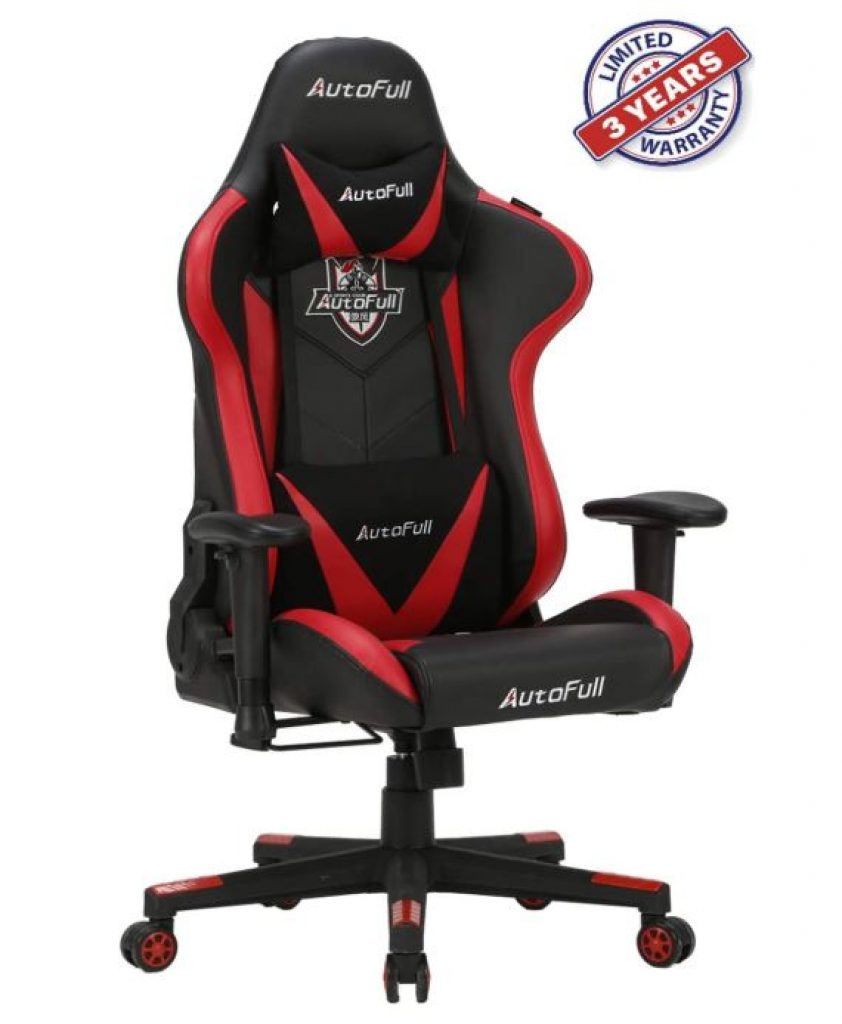 Even though it is comfortable material, it is undeniable that some people just don't like the feel of PU leather. If this sounds like you, then the AutoFull play chair might be an excellent alternative for you. It has a shell-shaped design that holds your body and keeps you in a comfortable position, and instead of PU leather, it uses a mesh back that is a lot more breathable and comfortable for some people. Still, you get PU leather on the seat, but this is something you will hardly notice.
It's an incredibly comfortable solution, and inside the box, you'll find a lumbar support cushion that's a lot bigger than what most other manufacturers will offer. It does add a bit of comfort. The armrests are adjustable in height, and they are quite comfortable as they are, which is a nice feature. Add to that the 90 to 170 degree relax function that lets you relax while you're gaming, as well as the chair's excellent aesthetics, and you have yourself an excellent breathable option. Overall, this is one of the best gaming chairs under 200 dollars that you can buy right now.