Are you looking for the best gaming desks of 2021? When it comes to a computer gaming desk, space is king. As players, the more area we have, the easier it is to locate everything we need, limit clutter, and focus on games. Unfortunately, we do not always have an unlimited workspace. Much of an individual's office selection depends on the physical space available. This list will help you find the best game console, whatever your budget.
There are many desks available on the market, and each has its advantages and disadvantages. Some wooden tables are well suited for compact design and can be folded, while others offer storage space in the form of baskets and drawers.
List of the best gaming desks
Arozzi Arena Gaming Desk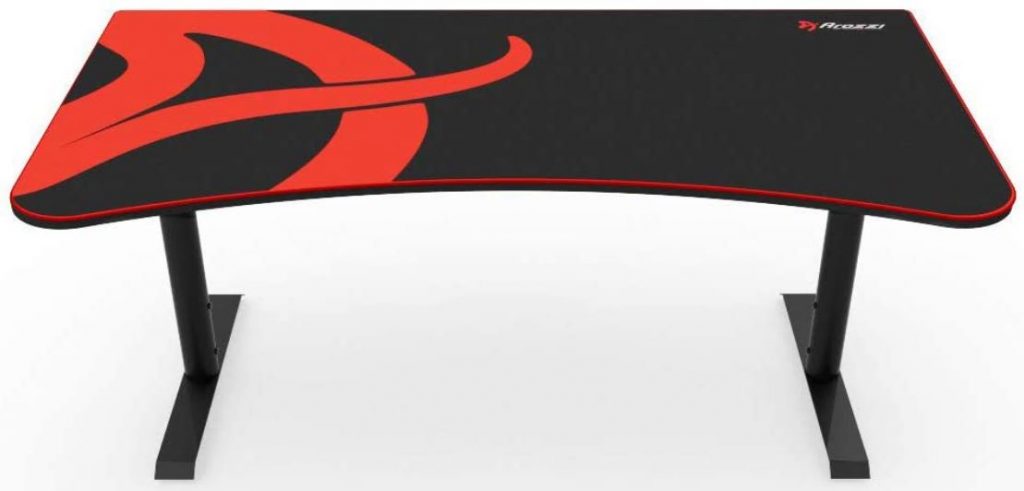 The Arozzi Arena Gaming desk is one of the best gaming desks you can buy, thanks in no small part to its great, excellent design. The desk is 63 inches wide, giving you plenty of room for your equipment, and since it is 31 inches deep, you won't have to sit too close to your screen while you play. Arozzi's desk is extremely sturdy and has a custom finish for mouse pads, so you can use your mouse without extra pads.
And because the desk is available in five attractive colors, you can get an Arozzi desk that looks great in any room of the house. Although it is one of the heavier gaming desks on the market at 176 pounds, Arozzi has made the Arena Gaming Desk easy to move, making it an ideal choice for many in our roundup of best gaming desks. Overall, this is one of the best gaming desks of 2021.
Last update was on: October 19, 2021 6:09 am
Flexispot EN1B
The Flexispot EN1B may not have the catchiest name, but it's an impressively sturdy, motorized adjustable desk for anyone looking to upgrade their home/gaming/office setup. And all at a reasonable price. The Flexispot supports heights from 71 cm (27.8 in) to 121 cm (47.6 in), covering you for all comfortable sitting and standing arrangements. The control panel can store three different height profiles in its memory and switch smoothly between them. You can also set your own height manually, with the current level shown on the three-digit display.
Of course, the most important thing you require from a desk is stability. If everything is rocking back and forth as you type, it won't matter if you're sitting or standing; you'll want to pause it. The good news is that the Flexipost is rock solid – even though I have an old screen with a flimsy stand, it doesn't move, even with my most aggressive emails. When you lift and lower the desk, the smooth action also inspires confidence, and in the highest position it's just as sturdy. Overall, this is one of the best gaming desks of 2021.
Last update was on: October 19, 2021 6:09 am
ApexDesk Elite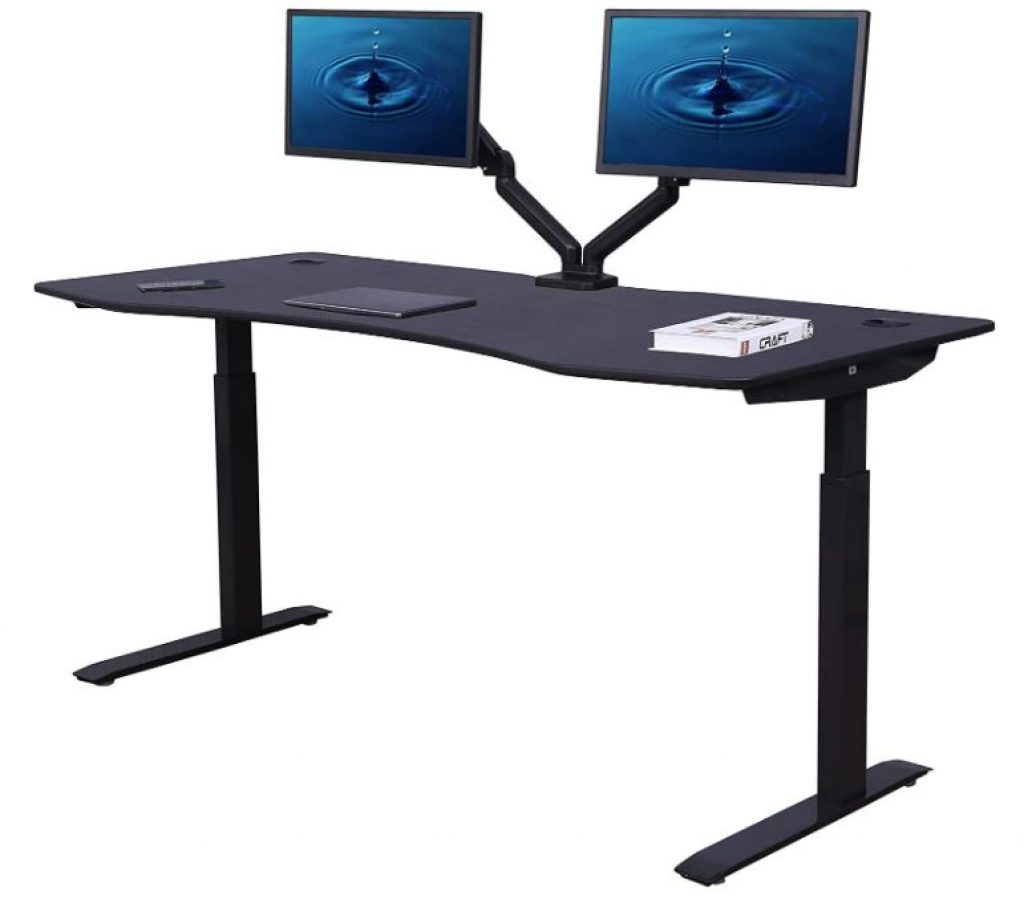 If you prefer a height adjustable desk with a built-in motor, the ApexDesk Elite series of gaming desks is a good choice. It's a simple, sturdy rectangular desk with enough room for multiple monitors, and it includes a built-in cable tray to help you keep your gaming rig's cabling neatly organized. But the big plus is that the desk is height adjustable: with the push of a button, you can adjust the height anywhere you like, as long as the height is between 29 and 49 inches off the ground.
The desk has a respectable 235-pound load capacity and can be configured with up to four programmable height presets, so you can adjust a few different height profiles for switching between sitting and standing, or between multiple users with different heights. With a price tag of around $680, the price isn't prohibitive either. Overall, this is one of the best gaming desks.
Last update was on: October 19, 2021 6:09 am
GreenForest Corner Computer Gaming Desk
If you want something bigger than a traditional corner desk, check out the GreenForest L-shaped desk. This gaming desk fits in a corner, but also has an area that adds extra desk space and makes it easy to store more stuff on your desk. The desk has a nice design for easily managing your cables, and thanks to the sturdy, adjustable legs, you can easily keep your desk level.
There is no storage space in the desk, but the design should allow you to use multiple monitors at once. Best of all, the desk is one of the more affordable options in this roundup, which immediately makes it more attractive to people looking to save a few bucks on a gaming desk. Overall, this is one of the best gaming desks.
Last update was on: October 19, 2021 6:09 am
Mr Ironstone Gaming Desk
Mr. Ironstone's gaming desk comes with two of the neatest designs in this roundup: A cup holder on the left side of the desk and a hook on the front to attach your headphones. The desk is also made of a laminated surface that the company says provides the right space and material to house your accessories. Indeed, cable management is an important part of this desk, and something that can come in handy for gamers who often need such a feature.
The desk itself is a bit small at 45 inches wide, but it is made of sturdy components that should not break. Additionally, Mr. Ironstone notes that the desk is easy to clean, which may come in handy for hardcore gamers who spend hours playing their favorite titles and spilling Cheeto dust everywhere. Overall, this is one of the best gaming desks.
Last update was on: October 19, 2021 6:09 am
Waleaf Vitesse Gaming Desk
If you are in the market for a slick gaming desk, the Waleaf Vitesse Gaming Desk is for you. The desk comes with a sprawling 55-inch deck and features a hook for your headphones and a cup holder for your drink. And because it's so big, you can easily fit a few monitors on the desk without much effort. The desk is made of sturdy materials and comes with a smart USB handle holder with four ports, so you can keep your accessories and phone charged while you play your favorite games.
Best of all, the desk comes with a free 120-day replacement and parts warranty. All that aside, the Waleaf Vitesse Gaming Desk might be one of the nicest options in our roundup of the best gaming desks. With a stylish design and a footprint that makes it easy to fit anywhere in the house, it's hard to find too much not to like about this gaming desk. Overall, this is one of the best gaming desks.
Last update was on: October 19, 2021 6:09 am
VariDesk Pro Plus
You may not want to completely replace your office furniture, or even be able to if it's not really yours. That's why a converter, like the Pro Plus series from VariDesk, is a great option. The Pro Plus comes in a variety of sizes and can be placed on most desks, allowing you to switch from sitting to standing immediately.
It's also one of the easiest ways to get a standing desk; it requires no installation and won't affect the desktop you place it on. The VariDesk Pro Plus is ready to use right out of the box. All you have to do is place it on your current desk, and you're ready to go. You do need some strength to get it there, because this thing is not light. Overall, this is one of the best gaming desks.
Last update was on: October 19, 2021 6:09 am