Finding the best gaming headsets for you is not easy, and that's partly due to the massive amount of market saturation we're facing right now. With the ever-increasing popularity of eSports and the relative simplicity of combining off-the-shelf audio hardware with cushions, a touch of software wizardry, and perhaps some RGB, PC gamers are now offered more options than ever. A quick search from a few popular online vendors will yield hundreds of choices from dozens of companies ranging from less than $10 (£8) to over $600 (£460).
You may already know how much you're willing to spend on a few cans. But whether you shop on a tight budget or not, there are plenty of other things to consider before making a purchase. Luckily, we've tested stacks of game headsets (to see each model we've tested, check out our game headset reviews page). Below, we have mentioned the best gaming headsets we've tested.
List of the best gaming headsets
Our best gaming headsets all offer excellent sound and comfortable fit, but they also tend to go a step further than their competitors. Sometimes they do so by providing the basics without charging too much; other times, they offer a premium experience at a premium price. Either way, there should be something in our list of the best gaming headsets that fit almost any gaming style and budget.
SteelSeries Arctis 7P
The best gaming headset overall
The $149 SteelSeries Arctis 7P/7X is the complete package and the best gaming headset overall, with great sound, consistent wireless performance and a comfortable, attractive design at a reasonable price. The headset's 2.4GHz wireless connectivity keeps you glued to your game without any lag or interference. Even better: Thanks to the USB-C dongle and USB-A adapter, you can enjoy wireless performance with any system, from a PS5, to a Nintendo Switch in handheld mode, to an Android phone.
With a stylish, understated look and variants in both black and white, the Arctis 7P/7X is the rare gaming headset you'll actually want to use as everyday headphones. It's also incredibly comfortable, thanks to an elastic headband that adjusts to your dome and a pair of soft, lightweight ear cups. Add to that a clear microphone, a battery that lasts 24 hours, and plenty of customization options, and you've got a winner.
Steelseries Arctis 9X
The best multi platform gaming headset
We like the Arctis 9X best because while using it, it's easy to forget that it's a wireless model. There's no muddiness or audio artifacts that have ruined the wireless headset party in the past. The added Bluetooth compatibility means you can also use this headset on your mobile devices, ideal if you plan to game on your phone or tablet.
The battery lasts more than 20 hours; you can also keep playing while charging by connecting the headset to your PC with a USB cable. The goggle's signature headband keeps the weight of the headset away from your head, and even after hours of gaming, we never felt it dig in. Overall, this is one of the best gaming headsets.
HyperX Cloud Alpha
One of the best gaming headsets
The HyperX Cloud Alpha is currently the best gaming headset for most gamers and offers almost perfect sound quality. The sound reproduction with these cans sounds natural, with the drivers avoiding errors such as overly aggressive bass or treble. It's not a revolutionary headset, but it's a great value, especially if you can find it for less than $100. In terms of long-term portability, the headset deserves its Cloud brand name with a light, comfortable fit built with quality materials. This includes thick foam padding on the headband and ear cups and HyperX's decision to opt for aluminum over plastic in some key areas.
The overall look and feel are one of quality. If you like the design of the Cloud Alpha but want something with a little more features, there's also the Cloud Alpha S. It's the same headset but comes with 7.1 virtual surround sound, an inline controller, and bass sliders on each ear cup. The black and blue or all-black color options (instead of the Cloud Alpha's black and gold or black and red) also add more options. Currently, this is the best gaming headset that you can buy.
$145.11
in stock
16 new from $144.00
27 used from $112.40
Last updated on September 20, 2021 11:16 am ⓘ
SteelSeries Arctis 7
Best Wireless Gaming Headset for Most
Wireless headphones can cost you over $200; however, the latest model of the SteelSeries Arctis 7 comes at a more affordable price while providing louder sound than its predecessors. Meanwhile, high tones are distortion-free, and the overall sound is clear and rich, despite a more inadequate fit. We prefer more reliable performance at lower volumes, and the bass is not as good as what you'd listen with the HyperX Cloud Alpha above. However, in addition to games, Arctis 7 is also suitable for light video editing and mixing.
DTS Headphone:X v2.0 virtual surround sound also provides more game audio details, such as footsteps. Like previous versions of the Arctis 7 from Steelseries, the current model sits as a suitable wireless headset for PC gamers. If you want a cheaper wireless alternative, consider the Cooler Master MH670, which usually sells for about $30 less than the Arctis 7. But overall, this is one of the best gaming headsets that you can buy right now.
$199.99
in stock
13 new from $199.99
28 used from $113.00
Last updated on September 20, 2021 11:16 am ⓘ
HyperX Cloud Orbit S
Best Virtual Surround Sound Gaming Headset
The HyperX Cloud Orbit S is an expensive, high-quality pair of cans and the best gaming headsets to splash with. It gives you a noticeable gaming advantage, thanks to its customizable 3D head-tracking mode. When you're gaming with head-tracking, the location of enemies is precise, and the aural environment moves with you. You can also use head-tracking as game control, leaving your hands free for more action. (For another head tracking option with premium features, check out the similarly priced JBL Quantum One).
There are lower-priced headsets with real surround sound (instead of the virtual surround sound of the Orbit S) and wireless capabilities. But the Orbit S, which wears the same cozy memory foam headband and ear pads as other headsets in the HyperX Cloudline, offers a playing edge you'll notice. We also love the versatility of this headset. In addition to providing hi-res, virtual surround, and 3D audio, you can use the headset with a 3.5mm jack, a USB Type-A port, or a USB Type-C port.
Last updated on September 20, 2021 11:16 am ⓘ
Corsair Virtuoso RGB Wireless SE
Best-Looking Gaming Headset
The Corsair Virtuoso RGB Wireless SE is one of the rare headsets that look as good as it sounds. It offers premium audio that enters audiophile terrain and looks beautiful and shiny instead of clunky and cumbersome. The SE version of the Virtuoso RGB features gunmetal-colored aluminum stamped with a touch of RGB via the Corsair logo. Overall, it looks as expensive as it is. The Virtuoso RGB SE delivered loud audio, including high-res support, in our tests.n Its 50mm drivers also sounded great with gunfights in games like Borderlands 3.
The music reproduction of the cans was in the middle of bass-heavy cans like the Audio-Technica ATH-G1 and flattered sounding cans like the SteelSeries Arctis Pro Wireless listed below. The Corsair's Virtuoso RGB Wireless SE is one of the best gaming headsets that comes with 20-hour wireless battery life, looks good, and sounds good.
$135.99
$149.99
in stock
21 new from $135.99
68 used from $78.99
Last updated on September 20, 2021 11:16 am ⓘ
SteelSeries Arctis Pro+
Best High-Res Gaming Headset
The SteelSeries Arctis Pro + GameDac is suitable for audiophiles with high-quality construction, sound quality, and a matching price tag. It uses an ESS ES9018 Sabre32 reference DAC, which in itself is worth money and enhances the headset's capabilities. We regretted that the DAC has an artificial audio limit (to help prevent hearing damage). However, the DAC is easy to navigate with many settings for tweaking audio for gaming and chatting without opening software.
The Arctis Pro + GameDAC showed deep bass that satisfies the middle range in games and vocals and dominates high frequencies without sounding too metallic. If you're looking for a high-performance PC gaming headset (that also works with PS4), the Arctis Pro + GameDAC is exceptional for games and music – as long as your head isn't particularly significant.
$329.99
in stock
4 new from $329.99
8 used from $139.34
Last updated on September 20, 2021 11:16 am ⓘ
Corsair Void RGB Elite USB
Decent Price, Great Mic
If you chat a lot on your headset, with your Overwatch teammates, colleagues, or mom, the Corsair Void RGB Elite USB will make you sound just like you no matter who's listening. For this price, we were pleased with the quality of the microphone, which can be folded by hand if you need to take a sip of water or a sneeze. It's also Discord-certified and showed a better low-end response than rivals. It's not as hot as you can get with the best gaming microphones or a USB microphone, but it's close by.
On the other hand, when we tested the headset with a smaller head, the bass was missing due to sound leakage. The size of your head can change things. The Void RGB Elite USB also has a virtual 7.1 surround sound, but it turned out to be nothing special. For chatterboxes, this is one of the best gaming headsets with its mid-range price, cozy padding, and sparkling RGB. Note: there is also a wireless version of the Void RGB Elite USB.
$199.99
$209.99
in stock
17 new from $199.98
3 used from $153.00
Last updated on September 20, 2021 11:16 am ⓘ
Turtle Beach Elite Atlas Aero
The best gaming headset for PC gamers
If you are looking for a comfortable, highly customizable high-end headset that is especially ideal for PC, the new Turtle Beach Elite Atlas Aero is one of the best gaming headsets out there. This premium headset features an incredibly comfortable pair of gel-infused ear cushions, which are also designed to play well with glasses. The Aero's 50mm speakers sound great out of the box, and it comes with a rugged noise-canceling microphone.
But where the Aero shines is its abundance of software and customization options. You can operate the headphones on the ear cup, activate immersive 3D audio, and adjust a host of EQ settings to find the perfect balance for your favorite game. The Aero is one of the most versatile wireless gaming headphones out there, with a long 30-hour battery for PC and PS4 and a supplied 3.5mm cable for use on any other device you own. Overall, this is one of the best gaming headsets.
$249.99
in stock
13 new from $213.99
15 used from $125.80
Last updated on September 20, 2021 11:16 am ⓘ
HyperX Cloud Stinger
Big sound on a budget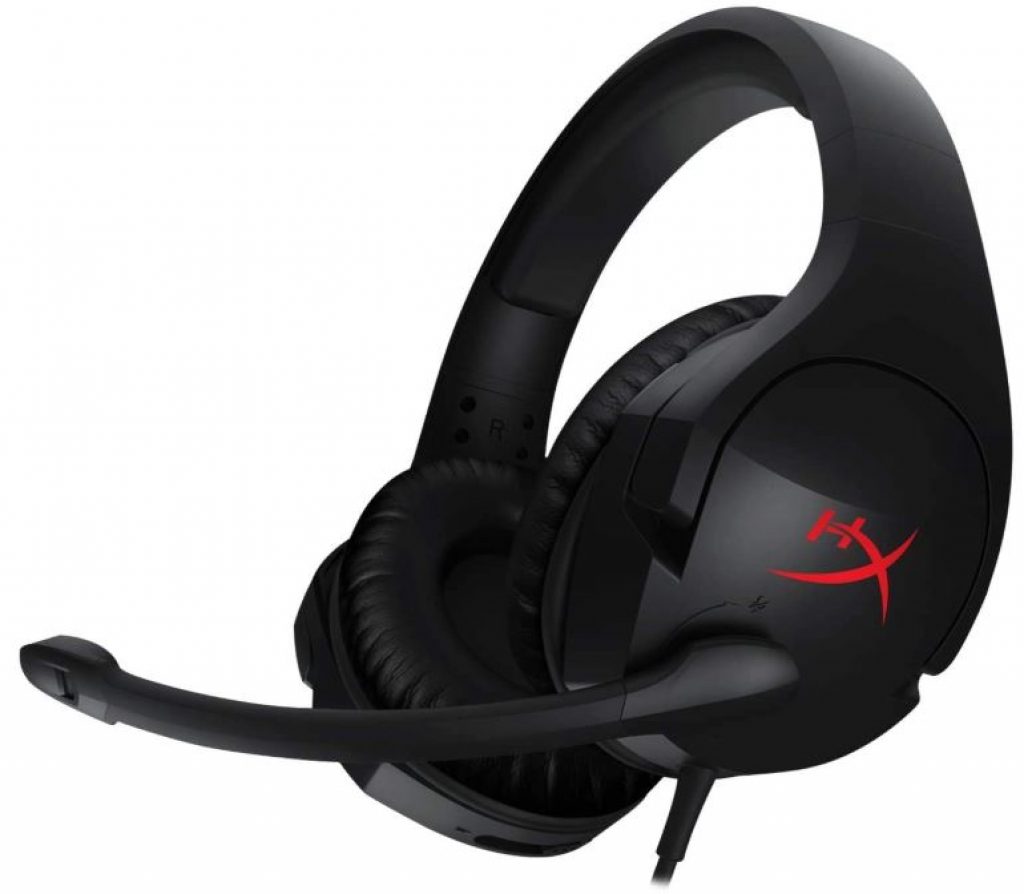 The $50 HyperX Cloud Stinger proves that you don't have to sacrifice comfort when you're on a tight budget. The Stinger's sturdy, feather-light frame and soft, leather ear cups make it one of the best gaming headphones on a budget we've worn so far, and the convenient ear controls and sturdy microphone don't hurt either. Finding a comfortable fit is perhaps the most important thing you can look for in a gaming headset, and the Cloud Stinger doesn't disappoint on that front.
The Stinger also offers excellent audio quality for the price – although it can inflate a little at maximum volume. But if you're looking for good sound in a super-comfortable set of cans for less than $50, the Stinger is a great value. And if you want to enjoy the excellent design of the Stinger without cables, the $99 Cloud Stinger Wireless is a good alternative. Overall, this is one of the best gaming headsets that you can buy right now.
$56.99
$79.99
in stock
16 new from $56.99
Last updated on September 20, 2021 11:16 am ⓘ
Logitech G Pro X
Built for tournament play
The Logitech G Pro X delivers tournament performance for a reasonable price of $130. The headset's unique black design sets it apart from the competition, thanks in no small measure to its flexible headband and ultra-comfortable foam and leather ear-cup options. Merely being comfortable isn't enough to recommend a product as one of the best gaming headsets, but it's perhaps the most important quality we evaluate.
If you can't wear a headset for more than a few minutes at a time, it's not very helpful. The Go Pro X delivers rich, directional sound out of the box, whether you're playing on the PC or the console. It's also the first game headset with a built-in blue microphone, giving you extra sharp voice chat whether you're practicing with your Apex Legends team or streaming to your online fans. Overall, this is one of the best gaming headsets.
$187.73
in stock
7 new from $167.99
2 used from $179.99
Last updated on September 20, 2021 11:16 am ⓘ
SteelSeries Arctis 1 Wireless
Stellar wireless under $100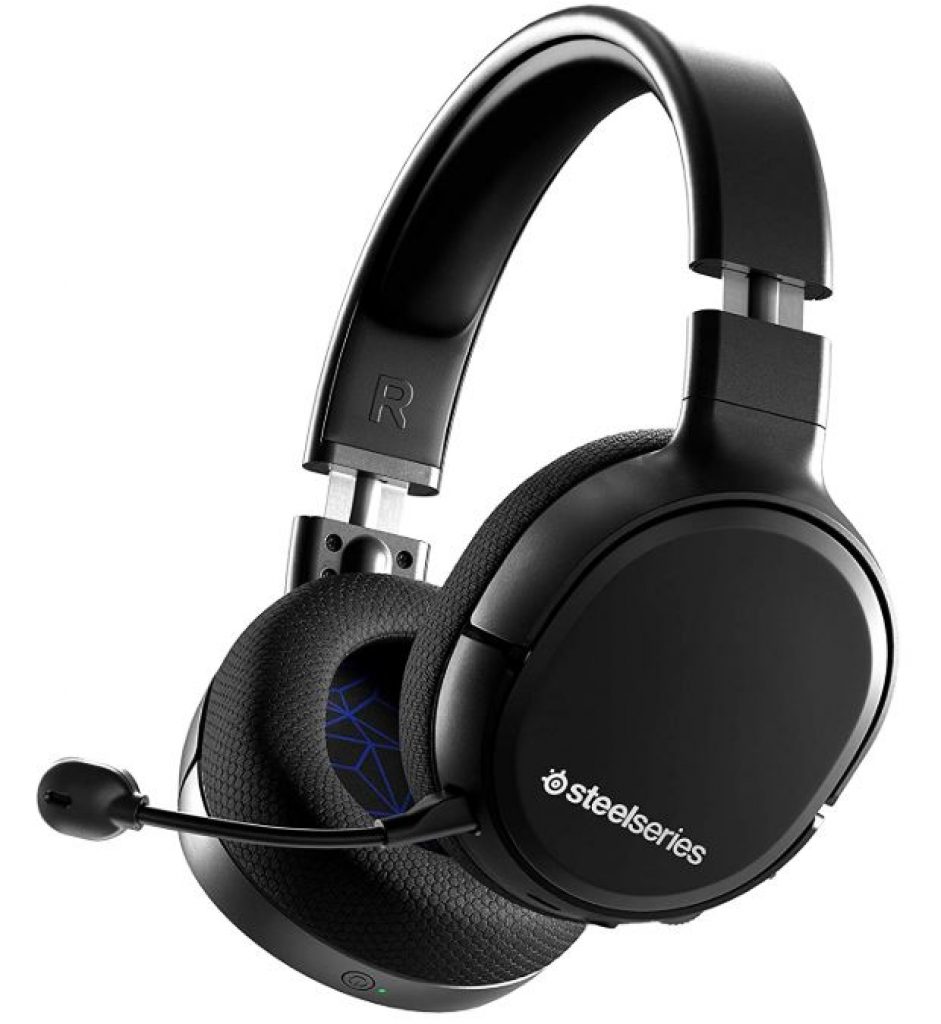 Getting excellent wireless performance has never been so seamless – or affordable. Thanks to the high speed, discreet USB-C dongle, the SteelSeries 1 Arctis Wireless lets you instantly enjoy wireless game audio from your Nintendo Switch, Android phone, PS4, or gaming PC, with none of the complicated pairing or interference that comes with Bluetooth based headsets. It's worth mentioning the Nintendo Switch functionality again, as it's hard to get a wireless headset for Nintendo's handheld hybrid.
The headset has the same sleek, understated design as the standard Arctis 1, complete with a removable microphone, making it perfect for playing some Switch games on the go. It also features the same powerful drivers and clear ClearCast microphone as the SteelSeries high-end headsets, allowing you to immerse yourself and play competitively with confidence. If you're looking for the best wireless gaming headset under $100, the Arctis 1 Wireless is the new gold standard.
$34.99
$49.99
in stock
6 new from $34.99
36 used from $22.57
Last updated on September 20, 2021 11:16 am ⓘ