The internet has become a basic need nowadays. One can access the internet via telephones or via a computer. Wi-Fi is the most common mode that allows devices to access the internet. You can, of course, choose to connect a Cat 5 cable to their desktops or laptops. However, being mobile and always using a wired connection is not practical. In this article, we will focus on the ten Best Routers Under $100 that you can buy right now.
There are more than 250 different routers that can be purchased for less than $100. To be able to move freely while you use the internet on your device and you do not have Cat 5 wires throughout your home or office, you need a decent router. Routers are a technology product. So, just like with any other technology product, buying a router is not as easy as walking into a store and pick the first router you see.
Best Routers Under $100 List
TP-Link AC1750
TP-Link is a household name when it comes to wired or wireless routers. The Dual-Band AC1750 is one of the top-rated routers. It is even rated as Amazon's favorite product in the routers category. 1750 means a total speed of 1750 Mbps. 1300 Mbps comes in the 5 GHz band, and 450 Mbps comes in the 2.4 GHz band. The router has three antennas for extensive coverage. It can cover around 2500 m² of space, according to TP-Link.
More than 50 devices can connect to this router thanks to the powerful 1 GHz dual-core processor. There are 4 LAN ports and 1 WAN port. The ports can all offer a maximum speed of 100 Mbps. The TP-Link AC1750 also comes with a USB 2.0 port. The router works on the 802.11 ac standard. However, it also supports devices that are compatible with 802.11 a/b/g/n. Overall, this is one of the best routers under $100.
$59.49
$79.99
in stock
35 new from $59.49
10 used from $43.99
Last updated on October 19, 2021 2:28 am ⓘ
Asus RT-ACRH17 AC1700
The ASUS RT-ACRH17 AC1700 uses the patented Asus AiRadar technology. The company claims that this radical new Beamforming tech provides a network that is more stable than that of other routers. At 15 feet, it delivered 654Mbps in our office tests, which is really blazing fast. At 30 feet, the speed dropped but remained an impressive 261Mbps.
You can use either the browser or the Asus app to configure the router and both work equally well. The app not only allows you to configure the router, but it also shows which device has been active for how long and how much data has been consumed.
The device itself looks very sleek and has 4 antennas. The housing is rectangular with a diamond pattern on the plastic top. There is a blue stripe to break up the monotony of the black surface. The antennas cannot be removed and replaced with more powerful ones. Fortunately, Asus has limited the number of LED lights to just a handful, unlike other manufacturers.
It's MU-MIMO capable, which means you can use several devices at once for both uploads and downloads, with no lag or pause. We connected a smart TV, three laptops, a couple of cell phones and a Chromecast and still all devices had excellent coverage. At only 450 grams, it's also surprisingly light, but not thin. Overall, this is one of the best routers under $100.
$174.37
in stock
2 new from $174.37
Last updated on October 19, 2021 2:28 am ⓘ
Securifi Almond
The name may sound unusual, but what is even more interesting is the slogan for this router. The manufacturer calls this the "3-minute setup" router. The reason is that 95% of its customers can set up and use the router in just 3 minutes. Ease of use is the essential feature of this router. It has a touch screen, so you don't have to turn on your PC and insert an installation CD. The router can be used as an independent device or as a WiFi extender.
The Securifi Almond offers a brilliant 300 Mbps maximum speed through its ports. Wireless compatibility is for 802.11 b, g, and n. The other worthy compatibility benefit is that of OS compatibility. This router works with Windows, Linux, iOS, Android, and Macs. Even XBOX works with this router. So overall, this is one of the best routers under $100 on the market.
$79.99
$99.99
in stock
3 new from $78.99
5 used from $44.99
Last updated on October 19, 2021 2:28 am ⓘ
ASUS AC1300 Dual Band
The Taiwanese giant Asus offers a router with not 2, not 3, but 4 antennas. So you can be sure that the Wi-Fi signal will also reach those isolated corners of your house. In addition to the fantastic range, the ASUS AC1300 offers speeds of up to 1267 Mbps via its 2X2 MU-MIMO technology. 867 Mbps is via the 5 GHz band, and 400 Mbps is via the 2.4 GHz band. MU-MIMO means that the interface with multiple devices runs smoothly at the same time.
The installation of the router is easy using the ASUS WRT interface. WiFi network management and usage monitoring can be done using the ASUS router app. The ASUS AC1300 Dual-Band supports Windows 10, 8, 8.1, 7 as well as Mac OS X 10.1, 10.4, 10.5, 10.6, 10.7 and 10.8. Such things make it one of the best routers under 100 dollars.
$139.99
in stock
7 new from $139.99
1 used from $139.99
Last updated on October 19, 2021 2:28 am ⓘ
NETGEAR Nighthawk R6700 AC1750
NETGEAR is another concept when it comes to network equipment. The AC1750 router offers robust functions and is one of the best routers under $100. First, it is designed to cover an area of ​​1500 m² and to process 25 devices at the same time. The router offers 4 LAN ports, 1 WAN port, and 1 USB 3.0 port. The router can be easily set up using an app. You do not have to start your desktop or laptop. A unique feature that the NETGEAR AC1750 offers is a built-in security software called Armor.
However, users must purchase a subscription for the software after the first free trial month. The router is designed with three antennas for reliable coverage. Microsoft Windows 7, 8, 10, Vista, XP, 2000, Mac OS, UNIX, and Linux are all supported by the AC1750. In terms of speed, you get 1750 Mbps, which is good enough for gaming and HD video streaming. The router uses a dual-core 1 GHz processor and NETGEAR's Beamforming + standard that improves mobile device performance.
$87.23
$99.99
in stock
17 new from $69.08
49 used from $30.68
Last updated on October 19, 2021 2:28 am ⓘ
D-Link AC1200
D-Link is another well-known name in the router industry. It is also a product of "Amazon's Choice" and is one for the Best routers under 100 dollars. The reason for this is the reliable performance and ease of use that the router offers. The AC1200 has 300 Mbps via 2.4 GHz and 867 Mbps via 5 GHz for a total speed of almost 1200 Mbps. Streaming and surfing the web can easily take place on either of the two bands to provide a break-free experience.
The D-Link AC1200 uses four antennas for a sizeable usable range. Use as MU-MIMO technology improves use on multiple devices, including mobile phones. The router works on the 802.11 ac standard. With the AC1200, you can also prioritize your connected devices. So if you want your PC to get the most bandwidth, that kind of hierarchy can be set up via the router. The parental control feature is also great because you can set how much time a particular device spends on the Internet.
$60.00
in stock
2 new from $130.00
6 used from $59.77
Last updated on October 19, 2021 2:28 am ⓘ
Linksys AC1900 Dual Band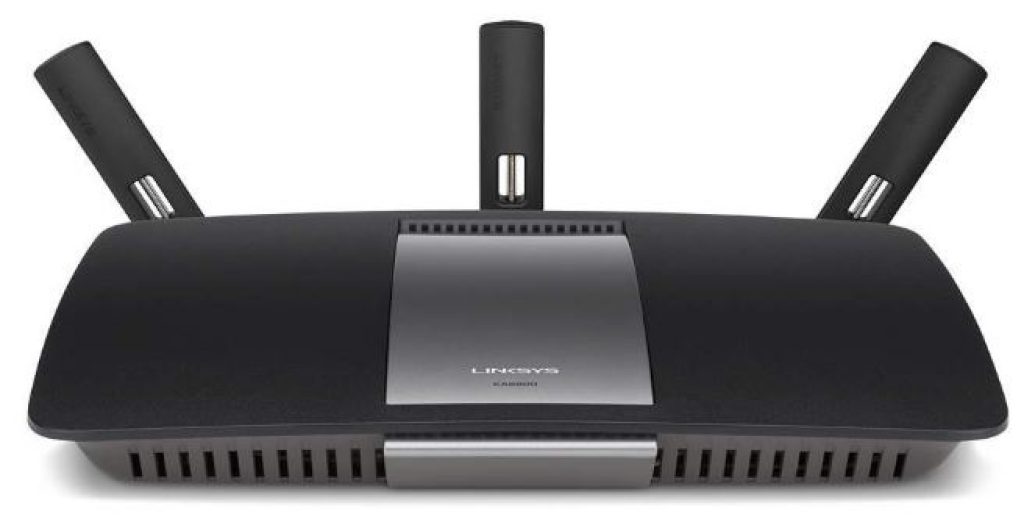 Linksys is a well-known brand name in the space for routers and network equipment. It has a highly rated dual-band model in the sub $ 100 range. The AC1900 offers up to N600 Mbps in the 2.4 GHz band and AC1300 Mbps in the 5 GHz band. Regarding operating system compatibility, the Linksys AC1900 supports Windows XP, Windows Vista 32/64, Windows 7 32/64, Windows 8 32/64, Mac 10.5.8 Leopard, Mac 10.6.1 Snow Leopard and Mac 10.7 Lion or later on.
This router has 2 USB ports (1 USB 2.0 and 1 USB 3.0) and 4 LAN ports. There is 1 WAN port for entering the internet signal. This Linksys router also has a dual-core 800 MHz CPU for fast processing and simultaneous processing of multiple devices. The Linksys AC1900 uses a design with three antennas for full coverage. Parents can use the parental control security feature to set the router for child-safe use. Overall, this is one of the best routers under $100.
$153.00
in stock
9 new from $89.95
17 used from $34.99
Last updated on October 19, 2021 2:28 am ⓘ
NETGEAR AC1000
NETGEAR has a budget router model that is highly valued by users. The AC1000 only costs $ 39. However, it is several powerful features. The design of the router uses two antennas that can cover an area of 1000 square feet. This budget router is dual-band. It has 4 LAN ports and 1 WAN port for the internet feed signal. Each port is a 10/100 Mbps fast port. The router comes with the nighthawk app that can be used to set filters and security restrictions. New users can also set up the router in the nighthawk app. Up to 15 devices can work with the NETGEAR AC1000 at the same time. Overall, this is one of the best routers under 100 dollars.
Last updated on October 19, 2021 2:28 am ⓘ