Does the day often greet you with a severe headache and a terrible cough? Can you remember the last time your nose wasn't runny, and you weren't about to get sick? You do that by breathing in stale, stale air day after day. There is little that can be done to your workplace environment or coming outside during the allergy season, but you can at least breathe fresh and clear air at home if you get one of the Best Smart Air Purifiers.
Why would you want one for the Best smart air purifiers? Equipped with the most advanced air filtration technology available, you can control the air quality with voice commands or remotely wherever you are and can be automated to perform their task only when someone is at home. Some adjust their intensity based on your local climate, while others even order new filters in advance so that you don't forget them.
We have investigated dozens of smart air purifiers. The Best ones are in the reviews below, so take a deep breath and discover one that will rid you of impure air forever.
Best Smart Air Purifiers List
LEVOIT Smart WiFi Air Purifier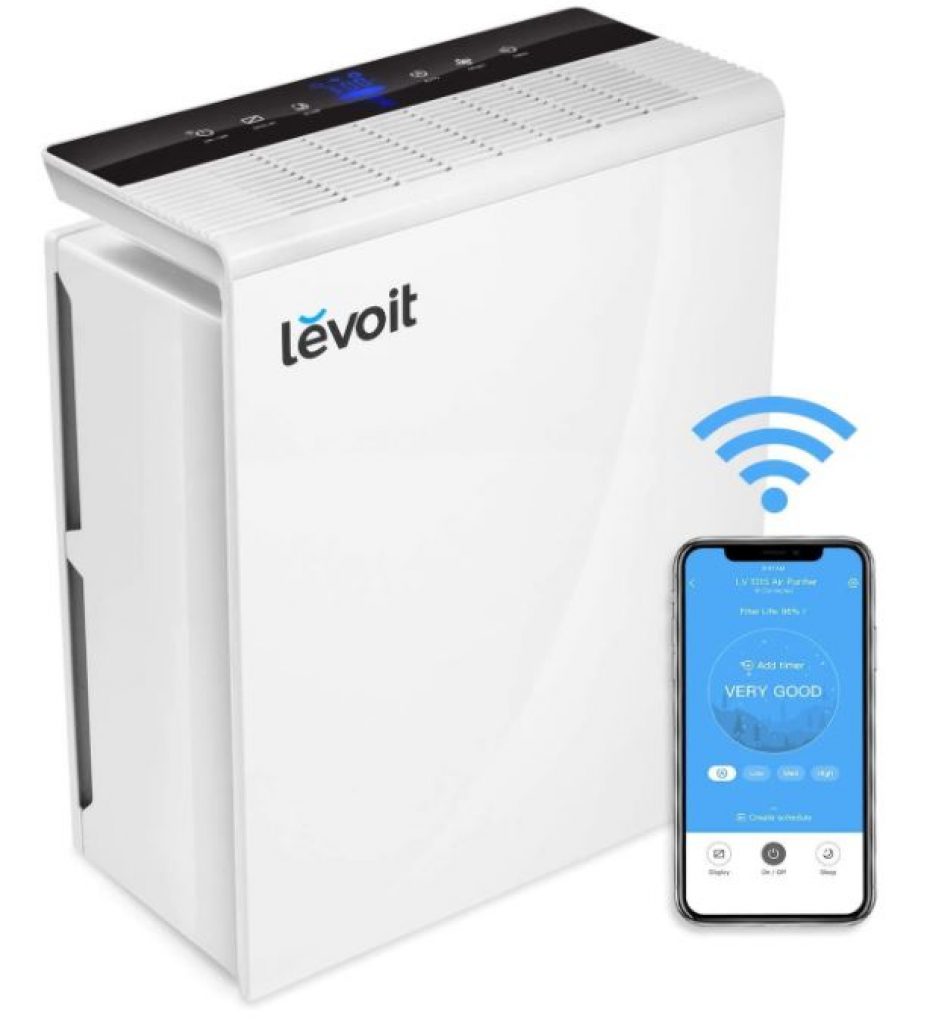 If your voice assistant is an integral part of your daily routine, Levoit's Alexa and Google Home-compatible air purifier will blend seamlessly into your high-tech lifestyle. We consider this one of the best smart air purifiers for pet lovers, allergy sufferers or anyone else who is sensitive to odors and dirt particles and wants the flexibility to control their air purifier with their smartphone.
This WiFi air purifier uses a three-in-one filtration system (activated carbon filter, H13 true HEPA filter and a pre-filter) to remove up to 99.97 percent of particles as small as 0.3 microns. The unit can clean 900 square feet in one hour, 500 square feet in 33 minutes, or a 360 square foot room within 24 minutes when set to the highest fan speed.
Besides the clean air, we really love the smart features of this device. You can use the app (which connects to the purifier via WiFi) to schedule air cleanings, check air quality and filter life, and select different cleaning modes. The air purifier's smart sensor automatically adjusts to one of three fan modes depending on real-time air measurements.
For light sleepers who want to use this device in the bedroom, the air purifier has a fairly quiet noise level of 27 decibels and the LED screen can be turned off, so you can be sure you won't be bothered by the light or noise.
$149.99
$189.99
in stock
6 new from $149.99
6 used from $133.62
Last updated on October 18, 2021 6:59 pm ⓘ
Honeywell HPA250B
Air purifiers can quickly reduce the number of pollutants in your home, so there is no need to keep one running if no one is home to enjoy the benefits. Since some of us probably forget to switch it off, a surefire way to do this in the purifier sounds like an excellent idea. That is precisely what the HPA250B from Honeywell is one for the Best Smart Air Purifiers. This filter connects to your phone via Bluetooth and can be set to turn itself off when the phone is out of range.
This is the shortest air purifier on our list, and its footprint is similar to the 2000i. It is not difficult to move the HPA250B, as it only weighs 14 pounds. Yet it can improve the air in a large living room. On the top panel, there are touch controls for different filtration modes, sensors, and a timer. This model is not supplied with an air quality indicator light, but each filter has an associated LED that changes color as the time to change filter approaches.
The HPA250B produces little noise in manual mode except for the Turbo setting. If you switch on the VOC sensor (volatile organic compound), you cycle through the available speeds if necessary. If your phone is nearby and the GPS is on, the purifier can communicate with the corresponding app and receive data about the concentration of various allergens in the air. This automatically adjusts the fan speed as a response. A simple timer from 1 to 18 hours is available on the device itself. An advanced planning tool that allows you to set working times for each day of the week, complete with adjustable fan speed options, is part of the app.
The HPA250B wins the prize for the Best app design! To pair it with your phone, you have to press two connection buttons simultaneously, and this happens in seconds. The home screen of the app is a virtual representation of the analog interface of the purifier. Each setting is both responsive and accompanied by an informative description that you can display at any time. Unlike operating the HPA250B, the app collects information about the allergen concentration in your environment and can send messages if the level rises. You can also order replacement filters directly at a handful of trusted stores.
Last updated on October 18, 2021 6:59 pm ⓘ
AIRMEGA 400S
The purifiers that we have reviewed so far do a fantastic job, but they are only good for maintaining clean air in a single room. If you want a comprehensive air purification solution for a very large house, you should opt for the 400S from AirMEGA. The powerful fans can cover an area of ​​more than 1500 feet! The air cleaner has four fan speeds, smart energy-saving settings and can be operated remotely.
You would think that the large capacity of the 400S looks less attractive. Although it has a boxy appearance and no picnic to move around with 24 pounds, it won't collide with your furniture or other modern appliances. The operating schedule is scarce and shows the current mode and fan speed on the right and the status of both filters on the left. There is also a ring for the air quality indicator that changes from blue to green and yellow to red as the air quality decreases and is a handy visual indicator when you perform the cleaner manually.
The 400S has a perforated cover and filters on two sides, allowing it to absorb and blow out much more air than its competitors. The filters consist of a pre-filter that can be washed, an active carbon layer, and a real HEPA filter on each side. You can set the purifier at one of the four speeds whose volume varies from 22 to 88dB. The smart mode controls the speed automatically as the air quality changes. If you also switch to Eco mode, the fans will stop moving if the air quality is good for 10 minutes. The night mode is useful for keeping the air fresh at night because the fans are kept at their lowest position, and the indicator ring is switched off.
With the app, you can monitor indoor and outdoor air quality, set a timer from one to eight hours, and receive notifications when the air is polluted, or the filters need to be replaced. You can also activate Amazon Dash and have the app order replacement filters as soon as the current ones are no longer safe to use. The 400S can also be controlled via Alexa. Overall, this is one for the Best Smart Air Purifiers on the market.
$630.06
in stock
5 new from $450.00
2 used from $470.23
Last updated on October 18, 2021 6:59 pm ⓘ
Dyson Pure Cool Air Purifier
Dyson is known for its super-quiet vacuum cleaners and hair care appliances, but it is also beloved in the air purifier category. The latest Pure Hot+ Cool HP04 air purifier is just as powerful and efficient as previous models, and it now works with both Siri and Amazon Alexa.
This lightweight, space-saving air purifier stands 30 inches tall and weighs just over three pounds – easily portable. Its two-layer vacuum-sealed glass true HEPA and activated carbon filter works to eliminate odors and VOCs. All this means it removes 99.97 percent of pollutants and allergens down to 0.3 microns.
It also has a host of intelligent features. Not only does the unit show live reports on air quality via an LCD screen, it also oscillates up to 350 degrees so that clean air – 77 liters per second – is distributed throughout the room. There are also three different sensors that detect when the settings need to be adjusted, 10 fan speeds, a night mode that keeps the air purifier quiet and dimmed while you sleep, and an automatic shut-off in case the unit is knocked over.
The device can automatically adjust settings based on air quality, while the Dyson Link app lets you view air quality reports, remotely control and monitor the air purifier, and schedule cleaning sessions for seven days. The device also comes with a standalone remote for those who prefer not to use the smartphone app.
$529.00
in stock
8 new from $529.00
Last updated on October 18, 2021 6:59 pm ⓘ
Hathaspace Smart True HEPA Air Purifier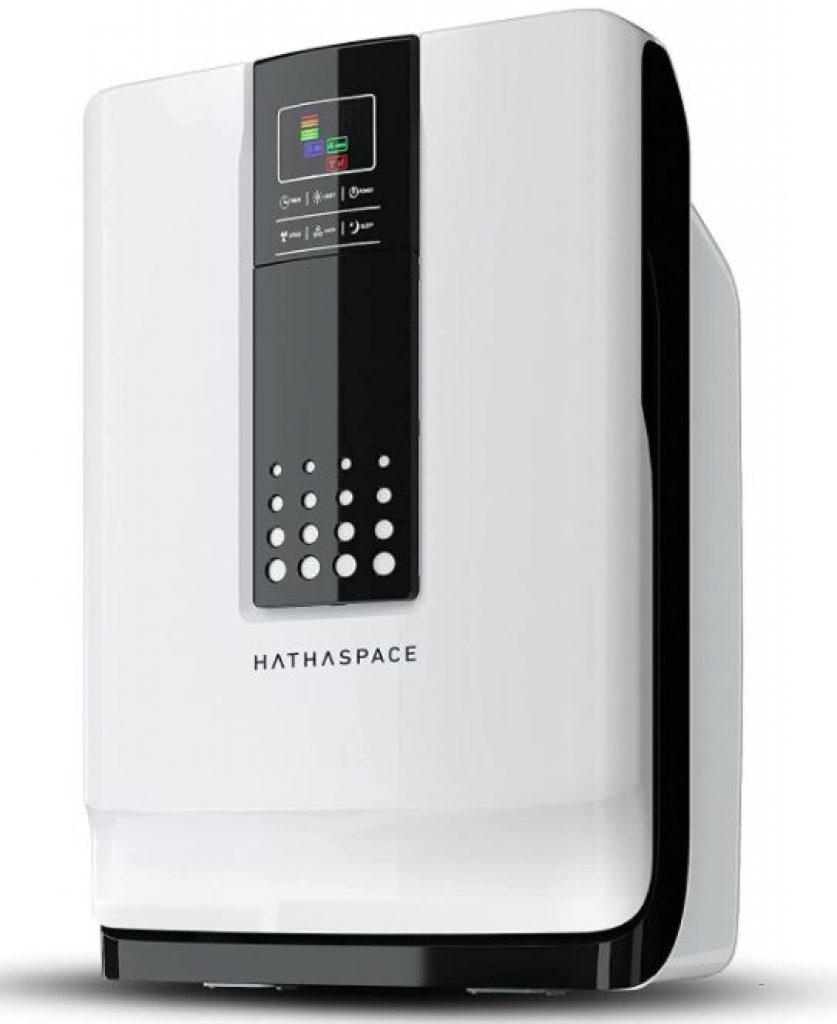 If you live in a small space with pets or other sources of pollutants and odors, you can't go wrong with the Smart True HEPA air purifier from Hathaspace. It has a five-in-one air purification system that not only removes 99.97 of particles with a size of 0.3 microns, but it also has an odor-neutralizing ionizer that can be controlled separately.
The filtration system consists of a nano-cold catalyst filter (which traps larger particles such as pet dander and dust and toxic chemicals); a cellular activated carbon filter for absorbing smoke, volatile organic compounds and gases; an antibacterial filter; a true HEPA filter; and an ozone-safe ionizer that allows pollutants to be more easily trapped by the unit.
As for smart features, this air filter is equipped with an air quality sensor and LED screen that displays real-time indoor air quality data, plus an automatic mode that adjusts fan speed based on your environment's statistics. Although it doesn't come with a smartphone app, the remote control allows you to operate the air purifier just as easily without standing up.
This smart air purifier also has a sleep mode that operates at only 20 decibels, so you can still get a good night's sleep. It is also lightweight and compact, weighing only 12 pounds and measuring 13.5 inches wide, 7 inches deep and 19.5 inches tall.
$199.99
in stock
4 used from $156.39
Last updated on October 18, 2021 6:59 pm ⓘ
LEVOIT LV-H134
The air purifiers that we have treated so far can adequately cover one room or, in the case of the Airmega 4005, the entire house. But what if you live in a medium-sized apartment and want to keep the air in it free of germs with one device? Leviot's LV-h134 is designed to remove 710 square meters of space from odors, bacteria, and allergens! It has an advanced sensor that gives you real-time measurements of air quality, is barely audible at the lowest setting, and has an intuitive touch screen. Many reasons make it one for the Best Smart Air Purifiers that you can buy.
The LV-H134 is one of the most elegant and designed air cleaners that is assessed. The rounded aesthetic is striking, as is the combination of white for the body and black for the exhaust fans and touch controls. The unit is 29 centimeters long and weighs 25 pounds. The stable base of the LV-H134 ensures that children or pets do not fall over it, while a set of wheels makes transport from room to room more comfortable.
The design of the air cleaner also serves an essential practical purpose – the lower part is covered with holes because the LV-H134 takes air in a 360-degree area around itself. This allows it to move large amounts of air through the exhaust fins and improve its quality in minutes. The highest of its three fan speeds ensure a pleasant breeze throughout your house, while the slowest lets you run the cleansing day and knight without noticing because its loudness is only 25 dB.
Setting up the LV-H134 is a breeze and takes no longer than 5 minutes. All you have to do is remove the filter from the bag, put it in the LV-H134, and you are ready to go. The filter has a unique cylindrical design with which it can purify the air from all sides. It has three layers – a pre-filter, a true HEPA filter, and an active carbon filter. The first two cause increasingly smaller dirt particles and bacteria, while the active carbon layer eliminates odors.
$447.97
out of stock
8 new from $447.97
1 used from $480.00
Last updated on October 18, 2021 6:59 pm ⓘ
Blueair Classic 205
Blueair's Classic 205 is another beautiful, smart air cleaner that removes the vast majority of pollutants thanks to an effective, genuine HEPA filter. It can cover a respectable 280 square feet, follow changes in air purity in the app, and can be voice-activated via Amazon Alexa. It does have a few drawbacks that some people might be dealbreakers.
The design of the Classic is anything but. The purifier immediately impresses with its white metal housing and slender curves. First, you only see a single blue LED on the front. By opening a lid at the top, cleverly hidden basic settings for power, fan speed, and filtration reveal. You want to position the Classic in the middle of the room for the Best result. Given the modern appearance, this should not be an aesthetic problem.
Unlike other models that have two or more different filters that need to be replaced separately, the Classic 205 can accommodate two variants of a single HEPA-based filter. The particle filter only tackles bacteria and other small pollutants. Spend around $50 more, and you can get a premium smoke-stop filter that eliminates odors and finest particles.
The Blueair app has a barebones design and does not offer many functions when you use the Classic 205 alone. You are limited to switching between three fan speeds, adjusting the brightness of the LED, setting alerts for filter replacement, and turning on night mode. Overall, this is one for the Best Smart Air Purifiers that you can buy right now.
$245.90
$274.99
in stock
3 new from $245.90
3 used from $158.46
Last updated on October 18, 2021 6:59 pm ⓘ
GermGuardian CDAP4500BCA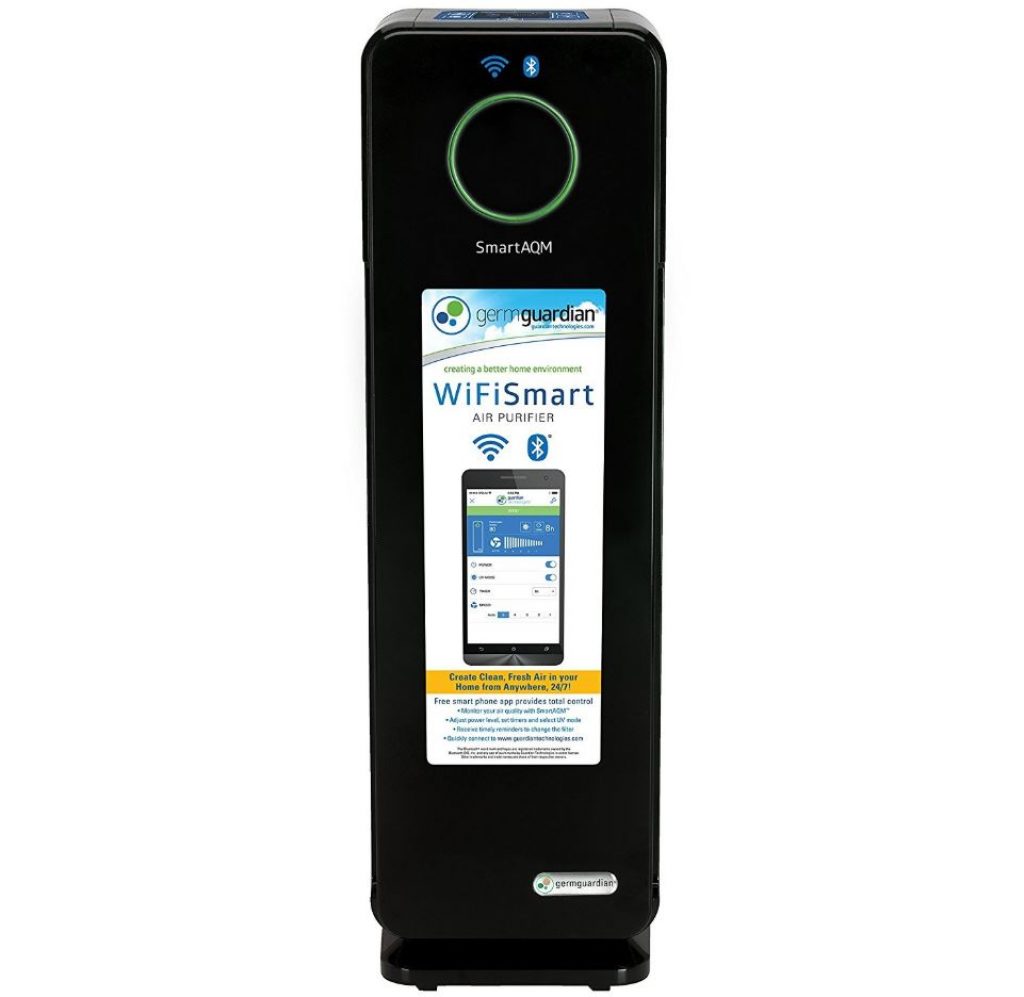 Many air purifiers promise to rid your house of odors and harmful particles in the air but fall short due to insufficient filtration. GermGuardian's CDAP4500BCA tackles dirty air with a three-stage filter system that removes dust, bacteria, and the odor of your cat's litter box in minutes. It has advanced sensors that continuously monitor its environment and connects to a smartphone app that keeps you informed of the air quality in your home. Many reasons make it one for the Best Smart Air Purifiers right now.
The CDAP4500BCA is small and light, so you can transport it from room to room or place it on a table for less exposure to dust rabbits. The all-black design, in combination with a prominent LED ring and indicator lights, gives this purifier a contemporary look that fits well into the design of a modern home. You can set the fan to five-speed settings, the first of which is not audible, while you can still have a conversation in the same room with the latter. If you leave the speed control on the air purifier, the fans speed up and slow down depending on the air quality of the room.
The 3-stage filter system starts with a two-sided filter. The front contains a pre-filter and a layer of activated carbon. This first line of defense stops bigger debris and filters offensive odors. The back has a HEPA filter that can collect bacteria and dust of more than 0.3 microns and stops all except the smallest bacteria. These are then killed and broken down by ultraviolet light. The two-sided filter must be replaced every six months, while the HEP filter lasts for a year.
A built-in smart sensor continually measures and displays the results as a score in the Guardian TE app. If automatic filtration is on, the air cleaner starts working when the air quality turns red, saving energy. The app can send notifications when the air quality is low; let you know when it is time to change the filters and set a timer. The purifier also supports voice commands via Amazon Alexa. You can ask her to turn it on or off, adjust the fan speed, or tell you about the current air quality in the room.
$159.99
$249.99
in stock
4 new from $159.99
Last updated on October 18, 2021 6:59 pm ⓘ