Ever since modern TVs have become thinner and thinner, the demand for better audio has continued to rise. One of the solutions that quickly became the norm is soundbars. This type of speaker is exclusively made for TVs and home theater systems. With so many different models available on the market, finding the right one for your needs can be pretty overwhelming. That is why we have compiled a comprehensive guide in which we have narrowed the best soundbars on the market.
Our choices include everything from entry-level models to high-end systems. With that said, our goal was to show you soundbars that have proven to deliver great audio, no matter what segment of the market they belong to.
Purpose Of Soundbars
In the past, when televisions were as big as a washing machine, the audio was not such a big problem. Each TV had thick built-in speakers that were not that great, but at least they had depth. Nowadays things have changed considerably. Modern TVs try to be as thin as possible, leaving very little room for decent transducers. First, you had smaller drivers for the full range, but that space shrank quickly. The result is that some brands install speakers with a tweeter format, which should cover a very broad frequency range. As expected, the sound is anything but worthy.
This leads us to stand-alone speaker sets. Bookshelf speakers or even tower loudspeakers have been around for a while, but have ultimately proven to be an inefficient solution. First, not everyone wanted to invest in audiophile equipment, just to have decent audio on their TV. Moreover, these systems are often enormous.
Enter soundbar speakers and home theater systems. These are specially designed to be used as TV speakers. Having a thin, low-profile soundbar is aesthetically much more attractive than standard speaker configurations. In addition, as technology evolved, the best soundbars became full of very specific functions that significantly improved the TV viewing experience as a whole. To answer the question from the title above, a soundbar is a special solution for TV audio.
List of the best soundbars of 2021
Yamaha YAS-209
The best soundbar and subwoofer combo
The Yamaha YAS-209 is an excellent package for the price, with great overall sound, a wireless subwoofer for solid bass and Alexa support for convenient voice control. The soundbar itself is one of the sleeker models we tested, with a 36-inch design that should look good under most TVs. The soundbar's four 1.75-inch drivers deliver immersive sound for movies and programs. Plus, built-in Alexa functionality makes it easy to control any smart device in your home – even when the soundbar is off. We wish there were more than just one HDMI port on the back, but even despite that criticism, the YAS-209 offers a lot to love. Overall, this is one of the best soundbars of 2021.
Last update was on: October 18, 2021 6:25 pm
Creative Stage V2
The best cheap soundbar and subwoofer combo
Cheap and compact but deceptively rich sounding, the Creative Stage V2 is another fantastic choice for those on a tight budget. The dedicated subwoofer handles the lower frequencies much better than most cheap standalone soundbars, and the clarity of the dialogue impressed during our tests.
There's also a "Surround" mode that makes the soundstage wider than the Stage V2's modest size, and you can tweak the sound even further with settings for boosting bass and treble. Connectivity is also very good for the money – in addition to the expected optical and 3.5mm inputs, there's also HDMI ARC, USB and Bluetooth to play with. Overall, this is one of the best soundbars of 2021.
Last update was on: October 18, 2021 6:25 pm
Sonos Arc
The best premium soundbar
The Sonos Arc is the best soundbar you can buy if you're willing to shell out a hefty sum. This $799 premium speaker stands out for its beautiful curved design, which is designed to be a centerpiece of your living room, as well as to enhance the sound of your TV. And it certainly doesn't skimp on sound performance, with deep bass and clear highs for your favorite movies and TV shows, complete with Dolby Atmos support.
Thanks to Sonos' TruePlay technology, the Arc can automatically tune itself to the room it's in to deliver the clearest, most accurate audio. It also supports voice control via Alexa and Google Assistant, making it one of the smartest soundbars you can buy. If you have a larger entertainment space – and a big budget, the Sonos Arc is the top premium soundbar out there. Overall, this is one of the best soundbars of 2021.
Last update was on: October 18, 2021 6:25 pm
Sonos Beam
Small, adaptable and great sounding

Judging by a sound-per-pound basis, the five-star Sonos Beam is currently the best soundbar you can buy. It comes with a few additions to its spec sheet, compared to the Sonos Playbar and Playbase, including an HDMI connection and voice control assistance from Amazon Alexa and Google Assistant with Apple Siri to follow. This is an affordable soundbar that could transform your listening experience.
It's small, light and fits most TVs. The top features sleek touch controls and the back has HDMI and Ethernet ports. You can mount the Beam on the wall, although the optional bracket is pricey. Overall, this is one of the best soundbars of 2021.
Last update was on: October 18, 2021 6:25 pm
Polk MagniFi Mini
The best soundbar for smaller spaces
No soundbar packs huge audio into a small package just like the Polk MagniFi Mini does. This unassuming speaker fits seamlessly into any setup, delivering clear dialogue and deep bass with the help of the included wireless subwoofer. Plus, with Google Cast support, the MagniFi Mini doubles as a great home music speaker.
The MagniFi Mini gets loud enough to fill most bedrooms and small apartments, and we found it reliable for being immersed in movies and shows. Factor in a handy remote and a simple setup process, and you have the best soundbar out there for those with limited space. And at $300, you're not paying much for it, either. Overall, this is one of the best soundbars of 2021.
Last update was on: October 18, 2021 6:25 pm
Sennheiser Ambeo Soundbar
You'll need plenty of space, but this is the best soundbar for those with deep pockets.
The Ambeo Soundbar is Sennheiser's first consumer speaker, and it's quite a proposition – a premium soundbar packed with features, including Dolby Atmos and DTS:X support, 4K HDR pass-through (all handy if Netflix and/or Amazon are your main movie and TV show source). You also get auto-calibration and four HDMI inputs, plus Bluetooth and Chromecast support. At 127 cm wide and 14 cm high, it's definitely a beast.
As a result, the Sennheiser delivers sound big enough to not need its own subwoofer, with clear, direct dialogue and detail and subtlety galore. The way the sound is stretched around you creates a great atmosphere and really pulls you into the action. To get the full Dolby Atmos effect, you'll need to mount the soundbar on the wall or place it on the top shelf of your rack so that the upward-facing speakers aren't obstructed. But it's definitely worth it. Overall, this is one of the best soundbars of 2021.
Last update was on: October 18, 2021 6:25 pm
JBL Bar 5.0 MultiBeam
The best soundbar for affordable Atmos
Proving once again that you don't have to spend much for high-quality Dolby Atmos integration, the JBL Bar 5.0 MultiBeam defies its standalone form factor with a respectable attempt at digital surround sound – not to mention powerful bass, even without a subwoofer. While we would have liked a few more ways to manually adjust the sound output, the Bar 5.0 MultiBeam also features a handy auto-calibration feature that specifically tunes the Atmos output to the dimensions of your living room.
This contributes to a strong sense of audio positioning, again something you can't always be sure of with individual soundbars. Still, it works, and it's another reason why the Bar 5.0 MultiBeam is one of the best soundbars around.
Last update was on: October 18, 2021 6:25 pm
JBL Bar Studio
One of the best soundbars you can buy on a budget.
There are fine soundbars to be had for little money, and this JBL proves it. The sound is solid and punchy; connectivity includes a single ARC-enabled HDMI output, an optical digital input and Bluetooth. Build quality is also good – it's clear that JBL has made this model to its usual high standards of aesthetic modernity. Given its small size (it's 60 cm long and 6 cm high), the scale of the JBL sound is a bit limited, but it still delivers a confident sound with plenty of detail, clear dialogue and powerful, rich bass in the lower regions.
You also get JBL Surround Sound, a proprietary technology designed to reproduce the enveloping sound of a 5.1 system – further proof that this soundbar is committed to overcoming the limitations imposed on it by its size. It may not be a market leader, but this is an excellent buy for an impressive all-rounder for the money. If you're looking for a full-fledged upgrade for your TV's weak speakers, you can't go wrong here. Overall, this is one of the best soundbars of 2021.
Last update was on: October 18, 2021 6:25 pm
Sony HT-ST5000
This Sony easily mixes it with the best soundbars at the money.
There are very few Dolby Atmos soundbars that quite live up to it, but the Sony HT-ST5000 happens to be one of them. It makes movie soundtracks so immersive that you think you're in the movie. The HT-ST5000 is fantastic – it pairs a real sense of height (thanks to its upward-facing drivers) with refined sound quality. This Sony soundbar also has impressive features, including three HDMI inputs, USB, Bluetooth and support for high-res audio.
You can also stream music to it wirelessly via wi-fi or the Bluetooth 4.1 connection. Spotify Connect is also built-in, as is Google Chromecast for users of Tidal or Google Play Music. There's even a special "Music Service" button on the remote, which can automatically resume Spotify playback if you've been on the road and listening on your smartphone. Overall, this is one of the best soundbars of 2021.
Last update was on: October 18, 2021 6:25 pm
Vizio M-Series M512a-H6
The best soundbar, subwoofer and satellite system on a budget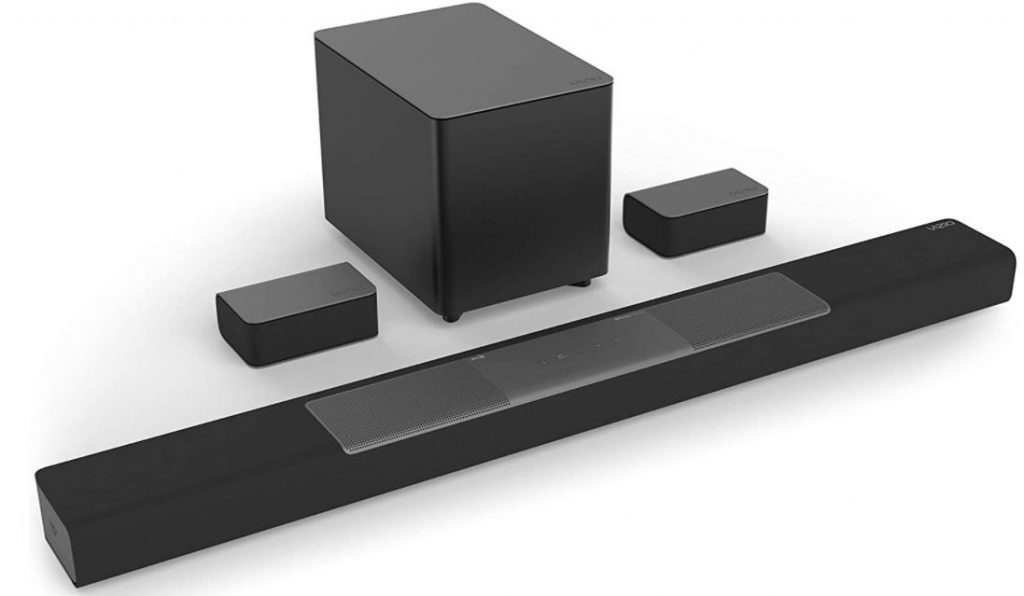 Bargains don't come much bigger than the Vizio M-Series M512a-H6. For less than $500, it delivers true surround sound via satellite speakers and Dolby Atmos via the soundbar's drivers. This is the real deal: not a digital imitation of the Atmos effect, but truly immersive sound.
Only a few luxury features like Wi-Fi and auto-calibration are missing, and Vizio is particularly generous with the range of options for adjusting overall sound output, so you can make the M512a-H6 sound exactly the way you want it to. If you're using an even cheaper soundbar, like the Vizio V-Series V21-H8, this is a great upgrade. Overall, this is one of the best soundbars of 2021.
Last update was on: October 18, 2021 6:25 pm
Things To Know Before Buying Best Soundbars
There are several things you have to define before you go hunting for the best soundbars in 2021. the best place to start is by determining your budget. This will limit your choices and make you make an easier decision:
Surround sound or stereo
Then, when reading the reviews, you should find out whether you only want a soundbar, or do you need something more. Home theater systems consist of a single soundbar, a stand-alone subwoofer cabinet, and two or more satellite speakers. This type of configuration gives you a surround sound, but that usually costs a lot. Cheaper systems will often only contain a soundbar or a soundbar with a subwoofer. These are probably 2.1 systems.
Transducer configuration
Even though there is real surround sound, where you have a soundbar and satellites behind you, the best option, stereo systems can also work fine. The configuration of transducers or speakers has a lot to do with this. Some models come with separate tweeters and midrange drivers in the soundbar itself, along with a stand-alone subwoofer. These are not real surround sound systems, but depending on the quality of the speakers they can create an illusion of a surround sound. At the end of the day, it all comes down to how much you are willing to spend.
Connectivity
One of the most overlooked aspects of choosing the best soundbars in 2021 is the issue of connectivity. Some soundbars come with everything from an RCA cluster, optical inputs to HDMI ports, but not all. Checking which ports are available on your TV has a huge impact on your choice of soundbar speakers. Make sure that the models you choose are fully compatible with your TV set.
Wireless subwoofers
One of the more recent and more popular options is soundbars with wireless subwoofers. There are several important advantages in choosing this type of soundbars, which we have discussed extensively. Put simply, if you are not limited by the cable, you can fine-tune the position of the subwoofer relative to your room. This, in turn, produces much better acoustic results.
Characteristics
As we mentioned earlier, the best soundbars in 2021 are designed to optimally optimize TV audio. That means that you have a number of functions available. Functions that we talk about may include different modes such as Night mode or Voice control, but also different types of stereo or surround sound processing. Add Bluetooth connectivity, use multiple rooms, and things often get confusing quickly. the best way to approach this problem is to learn what each function does for you and decide what you need. Reducing functions may affect the price of the unit, so those with a limited budget must spend a certain amount of time researching it.