One of the biggest misconceptions about turntables, in general, is that you have to spend a lot if you want to enjoy listening to records. This is simply not true. Today we are going to show you some of best turntables under $100, which are considered as the best options on the market to start with. If you trade with one of these, you get a good balance between price and performance, so you get to know the tricks of using this technology.
List of the best turntables under $100
Audio-Technica AT-LP60
The LP60 is a fully automatic belt-driven turntable that plays at 33.3 and 45 rpm, and it has an interesting feature that we will come back to. Some of the cheaper turntables have a problem with low quality construction. We can understand that. Companies need to make a profit, and they cut as many corners as they can to achieve that. But sometimes they cut one too many. Not a problem with this turntable. It is well designed and built and has an attractive design.
Audio-Technica is a Japanese audio electronics company that was founded in the 1960s and now has a subsidiary in the US. This particular model is not too expensive and is a good way to start your return or your journey with vinyl. It is light and portable, yet a sturdy little machine. And it has an integrated dual-magnet phono cartridge with a replaceable diamond stylus. It comes with some of the setup already done for you. Overall, this is one of the best turntables under $100.
Last update was on: October 24, 2021 5:38 pm
Victrola Vintage 3-Speed
With the Vintage 3-Speed, Victrola has succeeded in creating a perfect entry-level product for someone who values both performance and aesthetics. The device itself is quite something to see, and with the huge variety of color combinations on offer, you will surely find something that meets your high standards. The sound quality is good, although the bass is missing.
The portability of this device cannot be overestimated, and the design of the case is rarely as well realized as in the Vintage 3-Speed. Victrola has done well to put a lot of tech into a small, lightweight package, and this is welcome news for anyone who plans to travel a lot with his turntable. Overall, this is a strong option in our list of best turntables under 100 dollars.
Last update was on: October 24, 2021 5:38 pm
Boytone BT-17DJB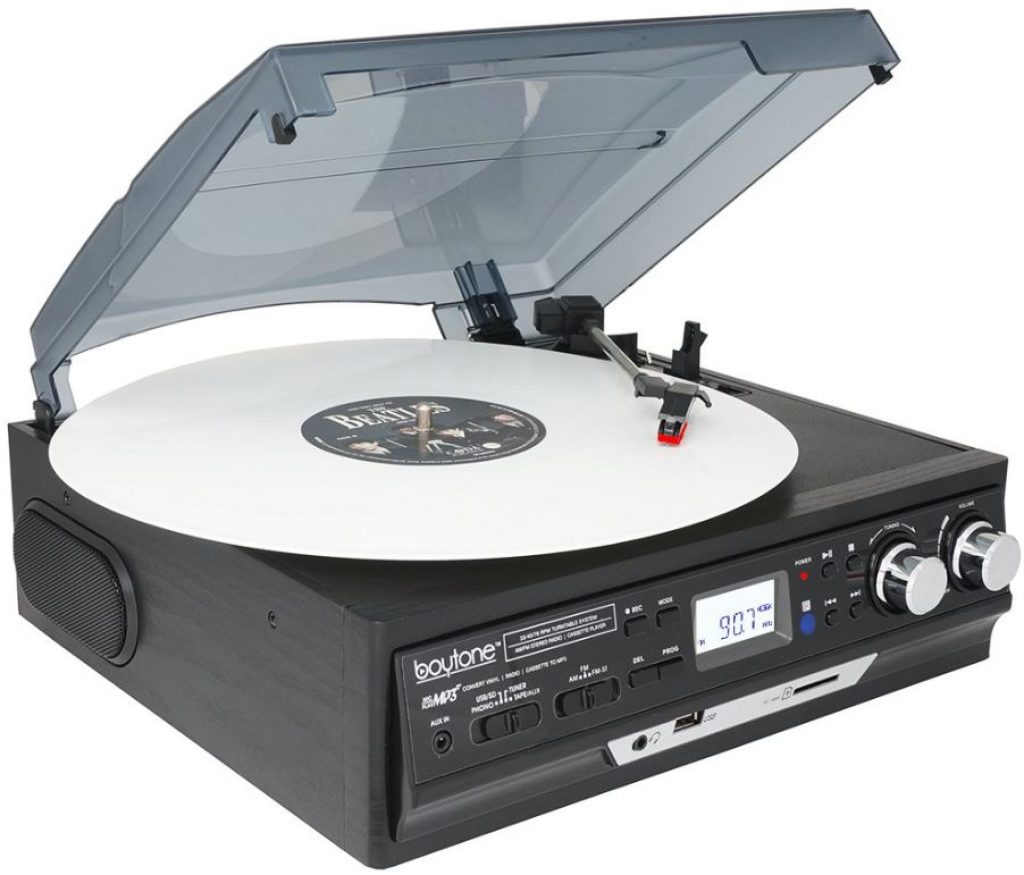 Boytone BT-17DJB is a jack-of-all-trades, there is no other way to say it. The level of performance it offers is at the same level as most of its competitors, but it is much more versatile than most. One of the many disadvantages of owning one of these is that it does not really look like a record player. While many manufacturers prefer to use portability and a compact form factor when it comes to the entry level of turntables, Boytone seems to have done the opposite.
This is an extensive device that takes up a lot of space and has a certain weight. The advantage is that it is robust and lasts for a long time, but the disadvantage is that it does not move well. Still, this is one of the best turntables under $100 to buy right now.
Last update was on: October 24, 2021 5:38 pm
Jensen JTA-222
Another budget entry-level turntable/turntable from Jensen. However, this product is not only a turntable/recorder, but also has an AM/FM stereo radio on board. The "radiogram" is back. Well, not quite, but the thought was there. It's built with a wooden shell that gives it a certain look reminiscent of the old days. And the control panel on the front looks like something you might have found on the front of a steam-powered radio in the 1940s. Actually kind of odd, we think.
It has a number of noteworthy features. Two front speakers and RCA speaker outputs. Connection for stereo headphones, a power indicator and a dust cover. It operates at three speeds, 33, 45 and 78 and as we said before it has an AM/FM radio with an FM stereo indicator and weighing only six pounds it is extremely portable. There is a USB port with cable included that allows you to convert your vinyl to a digital format. Software for recording and converting the audio is included. Overall, this is one of the best turntables under $100.
Last update was on: October 24, 2021 5:38 pm
ION Audio Max LP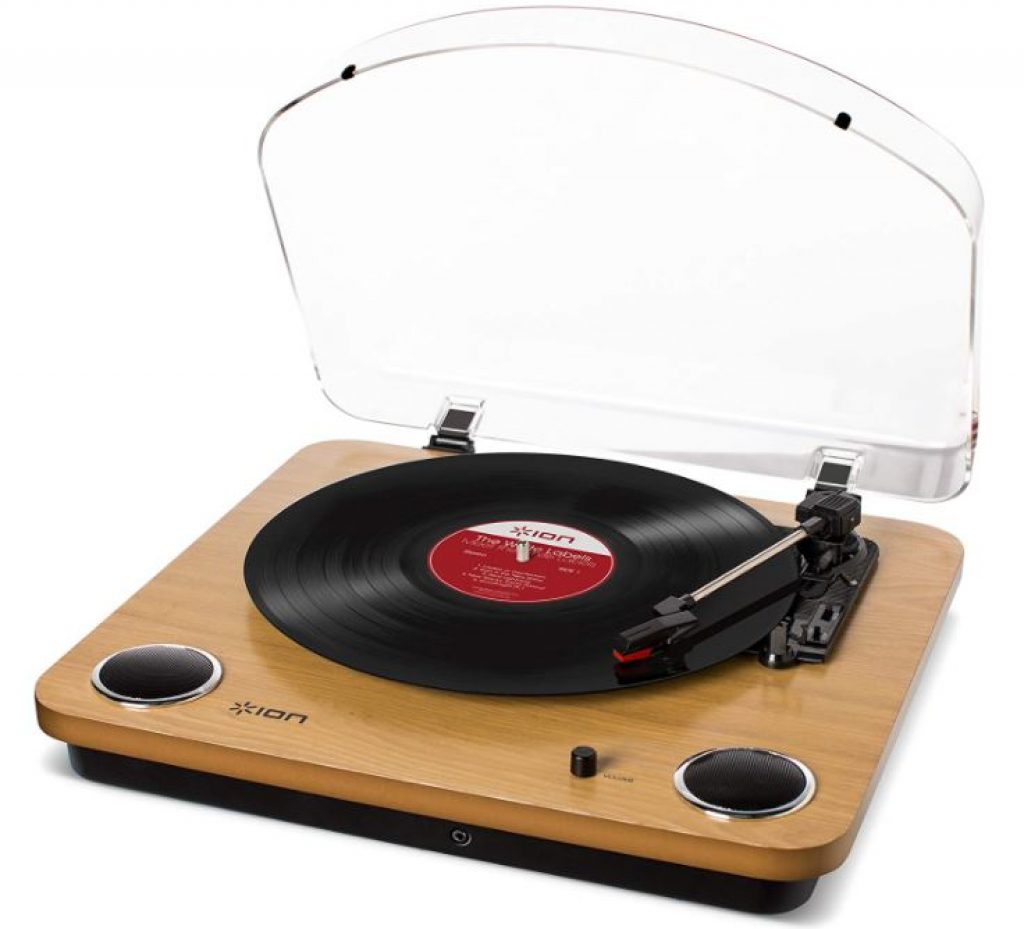 Holy Don Draper, Batman-the mid-century cleanliness and light wood body on this build drive us crazy, man. Those speakers look small, but should produce a mighty sound with specs like that. Something else we can appreciate: full enclosure. The offset center for many of the budget players on this list looks perky and fun, for sure. It's a good way to save space when you're not playing. Overall, this is one of the best turntables under $100.
Last update was on: October 24, 2021 5:38 pm
Things To Expect From Best Turntables Under $100
Turntables found in this price range will be the simplest you can get. By basic, we mean fully integrated components and very little room for upgrades. For someone who is just busy with the hobby, that is exactly what you want. As you gain more experience and learn about turntables, you will discover why $500 models cost as much as they do. Control is virtually everything that vinyl and turntables are concerned, but more controls mean a higher price tag.
The only real disadvantage to affordable record players is that you can not upgrade components. An average turntable is a fairly complex machine that is only as good as the core components. However, this level of integration is the price we have to pay in order to gain access to affordable turntables. Most importantly, $100 can easily provide you with a good amount of audio quality.
There will be some limitations, but the core performance will still be the re, contrary to what some people think. Starting out on one of the best turntables under 100 dollars is highly recommended to anyone who does not know this hobby yet and is looking to learn how this stuff works.
Conclusion
Getting on with the turntables will change the way you enjoy your music. The sound you get will be more organic and natural sounding compared to just about every digital format that there is. Of course, it is not as simple as simply pressing a play button, but good things are always worth it. Models that we have shown you above are by far the best turntables under $100. We strongly advise you not to fall for the super cheap, as they can easily lead to disappointment.