Your company's reputation is based on the performance, availability, and functionality of your website. If you choose the wrong web hosting service, the customer experience will suffer, and you'll be looking at your potential buyers head to head to your competitors in droves. But finding the best web hosting services is far from easy. Every business is unique and has its requirements.
Should you choose shared hosting, a virtual private server (VPS), or dedicated web hosting? Can you use a free WebHost? Will the use of a website builder speed up your website's development or ultimately be an obstacle? Which features will be most important for your business as it continues to grow?
Best Web Hosting Services
The answers to these questions depend on your business. To help you find the perfect web host for your needs, we put together this buyer's guide along with a list of the best web hosting services we've tested.
Bluehost
An exceptional WordPress web host provider
Taking top honors in our web hosting provider chart is Bluehost. This Utah-based company is nearly two-decade-old and is owned by web giant Endurance International Group (EIG), which drives more than two million websites worldwide. It offers basic shared hosting of $2.75 monthly (on a three-year contract), with WordPress plans starting at $20 per month (although that's also a discounted introductory rate).
For the money, you get an automated installation for WordPress, not to mention other popular apps via a Mojo Marketplace powered system. There is also a cPanel-based area to allow expert users to tweak things. Besides, Bluehost offers a Weebly-based website builder. This is a simple browser-based thing that enables you to create a website of up to six pages, and no extras such as site templates are included. Still, it's better than nothing, and there's more functionality in the pipeline – plus, you get this builder with the basic account.
There's also good customer support, a free site migration tool, and the result is a mix of user-friendly aspects in addition to the right amount of power and potential tweaking for more advanced users. Overall, this is one of the best web hosting services that you can buy. Read more in our Bluehost review.
Hostgator
Best shared web hosting
Hostgator provides an impressive range of hosting services ranging from domains to dedicated servers at highly competitive prices and backed by a 99.9% uptime guarantee. This is as true for their VPS hosting as it is for their other hosting options. Hostgator offers three dedicated VPS hosting plans, starting with the Snappy 2000, which comes with 2GB RAM, two cores CPU, and 120GB disk space. The allocations are generous and should be suitable for all except the most demanding websites.
If needed, an upgrade is the Snappy 4000, which upgrades the RAM to 4GB and the storage space to 165GB. For more demanding sites that don't need their server yet, you can choose the Snappy 8000, which comes with 8GB of RAM, four cores CPU, and 240GB of storage space. The price depends on whether you pay monthly or commit to one of their annual plans. For example, the Snappy 2000 VPS hosting plan costs $29.95 if you only want to pay from month to month, but if you commit to a three-year contract, it's only $19.95 per month.
Additional benefits include a 45-day money-back guarantee, not to mention free transfers for new accounts within the first month of signing up. There's a lot to keep here, given the minimal impact on your wallet, if you want to commit. Overall, this is one of the best web hosting services that you can buy. Read more in our HostGator review.
Hostinger
Best cloud web hosting
Hostinger is one of the largest providers of free web hosting through its brand 000webhosting. It has over 30 million users and some of the lowest prices due to its low operating costs and overhead. Hostinger prefers its technology (for example, it has its custom control panel instead of the ubiquitous – and controversial – cPanel) better to control performance and features at a much lower price.
There are three Cloud hosting plans available, Cloud Startup, Cloud Professional, and Cloud Global, all offering unlimited websites and unlimited bandwidth for your account. The Cloud Startup plan comes with 100GB of SSD storage, 3GB of RAM, and 2 CPU cores. The Cloud Professional plan increases this to 140GB storage, 6GB RAM, and 4 CPU cores; the Cloud Global plan further extends this to 200GB storage, 16GB RAM, and 8CPU cores. All plans come with a free SSL certificate.
The price depends on how long you commit to the service. The Cloud Startup plan costs $29.99 every month. However, if you commit for a year, the monthly cost drops to $12.95 per month. It falls to $9.95 per month for a two-year contract, and for a four-year contract, it drops to $7.45 per month. Overall, this is one of the best web hosting services that you can buy. Read more in our Hostinger review.
Inmotion
Best reseller web hosting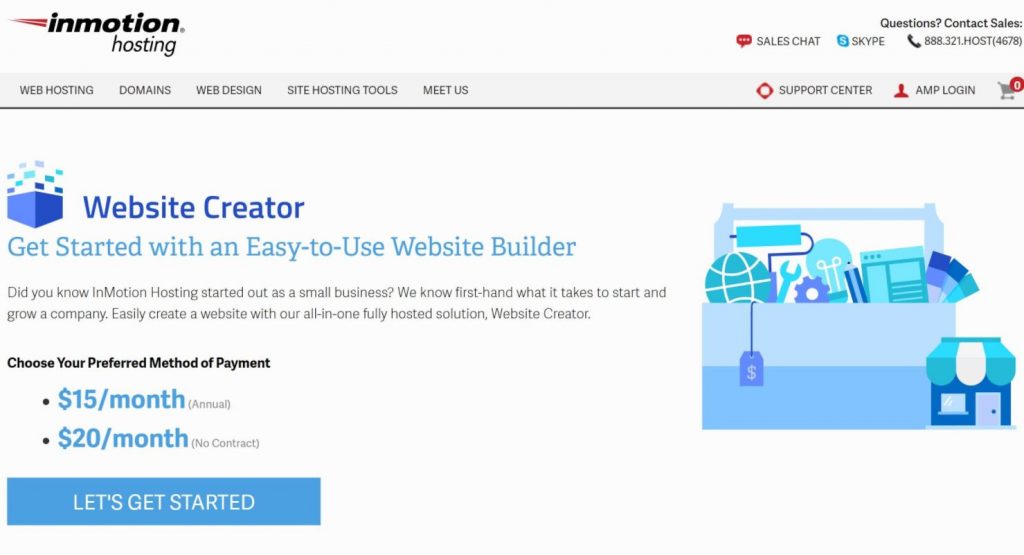 InMotion Hosting is a popular web host that has been active for over 15 years, with an impressive range of plans, including reseller hosting. All plans include assisted setup and migration, especially useful for those coming from other web hosts. Moreover, you don't have to worry about the server-side as InMotion takes care of all that for you. For those who want to try to be a web host themselves, InMotion's reseller plans come with a free WHMCS license, making it possible to automate customers' setup and billing.
InMotion delivers both cPanel and Softaculous panels, and another strength is excellent technical support when you get stuck with something. Our tests found that this company's overall performance is far above average, which is good news for those who want to see fast working websites.
The Beginners Reseller Plan comes with 80GB of storage, 800GB of bandwidth and can host up to 25 accounts. This month's price is $26.59, but this is discounted the long you bet, with the cheapest option being $15.39 per month if you contract for two years. Other plans raise the limits and prices accordingly, and there is a 90-day money-back guarantee if you are not satisfied with the service. Overall, this is one of the best web hosting services that you can buy. Read more in our InMotion Hosting review.
Hostwinds
Best dedicated web hosting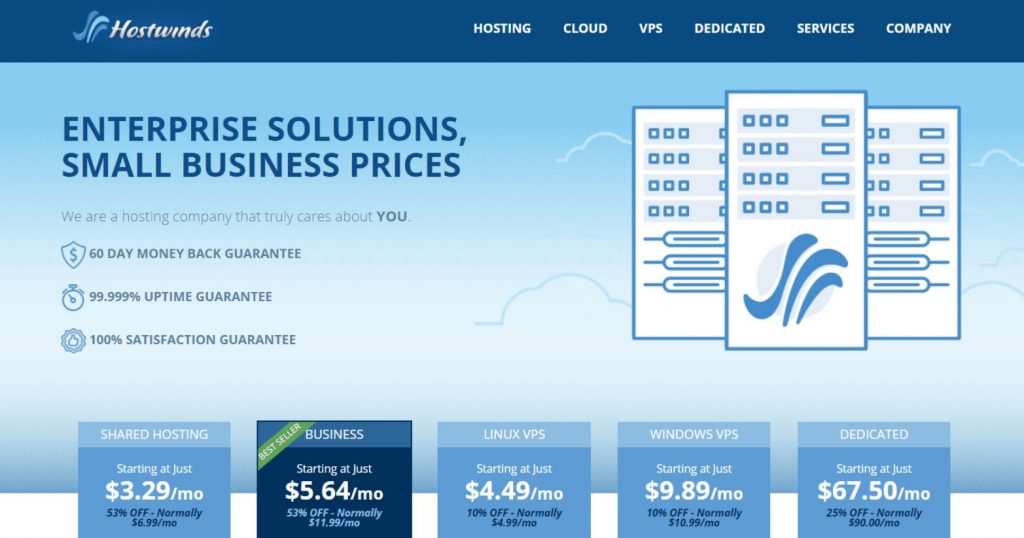 Hostwinds offers a range of dedicated server hosting with powerful configuration capabilities for everything from general to heavy-duty use, making them ideal for hosting everything from corporate websites to gaming servers. There are multiple basic options to select from, which you can then customize to your preferences. The cheapest models have a quad-core single processor and start with at least 8GB of RAM, making them ideal for most typical users.
There is a good set of additional options available for customization, with different RAID configurations and several operating systems, including standard CentOS, Debian, Ubuntu, or Fedora options, and a Windows Server option. A 1Gbps network connection means that whatever bandwidth option you choose (all of which are generous), you don't have to worry about traffic being choked on your side.
Full server management is provided, which will help those who don't want to be overwhelmed by sysadmin tasks, with server monitoring and nightly backups as part of the service.
If there is one point of criticism, a control panel such as CPanel, Plesk, or Exim is not included by default, simplifying a lot of server work. However, if you contact Hostwinds, they will be happy to advise you on the best option as an add-on if you don't feel comfortable setting up such a panel yourself. Overall, this is one of the best web hosting services that you can buy. Read more in our Hostwinds review.
Dreamhost
Best email hosting provider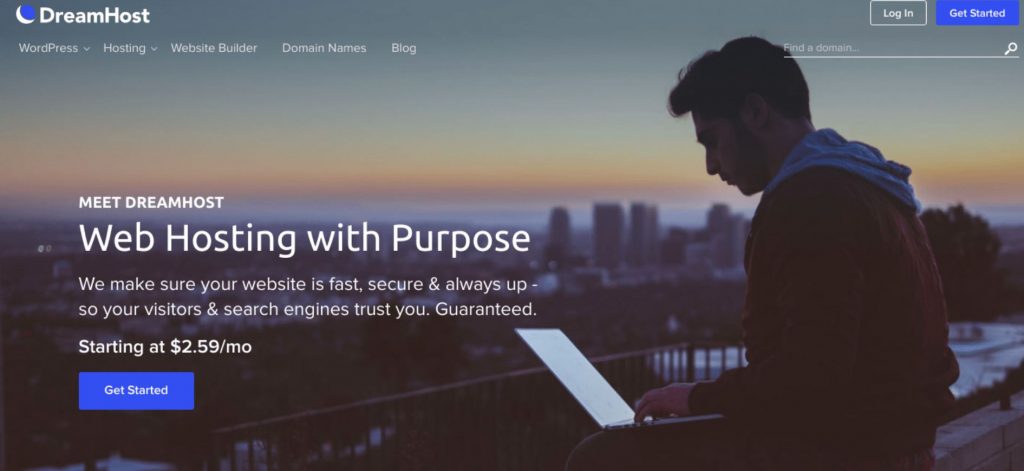 Dreamhost offers stand-alone email hosting between the different packages offered by this established web hosting service provider. Dreamhost's email hosting offers standard 25GB of storage space, with the ability to synchronize emails between desktop and mobile devices. Besides, an ad-free webmail software platform is included. Another essential feature is a smart anti-spam filter, which filters spam messages and viruses, malware, and phishing attacks. The filter adapts to emerging threats and ensures that you remain protected.
There are several essential advantages of having your own hosted email account. The first is that it stays connected to your business domain name, which looks much more professional than a free email account. Besides, it also means that you have full control over your data and that your emails are not automatically scanned to advertise with you, something that free email providers all too often do.
The price is relatively low and depends on whether you want to pay monthly or commit to annual payments. Monthly plans only cost $1.99 per month, while a yearly commitment reduces this to the equivalent of $1.67 per month. Overall, this is one of the best web hosting services that you can buy. Read more in our DreamHost review.
GreenGeeks
Best green hosting service
Founded in California in 2008, GreenGeeks proudly claims to be the world's #1 green energy web hosting provider, not surprising given that it is fully dedicated to green goals. That's a big statement, but there's some content behind it. Not only does the company say its platform is designed for maximum energy efficiency, but it also promises that "for every power, we take out of the grid, we invest three times as much in the form of renewable energy through Bonneville Environmental Foundation." So, in theory, your hosting is not only CO2-neutral but also CO2-reducing.
The hosting offer of GreenGeeks is not that impressive. There are the usual plans – shared products, application hosting, VPS, dedicated – but there isn't much choice, and what you do get is usually very average. There is one exception in the GreenGeeks robust shared hosting plan. This offers unlimited websites, emails, databases, webspace and bandwidth, and throws in a free domain, shared SSL, cloud-ready CDN integration, nightly backups, the Softaculous one-click app installer, a simple website builder, and support via email, chat, and phone.
Pay three years in advance, and you can get everything for an equivalent of $2.95 per month on the lite plan – $9.95 on renewals – and 30-day money-back guarantee is a risk-free way to test the service for yourself. It's a good deal and shows that green hosting isn't just about making eco-friendly gestures: you can also find some capable products. Overall, this is one of the best web hosting services that you can buy. Read more in our GreenGeeks Hosting review.
Domain.com
Best shared hosting provider
Domain.com is better known as the right domain provider, but their hosting plans are also worthwhile, offering robust and reliable hosting on a stable and secure platform. Hosting plans are generous, with even the most basic plan offering unlimited storage and scalable bandwidth. Ten databases are available and five FTP accounts, and there is also a free SSL certificate from Let's Encrypt available. The Deluxe plan offers 25 databases and 25 FTP accounts, while the Ultra account completely removes all limitations.
The Basic plan costs only $3.75 per month when billed annually, the Deluxe plan costs $6.75, while the Ultra plan costs $13.75. The only point to note is that Domain.com does not offer monthly plans but only contracts for one, two, or three years and does not charge an additional fee depending on the length of the contract. Overall, this is one of the best web hosting services that you can buy. Read more in our Domain.com review.
Liquid Web
Best managed web hosting
Liquid Web is an expert provider of high-end managed hosting solutions for everything from email to WordPress, WooCommerce, VPS, dedicated, and assorted other cloud products. Most plans deliver far more than you would expect. For example, Liquid Web not only automatically updates WordPress: it also updates your plugins in a separate, isolated environment to check if there are any problems before you send them live on your production site.
Liquid Web's VPS and dedicated server plans add even more to host features that cover many areas. The company has its data centers with fully managed hardware and network infrastructure. Key software is installed, updated, and supported, there are free remote migrations, virus and spam protection keeps threats at bay, and system monitoring allows for quick notification of problems.
Liquid Web will not rely on bargain hunters, and base prices can be much higher than some of the competition. However, what you pay for are the highest quality support and high-end hardware, so you get what you pay for. Overall, this is one of the best web hosting services that you can buy. Read more in our Liquid Web review.
Namecheap
Best unlimited web hosting
If you want to do web hosting with a budget, then the intention is to be cheap, as this provider's name indicates. You will get some impressive value-for-money with Namecheap, especially with an initial discount for the first year, and there are some heavyweight plans here. Note, however, that the starter 'value' plan only gives you 20GB of hard drive space and 30 email accounts, but you get that for the price of just $2.88 per month.
Namecheap offers a 99.9% connectivity guarantee and is a straightforward service to set up, with a first welcome email pointing you in the right direction for anything you might need (supported by some impressive FAQs). It also plays host to an excellent searchable knowledge base. To round things off, the testing showed that this company generally offers above-average speeds compared to rivals, making it one of the best web hosting services for those who don't like to do too much damage to their wallets. Read more in our Namecheap review.
WP Engine
Best managed WordPress hosting
WP Engine offers a comprehensive, managed WordPress service that can help you with setup, updates, security, performance optimization, troubleshooting, and much more. Much of this is invisible to the end-user, as a well-managed service should be. For example, you don't have to worry about WordPress updates – WP Engine takes care of them for you. Not blindly, when they are released, like many other hosts: the company tests them carefully first to make sure they don't cause any problems.
The powerful WP Engine platform adds many useful extras. With a Staging area, you can work on a copy of your site, which is perfect for testing new themes, plugins, or anything else, without affecting the production site. In another highlight, integrated performance tests can benchmark your website and provide useful speedup tips.
This level of performance is not cheap. Even the most basic WP Engine plan costs $30 per month ($22.5 per month initially), more than three times the budget competition's price. But if you are looking for an optimized environment with quality tools and excellent support, this is one of the best web hosting services. Read more in our WP Engine review.
GoDaddy
A top provider that's perfect for larger businesses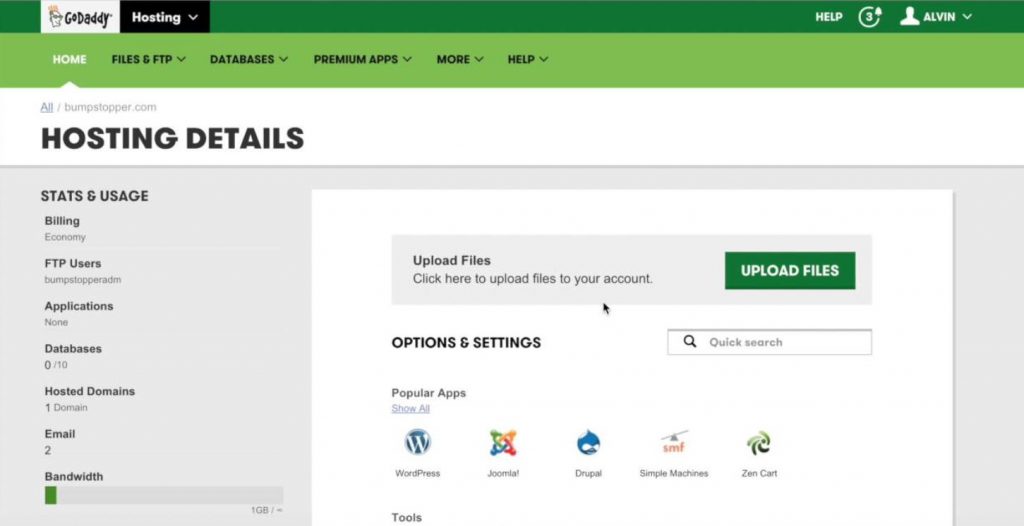 GoDaddy is one of the largest web hosting providers globally, with more than 20 million customers and 7,000 employees worldwide. The most basic web hosting package starts at $5.99 per month when billed annually and includes support for a single website, 100 GB of storage, unlimited bandwidth, and a free domain. The $7.99 Deluxe plan adds unlimited storage, the $12.99 Ultimate plan doubles processing power, and the $19.99 Maximum plan adds an SSL certificate for the full duration of your hosting plan.
GoDaddy also offers Windows hosting, WordPress hosting, marketing services, and email servers in addition to these standard hosting packages. It is a hosting provider you can count on to scale with your business. We only recommend GoDaddy's higher plans because the basic plans are a bit undersized and too expensive. But if you need a web host that can adapt to your changing business needs, a few beat GoDaddy. Overall, this is one of the best web hosting services that you can buy. Read more in our GoDaddy Hosting review.
SiteGround
A web hosting provider that doesn't skimp on hardware
SiteGround sells shared hosting plans that initially seem pricey until you review the provided specifications. The 10GB Startup account ($6.99/month, rising to $14.99/month on renewal) includes unlimited bandwidth, email accounts, databases, subdomains, and parked domains. It also has support for Cloudflare CDN, automatic daily backups, and spam filtering.
The GrowBig account (initially $9.99/month, increasing to $24.99/month) doubles disk space, supports a WordPress staging environment, and includes a SuperCacher program for improved performance. The GoGeek plan ($14.99/month, rising to $39.99/month) has priority support and a one-click Git Repo installation.
Unlike many other web hosting services, you don't get a free domain name. The popular cPanel administration software is also not offered but is replaced by SiteGround's proprietary Site Tools software. Overall, this is one of the best web hosting services that you can buy. Read more in our SiteGround review.