Four or five years ago, choosing the wired gaming headsets over the wireless gaming headsets was a matter of course for most people. The world has changed since then. Nowadays, a Bluetooth gaming headset is no longer just a convenient option for gamers. It is now a legitimate candidate who can offer high-quality and lag-free audio, as well as multi-platform compatibility.
In this guide, we will introduce you to the Best Wireless Gaming Headsets on the market, the ones that are worth your time and money. The products included here range from relatively affordable headsets to headsets with alarming price tags.
Best Wireless Gaming Headsets
Logitech G PRO X Wireless Lightspeed
If you're looking for a headset with even better build quality, check out the Logitech G PRO X WIRELESS LIGHTSPEED Gaming Headset. Although, unlike the SteelSeries Arctis Pro Wireless, they don't have a wireless transmitter dock and lack more robust controls, the Logitech have a sturdy design with aluminum forks and a steel headband. They also come with foam ear pads if you don't like the faux leather ones, so you can find a fit that's most comfortable for you.
The microphone captures your voice clearly, even in noisy environments, and you can even detach it if you want a more casual look. The included software lets you tune the sound to your liking with the graphic EQ and presets. Their wireless USB dongle also helps keep latency in check, so your audio stays in sync with your gameplay.
Last update was on: October 17, 2021 8:54 am
SteelSeries Arctis 9X Wireless
The SteelSeries Arctis 9X is the best wireless headphones for the Xbox Series X that we tested. These headphones have an Xbox Wireless adapter that offers pretty low latency. It also supports Bluetooth, which is nice if you like to chat with your friends on your smartphone while gaming. These well-built headphones have a comfortable fit with well-padded ear cups and a headband with ski strap design.
Out-of-the-box, these headphones have a fairly neutral sound profile that you can adjust to your liking with the graphic EQ and presets of the included software. The microphone also offers excellent performance, so your voice sounds clear and detailed even in noisy environments. If you like gaming for hours on end, they have about 28 hours of continuous battery life. Overall, this is one of the best wireless gaming headsets right now.
Last update was on: October 17, 2021 8:54 am
Razer Kaira Pro Wireless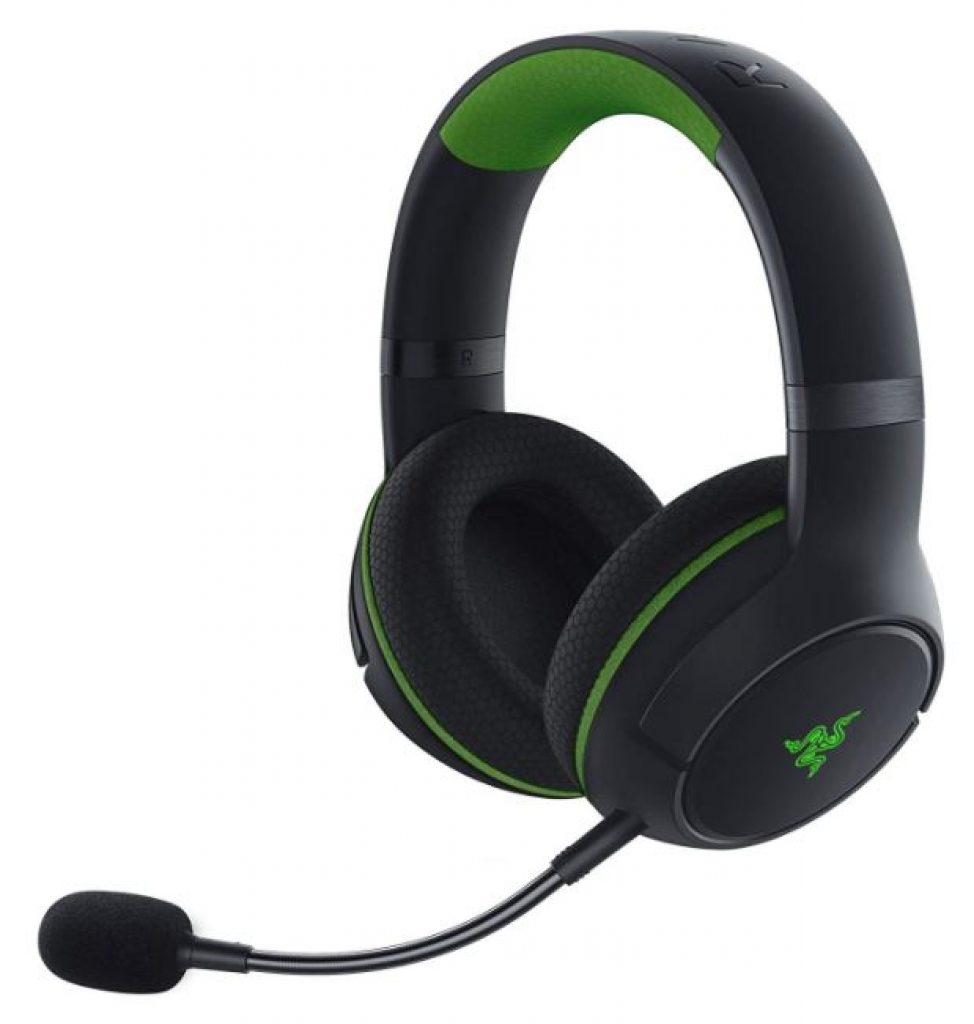 If you're looking for Xbox Series X headphones with lower latency, try the Razer Kaira Pro Wireless. Although the battery life is shorter than the SteelSeries Arctis 9X Wireless and the headphones cannot be wired, the Razer has a low audio latency, so you won't notice that your image and sound are out of sync. These headphones are well built and comfortable. Their sound profile delivers plenty of warmth and boom right out of the box, but if you find it overwhelming, their accompanying software has a graphic EQ as well as presets so you can adjust them to your preferences.
Thanks to the detachable boom microphone, your teammates should be able to hear you very clearly, even in noisy, high-noise environments. Like the SteelSeries, however, the Razer microphones suffer from inconsistent bass and treble, so it's important to take the time to adjust the fit and positioning when using them. Overall, this is one of the best wireless gaming headsets right now.
Last update was on: October 17, 2021 8:54 am
ROCCAT Elo 7.1 Air Wireless
The ROCCAT Elo 7.1 Air Wireless is the best wireless gaming headphones under $100 we've tested. These comfortable and lightweight headphones have customizable RGB lighting on both ear cups. They also have great battery performance and with their RGB lights turned on, they can last about 16 hours continuously. They have a well-balanced sound profile with a little extra boom that can help bring out sound effects in your gameplay.
That said, if you like to have more control over your audio experience, their accompanying software offers a graphic EQ and presets, as well as surround support and some microphone customization features such as vocal clarity. The detachable boom mic generally does a very good job of making you sound full and natural, even in environments with moderate noise. Thanks to their wireless USB-A dongle, they also have very low latency, making them great for gaming. Overall, this is one of the best wireless gaming headsets right now.
Last update was on: October 17, 2021 8:54 am
Sennheiser GSP 670
Sennheiser is well known for its premium audio hardware, and the like of the GSP 600 wired headphones had it building a name for itself in gaming. It's all change for the GSP lineup in 2021 however, with the spin-off responsible for the range, Sennheiser Communications, coming to an end and a new company, called EPOS, taking the helm.
As of now, the GSP 670 will be marketed as the EPOS Sennheiser GSP 670 and sold by EPOS. The design hasn't changed, though, nor has anything else we love about these wireless gaming headphones. Offering connectivity over Bluetooth or an included 2.4 GHz wireless adapter, the GSP 670 is capable of maintaining a steady connection for about 18 hours on a single charge.
This massive headset embodies bold, uncompromising sound. Of all the headsets we've ever tested, the GSP 670's sound amazed us the most. With such a high price, expectations were high, but it lives up to it. Overall, this is one of the best wireless gaming headsets right now.
Last update was on: October 17, 2021 8:54 am
Sennheiser GSP 370
The EPOS | Sennheiser GSP 370 is the conservative little cousin of the Boombastic GSP 670. While it doesn't have the same oomph, the GSP 370 still offers deep bass in a lighter, more affordable wireless gaming headset. The biggest plus of the GSP 370 is its very impressive battery life of 100 hours, which is almost five times longer than anything else on this list. It's a nice feeling to only have to charge a headset a few times a month instead of every night.
The only glaring downside to the GSP 370 is that the microphone doesn't sound great, so make sure you invest in a decent microphone if you want your voice to be loud and clear. If you need a wireless gaming headset with stellar battery life and a decent range that won't fully tax your credit card, the GSP 370 is what you're looking for. Overall, this is one of the best wireless gaming headsets right now.
Last update was on: October 17, 2021 8:54 am
SteelSeries Arctis 7
The SteelSeries Arctis 7 is one of the best wireless gaming headsets you can get without spending much of your hard-earned money. It is an over-ear headset with a frame in steel alloy, making it more durable than the Arctis 3 and the Arctis 5. It has the familiar ski-gog-hanging headband, a feature of the Arctis series, and is available in different colors. The Arctis 7 has a lightweight frame, with a pair of large ear cups fitted with exclusive SteelSeries ear cushions for maximum comfort. It comes with a retractable, noise-canceling microphone on the left ear cup and has easy-to-reach controls on the head.
The Arctis 7 is exceptionally comfortable to wear for long distances, thanks to the ski goggles and the comfy ear cushions. However, people with large ears may find the headset uncomfortable for longer than a few hours to wear. As far as sound quality is concerned, the Arctis 7 will impress you unless you are an audiophile with extraordinarily high standards. It has a rich and full sound with powerful bass. Even without the virtual surround sound option, the Arctis 7 still delivers excellent sound quality. The microphone is also pretty good. It is clear, blocks background noise effectively, and quickly picks up your voice.
A wireless headset with a long-lasting battery, the Arctis 7 offers complete wireless compatibility with PC and PS4 owners, meaning that the microphone can also be used on both platforms. Unfortunately, the virtual surround sound function and the on-cup dialing for balancing the volume of the game chat are only available to PC owners. Arctis 7 also works with a switch in the paired mode, but not directly. For the switch, you must use a separate 3.5 mm headphone cable to connect the Arctis 7 USB dongle to the switch.
Last update was on: October 17, 2021 8:54 am
Corsair Void Pro RGB
For those on a strict budget, the Corsair Void Pro RGB is The Best option. It benefits both the Sony PlayStation Gold and the Turtle Beach Stealth 600, thanks to the better build quality. But just as with other products in the budget category, you must be prepared to accept the restrictions and restrictions that the Void Pro RGB entails. In design, the Void Pro RGB is the most striking in comparison with all other products on this list. Some will love his rather strange design, while others will find it ugly. When it comes to aesthetics, everyone has a different taste.
In contrast to the SteelSeries Arctis 7, the Void Pro has RGB diamond-shaped ear cups with well-placed controls on the head. The ear cushions, which offer excellent sound insulation, are made of memory foam, with the mesh fabric making them more breathable and comfortable. The Void Pro RGB comes with a non-removable noise-canceling microphone with a flip-to-mute function, so you can quickly turn off the microphone when you're on the go. The microphone is decent and has to do the job during casual multiplayer competitions.
But for high-stakes matches, you might want to watch a more reliable headset or a stand-alone microphone setup. When it comes to overall comfort, the Void Pro RGB is perfect, with its padded headband and large ear cups that are combined to make extended game sessions as comfortable as possible. The Void Pro RGB, however, is not the most recommended for people with small heads, as different users have noted. On large heads, it is both safe and cozy. But it falls off quickly on small heads. The Void Pro RGB can connect wirelessly to a PC or PS4. However, PS4 owners cannot fully use the headset.
Last update was on: October 17, 2021 8:54 am
HyperX Cloud Flight
When it comes to gaming headsets, HyperX is one of the best of its kind, with the Cloud Stinger and the Cloud II being two of the most popular and respected wired headsets in the gaming community. And with the Cloud Flight, the American brand proves that it can also deliver in the wireless category. The Cloud Flight continues the simple, minimalistic design that the Cloud series is known for. It is an over-ear headset with a simple all-black finish. Even the HyperX logo on the cups looks understated. It has a steel frame and comes with the signature HyperX ear pads.
But unlike Cloud II, the Cloud Flight does not come with an alternative pair of velvet ear cushions, which might disappoint those pampered by the Cloud II. Although it is not on the same level as the Cloud II equipped with velvet blocks, the Cloud Flight still offers exceptional comfort thanks to its lightweight frame and comfortable ear cups. The ear cups can rotate to a flat position and have convenient control buttons on the front for audio adjustments on the go. The left ear cup contains a detachable noise-canceling microphone, which is above average in quality.
About sound quality, the Cloud Flight is, as expected from a HyperX gaming headset, at the right time. It offers a bright and vibrant sound, with the right amount of bass for first-person shooter games packed with action, such as Call of Duty: WWII and Overwatch. Combine that with its 30-hour battery life, merely The Best of all the products included here, and you get a great-sounding Bluetooth headset that can keep up with your long game sessions.
Last update was on: October 17, 2021 8:54 am
Turtle Beach Stealth 600
If you are not sold on the Corsair Void Pro RGB, the Turtle Beach Stealth 600 is a reliable alternative to a wireless gaming headset. It comes in two versions: a model with a PS4 theme (blue) and a model with an Xbox One theme (green). The Xbox One Stealth 600 offers direct Xbox One compatibility, meaning it connects directly to the console, such as a controller. The PS4 Stealth 600, on the other hand, uses a USB dongle to establish a connection. The Stealth 600 is a headset for over the ear with plastic housing and is a headset designed for comfort. It has a padded headband and a pair of large earcups covered with mesh for extra comfort.
It has a glasses-friendly design and is comfortable to wear during extended game sessions. The left ear cup contains a non-removable microphone with a flip-to-mute function, allowing you to quickly turn off the omnidirectional microphone when you are on the go. Just fold up, and it is automatically turned off. And as with other wireless headsets, the audio buttons are upside-down, but in the case of the Stealth 600, the controls feel cheap and fragile. The Stealth 600 is rich in functions. In addition to the flip-to-mute microphone, bass amplification, independent game and chat volume control, and Superhuman Hearing function, it also comes with microphone monitoring, allowing you to hear your voice while speaking with your teammates.
It also has a battery that lasts a long time. When it comes to sound quality, the Stealth 600 has a serious underload compared to the HyperX Cloud Flight and maybe a few steps below the Void Pro RGB. The sound is decent at best and is not something you would brag about, even with the bass enhancement. Meanwhile, the microphone is a mixed bag. On the other hand, it is clear and is good enough for casual multiplayer. On the other hand, it can sometimes be too sensitive.
Last update was on: October 17, 2021 8:54 am
Plantronics RIG 800
The Plantronics RIG 800 series is best suited for people who own multiple game platforms. It includes three models: the 800HS, the 800LX, and the 800HD, with each model representing the PS4, Xbox One, and PC, respectively. Of the three, the 800LX is the most popular among the gaming community, mainly because it combines perfectly with an Xbox One. The RIG 800 has a fairly advanced design, at least in comparison with all other products included here. It has a lightweight and flexible modular frame with a self-adjusting headband.
This arrangement almost aligns the RIG 800 with the SteelSeries Arctis 7 and Arctis Pro Wireless in terms of overall comfort. It has large ear cups with memory foam cushions that feel incredibly comfortable on the head. On the left earcup is the RIG 800 with a non-removable noise-canceling microphone with a convenient turn-to-mute function and a set of audio controls, including the on/off button and volume control. The RIG 800 is perfect for both large heads and small heads, with over-ear earmuffs that provide a tight seal around the ears to block background noise.
Although the bass is lacking, the RIG 800 has excellent overall sound quality, with the 800LX and 800HD models adding more punch to the audio experience with their Dolby Atmos feature. A pre-paid Dolby Atmos activation code is included with the Xbox One and PC models of the RIG 800. When it comes to Bluetooth support, the RIG 800 offers an almost complete package. For example, the 800LX is compatible with all major game platforms (PC, PS4, Xbox One, Switch). To pair it with a PS4 or switch, you have to switch the USB dongle to 'PC' and plug it into the USB port of the console.
Last update was on: October 17, 2021 8:54 am
Astro A50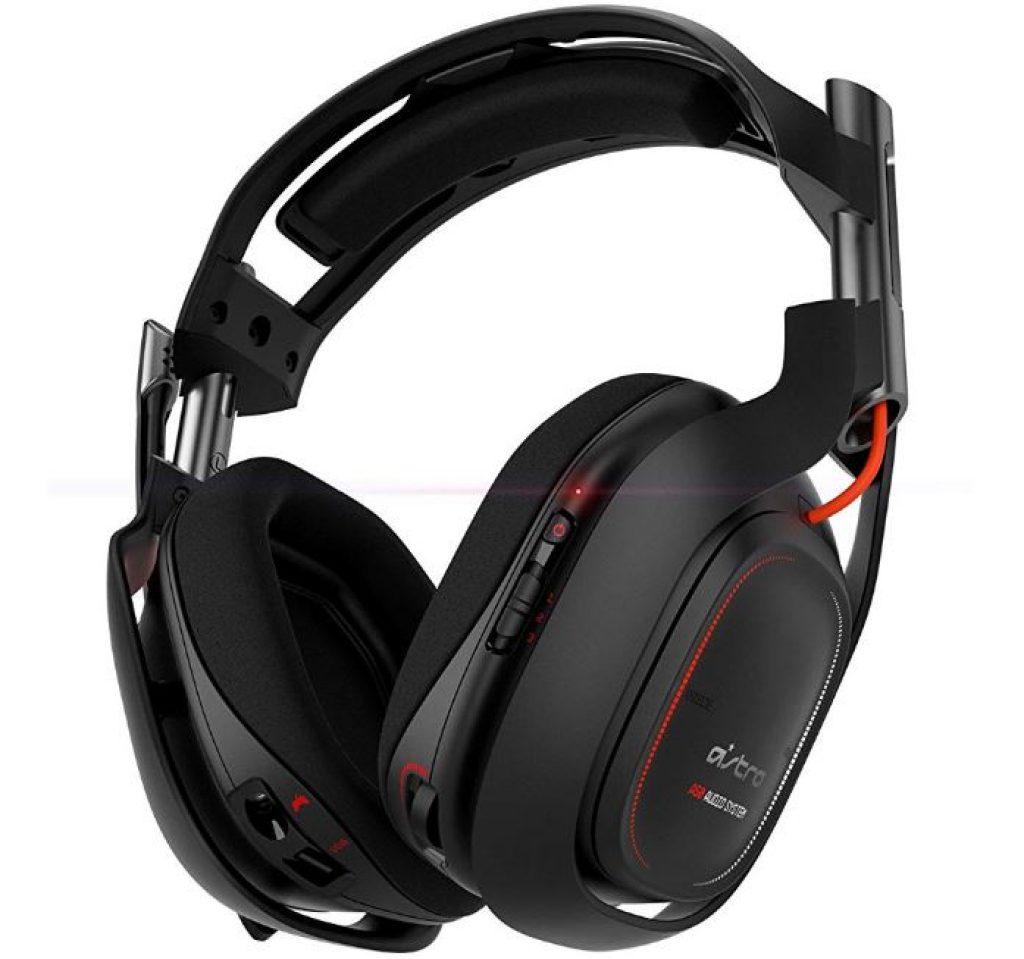 The Astro A50 is one of the best gaming headsets on the market. It is also expensive, making it difficult for most people to sell. Astro offers several models of the A50: one for the PS4 and one for the Xbox One and PC. Like the green Turtle Beach Stealth 600 and the Plantronics RIG 800LX, the green-colored A50 is one of the few wireless gaming headsets with support for Xbox One. The A50 is an over-ear headset with a pair of large ear cups that can easily cover your ears. The ear cups come with comfortable ear cushions that are built for long game sessions, meaning they will not get too hot after a few hours.
On the left ear cup, the A50 has a non-removable noise-canceling microphone with a rotatable mute function. Unlike most wireless USB headsets, the A50 comes with a base station that serves as a charging station and transmitter. And instead of the usual 2.4 GHz, the A50 uses a 5 GHz wireless connection, resulting in better overall audio quality, but in exchange for a shorter range. The charging station of the base station is also a mixed bag.
It is excellent that you have a unique headset holder that also functions as a charger and contains several other ports, but it can be challenging to align the charging pins. The biggest reason that the A50 is considered one of the best gaming headsets is that it offers first-class sound quality. It delivers a clear sound with a thundering bass that makes you want to play action-packed games all the time. The A50 will impress you, from the way small details come to the fore, making the experience even more immersive with its virtual surround sound function.
Last update was on: October 17, 2021 8:54 am
SteelSeries Arctis Pro Wireless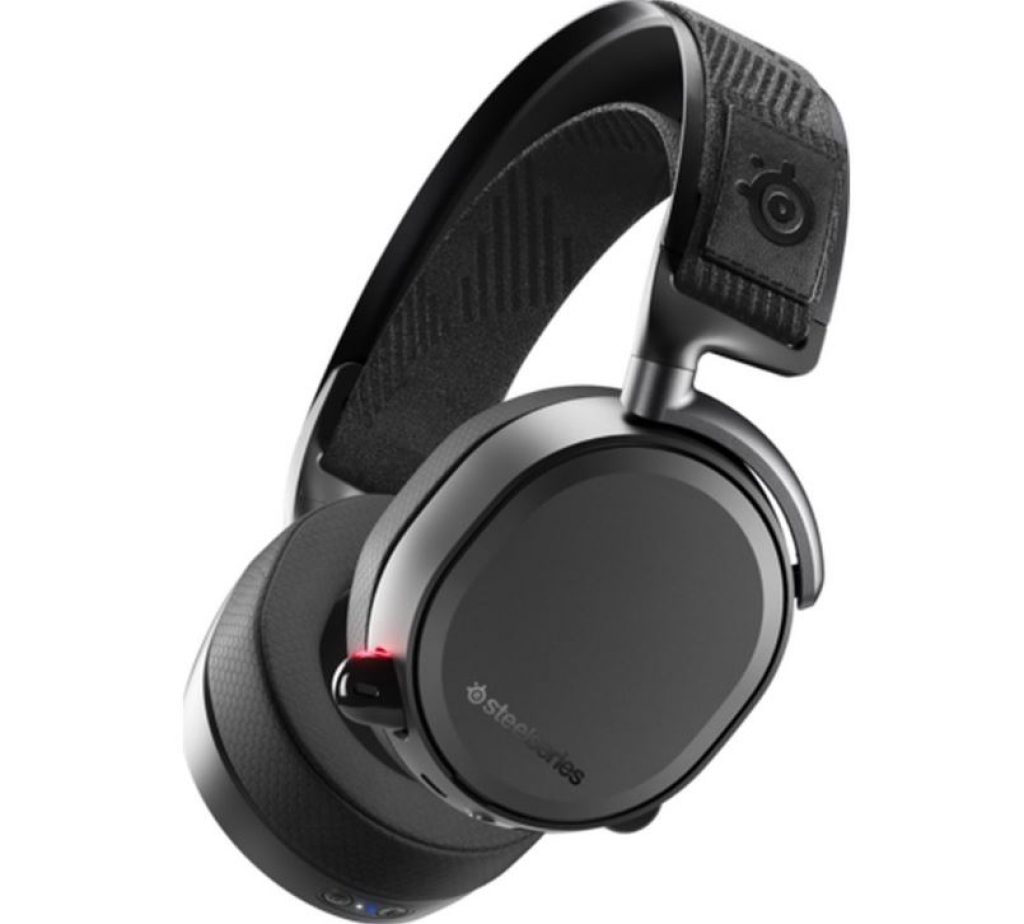 For those who can afford to pay above $300 on a gaming headset, the SteelSeries Arctis Pro Wireless is – no doubt – The Best option on the market. It is a huge step forward from the Arctis 7, which offers a much better sound and microphone and an almost universal wireless compatibility. The Arctis Pro Wireless is a durable gaming headset with a steel and aluminum frame. It has the distinctive ski-goggles headband for which the Arctis series is known for and comes with a pair of large ear cups with comfortable ear cushions.
The ear cups, in which the controls are on board, as well as a retractable noise-canceling microphone, offer excellent sound insulation. The Best thing about the Arctis Pro Wireless is that it comes with replaceable batteries, each with a 10-hour running time on a single charge. With the replaceable batteries, you can play games while the other battery in the base station of the transmitter is being charged. If the active battery is empty, you can easily replace it with the newly charged battery.
That setting means that you never have to worry about a dead headset while playing competitive multiplayer games. When it comes to platform compatibility, the Arctis Pro Wireless is simply The Best in this list. It comes standard with PC, PS4, and wireless switch-switches and can also be connected to mobile devices thanks to the Bluetooth connection. The only thing missing is Xbox One wireless support, which is not particularly surprising as there are not many wireless headsets with native Xbox One compatibility.
Last update was on: October 17, 2021 8:54 am
Logitech G533 Wireless
If you want a more comfortable fit, consider the Logitech G533 Wireless Gaming Headset. These gaming headsets have higher wireless latency than the ROCCAT Elo 7.1 Air Wireless and inferior microphone recording quality, but the conventional headband design provides a more consistently comfortable fit.
It offers roughly 17 hours of continuous playback time, which should be enough for a few long gaming marathons, and the Logitech G HUB companion software offers a wide range of configuration options. They have more virtual soundstage features than the ROCCAT, such as spatial ambience presets and an adjustable speaker model feature. Unfortunately, they struggle to deliver consistent audio and do not offer any form of Bluetooth connectivity.
Last update was on: October 17, 2021 8:54 am
Things To Know Before Buying Best Wireless Gaming Headsets
Compared to shopping for wired gaming headsets, it is easier to shop for wireless gaming headsets. You can choose from a much smaller field, especially after filtering out products that are not sold for gaming purposes. Here are the most important things to keep in mind when shopping for the best wireless gaming headsets:
Sound Quality
When it comes to sound quality, not all wireless gaming headsets are on the same level. Some have too many basses, while others fall flat. You will need a headset with the right sound profile, one that can make your gaming experience even more compelling, especially when playing games with a brilliant soundtrack like The Witcher 3 and Shadow of the Colossus and games involving Nobuo Uematsu.
Comfort
Comfort is connected to the sound quality of the best wireless gaming headsets, and that is important. Excellent sound quality is useless if you can not wear the headset for more than an hour, and an incredibly comfortable headset is not worth wearing for hours if the sound quality is awful. Get headphones that you can wear for long pieces, one that fits snugly and securely on your head. Because if you spend a lot of time re-tuning your headset, you can not fully enjoy your game.
Mic Quality
If you spend a lot of time playing competitive multiplayer games where team communication is crucial, you want a headset equipped with a microphone that quickly picks up your voice and delivers it loud and clear to your grumpy teammates. But do not set your expectations too high, because built-in microphones are not the best. That is why many gamers opt for a headphones-and-standalone-microphone setup.
Noise Cancellation
There are two types of noise cancellation: passive and active. Passive noise reduction is just another term for sound insulation, which depends on large ear cups over the ear to create a seal around your ears to minimize background noise. Active noise cancellation is more complicated. In simple terms, headphones with active noise cancellation use a digital mechanism to "lift" noise. Most headsets, however, use passive noise cancellation; headsets with active noise reduction are more expensive.
Battery Life
Get The Best wireless gaming headsets with a battery life that best suits your playing schedule. If you play games for about four or five hours a day, a wireless headset with a battery life of 10 hours should be sufficient. If you are a hardcore gamer, who plays more than 10 hours a day, in marathon style or otherwise, a wireless headset with a battery life of 20 hours is the most suitable for you. A durable wireless headset is also good for people who play only a few hours a day – the longer the battery life, the more days you can go without recharging.
Compatibility
Ensure that the wireless headset you are viewing is compatible with your gaming system. Not all products come with multi-platform compatibility. Some are only compatible with a few game systems, while others are limited to just one. PC gamers need to worry the least. Console gamers need to check again if the wireless option is compatible with their game system, because some product listings may be misleading.
On Amazon, companies sometimes market their wireless headsets as compatible with all major gaming platforms, even though the current wireless option is limited to just one or two platforms. If the Bluetooth compatibility is not mentioned in the product description, check the feedback from the customer.
Conclusion
Almost all of us love to play intense games of our gaming laptops for gaming PCs. However, gaming without decent sound experience declines the interest of the gamer to a great extent. For complete and immersive gaming experience, one must have a decent pair of gaming headset. Our list of Best Wireless Gaming Headsets mentions the best headsets that you can buy right now, and all of them are wireless. And we hope that the above list of best wireless gaming headsets will help you out to choose the best and suitable option for you.