Coolmuster Android Assistant is a software that can back up and restore Android smartphones. When we say, Android backup, it covers everything. Your contacts, messages, photos, videos, music, apps, books and almost everything on your Android device will be backed up. That way, you can restore them when you need them at the click of a button. It is very easy to backup your Android smartphone as a precaution to avoid any data loss. And it's even easier to restore them.
So, after receiving too many requests for feedback, we finally decided to present a review of the Coolmuster Android Assistant software. We will analyze its features and functions, and we will provide our final verdict on the product. So you can easily decide whether to buy it or not by spending some of your hard-earned money. Without wasting your time, here is the review.
User Interface
The software interface is like any other backup or restores tool we see. The file types are listed on the left, where you can find individual files in your backup. Even without the backup, you can explore and organize them according to your needs. At the first launch, you will be asked to connect your smartphone to the PC via USB cable or Wifi. We tried both methods and two of them worked perfectly. Be sure to enable USB debugging on your smartphone for the software to work. Do not worry if you do not know the steps, the software will guide you through the process.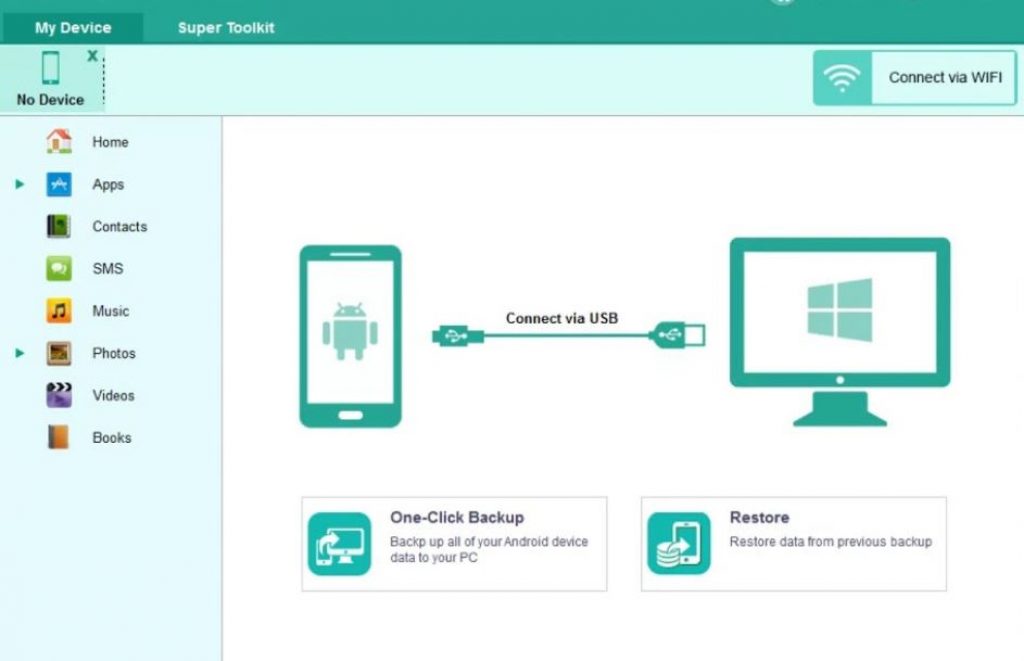 After the connection, the software now lists all the data of your smartphone on the interface. You can browse through and organize if necessary. The process is relatively fast and we never had to wait long. The backup and restore processes are also fast and they work very well. We never encountered a problem during the process that impressed us. So, in the interface section, the Coolmuster Android Wizard does not have obvious problems.
Features
Speaking of the features of this Android wizard, there are several features to mention. But without listing each of them, we decided to list the most outstanding features. So, if you want to know more about the Coolmuster Android Wizard, here are its features.
1. Click Backup and Restore
As already mentioned, it is very easy to make backups and restore them according to your convenience. All you need to do is go to the Super Toolkit section of the software and click Save or Restore as needed. Then follow the simple procedure as guided by the software. That said, the backup or restore process starts instantly, and it will not take long to complete it. But it really depends on the size and number of files to process.
You can export your videos, photos, music, contacts, SMS, applications, etc. from an Android phone or tablet on your computer and restore them later to any other device. This can be extremely useful, especially if you change your smartphone and want to migrate all your data quickly and efficiently.
2. Contacts and SMS Assistant
As the company has announced, the software is a perfect contact and SMS helper for you. Ever wanted to easily manage your contacts or send SMS in bulk? So this software is the answer for you. Coolmuster Android Assistant allows you to organize your contacts and SMS directly from your PC. This makes it extremely easy to manage a large number of contacts. In addition, you can even send messages directly from your PC. For those who want to send a message to all their friends at once, it's a blessing.
3. Compatible With All Android Device
We tested the software with about 5 different smartphone models and it worked on all without any problems. The software recovered all the data on the smartphones, saved them well and no problem was detected during the restoration. This led us to the conclusion that the software is compatible with almost all Android devices known on the market. So you do not have to worry about compatibility between this Coolmuster software and your device.
Easy To Use
Beyond all that Coolmuster Android Assistant has to offer, what I liked the most is its ease of use. When I ran the software for the first time, he simply asked me to connect my Android device to the PC, and an option to enable USB debugging immediately appears on my phone screen. Once I turned it on, Coolmuster Android Assistant installed an APK on my smartphone and that was about it. I was able to back up all my data almost immediately by just pointing to the Super Toolkit section. The procedure is quite simple and easy to follow, even for users who do not master the technology.

Conclusion
So, if you are looking for a perfect Android wizard, you can try the Coolmuster Android Assistant software. If you want to test it before spending money, you can download the trial version of the software and upgrade it later. So, try it.
Excellent!
After testing and analyzing the Coolmuster Android wizard for several days on different devices, we came to the conclusion that it was a good software to easily back up, restore and organize your smartphone data. The interface is good, the features are good and the product is available for around $25.95. This is not a high price when you take into account the features.