Doogee Valencia 2 Y100 Pro- Introduction
Among the many Chinese manufacturers of smartphones out there, Doogee stands with the crowd by not just offering the standard cheap pricing and quality build that's become so common among Chinese maker in the previous year or two but tends to pack in more features with their own OS too. This time, it's about Doogee valencia 2 y100 pro which is a really cheap phone. This smartphone also has back touch panel which means now you can control Doogee Valencia 2 Y100 Pro from the back touch as well. So stay here and find out more about Doogee Valencia 2 Y100 Pro. 
Doogee Valencia 2 Y100 Pro- Design
DOOGEE Valencia 2 is very interesting in my personal opinion because for a very low price you'll get a high-quality phone which has a metal body with 2.5D glass panel. The back cover is made from one part with edges, which is made from metal and it's in silver color with really cool effect. The where front side is in black color. So overall I am very happy with Doogee Valencia 2 Y100 Pro to build quality of and design in this price range.
Doogee Valencia 2 Y100 Pro- Display
It comes with 5 inches large IPS LCD display which have 1280 x720 pixel resolution. The phone has made 2.5D arc glass in the front side. The phone is made up of hybrid metal-polycarbonate which is individual and innovative mobile phone manufacturing material used these days. The resolution is 1280 x720, so you can imagine that it can't compete with the iPhone 6 or other flagship devices, but it still manages to offer a good viewing experience. Although viewing angles and brightness settings are quite awesome, the responsiveness of the touch screen could be improved.
Doogee Valencia 2 Y100 Pro- Camera
Doogee once again surprised in this area by giving a really very nice camera experience overall and seems to excel over some other phones in this price range.  The 13-megapixel sensor work like an actual 13-megapixel sensor rather than a lower resolution one that's just interpolated to a higher resolution. Color and white balance was generally fantastic, and surprisingly the camera seemed to bias toward the lower exhibition levels rather than over-exposing as many smartphones tend to do. Doogee seems to prefer a lower ISO over a high-speed shutter which means passing objects in lower light are likely going to turn out blurry.
Doogee Valencia 2 Y100 Pro- Software
Seems like other Chinese phones this  phone also comes with Android 5.1 operating system. Because it isn't too much additionally customized besides design of user interface. It doesn't have any new apps installed, so you don't have to the delete unwanted applications. The OS works really fast and flowing. During use, I didn't find any probs. Also when I have for the first time turned on the Doogee Valencia 2 Y100 Pro, a message appeared that there's available wireless update.
Doogee Valencia 2 Y100 Pro- Hardware
The Doogee Valencia 2 Y100 Pro has a Mediatek MTK6735 quad core 1.0 GHz CPU, backed by a Mali-720 GPU, 2 GB of RAM and 16 GB ROM. The CPU comes with a 4G LTE antennae, Wi-Fi, Bluetooth and the normal sensor set. The problem that I've found is with the proximity sensor and gesture identification. It's not that it doesn't work, it's that it's too sensitive.
Doogee Valencia 2 Y100 Pro- Specification
5-inch 720p IPS Display
MediaTek MT6592M 1.4GHz Octa-Core Processor
Mali 450-MP4 GPU
1GB of RAM
8GB internal storage, microSD card support
2,200mAh battery
Android 4.4.2
13MP rear-facing camera, LED flash
8MP front-facing camera
142.5mm tall x 71.4mm wide x 8.2mm thick
148g
Dual-SIM card support
Doogee Valencia 2 Y100 Pro- Battery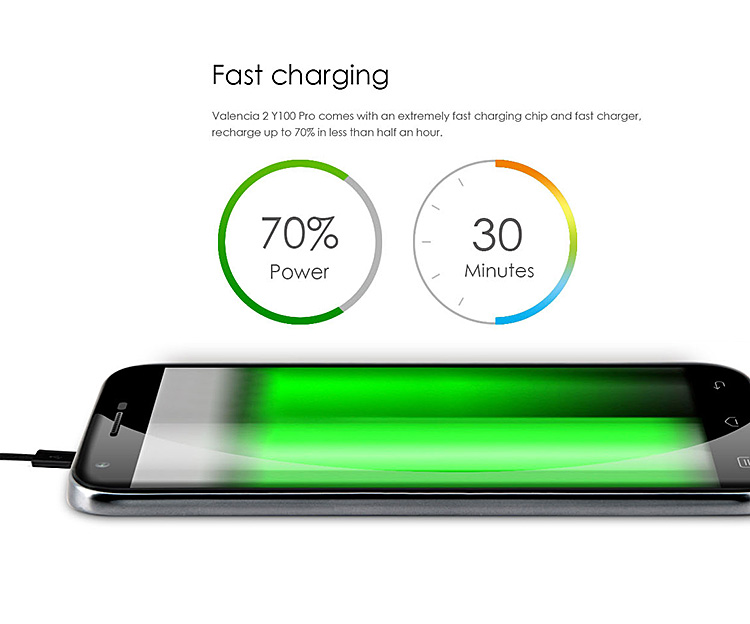 The 2,200mAh just isn't sufficient of a battery to get most people through a full day usage, and that's unfortunate, the story here with the Valencia 2. While I easily made it into a whole day of streaming music and irregularly chatting with friends or making phone calls without a problem, accepting the actual end of the day before bed was very tough without needing a bit of a recharge.
Doogee Valencia 2 Y100 Pro- Verdict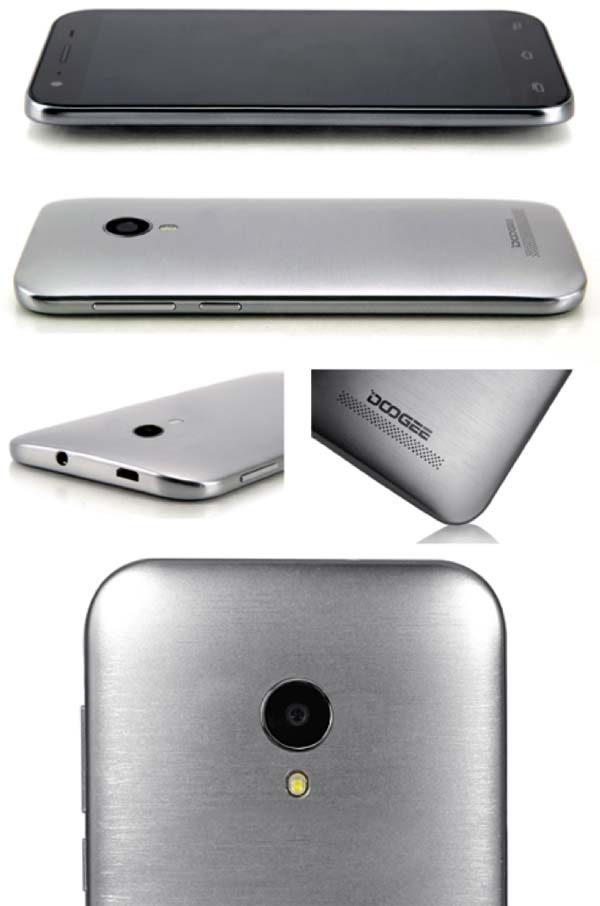 If you are looking for a cheap dual-sim smartphone then you should surely consider the Doogee Valencia 2 Y100 Pro. Because of many causes but I will say only the most important like unique design and high build quality. The body is built of metal and the screen is 2.D HD with Corning Gorilla glass protection. It has really good hardware with support for the 4G LTE. So overall if you can see this device in this price range it is the best choice.
Doogee Valencia 2 Y100 Pro
If you are looking for a cheap dual-sim smartphone then you should surely consider the Doogee Valencia 2 Y100 Pro.