ExpressVPN is our number one VPN choice and it's clear why. It offers unbeatable performance and reliability while maintaining your privacy with state-of-the-art security. ExpressVPN truly stands out in terms of streaming, reliably unlocking all major services, including Netflix, Hulu, BBC iPlayer and Amazon Prime Video. This means that you can still connect and stream HD content without any problem.
on the other hand, Living in the digital age means our privacy is no longer guaranteed with government and corporate tracking everywhere.  The ExpressVPN Chrome extension allows you to browse without these fears, while also enabling you to circumvent geo-restrictions and even stop WiFi-based hacking: Download Chrome VPN Extension ExpressVPN
ExpressVPN is not the cheapest provider, but you definitely get what you pay for. With more than 148 sites in 94 countries, it offers fast and reliable connections, no matter where you are. In our tests, ExpressVPN is one of the few vendors to reliably circumvent censorship in countries like China and the United Arab Emirates.
Features
ExpressVPN has a rather impressive list of features that come with all plans. Some companies retain their best features for the most expensive plans, but ExpressVPN has made all their plans attractive and feature-rich. Let's take a look at the basics you can expect from this provider. ExpressVPN offers unlimited bandwidth, server switching, and speed. No limit on any of them. Availability is excellent – 99.99% as promised by the company.
As we have already mentioned in this ExpressVPN review, the servers are located in 94 countries around the world, which is a pretty amazing geographical coverage. There are even servers in Egypt, Uzbekistan, and Kenya. Better coverage means better speeds because you want to connect to the nearest server to get the best speeds.
Regarding security, ExpressVPN uses the OpenVPN (TCP, UDP), L2TP-IPsec, SSTP, and PPTP protocols, and we recommend OpenVPN as the best-performing option. You can get simultaneous connections for up to three of your devices. This is more than many other providers offer, but still fewer unlimited connections than some companies claim. Note that you CAN connect an unlimited number of devices to your ExpressVPN account, but you can only use three at the same time.
By registering with ExpressVPN, you automatically have access to the company's SmartDNS Media Streamer. This is great news for those interested in streaming shows or listening to online radio stations. The only problem is that you have to register your IP address on the website before continuing to stream content.
In addition, ExpressVPN has a very good reference program. Again, this is not something you see in most VPN providers. A referral program means you can earn benefits (such as 30 days of free service per registration) to direct your friends to the provider.
Finally, ExpressVPN provides all users, regardless of their package, the complete suite of their own user-friendly software, compatible with all major devices and systems, from Mac and Windows to iOS and Android, through Linux and routers. As stated earlier in this ExpressVPN review, the configuration is extremely simple and intuitive, and switching and customizing the server is a breeze with this excellent software.
Security and Privacy
Based in the British Virgin Islands, ExpressVPN is not required to comply with US data retention rules or EU DRD laws and regulations. In other words, they do not have to share their data with a government, which means they do not need to keep traffic logs. The British Virgin Islands is a sovereign territory overseas of the United Kingdom, but they are exempt from the 14-eye surveillance treaty, which is another good news.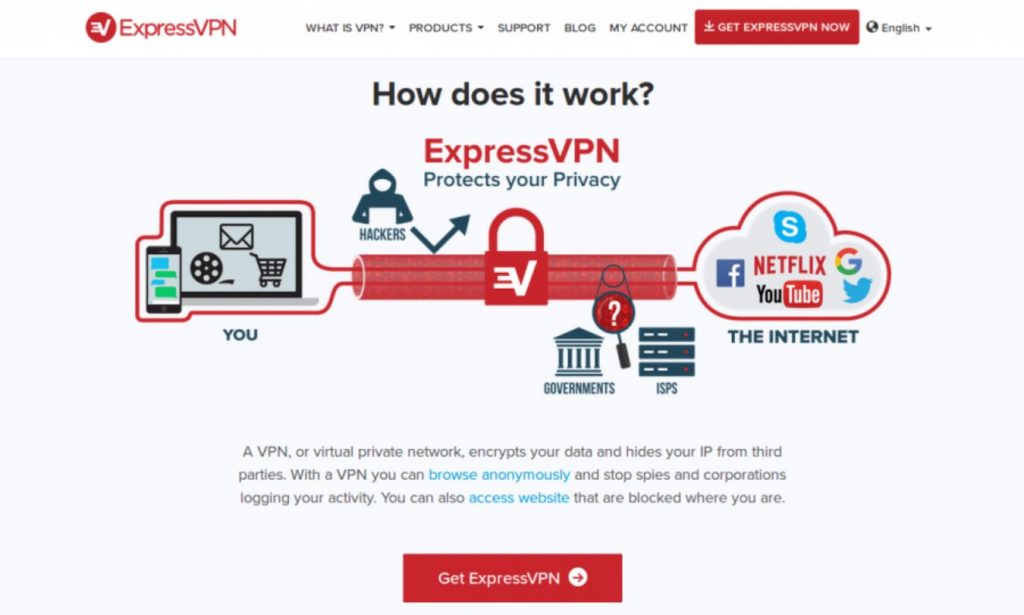 ExpressVPN collects minimal information about the use of its services. These data are used to identify and solve technical problems, but you can not identify your online behavior. In other words, the company does not collect any traffic logs that can show the connections between your IP address and time stamps.
The company uses AES-256 encryption with an RSA-4096 handshake and HMAC SHA-512 authentication, an extremely robust encryption configuration. This level of encryption can be considered excessive, so you can go down if you wish without compromising your security.
In addition, the provider allows Bitcoin payment, which is another advantage in terms of confidentiality. It is also important to note that ExpressVPN works on the basis of shared IP addresses, which means that individual users do not have to worry about someone tracing them to a single IP address.
Support
You can get answers to your questions via e-mail, support tickets or live chat. The fastest and most reliable solution is certainly live chat, accessible to all users 24 hours a day, 7 days a week. During our research phase for this ExpressVPN review, we discovered that the e-mail support is not as effective as it may take some time to receive the response. In addition, their email may end up in your junk mail or spam, so be sure to add ExpressVPN to your contact list.
You can also find solutions to the most common problems in the FAQ section, as well as using the tutorial page, which can help you set up a VPN connection. However, do not hesitate to contact customer support because they are always ready to help you.
Pricing
ExpressVPN offers three packages, which are basically a package that offers unlimited VPN services, with the distinction you can choose to sign up for a month, six months or a year. You will receive a discount depending on the duration of your subscription, saving more than 20% on the six-month package and 35% on the annual package.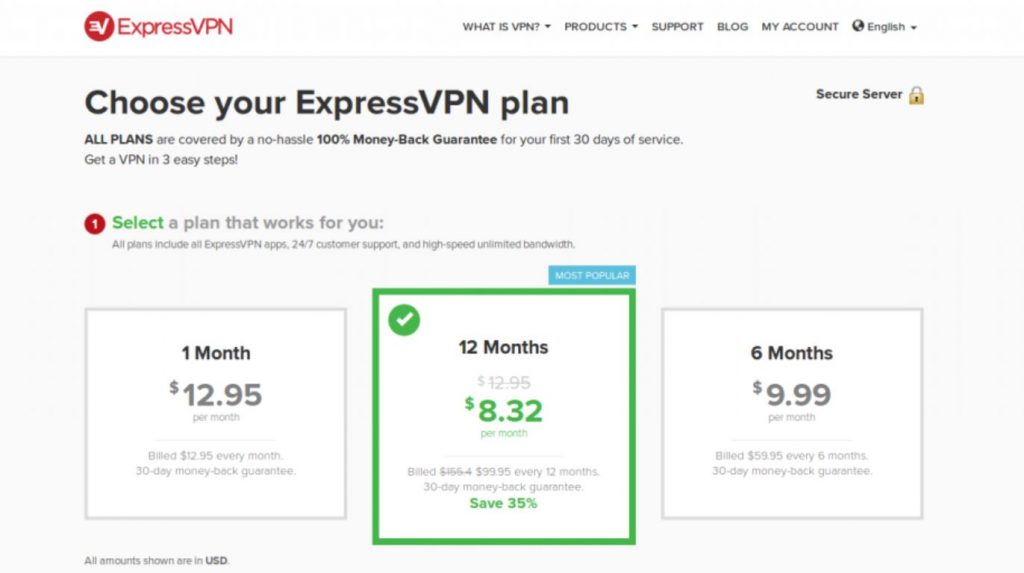 That said, the one-month fee, automatically renewed, costs $12.95, the semi-annual package costs $9.99 per month and is billed every six months. The annual fee is $8.32 per month and is billed once a year. While there is no free trial available, ExpressVPN offers a 30-day money back guarantee. This fact comes with a footnote, however, since ExpressVPN MUST offer a free trial for Android devices (1 day) and iOS (7 days).
ExpressVPN accepts MasterCard, VISA, Discover, American Express, Bitcoin, PayPal, UnionPay, Alipay, iDeal, Giropay, Yandex, SOFORT, Blue Card, Maestro, MINT, Interac Online, FanaPay, and OneCard.
Pros
Unlimited bandwidth and speed
Fast and secure VPN service
Multiple server locations and protocols
No usage logs
Offers up to three simultaneous connections
Great device compatibility
Highly-efficient customer support
30-day money back guarantee
Cons
High prices
No free trial for desktop platforms
Final Words
They offer a fantastic service that includes a wide range of features that will appeal to both novice and expert users. They keep you totally anonymous, safe and secure. And with such a pool of servers (2000+) to choose from and an efficient team of customer service agents at your disposal, I think you get what you pay for, which is a lot! It's fast, safe and secure. Hands down, my experience with this VPN was solid, so I recommend it.
Excellent!
We strictly recommend the ExpressVPN and also rates it to be the best VPN so far.