[su_button url="http://www.gearbest.com/cell-phones/pp_158361.html" style="stroked" background="#990e0d" size="5″ center="yes" radius="round" desc="BUY NOW FROM GEARBEST" title=" "]CLICK HERE[/su_button]
GV18 Aplus- Introduction
The GV18 Aplus Smart Watch Phone is basically a SmartWatch that comes with a price tag of 32.64 USD. The smartwatch is similar with Android devices and sports a 1.54 inches touchscreen display with the 240 x 240 pixels resolution, powered by a 533 MHz CPU combined with 128M + 64M of memory which can also be expanded up to 32GB using a TF Card.
In the Box?
GV18 Aplus Watch Phone
Battery
USB Cable
User Manual
GV18 Aplus- Design
On the top of GV18 Smartwatch, there's a microphone and camera of 1.3MP. It's not a powerful one but, for now the tiny device can offer such resolution. At the bottom, the speaker is placed. If you take a look on the sides, there's a physical button on the left and a USB port with a soft cap covering next to it. The right side is left empty. The watch uses a standard flexible belt and it a good thing from the manufacturer. It makes the watch suitable for rainy conditions or for sports.
GV18 Aplus- Performance
With the 1.54 inch TFT HD LCD screen, the viewing angles of the smart watch are pretty good. As the watch has an extensive amount of processing power, it can do all your tasks without any sweat. The GV18 Aplus Smartwatch phone has an excellent UI which offers butter smooth navigation and is pretty convenient to operate even when the screen real estate is bounded. Even though the watch only has a 0.3 M pixels of camera, it lets you to freely take a photograph through it. You can actually remotely control your smartphone as well.
GV18 Aplus- Battery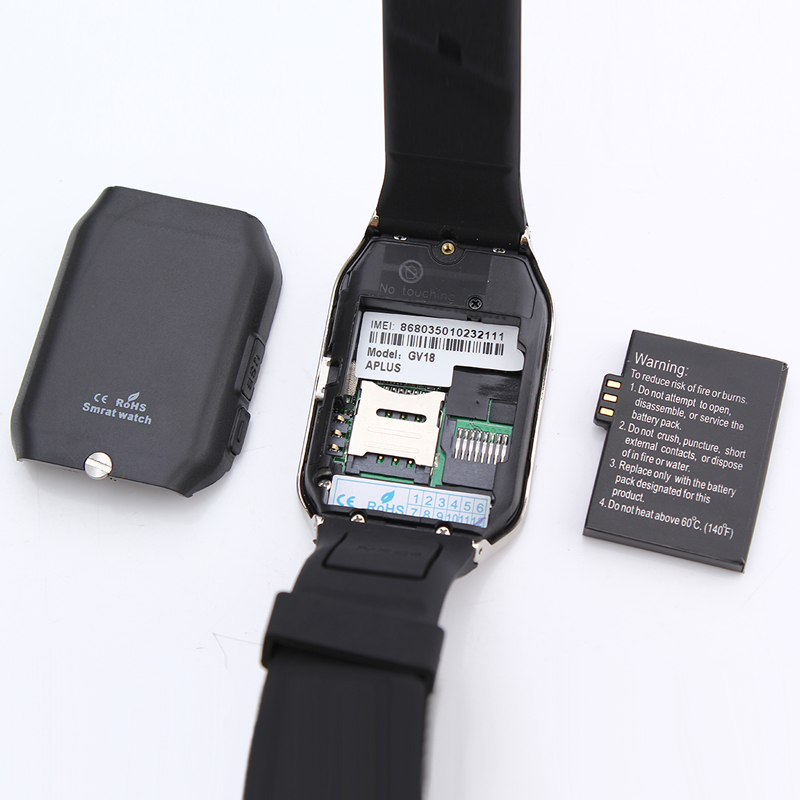 The battery is removable lithium polymer battery of 450mAh. Over this, there's a printed series of warnings, such as keeping the warmth below 60 degrees. When we remove the battery, we see the glance of printed circuit board. The micro SIM makes the Smartwatch work as a stand alone device without needing the help of Smartphone. It also has a microSD slot for inserting a memory card. It's expandable up to 32GB.
GV18 Aplus- Specification
Screen: 1.54 inch TFT LCD HD
Model: GV18 / APLUS
Resolution: 240 x 240 pixels
CPU: 533MHZ MTK6260A
Ram: 128 Mb
Storage: 64 MB expandable via micro SD up to 32 GB
Camera: 1.3 megapixels
Battery: 450 mAh Li-Ion
Bluetooth version: Version 3.0
SIM Card: Micro SIM
Ports: Micro USB
GSM Talk Time: 2-3 hours approx
 Standby time GSM: 90-120 hours approx
Bluetooth Talk Time: 3.6 hours approx
Languages: English, Italian, German, French, Spanish, Polish, Russian, Turkish, Portuguese, Dutch
Audio Format: AMR, AAC, MP3, MIDI
Video format: MP4, 3GP, AVI
Photo format: JPG, GIF
Size: 58.5mm x 39.5mm x 12.3 mm
Colors: Black and White
Network Frequency: GSM 850/900/1800/1900 MHz
GV18 Aplus- Menus
Every theme has its own menu.
First menu- It's colourful and pleasing. Has a style of Windows 8.
Second menu- It looks similar to Samsung gear 2 menu
Third menu- Has a professional intent to it.
GV18 Aplus- Verdict
If we talk about the brains of these two smart watches, S3 has a MediaTek MT2502 processor related to the GV18 having MT6260A. It won't be a surprise to me to see, GV18 becoming a popular buy amongst consumer. It gives a lot of features to its users. No doubt this Sensible Watcher will make the individual carrying it smarter than ever. It's easy to put on, deal with and even it has good language assist. One can use this watch in Spanish mode or another supported language. It welcomes everyone, Spanish, English, Chinese, and many others.
[su_button url="http://www.gearbest.com/cell-phones/pp_158361.html" style="stroked" background="#990e0d" size="5″ center="yes" radius="round" desc="BUY NOW FROM GEARBEST" title=" "]CLICK HERE[/su_button]