Check tutorial of How to Edit Photos on iPhone & iPad
So after a lot of requests from our users here is a guide about How to Edit Photos on iPhone & iPad.
Editing photos on iPhone and iPad is now better, easier and more powerful than ever before, as you will soon see here guide.
The default Photos app baked into iOS has been offering some basic editing tools and a variety of filters for quite some time now. This was good enough for users to quickly add a little extra flair to the photos they took on their iPhones and iPads. For further refinement, most people resorted to popular third-party editing applications such as Snapseed, VSCO, Photoshop and more. Now, with the advanced photo editing tools that iOS 13 and iPadOS 13 (and later) Photos app brings to the table, you probably don't need to use a third-party photo editing app anymore. Apple has been constantly improving the editing tools with each new iteration of iOS, but this time they've taken things to a whole new level.
We've reached a point where your iPhones and iPads with iOS 13 or later may have the best native photo editing tools on any smartphone or tablet right now. Sounds pretty good, right? If you want to know what's new and how to use these advanced photo editing tools, you've come to the right place. In this article, we will discuss how to fine-tune your photos on your iPhone and iPad with iOS 13 without the need for a third-party application.
How to Edit photos on iPhone and iPad
The photo editing tools in the stock iOS 13 Photos app are neatly divided into three separate sections, namely Adjustments, Filters, and Crop. This categorization is necessary to make the editing process easier for all users. Check out the steps below to see what all of these tools can do and how to use them in your photos.
First, open the Photos app on iPhone or iPad and find the image you want to edit
To start editing, simply select the image you want to enhance and tap "Edit" in the top right corner of your screen.
In this editing menu, you will see the icons for the Adjustments, Filters and Crop section from left to right at the bottom of your screen. Every time you open the edit menu, the app will take you straight to the Adjustments section. The first tool here is called "Auto", which is indicated by a "Magic wand" icon. When you tap it, the app will automatically enhance your photo using the other tools available.
If you are not satisfied with the result, you can simply tap the "magic wand" icon again to remove the automatic enhancement and proceed to manually edit your photo with the rest of the available tools. Or, you can use the specific image editing adjustments we'll discuss next.
If you want to go beyond the automatic improvement features, then using the individual image editing tools gives a lot of fine control over photo adjustments.
Photos Tools for editing pictures and what they do on iPhone and iPad
We will briefly describe what each photo editing tool does, starting from left to right, so you can use them however you want.
Exposure: This is the first manual tool to be located right next to the "magic wand" icon. It is a tool that can be found in even the most basic photo editing applications. Just use the slider underneath to control the light in your photo. Dragging the slider to the left will overexpose the image, while dragging the slider to the right will underexpose it.
Brilliance: Located right next to the Exposure setting, this tool focuses mainly on the dark areas of the photo. Increasing the brightness with the slider makes it brighter up shadows and adjusts the overall contrast.
Highlights: The following tool focuses only on the lighter areas of the image. If you want to make a white head look even whiter, just drag the slider to the left
Shadows: As the name suggests, this tool has no effect on the bright areas of the image. Instead, it focuses on the shadows and can be used to make the dark areas appear even darker or brighter.
Contrast: This setting can make or break your image. It clears up up the lighter areas and makes the dark areas black if you try to enlarge them. If the contrast decreases, the image will appear washed out.
Brightness: As the name suggests, this increases or decreases the brightness of your image depending on which direction you drag the slider.
Black point: This tool works quite similar to Shadows, by adjusting the dark areas of your image to your preference.
Saturation: This is also a tool found in most photo editing programs such as Photoshop, Snapseed, VSCO, etc. It adjusts the color saturation by increasing or decreasing the intensity of the colors in your image.
Vibrance: Another setting quite popular with photo editing apps, which makes the colors pop without ruining your photo. It mainly adjusts the intensity of colors that appear muted, and the effect can be quite pronounced in a positive way.
Warmth: This tool is known as "Color Temperature" in most other photo editors. Dragging the slider to the left gives a warmer image, while dragging the slider to the right makes it cooler.
Tint: It controls the color balance in your photo by giving the photo a greenish or purplish tint.
Sharpness: If you couldn't see it, this setting, as the name suggests, adjusts the overall sharpness of the image.
Definition: This tool focuses on the edges and edges of the objects in the image, making them appear more detailed. In advanced terms, it refines the focal points of the photo.
Noise canceling: If you take a photo in low light conditions, you will see grain in the dark areas of the image. This tool alleviates this by smoothing out the entire image, which can result in loss of detail if not used correctly.
Vignette: This setting simply darkens the corners and edges of the frame to give the photo a retro feel.
It's worth noting that the last few tools we've discussed here such as Vibrance, Hue, Sharpness, Definition, Noise Reduction and Vignette have all been added as part of the latest iOS and iPadOS versions.
That's a brief description of all 16 tools in the Image Adjustments section, but like many features you should try them out for yourself to find out which one you like the most and which is best suited for your photo editing needs.
Photo filters and edit with filters on iPhone and iPad
Next, let's move on to filters and an interesting new option they offer. Tap the center icon indicated by three "overlapping circles", as shown in the screenshot below. This will take you to the very famous "Filters" section. There are a total of ten filters to choose from, just like in the previous version of iOS. This time, however, you can adjust the intensity of each filter by using the slider below it.
Photos Crop, skew, flip and edit image
In the next section, you can crop and frame your photos in a better way. However, that's not all you can do here.
There are horizontal and vertical skew tools that skew the image by adjusting the slider as shown in the screenshot below.
Additionally, if you tap the "two-sided arrow" icon in the top left corner of your screen, your image will be flipped.
This is quite useful when editing selfies, such as the stocks Camera app mirrors the image right after it is captured as what you see in the viewfinder is just a mirror image of yourself.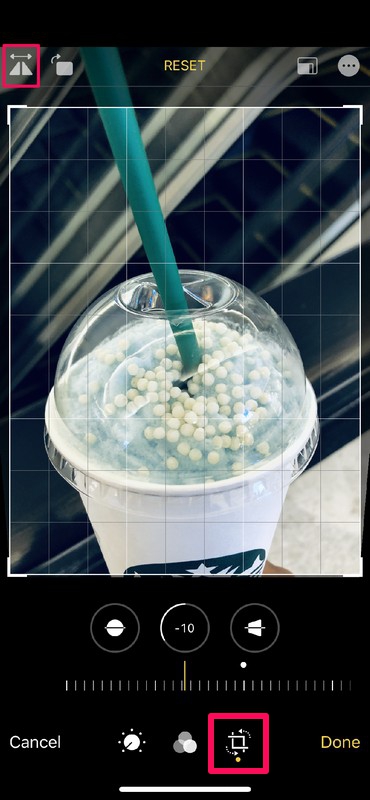 Aside from that, if you want to crop your image to a specific aspect ratio, simply tap the rectangular icon next to the reset and choose from a number of popular aspect ratios including 1: 1, 16: 9, 4: 3 and more.
Finally, when you are done editing, just tap "Done" to complete the process and save the refined image.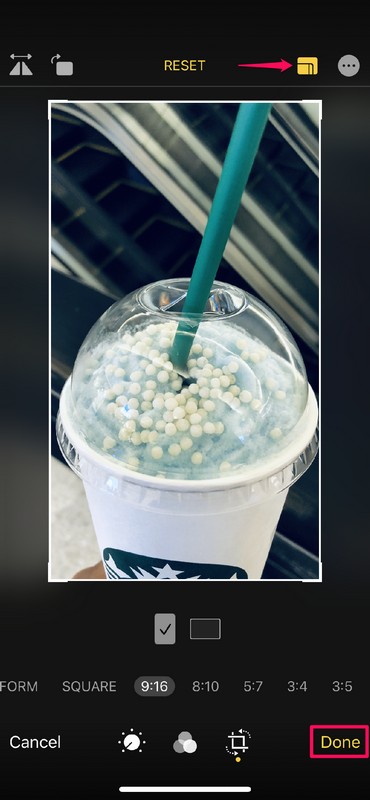 How to Undo and restore photo edits and image adjustments on iPhone and iPad
If you're not happy with your editing or want to re-edit the image from scratch up For whatever reason, just go to "Edit" and tap "Restore" in the bottom right corner of the screen.
This will return the image to its original, unedited state.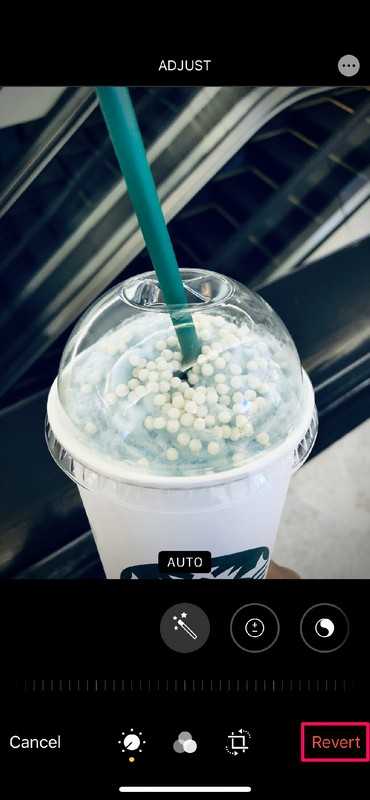 That's a summary of much of what you might be able to do with the updated Photos app on the latest versions of iOS and iPadOS from iOS 13 and above. That's a pretty important list of editing tools and capabilities, isn't it? So, it is possible that many users no longer need other third party photo editing app on your iPhone and iPad. Users can access almost every image editing tool, if not more, found in many other popular photo editors and apps.
Editing a picture Features Also apply to videos
But there's more! We haven't gotten to any of the best parts of the stock Photos app yet. It can do something that most of the other photo editing apps in the App Store aren't currently capable of.
Every single photo editing tool we discussed above can also be used to edit videos right from the Photos app.
That includes things like adding filters to videos on iPhone and iPad.
Certainly, certain Android phones also have video editing baked into the Photos app, but none of them offer the set of tools and flexibility that Apple's Photos app has to offer. That said, the competition can take notes and come up with similar functionalities within a few months or so. For now, Apple's Photos app is arguably second to none.
We can partially thank Apple's latest flagship iPhones, because if they weren't there they were updated and advanced camera systems, it is possible that Apple would not have paid much attention to revamping their Photos app.
Do you use the default Photos app for editing photos and images on your iPhone or iPad? Have you switched to the stock Photos app to edit all your photos and videos? What third-party image editing app do you use instead, if applicable? Let us know your thoughts and opinions on the revamped Photos app in the comments section below.
How to Edit Photos on iPhone & iPad Guide is free?
Starting from: Free
This guide is a free model
Free Trial: May be included, please check on the official site, we mentioned above.
The How to Edit Photos on iPhone & iPad tutorial price is Free or Freemium. This means you can truly enjoy the How to Edit Photos on iPhone & iPad guide.



The How to Edit Photos on iPhone & iPad guide gives you an easy-to-use and efficient management and How to Edit Photos on iPhone & iPad allows you to focus on the most important things. It's friendly guide to use maybe you will love it and How to Edit Photos on iPhone & iPad tutorial can be used on Linux, Windows or android devices.
How to Edit Photos on iPhone & iPad: benefits
The How to Edit Photos on iPhone & iPad tutorial is free .
Helps many users follow up with interest in a timely manner.
The price of the How to Edit Photos on iPhone & iPad guide is free.
How to Edit Photos on iPhone & iPad: FAQ
Tutorial Summary: How to Edit Photos on iPhone & iPad

In this guide, we told you about How to Edit Photos on iPhone & iPad; please read all steps so that you understand How to Edit Photos on iPhone & iPad in case if you need any assistance from us, then contact us.

How this tutorial helping you?

So in this guide, we discuss the How to Edit Photos on iPhone & iPad, which undoubtedly helps you.

What is actual time in which this method complete?

The time to complete the How to Edit Photos on iPhone & iPad tutorial is 10+ minutes.

What are the supported Device?
What are the supported Operating system?
---
How to Edit Photos on iPhone & iPad Tutorial: final note
For our visitors: If you have any queries regards the How to Edit Photos on iPhone & iPad, then please ask us through the comment section below or directly contact us.
Education: This guide or tutorial is just for educational purposes.
Misinformation: If you want to correct any misinformation about the guide "How to Edit Photos on iPhone & iPad", then kindly contact us.
Want to add an alternate method: If anyone wants to add the more methods to the guide How to Edit Photos on iPhone & iPad, then kindly contact us.
Our Contact: Kindly use our contact page regards any help. You may also use our social and accounts by following the Whatsapp, Facebook, and Twitter for your questions. We always love to help you. We answer your questions within 24-48 hours (Weekend off).
Channel: If you want the latest software updates and discussion about any software in your pocket, then here is our Telegram channel.