This step by step tutorial will show you how to install Fire TV Guru on Kodi.
The Fire TV Guru Build will give you the best Kodi addons with just a quick installation. The beauty of this build is how compatible it is with your Amazon Fire TV box or Fire TV stick. The interface is designed to look and feel like you are sitting on your favorite Amazon fire device.
Fire TV Guru is featured as a Best Kodi Build as chosen by the TROYPOINT Community.
The installation process for this Build is a bit different from others as it needs to be downloaded with FireDL as an APK file. Follow the instructions below carefully to install Fire TV Guru Build.
What Is a Fire TV GURU?
Fire TV Guru Build for Kodi is one of the most popular Kodi build add-ons. This build focuses on delivering the best streaming application add-ons that allow you to stream live TV, videos, and premium movies for free.
Fire TV Guru Features
Fire TV Guru has some great video add-ons built-in. Covenant, Elysium, TinklePad, Bob Unleashed, and Specto are just some of the best. It also has an All in One tab with live streams, movies, and TV shows instantly available.
This Kodi Build offers three different servers that you can download and install. If you have problems downloading, it is advisable to use a different server and try again during the installation.
In total there are 13 different menu items that are easy to navigate and use. Everything from a Sports Center tab to a "Her Place" tab is included in this build. It even has a Maintenance category with a Speed Tester and Helps Videos. And you can always update skins and other settings within the Systems tab.
The Live Streams section of the FTG Build contains lots of IPTV links available for viewing. Although some seemed to work well during testing, TROYPOINT recommends using an IPTV Service such as SET TV or The Players Klub for a reliable live TV.
A unique feature this build offers is the Music Section with many audio options. YouTube, TuneIn Radio, and even Now Music are all available that make Fire TV Guru such a great Kodi build.
The Miscellaneous Tab is a great source for Fitness within the FTG build. When searching this section it may ask you to install a separate Kodi add-on for use. You will be asked to do this when needed. Everything from quick workouts to daily routines is available in this section.
In general, the Fire TV Guru build is a great place for beginners to start using Kodi.
A good number of Kodi users want to install Kodi on the Amazon Fire Stick. If you are among this class of people or in case you anticipate to acquire an Amazon Fire Stick soon, then you may want to consider the Fire TV GURU Build. It was developed by the FireTVGuru, hence making it a natural choice for the Fire TV Stick devices.
FireTVGuru developed this special Kodi Build for Amazon's streaming devices. The installation file is small in size compared to most of the Kodi builds in the market today. Its full version is 300MB+ in size. With it, you will enjoy streaming and downloading media content without any issues.
Nevertheless, in an instance where you face installation challenges, you will get much of the troubleshooting information from the official Fire TV Guru website. We recommend doing a clean install of Fire TV GURU Kodi Build. This act will give it a complete spread on your Kodi. In any case, you may opt for the standard install that allows you to keep your existing add-ons and settings. If you are looking for more options, check out the best Kodi builds here.
Fire TV GURU Build: What Should You Expect?
The Fire TV GURU Build packs a huge collection of popular Kodi add-ons. These add-ons are the source of its streaming content. Its user interface is simple and easy to navigate.
Steps on How to Install Fire TV GURU Kodi Build on FireStick
Update: Fire TV Guru is not working anymore. Reportedly, FTG developer has stopped working on it and the server links are now down. You can check out other working builds here.
Now that you are well aware of what Fire TV Guru build is and what you can expect when it is installed on your Fire TV Stick, let's start with the installation guide. Please note that this guide will work on FireStick only. If you want to install on your Windows PC or MacBook, go with the second method below.
We will use the FireDL app in this method which is considered easiest as you need to perform minimal actions from your side. We will download the Fire MC APK and it will install the Fire TV Guru build on your FireStick.
Step 1: Power On your Amazon Fire TV Stick. Search and install the "FireDL" app from the Amazon App Store.
Step 2: Once you installed the FireDL app, open it and then type 941172 in the URL box. It will automatically convert to APK download URL.
Step 3: FireDL will start downloading the Fire MC APK, so wait until it finishes.
Step 4: When the download completes, click option "Install"
Step 5: Once installed, select "Open"
Step 6: In a few seconds, you will see some instructions on your screen, just click "Dismiss"
Step 7: Now you can select your preferred Settings here and then hit "Continue"
Step 8: Open "Build Menu" and then select the Build you want to install. You will get the option to install the "main" and "Lite" build.
Step 9: Now you should see two options "Fresh Install" and "Standard Install". If you want to keep old add-ons and data, go for Standard Install, else Fresh install is good to go.
Step 10: Click "Yes" and then "Install"
Step 11: Click "Force Close"
Step 12: Now go to the FireStick homepage and navigate to Settings > Applications > Manage Installed Applications. Here you should see the "FireMC" app. Just open it.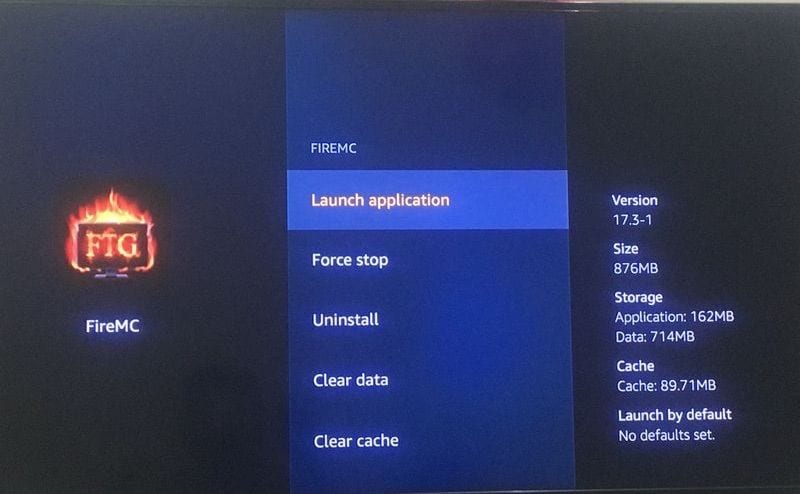 Step 13: That's all. Now you have Fire TV Guru build on your FireStick. Give some time for the build to prepare itself. I won't mind waiting for another 15 minutes after opening Fire TV Guru for the very first time. Whenever you need to open Fire TV Guru on Fire TV Stick, you can simply follow Step 12 above.
How to Install Fire TV Guru Build on Kodi (FireStick/PC)
Note – this guide will work for both FireStick and PC (Windows / Mac).
Step 1: Launch Kodi on your FireStick.
Step 2: Click "Settings" in the top left corner.
Step 3: Go to "File Manager" under the Settings menu.
Step 4: Double-click the last option "Add Source"
Step 5: Click "None" in the popup box.
Step 6: Now type the source URL as http://ftg.nosleephosting.xyz/notmewizard/FTG/ and click OK. Many users reported that they are unable to install FTG Wizard. The reason is they are still trying the old URL which is http://firetvguru.net/fire. So if you are one of them, use the above URL in bold letters.
Step 7: Type "FTG" in the name field and then click OK.
Step 8: Go back to the main screen of Kodi app and click "Add-ons" menu on the left side-bar. Now look for the boxed-shape icon (package installer) on the top-left corner. Open it.
Step 9: Open "Install from Zip file" and then click "FTG" which we just added in step 6 and 7.
Step 10: A new dialogue box will open, click "plugin.program.firetv.zip". Then wait for some time so that Fire TV Guru Wizard gets installed on Kodi. It could take up to 5 minutes. You should see the notification on the top-right corner when it is done.
Step 11: Now you should see a popup with information about the build. Just click "Dismiss"
Step 12: Now you will see another popup with several options. You can select/deselect as per your preference. Then click "Continue"
Step 13: A new popup will appear that you have no FTG builds installed with an option to go to "Build Menu". Click it.
Step 14: Here you can see all the available Fire TV Guru Krypton builds. Just select the build you wish to install. You can install either Full build or Lite build.
Step 15: Now select "Fresh Install" if you don't want to keep your old add-ons/data, otherwise click "Standard Install". I prefer Fresh install.
Step 16: Fire TV Guru (FTG) Wizard will now download the Fire TV Guru Build for Kodi Krypton. Once downloaded, it will extract the files and install it without any further actions from your side. At last, Kodi will reboot and you will see the Fire TV Guru Build has been installed on your FireStick.
If you get a popup with options "Reload Profile" and "Force Close", click "Force Close" and then relaunch the Kodi app. After opening the Fire TV Guru build for the very first time, give it some time (15 minutes should be enough) before start using it.
Fire TV Guru Not Working
Some users have been reporting that Fire TV Guru is not working on their Fire TV Stick. I would recommend that you Turn Off your Fire Stick, unplug from the power source, turn off the router and turn On all of these back after 5 minutes. Now Fire TV Guru build should be working fine.
If in any case, Fire TV Guru isn't working after following the instructions above, it is best to reinstall the build instead of finding the exact problem. It will save a lot of time.
Fire TV Guru: No Streams Available
If you are seeing No Streams available, then there are good chances that your ISP is blocking you from streaming content with FTG. You can always get a VPN to avoid such issues.
Fire TV GURU Build: Enjoy Entertainment
On top of its massive list of popular add-ons, Fire TV GURU Kodi Build comes with a clean, beautiful interface. The menu has been organized in categories that have been further subdivided into sub-categories. The following are the major categories of this Kodi build:
TV Shows
We all love TV Shows. At least everyone has watched an episode of a given TV Show. Personally, I binge-watched two seasons of the Gotham City TV Show for three days during a one-week slow work-break. Well, the experience was awesome. With the Fire TV GURU Kodi Build, you will enjoy streaming some of the top-rated TV Shows. The interface of this category has been designed in a clean, organized way for easy navigation.
Movies
On top of the TV Shows from various genres, this Kodi build brings a massive list of top-rated movies into your world of digital entertainment. In case you love watching a movie every day after work, then you got your back covered. The category features a number of filters that you can use when niching down into your desired kinds of movies.
Live TV
With the Fire TV GURU Kodi Build, I guarantee you will through away your cable TV. Get to enjoy free live TV coverages from the US and UK as well as other parts of the world! There is also a category for "Live Streams," which feature breaking news bulletins among other things!
Her Place
A section that has been specially designed for girls. It features TV series, romance, and popular shows that every girl can desire.
Music and Streams
Enjoy streaming some of the top charts from the US and UK. It also has a nice user interface with filters that you can use when searching for your desired articles and genres.
Kids Corners
This category features kids' content like cartoons, comic movies, and animations. Your kids will get to enjoy streaming from an unlimited hub of kids' content.
Sports
At the sports center, all sports lovers will enjoy sports highlights and live scores. You will get to browse through the sub-categories for the latest events around the globe!
Video Guide
How to Install Fire TV Guru
If you are unable to understand the step-by-step guide above, watch the video below.
Wrap Up
How to Install Fire TV Guru
Launch Kodi
Click the settings icon
Click the System settings
Hover over Add-ons menu item and turn on Unknown sources if not already on
Click the back on remote to go back to the System page
Click on the File Manager
Now, Click the Add source
then, Click <None>
Type the following URL exactly how it is listed here –http://firetvguru.info/fire/ and click OK
Highlight the box under the source that you just typed in and enter a name for this media source, type fire or any other name you would like to identify this source as and click OK
Later Click your back button on remote or keyboard until you are back at the Kodi home screen
Just Click Add-ons menu item
Click the small "open box" icon at the top left side of the page under the "Add-ons heading"
Click Install from zip file
Click fire or other names you assigned the media source in the previous step
Click repository.firetv.zip file
Wait for Fire TV Guru Repo Add-on message to appear
Click Install From Repository
Click Fire TV Guru
Click Program Add-Ons
Select FTGWizard
Click Install
This will prompt installation message, click Dismiss
Enable any Settings you would like within the Build
Click Continue
Click Build Menu
Choose a Fire TV Guru Build
Click Standard Install
Select a Server to download from (If one doesn't work, try another)
Wait for the build to download
When prompted to force close, Click OK
Your build should be installed!
Conclusion
About Fire TV GURU Build Install
Whereas the Fire TV GURU Kodi Build is specially designed for Amazon's Fire Stick, it is still suitable for all Kodi streaming devices. Always ensure that you have allowed third-party software installation to avoid errors during the installation process. For detailed errors on Kodi, you can check the log for more information.
---
Read more:
Legal Notice –  We Compsmag.com are strongly against content piracy, and we implore our readers to avoid it by all means. We do not check the legality or the safety and security of all of the add-ons, apps, and services referred to on this site. Also, we do not promote, host, or link to copyright-protected streams. We highly discourage piracy and encourage our readers to avoid it at all costs. The only mention of free streaming on this site is meant to be used, copyright-free content that is available in the Public domain.