A Proper & decent sound is a unique feature in all computers and electronic devices nowadays, but if you're looking to enhance your sound quality and capabilities, then a sound card can boost your audio experience. High-quality sound is essential for recording artists, elite Gamers, videographers, or those who merely want to experience The Best clarity and exceptional audio that technology can offer. For these users today, we're here with a list of 10 best Internal Sound cards for PC.
Our ability to listen is one for the Best senses a human can have. It is the capacity to hear that, when we are newborns, helps us familiarize ourselves with the comforting voice of our mothers. And it is with sounds that, finally, we learn to accommodate the sounds we here into speech, allowing us to interact with other people better.
Good sound is just as necessary when an individual is making their gaming laptop. Today, we will be taking a peek at The Best Internal Sound Cards of 2020. These sound cards may vary in price, features, and aesthetics, but one thing connects to all of them, and that is that they will be just what you want to not only play a game but to encounter a game as a real-life experience. Here is our list of the The Best Internal Sound Cards.
Best Internal Sound Cards for PC List
Creative Sound Blaster Z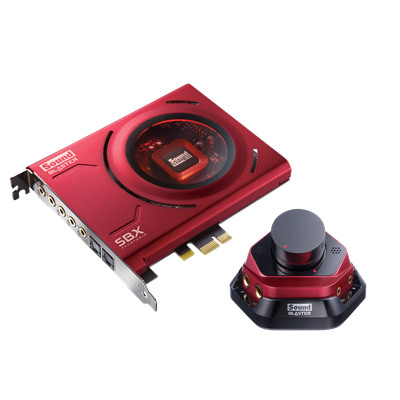 The Creative Sound Blaster Z is a unit of the ultra-high-performance Z-series of Sound Blaster sound cards. If you are looking for an ideal complete solution for entertainment needs and PC gaming, then you can go for it. For a crystal clear voice communication, the device completely supports the Beam Forming Microphone. To enjoy The Best digital audio possible, just go through the speaker optimization technology, digital content-coding capability and gold plated connectors of Sound Blasters.
With Blaster Z-series Control Panel, you do not need to unplug again and again. You have to just switch to your speaker system and headphone with a simple flip of the switch. You can enjoy cinematic DVD movies by transforming any stereo by connecting your home theatre system through a single digital cable. The device has multi-core Sound Core3D™ audio processor. It provides you drastically superior voice and sound quality.
You can enjoy stunning 3D surround sound effects on your headsets and speakers.
Platform – PCIe x1
Line/ In-Mic – 1 x 3.5mm jack
Speaker Outlet – 3 x 3.5mm jacks (Front,Rear,C/Sub)
Headphone Outlet – 1 x Amplified 3.5mm jack
Optical In – 1 x TOSLINK
Optical Out – 1 x TOSLINK
Buy Now
back to menu ↑
Creative Sound Blaster Recon3D SB1350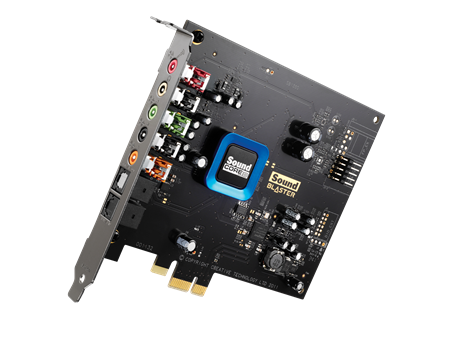 It is the next-generation Sound Blaster card, which is powered by Sound Core3D. It is Creative's first voice and sound processor to integrate with a quad-core high-performance digital signal processor. The sound card drastically improves the gaming experience with the fastest frame rates.
Sound Core3D™ quad-core audio processor.
Dedicated high-quality headphone amplifier.
Connect multiple audio types of equipment.
Headphone: 1 x Amplified 1/4″ jack
Headphone: 1 x Amplified 3.5mm jack
Speaker Outlet: 3 x 3.5mm jacks (Front,Rear,C/Sub)
Buy Now
back to menu ↑
ASUS Essence STX II
The sound card is assumed as The Best high-end sound card for headphone users. Essence STX II provides a tremendous 124db SNR. The card contains a headphone amplifier which supports swappable OPAMP, up to 600ohm headphones. It allows any audiophile to create and find just the right sound. The sound card also comes with an appropriate OPAMP charging toolkit.
It Reproduces Dolby® Digital 5.1-channel surround sound.
It transforms high-quality stereo sound into rich and realistic 5.1-channel surround.
It can reshape two-channel and 5.1-channel stereo content into virtual surround sound.
The device delivers up to 7.1-channel surround over any headphones.
It supports Ultra-low jitter with premium TCXO clock source.
Buy Now
back to menu ↑
HT Omega Claro Halo
This soundboard lets you set the output impedance via jumpers up to 600OHM. You can unleash the full surround sound potential of your home theatre system with onboard Dolby Digital Live real-time content encoder. You have to connect your PC to a Dolby Digital directly enabled device via a cable connection and start enjoying 3D surround sound. Headphones can bring more realism and excitement to all the programs with 5.1 channel surround sound. The device boasts a built-in 120DB headphone amplifier IC from TI to give you The Best possible listening quality.
C-Media Oxygen HD CMI8788 Audio Processor
24-bit/192khz AK5385BVF ADC for line input
It contains Sanyo – mass storage Capacitor
Buy Now
back to menu ↑
ASUS Strix Raid DLX
The sound card is 7.1 PCIe gaming sound card, which is set with 124db SNR and an audiophile grade DAC. The sound card is made to satisfy the gamers, who demand ultimate audio quality. It has an excellent Sonic Studio sound quality. Its control box allows instant in-game audio adjustments and complete control. You can turn the heat of the gaming section by just one click on the audio control box. ASUS Strix Raid DLX has the powerful combination of an audio control box and Raid Mode. With its single navigation page, you can see everything in front of you.
600ohm headphone amplifier: For enhanced bass and clear sound.
Take full control of loads of sound technologies via an intuitive interface.
124db signal-to-noise ratio (SNR) and audiophile-grade DAC.
The owl-eye design lights up in the dark.
Buy Now
back to menu ↑
Creative Sound Blaster Audigy FX
SBX Pro Studio technology powers the sound card. It supports high quality 5.1 cinematic sound for your games, music, and movies. You can make full control of your SBX Pro Studio setting with its Audigy Fx Control Panel. The Audigy Fx also features a 24-bit 192khz digital-to-analog converter. The sound card is perfect for your home theatre computer systems.
It delivers 106db SNR of pristine audio.
It comes with microphone connectors and independent line-in.
If you love singing, you can do the same by plugging in your mp3 player.
Adjust the level of immersion with Control Panel.
Supported Operating Systems: Windows® 10, Windows® 8, Windows® 7
Buy Now
back to menu ↑
ASUS Strix SOAR
Strix stands for the keenest and sharpest eyesight. A gamer who demand full and pure sounding audio can fulfill them with ASUS Strix SOAR. It features an immersive, clear and rich sound with an incredible 116db Signal-To-Noise Ratio. It contains deep and tight bass to come through a 600OHM headphone amplifier. You will get an easy in-game audio adjustment with complete sound card control. To visualize and boost specific sounds, you can use multiple radar enhancers. Sounds are plotted on the 360-degree HUD. It produces 32 times greater clarity than average onboard audio.
Buy Now
back to menu ↑
SIIG Soundwave 7.1 PCI Sound Card
The sound card allows you to enjoy high-definition 7.1 surround sound from your desktop computer. Its 8-channel output supports the latest Dolby EX and DTS ES 6.1, 7.1 CH DVD audio formats. It also delivers 16-bit/96kHz digital output audio quality and supports 3D sound technologies. It features unique Karaoke functionalities like key shifting, microphone echo and vocal cancellation.
Buy Now
back to menu ↑
ASUS Xonar DGX PCI-E GX2.5
The sound card is optimized for immersive gaming action through precision audio. With Dolby Headphones 5.1 high definition surround sound and ASUS exclusive GX 2.5 gaming audio engine, you can enjoy the deep and accurate music, which makes it an ideal audio card for extreme gamers.
Xonar DGX contains three modes to cater to different usage scenarios like exciter, pro-gaming and voice patterns.
Buy Now
back to menu ↑
Startech 7.1 Channel Sound Card PEXSOUND7CH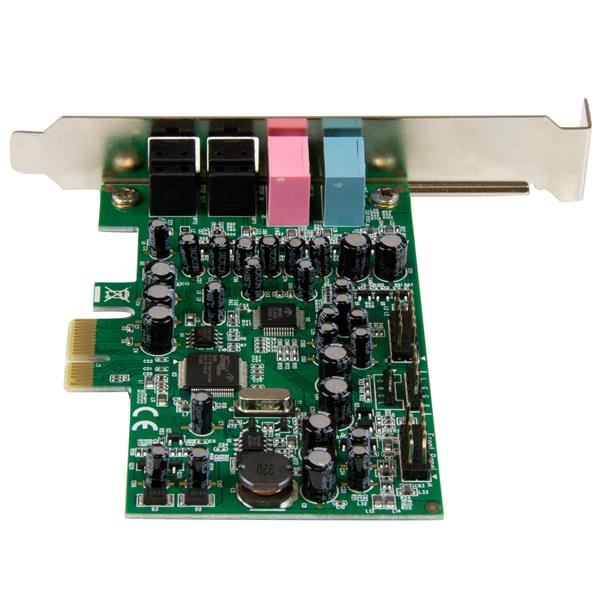 The sound card allows you to use it in many ways. Combine your computer PCIe for a hi-fi digital optical 7.1 surround sound. It supports analog or optical audio devices through 3.5 mm jack or SPDIF. Startech also features another set of input jacks and separate header brackets. It can be used up to 24-bit and 192 kHz recording and playback. In another way, you can build an inexpensive home theatre computer into a media center.
Buy Now
Below is some basic information you should know about both types of sound cards.
INTERNAL CARDS
NOISY FLOOR
Remember that internal boards have a higher noise floor than external boards. So, if your device has a low noise floor, be prepared to turn up the volume whenever you want to hear sizzling sounds or buy an internal card to get rid of this habit.
CONNECTIVITY
Almost all internal cards are less compatible than external cards.
SOUND QUALITY
The internal cards have special software that is more powerful than that of the DACs. It includes special effects, allows you to clean parasitic sounds and even remove voices from the tracks.
EXTERNAL CARDS
LATENCY
If a card is placed inside your PC, its latency level will be lower than that of an external card. Therefore, keep in mind that higher latency can align instrumental and vocal tracks inappropriately.
CONNECTIVITY
Unlike internal cards, external components have more connectivity options, including digital I/O, MIDI, and RCA jacks. Such a variety of connectivity allows you to place external models wherever you want.
SOUND QUALITY
If internal cards have better software for high-quality sound than external cards, make sure it is clear and accurate. The fact is that DACs are much more tolerant of external noise and do not pick it up when they deliver sound.
PORTABILITY
One of the greatest advantages of external cards is their portability. This means that you can use your DAC with a variety of devices – laptops, desktops, TVs, phones, etc. – and you can use your DAC with other devices as well.
---
I hope you like the article 10 Best Internal Sound Cards for PC. If you have any queries regards internal sound cards then tell us in the comments.