If you are looking for the Best Waterproof Cameras, you are in the right place. Although many camera manufacturers have moved away from offering comprehensive camera lines, an area that they have developed is waterproof options. So how do you find The Best waterproof camera? That is where we can help. And we can also help you with the costs – as there are many affordable options available on our list.
There are many good reasons to choose a waterproof digital camera, even when some for the best camera phones are made with waterproof casings. Waterproof compact cameras are made with a broader range of physical controls and are easier to handle and operate underwater than smartphones. Most also come standard with stronger optical zoom lenses.
Best Waterproof Cameras List
Having one of the Best Waterproof Cameras is the right choice if you love to do underwater photography. Thanks to their robust designs and weather stamps, you can take them into a swimming pool without thinking. Better still, they are made to be virtually indestructible, so you can hand them over to children without worrying about damage.
Olympus Tough TG-6
As tough as a nail, without the danger of rusting.
Type: Compact
Sensor: 1/2.3in
Megapixels: 12MP
Lens: 25-100mm (equiv.) f/2.0-4.9
LCD: 3in, 1,040k dots
Waterproof: 15m/50ft
Shockproof: 2.1m/7ft
Freezeproof: -10ºC/14°F
Max video resolution: 4K
The Olympus TG series has a solid reputation in the market for heavy-duty cameras, not only because it is sufficiently equipped for harsh conditions, but also because it is equipped with impressive image and video technology. The Raw-shooting, 4K-capable TG-6, is a reasonably small upgrade compared to the previous TG-5 but adds several useful new features, such as an improved LCD resolution and a new Underwater Microscope mode to get close.
The TG-6 produces 4K video at 30 fps and offers the option of recording Full HD video at 120 fps for super-slow-motion, but also has a generous 25-100mm optical zoom lens that lets you get closer and closer to the action. It has a sturdy handgrip that holds the camera firmly, while the internal zoom mechanism ensures that the lens never sticks out of the body, protecting it from bumps and knocks. The TG-6 is simply the best waterproof camera right now.
Ricoh WG-60
One of the robust there is, with handy extras and a matching price.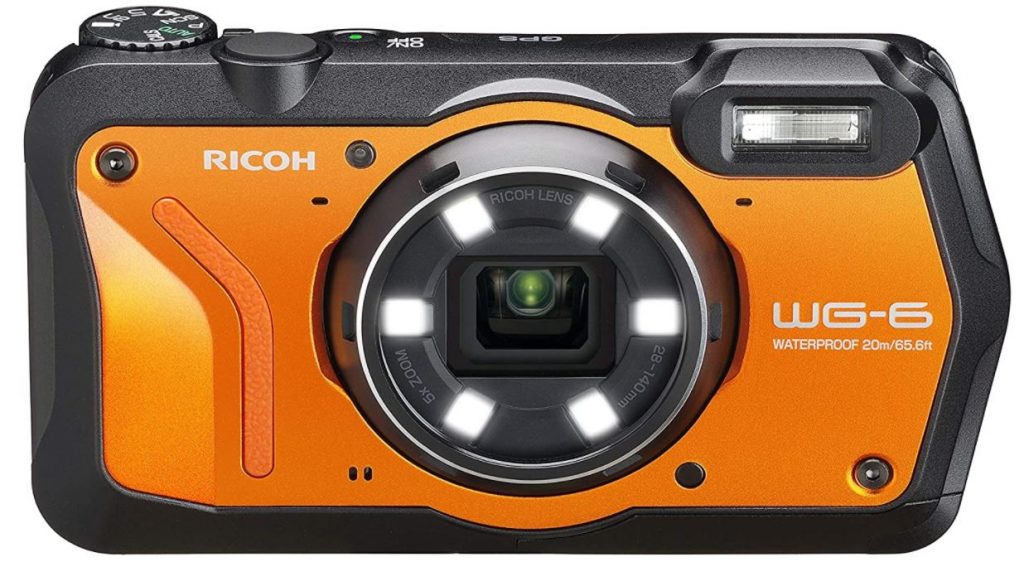 Type: Compact
Sensor: 1/2.3in
Megapixels: 16MP
Lens: 28-140mm (equiv) f/3.5-5.5
LCD: 3in, 230k dots
Waterproof: 14m/45ft
Shockproof: 1.6m/5.2ft
Freezeproof: -10ºC/14ºF
Max video resolution: Full HD
This is the Swiss army knife of tough cameras, equipped with ring lighting around the lens that functions as both flashlight and macro light, so you can see what you're doing underwater and let your subjects light up. It has several useful features that make it worth considering. With the microscope function, you can focus at a distance of only 1 mm, while the Handheld Night Snap captures multiple images of a low-light scene in quick succession and merges them into a blurred composite image. All this is housed in a body with serious safeguards, which can stay underwater for up to 2 hours. A newer Ricoh WG-70 is just coming out – but currently, the WG-60 is still one of the best waterproof cameras.
Panasonic FT30
Panasonic's waterproof FT30 is ideal for still photos
Type: Compact
Sensor: 1/2.3in
Megapixels: 16.1MP
Lens: 25-100mm (equiv) f/3.9-5.7
LCD: 2.7in, 230k dots
Waterproof: 8m/26ft
Shockproof: 1.5m/5ft
Freezeproof: -10ºC/14ºF
Max video resolution: 720p (HD)
The Panasonic Lumix FT30 is not the latest waterproof digital camera here and does not offer the best in its class, but what it does offer is in line with its very reasonable asking price. It is also pleasantly slim enough to fit in a cozy nail pocket or something similar, although this does come at the expense of a secure grip; you could invest in a wrist strap to make sure the FT30 doesn't get rid of you. Provided you hold it, the FT30 is a stable and versatile waterproof camera that should be well suited for shooting your water adventures – in the form of photos, anyway. The lower video resolution of 720p means that if you're a video enthusiast, you're probably better off with one of the other waterproof cameras on this list.
Fujifilm XP140
The XP140 delivers creative effects and eye-catching design.
Type: Compact
Sensor: 1/2.3in
Megapixels: 16MP
Lens: 28-140mm (equiv) f/3.9-4.9
LCD: 3in, 920k dots
Waterproof: 20m/65ft
Shockproof: 1.75m/5.8ft
Freezeproof: -10ºC/14ºF
Max video resolution: 4K
The Fujifilm FinePix XP140's design is fun and child-friendly, making it a solid choice for family vacations, but this doesn't mean it cuts down on imaging technology. While not a challenge for something like the Olympus Tough TG-6, it is a capable small camera in its own right, capable of recording 4K video (albeit with a disappointing 15p) and equipped with an impressive 5x optical zoom lens with an equivalent focal length range of 28-140mm, all at an extremely friendly price tag of fewer than 200 pounds. A new scene recognition mode helps the XP140 assess what is being photographed (which contributes a little to compensate for lack of manual control), and the controls are well organized and easy to use, even in murky underwater conditions. For the price, this is one of the best waterproof cameras.
SeaLife DC2000
Professional dive camera with lighting options
Type: Compact
Sensor: 1in
Megapixels: 20MP
Lens: 11.6mm f/1.8 (31mm equivalent)
LCD: 3in, 920k dots
Waterproof: 60m/200ft
Shockproof: 1.5m/5ft
Freezeproof: -29ºC/-20ºF
Max video resolution: 1080p
SeaLife cameras are the most severe underwater option – without the need to buy separate housings and optical ports for a mirrorless camera or DSLR. The ability to reach depths of up to 60 meters and withstand temperatures up to minus 29°C indicates the macho certificates. But it is also photographically capable, thanks to a sizeable one-inch sensor and the ability to shoot RAW files. The camera comes in two parts – so you can remove the large red outer housing when you use it on land to use the (still waterproof) internal camera. You can buy the camera on its own – but if you use it for deep dives, look at the different kits, which come with one or two lights, to illuminate your subject and act as carrying handles.
GoPro Hero8 Black
We loved the Hero7 Black, but its successor is even better!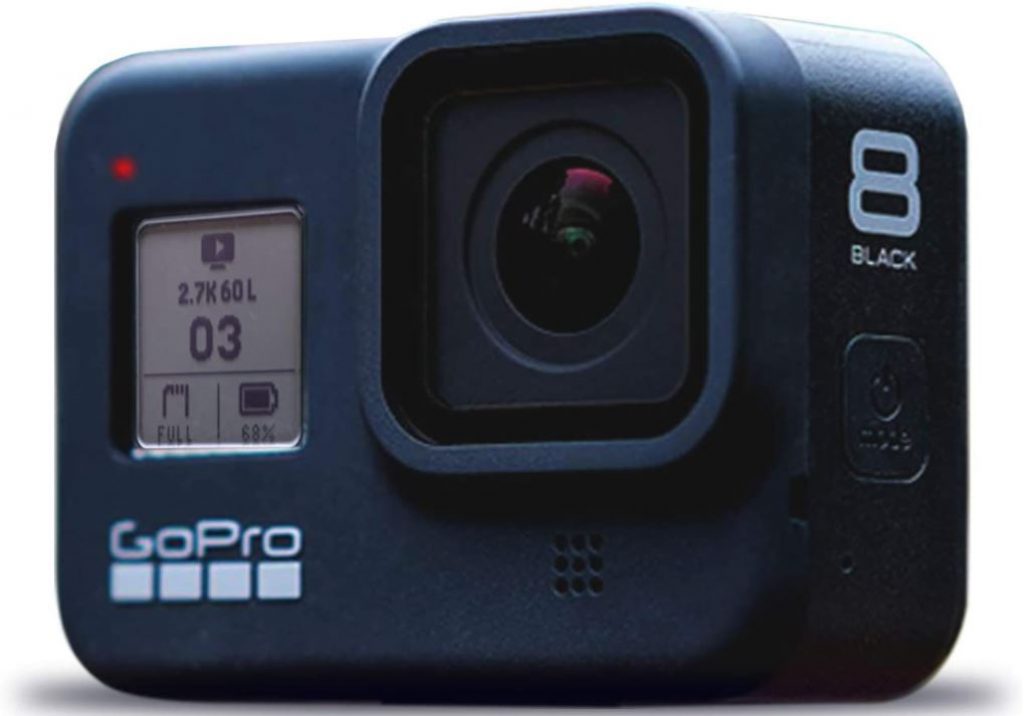 Weight: 126g
Waterproof: 10m
4K video: up to 60fps
1080: up to 240fps
720: up to 240fps
Stills resolution: : 12MP
Battery life: 1-3hrs estimate
Color options: Black
The latest flagship GoPro model is our favorite action camera now available, and it brings with it some brilliant new features. An essential difference with its predecessor (and especially the less expensive Hero7 Black) is that there are folding feet, so now there is a camera bracket built-in. That's not all – you can also expand the Hero8 Black with a new series of extras called 'Mods.' We especially like the Display Mod because it adds a second monitor that is perfect for vloggers. There are also plenty of other Mods, including a Media Mod to improve the production value of your videos and Light Mod LED lighting. These extra features – and the fact that it's already waterproof to 10m without a case – now make the Hero8 Black one of the best waterproof cameras.
DJI Osmo Action
A very well played GoPro rival…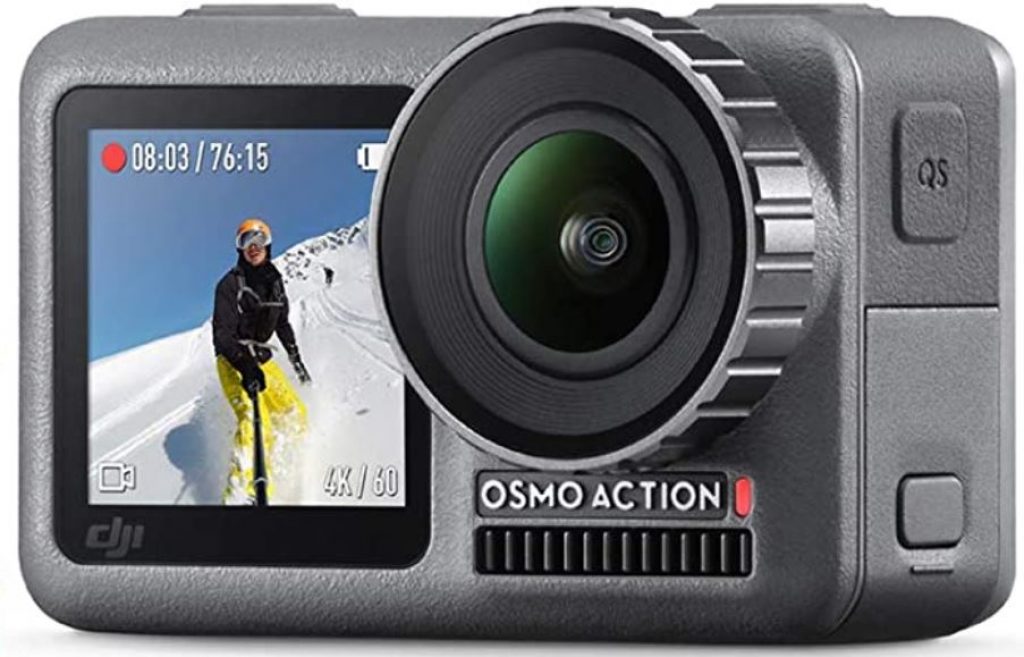 Type: Compact
Sensor: 1/2.3in
Megapixels: 12MP
Lens: 145° field of view, f/2.8
LCD: Front-facing; 2.2-inch rear LCD
Waterproof: 11m/36ft
Shockproof: Up to 1.5m/5ft
Freezeproof: -10ºC/14°F
Max video resolution: 4K |
The feature set and price point of the DJI Osmo Action make it clear from the beginning that it is an attempt to undermine the GoPro HERO7. Can you do it? Like all things, it isn't straightforward. The front screen is a blessing, the stabilization is as silky as the HERO, and the wallet-friendly price is nothing to sniff at. That's not to say it's perfect; there are a few delay issues at high resolutions, the app can be unreliable, and the HERO video is a tad flatter, which counts in the professional domain when it comes to rank. However, for an affordable alternative to the HERO7 Black, the Osmo Action is a great choice.
Nikon Coolpix W300
With 30m waterproofing, the W300 is one of the best waterproof cameras for the deeper divers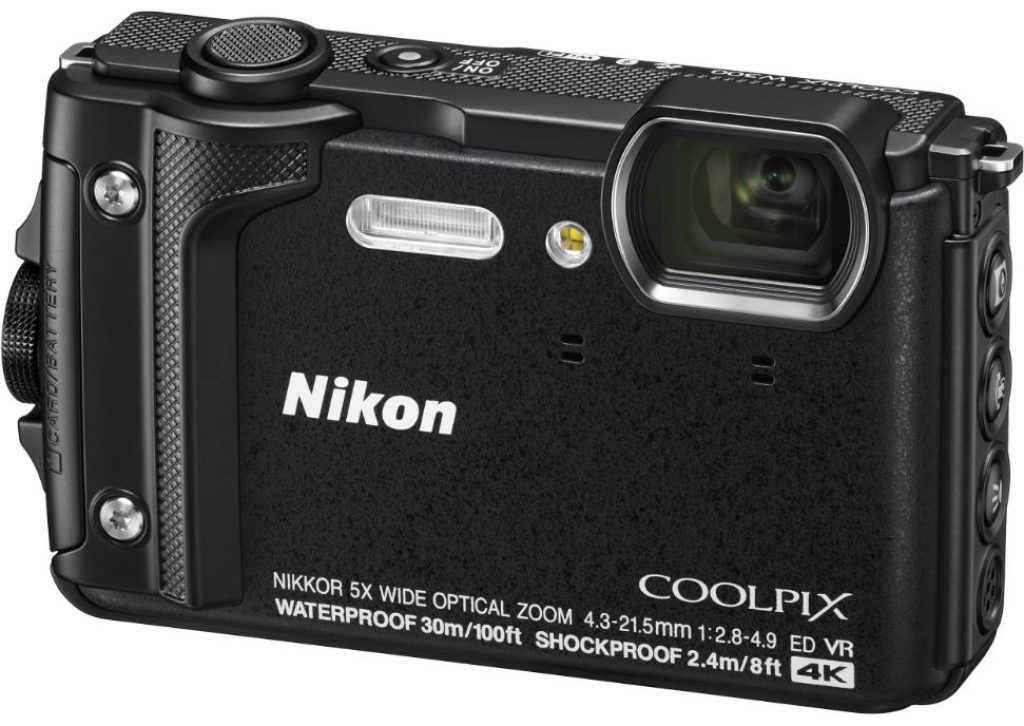 Type: Compact
Sensor: 1/2.3in
Megapixels: 16MP
Lens: 24-120mm (equiv.) f/2.8-4.9
Screen: 3in, 921k dots
Waterproof: 30m/100ft
Shockproof: 2.4m/8ft
Freezeproof: -10ºC/14ºF
Max video resolution: 4K
If you are a deep-sea explorer, this is your selection for the best waterproof cameras. The Nikon W300 is suitable for depths of 30 m and surpasses most waterproof cameras, and comes with a barometer that provides useful underwater data, such as height and depth, as well as an electronic compass. Bluetooth functionality is also present, and this fits well with Nikon's SnapBridge technology for fast image transfer. Video shooters also welcome the addition of 4K video to the W300 toolkit, and the excellent shock resistance of 2.4 m means that it is extra protected against bumps and knocks. Although the lack of Raw support is a shame, if you like to use JPEG files, you will see that it is an excellent all-rounder and one of the best waterproof cameras.
Sony RX0 2
A large sensor, 4K video, and a tiny body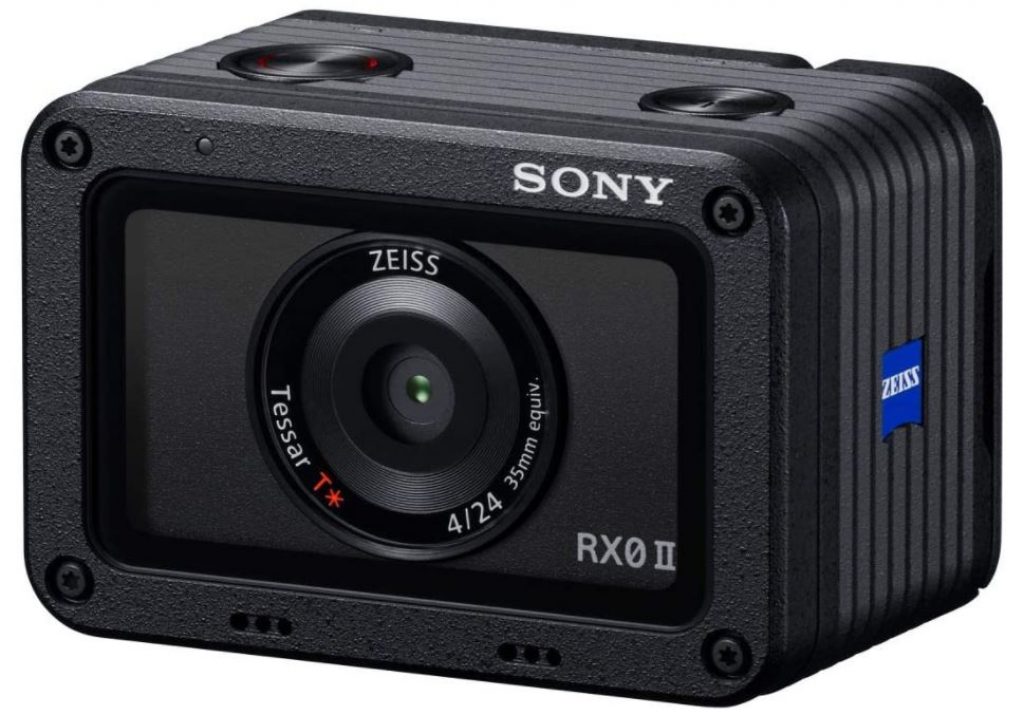 Type: Compact
Sensor: 1in
Megapixels: 15.3MP
Lens: 24mm (equiv) f/4
Screen: 1.5in touchscreen, 230k dots
Waterproof: 10m/33ft
Shockproof: 2m/6.5ft
Freezeproof: No
Max video resolution: 4K (external recorder required)
While the original Sony RX0 attracted a lot of attention for its 1-inch sensor in a small housing, it was somewhat paralyzed by the fact that it had to be physically attached to an external recorder to record 4K video. So while it was waterproof and shockproof and all that jazz, this limitation meant that you couldn't record 4K video in these extreme situations. The RX0 II eliminates this limitation by recording pristine 4K video internally, and also adds welcome extra features such as a flip-out screen. It's the most expensive on this list, but if you need the low light intensity that a 1-inch sensor gives you, it is an unrivaled prospect. Overall, this is one of the best waterproof cameras.
GoPro Hero7 Black
The latest flagship HERO delivers the most advanced image and video quality yet
Type: Compact
Sensor: 1/2.3in
Megapixels: 12MP
Lens: 14-28mm (equiv.) f/2.8
Screen: 2in
Waterproof: 10m/33ft
Shockproof: Not rated
Freezeproof: Not rated
Max video resolution: 4K
For anyone who thought the Hero6 Black could not be improved, GoPro gives you HyperSmooth. This brand new in-camera video stabilization system is so good that it creates new creative possibilities. It even works up to 4K 60 fps. Those using a gimbal on their GoPro can do this because HyperSmooth even gives a handheld video a silky look. It also brings a new possibility to life; handheld TimeLapse video. Calling TimeWarp, the latest 2GB memory of the Hero7 Black, makes it possible to apply HyperSmooth to handheld frame-by-frame time-lapse recordings. In addition to this super-stabilized hyper-lapse, the Hero7 Black offers an extended dynamic range, SuperPhoto, and 12 separate voice commands.
Best Waterproof Cameras Comparison Table
Waterproof Cameras
Camera Name
Waterproof
Max Video Resolution
Olympus Tough TG-6
15m/50ft
4K
Ricoh WG-60
10m/33ft
4K
Panasonic FT30
8m/26ft
720p
Fujifilm XP140
20m/65ft
4K
SeaLife DC2000
60m/200ft
1080p
GoPro Hero8 Black
10m/33ft
4K
DJI Osmo Action
11m/36ft
4K
Nikon Coolpix W300
30m/100ft
4K
Sony RX0 II
10m/33ft
4K
GoPro Hero7 Black
10m/33ft
4K