Elgato's latest microphone, the Wave 3 has arrived, and it's not to be underestimated. The first time the company enters the USB microphone room, Wave 3 is on the ground. In collaboration with Lewitt, a renowned sound company, the Wave 3 delivers clear, high-quality audio in a comfy, lightweight, and portable package. And with its dedicated Wave Link software, Elgato even solves the problem for content creators: recording with multiple microphones and audio sources in one application, without a physical mixer. This is our Elgato Wave 3 Review.
Elgato Wave 3 Review: Design
With its satin matt black finish, the Elgato Wave 3 is simply elegant. Its low profile takes up minimal space in your workspace. The microphone is already attached to the weighted, round black base with a thick 6.5-foot USB-C cable. You also get an adapter to connect the microphone to a microphone arm if you wish. On the front of the Elgato Wave 3, you'll find a multi-functional gain button that, when you press it, adjusts the headphone volume and, when you press it again, adjusts the mic/pc audio mix.
All these features are beautifully indicated by LED lights built harmoniously into the front of the microphone. The volume for all three is registered individually via the LED lights above the multi-function gain button. My favorite part of this microphone is the seamlessly integrated capacitive mute button at the top. All it takes is a tap to mute the microphone, yet it is not so sensitive that you are accidentally in the middle of a recording.
On the back of the Wave 3, you'll find a USB-C input and the 3.5mm headphone monitoring jack. The Wave 3 is a lovely USB microphone, but you'll notice that while the grille is made of metal, a third of the unit is made of plastic. It's okay, but some competitors mainly make metal and alloyed microphones, which makes the Wave 3 not look so good. But I have to say; this microphone doesn't feel cheap.
Most of the weight (1.3-pounds is the combined microphone and stand weight) is in the base, unlike Blue's Yeti Nano (1.4 pounds), which feels solid throughout because of its all-metal construction. The lightweight plastic design makes the Elgato Wave 3 perfect to travel and carry for streaming, podcasts, and interviews on the go. Elgato also offers an external pop filter for $39.99 and a shock absorber for $29.99, which are sold separately and available exclusively on their website.
Elgato Wave 3 Review: Microphone Quality
Elgato, together with Lewitt's audio engineers, designed the Wave 3 from the bottom up, which can be seen in the quality of the recordings. For those unfamiliar with Lewitt, the Austrian company is well-known for manufacturing microphones for professional studios, live performances, and creating content. Inside the Wave 3 is a condenser microphone with a cardioid polar pattern, which is made to capture the most comprehensive sound frequency.
With a maximum sampling frequency of 96 kilohertz and a maximum depth of 24-bit, the clarity of the sound is fantastically clear, with excellent depth and tone. If you tend to get loud, the Wave 3 has proprietary Clipguard technology built into its analog/digital converter, which only allows a maximum of 115 decibels. This means that the Wave 3 automatically calms exaggerated sound waves before they're sent to your computer, so your recordings or streams are free of distortion, and you'll never redline during recording.
The other great feature is the internal pop filter, which also improves the sound quality of your recordings to make sure you don't capture annoying pops or clicks in your audio. I have made several recordings with Wave 3 in different environments. My first usage in my home office was quite clear, with excellent timbre. The microphone was so sensitive that it picked up the fans from my tower when the gain was up.
By lowering the gain, the sound from the fans was significantly reduced. Elgato proposes to keep your mouth at least 2 to 3 fists away from the microphone for the best recording quality. However, I was able to sit back in my chair and make excellent recordings at a distance of two and three meters with a minimal adjustment of the gain. I also recorded outside and was impressed by how well the microphone captured my voice, even from 2 to 3 feet away. The Wave 3 also picked up the beautiful ambient sounds of birds chirping and the occasional helicopter and airplane flying over.
Software
Like most USB microphones on the market, the Wave 3 has patented software designed to improve performance. The Wave Link software is quick and easy to install. Not only does it give you more control over microphone gain, headphone volume, and microphone/pc mix, but it also allows you to control up to eight other audio inputs and sources your computer uses.
What's more, you can control external sources outside the microphone, such as audio pulled from your web browser or even an additional USB microphone connected to your computer. With this master digital mixer, you can create two independent output mixes, one for yourself and one for your audience, while efficiently working with other software, such as OBS, Audacity, or Elgato's proprietary Stream Deck, to give the user a wide range of options and control.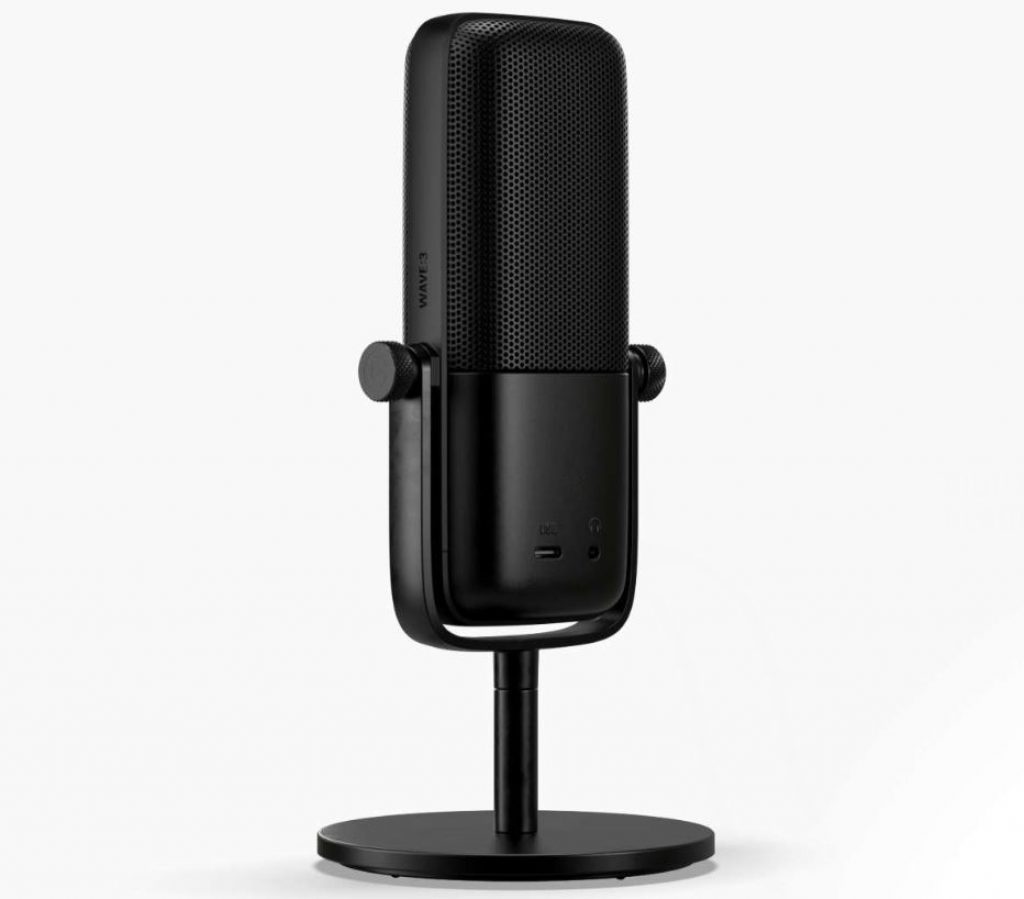 But the most significant feature by far is Elgato's Wave Link software. As most creators of PC content know, it is impossible to connect more than one microphone and record separate audio tracks for each microphone or audio source. You can do it (more or less) on a Mac via Garageband, but it can still be a little tricky. Wave Link makes recording multiple microphones a seamless experience, regardless of the operating system. And it does it with an easy-to-learn user interface.
Elgato Wave 3 Review: Conclusion
Elgato Wave 3 is an excellent USB microphone. For $159, you get a device that delivers exceptional sound, whether you're streaming or recording live. Its proprietary software is easy to use and allows you to mix multiple audio sources, including microphones, without a physical mixer. However, it will record the various sources to a single track, which remains a problem with computer recording in general. But Elgato is heading in the right direction. What's more, he's lightweight and travel-ready, and he looks elegant and professional.
But if you're not a fan of plastic design or the high price, you'll want to consider the Blue Yeti Nano, which is a compact powerhouse in itself. For $99, you get a compact microphone that is capable of recording high-quality audio in a high-quality, all-metal body.
Our Verdict
The Elgato Wave 3 delivers high-quality audio with easy-to-use software in a lightweight and elegant design.
PROS
Crystal clear sound
Elegant, lightweight design
Easy-to-use Wave Link Software
CONS
Partially plastic build
Pricey