F1 2019 Review: Unless you're a Mercedes fan, you might think Formula 1 in 2019 is a bit stale with the team's dominance at this year's World Championship. But far from stagnant, Codemasters' F1 2019 presents an exciting, albeit an idealized version of the world's most crucial motorsport. It mainly stays with the well-known cadence of previous titles with its enormous career mode and a lot of classic content.
Rs. 2,390
Rs. 3,999
in stock
3 new from Rs. 2,390
Amazon.in
Free shipping
Last updated on December 4, 2020 3:20 am
$69.00
in stock
2 new from $64.90
6 used from $51.10
Amazon.com
Free shipping
Last updated on December 4, 2020 3:20 am
However, significant additions like the FIA ​​Formula 2 World Championship and planned online races add even more to an already budding title that is filled to the brim with fun things to do – all around driving some of the fastest race cars in the world.
F1 2019 Review: About
Platform: PlayStation 4, Xbox One, Microsoft Windows
Developer: Codemasters, Swordfish Studios
Publisher: Codemasters, Deep Silver
Genres: Racing video game
Release Date: June 25, 2019
Official Trailer
F1 2019 Review: Gameplay
Anyone familiar with the series will immediately feel at home at F1 2019. Menus are borrowed from previous years, so searching the mode you want to play is fortunately easy because there is so much here. Solo gameplay consists of the career mode, Grand Prix weekends for some races and time trials for junkies on the leaderboard, numerous championship scenarios – extra if you have the Legends Edition – and the official F1 and F2 world championships.
And that's before you delve into multiplayer, which adds player-created leagues and scheduled event races. Amazingly, none of it feels like a filler, with each model offering something different and enjoyable. But as in previous years, it is the career mode that gives you the most complete and rewarding experience, venturing further into the realm of sports fantasy than in the past.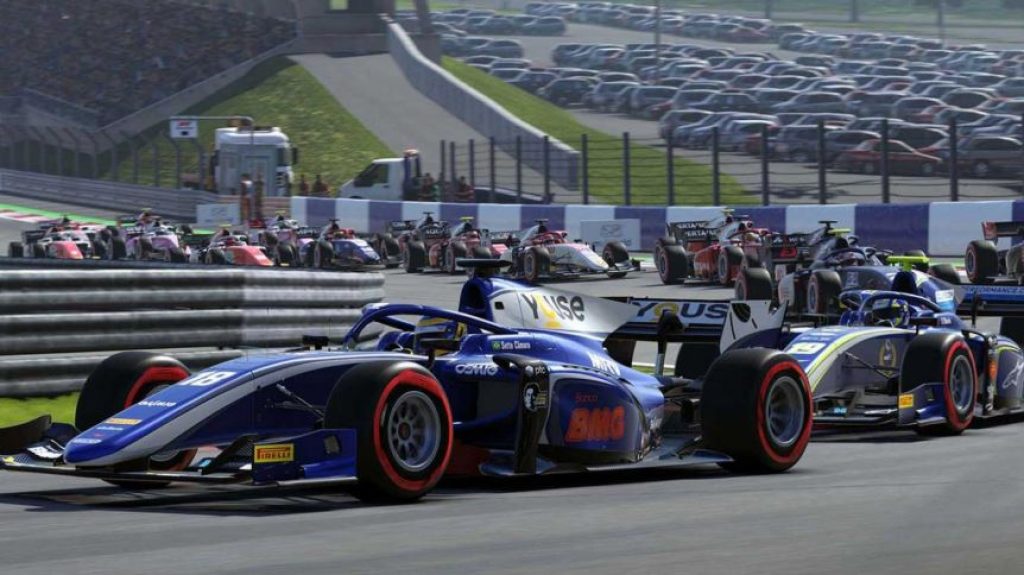 In previous career modes, you would simply select an F1 team to race for, set some contract goals, and go. But the F1 2019 career begins with more of a return to the Codemasters Race Driver series, so you can start in the newly added Formula 2 Championship before making your way to the top. It's not a full season, however a series of scenarios where you face two fantasy rivals, Lukas Weber and Devon Butler.
While this opens up the career with a series of cutscenes that develop the competition between the three of you, those personal moments never come back once you enter Formula 1; they are replaced by the relatively lifeless email transcripts of their media interviews. It would have been nice to have more of these characters around to add a little more flavor.
Another excellent addition to the career mode is driver changes between teams. All drivers on the grid can switch places, and this is done automatically based on their past performance. Early in my career, both McLaren drivers lost their jobs due to their underperforming car, with Carlos Sainz started midway through and replaced by Kimi Raikonnen. Lando Norris gave way to the then unemployed Pierre Gasly at the end of the season.
It leads to some fascinating shifts in energy dynamics between current F1 teams, leading to surprising results and an intriguing run to the title. While it is shocking to see drivers replaced, mainly by fantasy drivers, it adds more to the game than it takes away. You can choose not to have the fantasy drivers, but that means you have to skip the feeder series altogether, and the Formula 2 cars are way too much fun to do. Smaller, less powerful, and easier to drive, the Formula 2 cars in F1 2019 are quite enjoyable, given their relatively slower pace.
Exaggerate them, and they slide and slide and teach you how to find the edge of grip. As such, they are a perfect place for beginners to understand how to race light and agile cars without having to step directly into the power of an F1. There's a reason they leave behind only the best drivers in the world behind the wheels of these beasts; modern F1 is about much more than just driving fast. You have to manage tires, hybrid stakes, fuel economy, racing strategy, and the gaps between your competitors.
There's no moment of peace of mind if that's how you want it. But the option for hugely robust assists allows both avid fans and inexperienced racers to get something out of a race. The AI ​​in the last older version of the game was already snappy, pushing for gaps and fighting back when he thought it had a chance. But F1 2019's are a further refinement of this and respond in ways that feel like you're racing against other human players.
They go wheel-to-wheel and defend their position by forcing you to the edge of the track, sometimes making mistakes and causing accidents, and sometimes making incredible overtakes by stepping into your slipstream and braking you out in a bend. F1 drivers are not pushovers, and it's great to see that in action on the track. The cars themselves feel fantastic to drive with both a racing wheel and a gamepad and handle fast and responsive.
When you sit in the cockpit, it is fascinating. The race engineer will talk to you during a race and keep you informed of all kinds of valuable information. With a microphone, you can ask them questions about pit stops or the condition of your tires, or just tell them to close it and keep updates to a minimum. It works perfectly and provides a lot of relevant information at the end of a push of a button. The weather can roll in and soak a dry job, then dry out again, adding an extra layer of drama to the mix.
A lot can happen, especially during a longer race. A quick five-lap burst can be fun, but during longer races, things like racing strategy can play out in satisfying ways. Leagues are a welcome shot, so you and a group of like-minded people can take part in a multiplayer season that you've created yourself. Community competitions have formed around the F1 games for years, but if included directly in the game, this is a welcome nod to those who have run these competitions externally.
Scheduled events are also a fun new feature, allowing you to practice and qualify whenever you want, then run races around scheduled times to encourage competition. Also, further is the customization of the player that will enable you to adjust the color of your car, race suit, gloves, and helmet. Some designs are free, while others can be unlocked with an in-game currency earned from online racing, but annoyingly, the most exciting options cost you real money.
Where F1 2019 doesn't live up to other race titles is the accuracy of the track. Graphically the tracks are fantastic, with some subtle details along the track and excellent new lighting that makes the night tracks look eerily realistic. But in terms of accuracy compared to the real tracks, they still lack a lot of the character in the road, such as the small bumps and cracks you get from a laser-scanned track.
The last chicanes in Spa and Montreal have been profiled incorrectly, and there is an annoying bump that comes straight out at Suzuka and is not there on the real track. Most players outside of a handful of hardcore sim racers would never notice this. Still, with titles like iRacing and GT Sport offering high-fidelity versions of many of these tracks, these inaccuracies start to get more noticeable over time.
F1 2019 Review: Conclusion
F1 2019 is another definite step forward for now decade-long franchise, with a ton of refinements from last year's game and some great new features to take it to a new level. The Formula 2 cars are fantastic to deal with, and the latest additions to career mode, such as driver changes, add some much-needed drama and excitement that real Formula 1 has been missing for a while. F1 2019 is a master class in creating a captivating and seductive racer and is again high on the podium.
Our Verdict
Unless you're a Mercedes fan, you might think Formula 1 in 2019 is a bit stale with the team's dominance at this year's World Championship. But far from stagnant, Codemasters' F1 2019 presents an exciting, albeit an idealized version of the world's most crucial motorsport.