If you know the answer to "What's Sonos?", you know you're stuck with the Sonos speakers inside. The Sonos Move, the first portable device from Sonos, not only packs the familiar Sonos quality sound, but its in-built battery makes it one of the best smart indoor-outdoor speakers we've seen to date. It also has Google Assistant and Amazon Alexa, making it a handy companion for voice-guided smart-home control. This is our Sonos Move Review.
Sonos Move Review: Design
$430.00
in stock
4 new from $434.99
1 used from $430.00
Amazon.com
Last updated on January 14, 2021 10:23 pm
Compared to the Sonos One, the Sonos Move is the cooler cousin. Its matt near-black finish and grille combination is stylish enough for a modern space without hiding its purpose. It is tall, wide, and oval. It is an actual progression of the classic Sonos design. I moored the Move on my white marble kitchen island, where it graciously drew attention to itself. My Sonos One, in comparison, is camouflaged with the rest of my home entertainment device on my TV stand.
A respectable two-thirds of the outside of the Move holds the loudspeaker grille, while the rear panel features an upward-facing claw handle. On the back, there's also an on/off button, a button to switch from Wi-Fi to Bluetooth, and a button to connect the Move to other Sonos speakers in your sound system. The top has volume, pause and play controls, and two status lights: one that indicates when the speaker is turned on and another that shows when the four microphones of the Move are set.
The dimensions and weight are the striking setbacks of the Sonos Move. With over 6 pounds packed into its 10-inch long body, it's a dense device. It's uncomfortable to wear the Move while trying to hold something else. Even the trip to the roof of my apartment with the Move in one hand and a coffee mug in the other felt awkward. Moving the Move to a place a few minutes away is a two-handed job.
Sonos Move Review: Auto Trueplay
If you have any other Sonos speaker, you might have used TruePlay using your smartphone to sync the device to the room it's in. The Sonos Move replaces that manual configuration with Auto TruePlay, a new technology from Sonos that lets the speaker tune automatically via built-in microphones. Sonos says it's not as accurate as of the traditional manual configuration with its other speakers, but it's a lot more convenient. Not all outdoor areas have the same acoustics, so Auto TruePlay is supposed to adjust the sound settings to suit your environment.
Whether you're at a packed backdrop party, on an open beach, or a small balcony, the Sonos Move should provide a balanced audio experience. I've put Auto TruePlay to the test in a few indoor locations and noticed subtle changes. I took the Move off my counter and put it in an open bedroom shelf, where it lowered the bass in Zedd's "Clarity" slightly to dampen the echo. As I left the room and closed the door behind me, I barely heard the electronic anthem at medium volume, which my housemates certainly appreciated.
Outside, it's where Auto TruePlay shines. On the roof terrace of my apartment, the sound of the Move sounded flawless. It drowned out the sound of the traffic and trains downstairs but didn't interfere with that face-to-face conversation I had with my neighbors. I never want to calibrate a speaker after using the Move again manually, and I hope Auto TruePlay will show up in all Sonos speakers.
Sonos Move Review: Alexa and Google Assistant
The Sonos Move has two popular virtual assistants: Amazon Alexa and Google Assistant. Setting up both (you can't use them at the same time) is secure, and once you turn on the assistant of your choice, you can ask the Move for things like your local weather, news broadcast, and your calendar for the day. You can also control several of your smart home devices with voice commands when your Move is within range.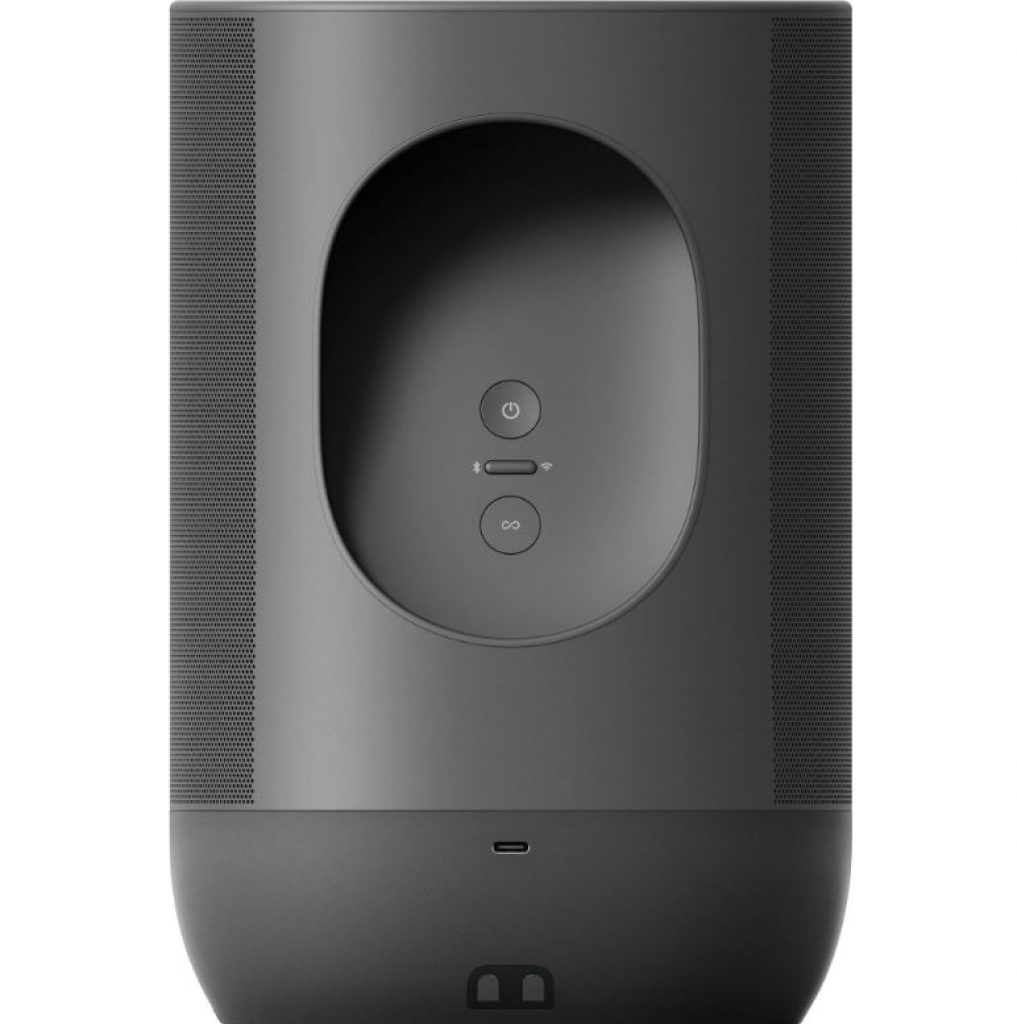 On my Wi-Fi home network, the Move has responded without hesitation to some of the best requests from the Google Assistant. I switched playlists, discovered the current traffic situation before I left for dinner, and turned off the smart lights in my living room using my voice. However, there are some limitations compared to Amazon's smart speakers. For example, like the Sonos One, the Move does not support calling or the Alexa Drop-In intercom function. Still, it can use most of the best Alexa skills.
Battery Life
The battery life of the Move makes Sonos' promise of 10 hours on a full charge a reality. For this review, I played different genres at different sound levels non-stop from 10 a.m. until 10 p.m. when I spent my day. The battery was drained by 10% every hour. The Move switches to suspend mode when not in use, allowing the battery to last up to 120 hours, according to Sonos. When the juice ran out, I charged the Move by setting it to the included ring power base.
However, it can also be charged on the go with a compatible USB-C travel charger. However, unlike some other Bluetooth Smart speakers, you cannot use the Move's battery to charge other devices.
Sonos Move Review: Performance
When it comes to technical speakers, Sonos has an excellent track record. The Move offers a pleasing listening experience with its tweeter, woofer, and two amplifiers. Depending on your preference, the speaker can provide subtle background noise, booming dance bass, and everything in between. Even at its loudest, the Sonos Move sounded balanced by Billie Eilish's "Bad Guy" pounding out. On the roof of my apartment building, the music of the Move filled the elevated open air.
At full volume, the neighbors on the other side of the patio came to inquire about the party. What they found was that I, alone, played Spotify's "Dance Hits" radio through an incredibly powerful speaker. When it comes to listening options, the Sonos Move offers 100 streaming services controlled from the Sonos app, using voice or Apple AirPlay 2. But only if the device is connected to your Wi-Fi. Once you switch to Bluetooth, you can only play the audio directly from music service apps such as Spotify and Pandora.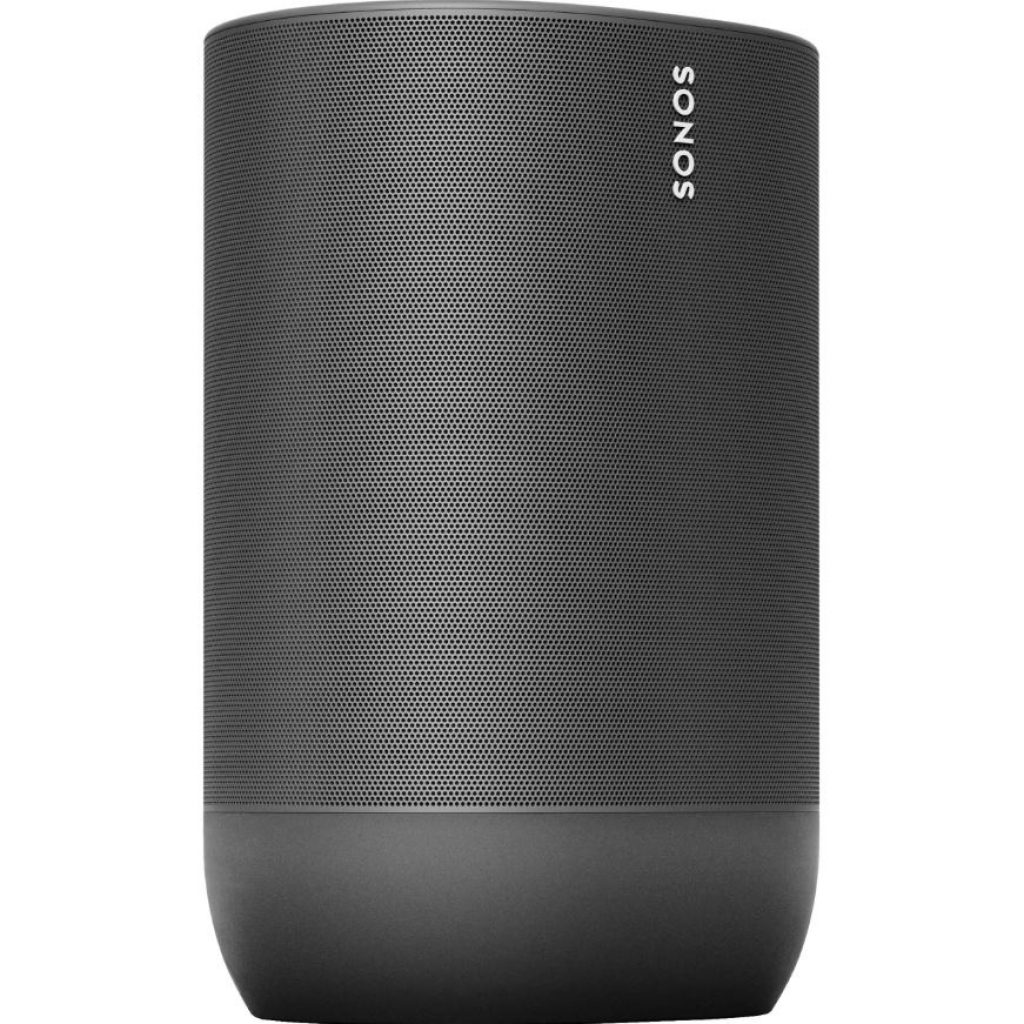 Most smart speakers need Wi-Fi to work, so they become less useful when you're out of range of a network. Sonos has solved this problem by installing a switch in the Move that allows users to choose whether they want the speaker to work over a Wi-Fi or Bluetooth connection. Pressing the button will remove the default Wi-Fi control, allowing users to pair their smartphone with the Move.
But once you're in Bluetooth mode, you no longer use a smart speaker. Apart from Sonos' quality sound, it's the same as any other portable speaker. Alexa and Google Assistant are checked at the door of your home Wi-Fi, and the Sonos app is rendered useless. You can't even pair two different devices to it for multiple DJs.
Price and Availability
The Sonos Move costs $399.99 and is for sale as of this writing. It was initially launched in a single, Shadow Black finish, but Sonos has since added a Lunar White option with UV protection. That's pricey for a portable speaker – but this isn't your average Bluetooth boombox, making it hard to place next to any direct competition. Few portable speakers, even those with smart built-in assistants, have such a rich feature list as the Sonos Move, so a higher price tag is more natural to justify.
Sonos Move Review: Conclusion
The Sonos Move is a reliable smart speaker, but I would call it a smart wireless speaker before I call it a portable one. It's handy to transport it at home and outdoors, but the weight and lack of intelligence of Bluetooth mode would discourage me from picking it up for a day trip. Still, it deserves a best portable smart speaker, and the Move makes a convincing argument with its incredible audio quality and Auto TruePlay feature.
It's against the bucket-treated Bose' Portable Home Speaker ($349), which also has in-built support for Amazon Alexa and Google Assistant. The Sonos One is still a better option as an in-house smart speaker; however, the Move adds a much sought-after, dynamic alternative to the Sonos lineup.
Our Verdict
The Sonos Move marks the next evolution of smart speakers. With Auto TruePlay spatial tuning, a rugged design, and built-in virtual assistants, it's an excellent audio device for indoors and out.
PROS
Superb audio quality
Built-in Automatic TruePlay technology
Easy Wi-Fi-to-Bluetooth connection conversion
Comprehensive durability
CONS
Pricey
No smart features in Bluetooth mode
Heavy for a portable device