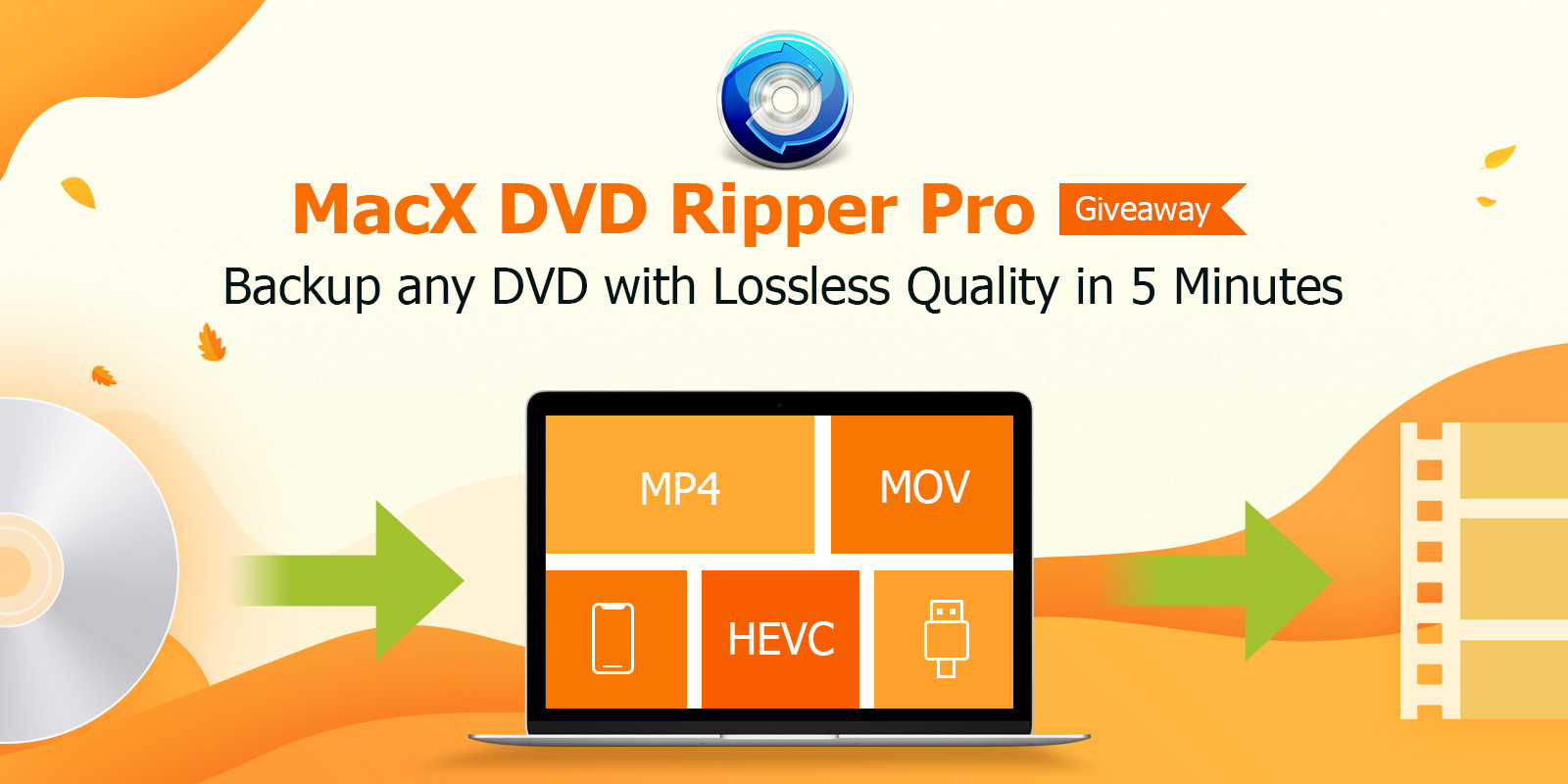 Digiarty was founded in 2006 and is a software company specialized in multimedia software solutions. Their range is extensive and available for both Mac and Windows users. MacXDVD Software offers a wide range of award-winning DVD backups, video converters, video downloader, iPhone management tools, etc. For Mac users, including MacX DVD Ripper Pro, MacX Video Converter Pro, MacX MediaTrans, MacX YouTube Downloader
What Is MacX DVD Ripper Pro?
Mac X DVD Ripper Pro is currently the best DVD Ripper for Mac users to rip any format at high speed (5 min. Only to rip a full DVD) and original quality. It supports all known DVDs (new DVD, 99-title DVD, damaged and unplayable DVD) and rip DVDs / ISO images in a variety of formats, including DVD to MP4, HEVC/H.265, H.264, MOV, FLV, MPEG4, AVI, QT, MP3, etc. With more than 350 preset profiles, the DVD ripper makes it easy to convert DVDs for viewing on iTunes, QuickTime, Apple iPhone iPad, Android, PS4, TV, etc.
You can also clone a DVD to ISO image with a ratio of 1: 1 and copy a DVD title to MPEG2 and MKV with all videos, audio, and subtitles.
Why MacX DVD Ripper Pro Is The Best?
There are many reasons that we consider the MacX DVD Ripper Pro to be the best DVD Ripper for the Mac Users, currently in the market. Let us discuss them one by one:
Simple User Interface
The interface of MacX DVD Ripper Pro is simple and clear. Though one thing I would otherwise like to see is that when ripping is active, the ripping overlay cannot be moved to display the information below. You can no longer check whether you have chosen the 'merge titles', yes or no. Now you just have to wait for the end result instead of breaking off the ripping and correcting your choice. That is the only real thing I think wise about design. It covers every aspect of DVD Ripping and, in my opinion, offers all the options that one needs. So happy with the interface layout, we checked the options in the menu.
A Lot To Offer
Convert DVD to iPhone, iPad, iPod, Apple TV
Trim, Crop, Merge, Add External Subtitle
1:1 Copy DVD to ISO Image, MKV, MPEG2
Upload DVD Videos to YouTube, Metacafe, Break
Adjustable Parameter Settings for Advanced Users
Extract Audio and Snapshot Images from DVD
Advanced Tech to Optimize the Ripping Process
World's No.1 Fast Speed and High Quality
How Does It Work?
MacX DVD Ripper Pro makes all of this almost child's play, with a new, improved interface designed to reflect the new style of MacOS Sierra. You can even convert a DVD for use on an iPhone without losing the quality in just four simple steps:
Launch MacX DVD Ripper and place your DVD in your DVD drive. Now click the DVD button in the upper left corner, select your drive from the drop-down menu and click OK.
The program spends a few seconds analyzing your drive and then gives you a selection of preset output profiles to choose from. You can choose your iPhone from the range of Apple devices, choose a popular file format like MP4 or choose a preset value for your Android or Windows phone or tablet. Choose a category on the left and then an option on the right. Then click Done.
Now select the title you want to rip. By default, MacX DVD Ripper Pro will choose the main feature of a movie disc, but you can choose another title or click on the merge titles. Switch them to select multiple titles and insert one. Click edit to crop or crop the video by length. If you only want to take a short sequence, you do not have to rip the entire film.
Browse to or open a destination folder on your Mac and set your options at the bottom right. Select High Quality and Deinterlacing to get the best results, or check Safe Mode if you ever have trouble to rip an uncomfortable disc. You can also select how many CPU cores to allocate to ripping. For example, you can assign two cores of a quad-core processor to rip and leave two free to surf the Internet or to do some work. Otherwise, your MacX DVD Ripper Pro could have all four cores and could do its thing at a higher speed.
Click on the Run button and the package will get started. Your DVD will be ripped in no time.
Final Words
MacX DVD Ripper Pro is one of the best DVD rippers available today. It has all the options you need for a clean and fast DVD rip. In fact, MacX DVD Ripper seems to be really fast, it beats competitors with 29% – 100% faster ripping. Great speed and excellent output quality make this application the only one to buy. It is a fair price for an application that is so good. It tears any encryption or protected disk and also makes 1:1 copies. Nothing is perfect in life, but the MacX DVD Ripper Pro is the best in its class if you want extensive control.
And to make you much more exciting and happy, the Company is organizing a giveaway in which you can get a free license key from MacX DVD Ripper Pro until December 10th. (The giveaway version does not contain a free update service). Meanwhile, everyone has the chance to win a $30 iTunes gift card every day by sharing this Black Friday giveaway with Facebook or Twitter. The Company will announce a new winner every day at the bottom of the giveaway page. So, we encourage all of you to take part in this giveaway contest by visiting the company's official website here.