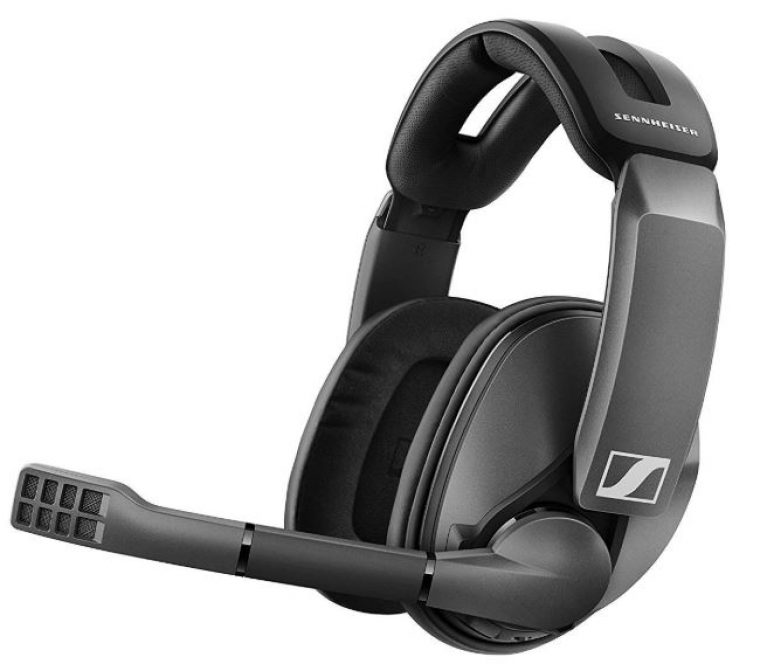 Sennheiser GSP 370
Last updated on April 20, 2021 10:27 pm
Sure, it's a bit ugly-but Sennheiser's new GSP 370 wireless headset sounds great, and it can go on for weeks on a single charge.
PROS:
Great Battery life
Offers Sennheiser's typically excellent audio
Lightweight and comfortable
CONS:
Bulky and drab
Software is still a bit rudimentary
Mediocre 7.1 implementation
I'm not sure if the Sennheiser GSP 370 has an industrial-chic look, or is just oversized. The black plastic chassis has many rounded corners, with oval ear cups, a padded open headband, and a large, bulky, non-removable microphone on the left ear cup. The microphone is extremely ugly – something that would have been removable or retractable – but because the headset isn't meant for outdoor use, it's not very practical. The re's an on/off key on the left earcup with a convenient auxiliary function.
Pressing the button once turns the gadget on. Pressing it a second time will tell you how much battery there is left with a color indicator (dark green for a full charge, then light green, yellow, orange, and red when empty). It's a cool feature and removes the need to handle complicated software to get a battery check. The re's a volume control on the right ear cup – and that's about it. Many other gaming headphones feature microphones, game/chat mixers, programmable buttons, and colorful LED strips, and I admire the simplicity of the GSP 370.
The GSP 370 isn't uncomfortable, exactly, but it's hard to get a good fit. The large size and uncharacteristic shape of the ear cups make it challenging to get a seal around the ears. Although the GSP's plush ear cups and padded headband don't press too tightly together, it always feels like the headset is about to tip forward or even fall off. The GSP 370 sounds great with just about any game. I have tested the headset with a variety of games, including Overwatch, Thronebreaker: The Witcher Tales, Age of Empires II: Definitive Edition, and Final Fantasy XIV.
Whether set to a flat profile or game compensation, in stereo or surround sound, on a PC or a PS4, the Sennheiser GSP 370 sounded brilliant. To get the most out of the GSP 370, you need to download the Sennheiser Gaming Suite for your PC. The software is a bit bare compared to software packages like Razer's Synapse and the SteelSeries' Engine. Unlike the Sennheiser's Gaming Suite, each of those programs allows you to create individual game profiles and synchronize your headsets with related keyboards and mice.
In theory, the Sennheiser software still works well enough. You can change between stereo and 7.1 surround sound, as well as choose from pre-programmed equalizer options or create your equalizer. A nice bonus is that you can adjust the level of reverb on the surround sound, a feature which many headsets desperately needs. Read more in our Sennheiser GSP 370 Review
Specification:
Sennheiser GSP 370
| | |
| --- | --- |
| Part Number | GSP 370 |
| Model | GSP 370 |
| Warranty | 2 year warranty |
| Color | Black |
| Release Date | 2019-12-12T00:00:01Z |