In the four years since the launch of the Bose QuietComfort 25, they've launched the Bose QC35 II, the Bose Noise Cancelling Headphones 700, and the leading Sony WH-1000XM3 – but the QC25s are among the best noise-canceling headphones we've seen. One of the reasons they're still one of our favorite headphones is because they're of great value. And while they have their drawbacks, such as being wired, they continue to outperform almost every other noise-canceling headphones in the areas that matter. This is our Bose QuietComfort 25 Review.
$269.99
in stock
2 used from $269.99
Last updated on July 21, 2021 8:23 am ⓘ
That said, these are fabulous headphones that can keep outside noise at bay while you peacefully enjoy the sound of your 3.5mm jack-equipped mobile device.
Bose QuietComfort 25 Review: Design
The arrival of the Bose QuietComfort 25 headphones coincided with Bose's 50th anniversary, and a look in the mirror revealed that their product line needed to be refreshed, made more accessible, and stylish for a new generation. Packaged in a leather zip-up carrying case, the headphones lay in a sporty pose, all riffing off this new injection of style. The design of the QC25 is similar to that of the QC15 headphones from years ago and offers many subtle improvements over its predecessor.
Bose has refreshed the headband materials with cotton and felt combo that is less likely to become warm and cushioned by continuous use, thus moving away from the leathery, executive style of the QC15. The new materials look decent but do nothing to reduce the "headphone hair" you inevitably get when you use them for more than half an hour. The headphone cups have been overhauled. Sealed with automotive-grade paint, the signature ovular over-the-ear cups have done away with the roundness found on the QC15 and incorporated some sharp looks in place.
On my review unit, accents of black, charcoal, and blue provide a lovely palette of plastics. A beautiful design that captures what I hate about most headphones, that I often find it too difficult to say which ear goes where. With the QC25, a large "L" and "R" are etched into the sporty loudspeaker network. Each headphone has unique features, making it easy to distinguish which ear it should be on after some practice. The left cup has an extra port, the contact point for the supplied 3.5 mm cable with inline control.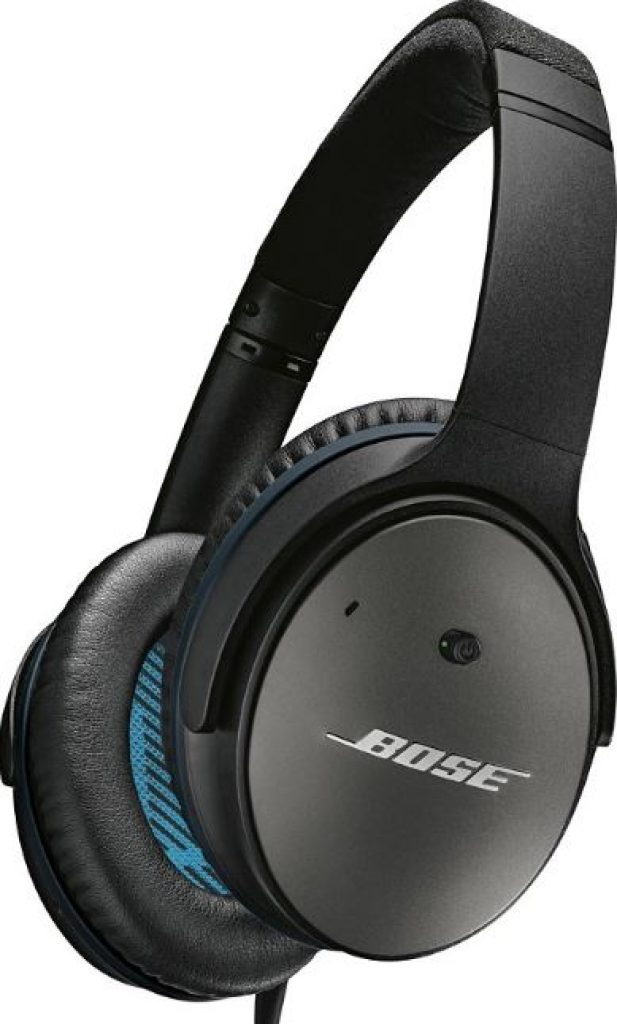 If you want to pause a song, adjust the volume, or ask Siri a question, it's on your left. In the right cup is the noise cancellation button, so if you are annoyed by the outside world, the control is on the right side. For an extra $100, a quarter of the total price of the device, you can adjust the color of the QC25 headphones. I found the stock options attractive enough for my taste, and there's no denying how cool you can make the custom headphones look, but that price seems like a beating to me.
Bose QuietComfort 25 Review: Performance
In the past, using the Bose QuietComfort 15 meant that the noise cancellation had to be on; otherwise, you wouldn't hear anything. It was a bum to shout out the money and get stuck on this "all-or-nothing" riddle. Fortunately, Bose addressed this problem by allowing the QC25's to be used without noise cancellation and batteries.
The sound of the Bose QuietComfort 25 is exemplary. The low, medium, and high tones come through as clear as a lump and never step on top of each other. Music of all kinds sounds predictably incredible. With noise cancellation, I would consider it a virtual reality for your ears. I've never felt so immersed and concentrated as I did when I let the QC25 flood my ears. I played some games on my PC, and the results were fantastic and memorable. Near the tail end of Batman: Arkham City, the QC25 pulled me further into an extraordinary trippy series.
With the noise cancellation off, these headphones still pump out a respectable sound with all the highlights I mentioned earlier. There are times when the noise cancellation makes me a little too focused, and once I've turned it off, I feel like I've stepped out of cryosleep, so it's great to have the ability to listen to music with the noise cancellation turned off.
Battery Life
With an AAA battery in it, I found the noise cancellation to be extremely effective at emitting ambient noise, and it kept me free of distractions for longer than I knew it was possible. It is possible to use the noise cancellation up to 35 hours per battery, but I was able to squeeze more time out of mine.
Bose QuietComfort 25 Review: Conclusion
The Bose QuietComfort 25 brings out nothing but the best in my media. They're a unique piece of technology because not only do they give a first impression, but they offer it with every use, over and over again. If you're serious about sound and want to hear your favorite movies, music, and games in a new immersive way, or if you just want the best range of noise-canceling headphones you can get for $300, QC25 is for you.
Our Verdict
The Bose QuietComfort 25 offers a luxury set of noise-canceling headphones that offer an unparalleled audio experience worth the price of admission.
PROS
Full sound
Stunning noise-cancellation
Doesn't require a battery for use
CONS
Color customization costs extra $100
Showing their age a little