Vivoactive is Garmin's range of touchscreen fitness watches. Back in the Vivoactive 3 days, this was a great slimmer, smaller alternative to the Forerunner and Fenix watches. But Garmin has made his watches much more accessible to real running nerds in recent years. The Forerunner 645 Music is small and looks good, and the Phoenix 6S is not a wrist dominator like the larger Phoenix models. But today, we are here with our Garmin Vivoactive 4 Review.
The Vivoactive 4 is still considerably cheaper than most Fenix and Forerunner alternatives, and smart changes to the controls mean that you have much less chance of accidentally pausing and stopping following the exercises with touchscreen swipes and prods. It's a great fitness tracker, as long as you're happy to miss some of the month-to-month monitoring statistics offered by the Phoenix and Forerunner watches.
Garmin Vivoactive 4 Review – Design
Dimensions of 45.1 x 45.1 x 12.8 mm
5ATM water resistance
Gorilla Glass 3 screen protection
The Vivoactive 4 is quite similar to the Vivoactive 3 and Forerunner 645. A strap made of silver, but not chrome shiny, the metal around the edge of the watch. The screen is protected by Gorilla Glass 3 tech, but it is not recessed like the Fenix 6's, making it slightly more vulnerable. However, every bit of this protection adds to the size of a watch. We switched to the Vivoactive 4 using the Forerunner 645 Music. It's the watch we use to track runs from week to week.
The Vivoactive 4 is bigger, and that's also considerable. But buy a Vivoactive 4S if a slim watch is what you want because it has similar features with a slightly smaller screen and a battery. This is a comfortable watch to wear, but here, too, the Forerunner 645 wins a little. The standard silicone strap of the Vivoactive 4 is thicker and has less "give" than that of the Forerunner. The lighter and smaller a watch is, the less chance you have of even noticing it on your wrist after a few hours.
We tend to take the Vivoactive 4 off for a few hours every day. You will only end up with notches on your wrist if you put the strap extra tight. You don't have to take it off, except for recharging, if you want to wear it all day. The Vivoactive 4 has 5ATM water resistance, enough to not only shower but also swim.
Interface and Controls
Improved touchscreen implementation
Reasonably simple, flat interface
Two hardware buttons
The Vivoactive watches have fewer buttons than the Fenix and Forerunner series because they are a touch screen tracker. However, Garmin has placed two buttons on the Vivoactive 4 instead of the Vivoactive 3. This is probably a reaction to complaints; it is far too easy to pause or end a workout with the Vivoactive 3 accidentally.
During the workout, the Vivoactive 4 screen is used to scroll through the information screens. But to pause and stop following, use the buttons. The result? We've had zero of the problems experienced by many Vivoactive 3 owners. You could assume that the Vivoactive 4 feels more like a smartwatch than the very exercise-oriented Forerunners and Phoenix products. However, the interface is much the same here.
You flick up and down from the watch face to access both the additional information screens and apps. The Vivoactive 4, like other Garmins, uses the Connect IQ app store to add software to the watch. A few years ago, we thought that this app store could get more of the kind of apps you see on Wear OS or an Apple Watch. But this interface shows that that's not the intention.
Garmin Vivoactive 4 Review – Display
1.3-inch 260 x 260 transflective MIP screen
Clear in bright sunlight, needs front light indoors
Always-on display
The Vivoactive 4 has a 1.3-inch screen with a resolution of 260 x 260 pixels, the same specifications as the Fenix 6. This screen won't look too impressive for those who haven't had a Garmin or similar watch before. These are transflective screens, which means they reflect light so that they become brighter on a clear day. This is the polar opposite of the LCD and OLED screens used in many other smartwatches. They need to increase the brightness to compete with sunlight, rather than being "powered" by it.
The Vivoactive 4 also emits light so that you can see the screen in a dark room. But this light only comes on when you touch the watch or when you give the watch a wrist movement to your face. This screen consumes very little power when not lit and displays its contents 24 hours a day, 7 days a week until the battery is empty. This is still the best type of screen for outdoor training. You don't have to worry about moving your wrist so you can see your pace in the middle of the lap. It's just there, on the screen, all the time. And there's no load on the battery.
Garmin Vivoactive 4 Review – Tracking
Reliable tracking of location and heart rate
Broadcast HR mode needs work
The screen is excellent for mid-exercise start checking
The Garmin Vivoactive 4 is a unique fitness tracker. By switching from the Forerunner 645 Music, you get several stats to pore. There's Pulse Ox, which measures SPO2, Body Battery, and Respiration. We're digging some more in here. But the missing part might be more important to some of you. It's called Performance Condition, a statistic that assesses how well you're doing compared to your baseline every time you follow an exercise.
This is roughly assessed by mapping the heart rate against the effort. It's not always 100% reliable, but it's a great motivational stat when using the Forerunner, and Phoenix watches. If we run a Forerunner while we have a hangover or light under the weather, you can bet that the Performance Condition will pick it up and end up with less-than-stellar numbers. Garmin could have added this stat to the Vivoactive because it doesn't depend on a particular sensor. Garmin left it out because this is meant as a sport or so among the higher Forerunners, and we miss it.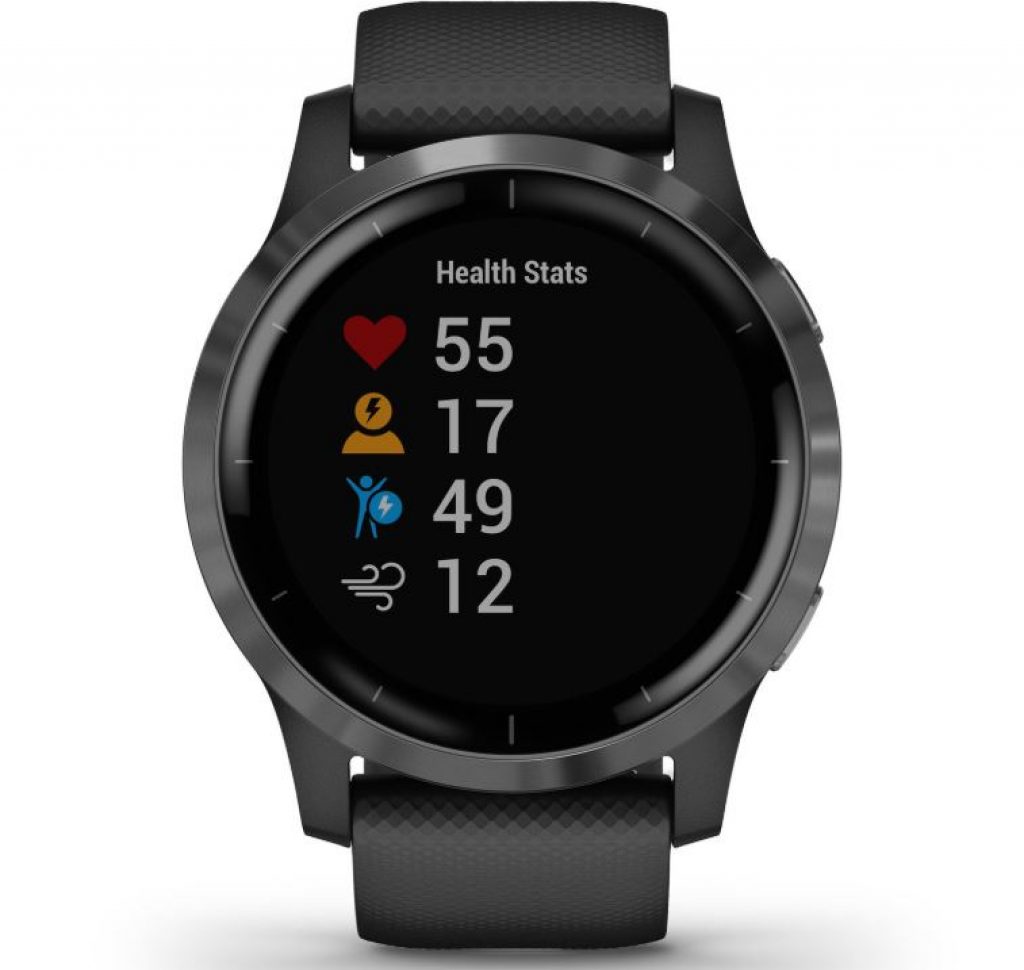 The Vivoactive 4 also misses the "training load" statistics, as seen in the Gamin Connect app with a Forerunner. This tells you if you've worked hard enough over the past seven days to improve or maintain your fitness. And at the end of a workout, it doesn't tell you the recommended interval for re-training, based on the strength of the exercise. Do you want your tracker to increase the pressure and inform you when you're not working out, even if you train regularly? The Vivoactive 4 does not do this to the same extent as a Phoenix 6 or Forerunner 645.
However, the basics are solid. The GPS tracking looks just as good as a Garmin watch. It sometimes seems like you're on the wrong side of the road, or suggests that you've walked through a building, but the connection is solid, and GPS lock-on happens within seconds after the first triangulation in an area. The heart rate measurement is usually right, with one obvious problem. The recording during training is reliable for a wrist-tied sensor.
The Vivoactive 4-tracks change effort fairly quickly during running. There are no unexpected dips or peaks, and Garmin doesn't smooth the data so much that it becomes an artist's impressionistic recording of your heart rate over time. It's usually a little slower on the update during the first few minutes of tracking, but this is nothing new.
Broadcast mode is where we had problems. This is where the Vivoactive 4 broadcasts its heart rate data over ANT+ to effectively behave like a heart rate belt. We used this mode for an indoor cycling session on Zwift, and it failed. The heart rate reading should have been around 137-150bpm most of the time, but it was around 90-100 for a full hour. Whatever algorithm Garmin is currently using for the broadcast mode, it doesn't seem to be working very well.
With Vivoactive 4, you can keep track of a huge number of exercises, more than 20. And others can be added via a Connect IQ download. Some have different views of data, the bits you see on the screen while tracking. But there are also some more in-depth things. The Vivoactive 4 has wave tracking complete with data for specific courses. And the watch can behave like a coach through Garmin's Workouts. These tell you the exercises you need to do, right on your wrist, and are most useful for gymnastics training.
Vivoactive 4's large screen is also an excellent canvas for training data. During running, for example, the default display shows the duration, distance, speed, and heart rate. They are all conveniently arranged on one screen. It seems less cramped than our usual Forerunner 645, even if the shift from a 1.2-inch display to a 1.3-inch display doesn't sound as big. There's no Garmin Performance Condition stat to look like there are on top-end watches. That means Vivoactive 4 lacks intuitive performance monitoring from week to week.
The Vivoactive 4 also measures how many times you breathe in a minute during the day. It does this algorithmically, using your heart rate and heart rate variability. We did not find this data particularly useful, such as Pulse OX.
Other Features
Music support is welcome if a bit clunky
Garmin Pay lacks support in the UK
Limited app library
Music is perhaps the most crucial extra of the Vivoactive 4. There is a $50/£50 price difference between the standard Forerunner 645 and Forerunner 645 Music, but here you get standard music streaming. And that means 3.6GB of storage to add podcasts, playlists, and albums. You can connect your Vivoactive 4 to a laptop to add files manually. The file system appears when you do, and there are separate folders for podcasts and music.
The band also supports Deezer and Spotify, which require a Premium subscription to both services. Judging from the many one-star app reviews on Connect IQ, Garmin hasn't made the process of linking your account smooth enough. We also had to work on it for a while. Once the Vivoactive 4 app is installed, you'll need to dig into the watch's settings menu to find the music provider's setting, which then proceeds to your phone to ask for your account pairing. But why can't we do this directly from Connect IQ?
Garmin's music service integration is awkward. But once you're up and running, it works perfectly and implements even small interpretations of album art. There's no speaker on Vivoactive 4. You plug in a wireless headphone right away, so you can work without your phone. Garmin Pay is the other technical function. It allows you to make wireless payments, such as Apple Pay or Google Pay. In the U.S., it supports several major banks, including Chase, Bank of America and Wells Fargo. British buyers are less lucky. Santander is the only known name on the list.
The watch can also handle some smartwatch basics. Notifications from your phone apps come through, and you can choose which to do, if applicable. The Vivoactive 4's screen is a perfect way to read an email header or a quick WhatsApp message, and you can reply to them with pre-specified canned replies. You can't dictate messages through a microphone or talk to a digital assistant here. We meant it when we said, "smartwatch basics."
There are also weather screens, your upcoming calendar items, and you can keep track of your water usage if you want to. Connect IQ also lets you add more of these micro-apps. Our advice: don't treat the Vivoactive 4 like a smartwatch, or expect it to do much more than just simple things.
Garmin Vivoactive 4 Review – Battery Life
Garmin says the Vivoactive's battery lasts 4 to 8 days of standard tracking, with no use of GPS, for 6 hours of GPS tracking with music, or up to 18 hours without music. It took four days for us, including two hours of GPS use during two run sessions and another hour of heart rate transmission for an indoor cycling session. We didn't stream any music during the runs. Our real-world experience is a lot less than Garmin himself claims, given that our GPS usage only uses up to 11% of the battery according to official specifications.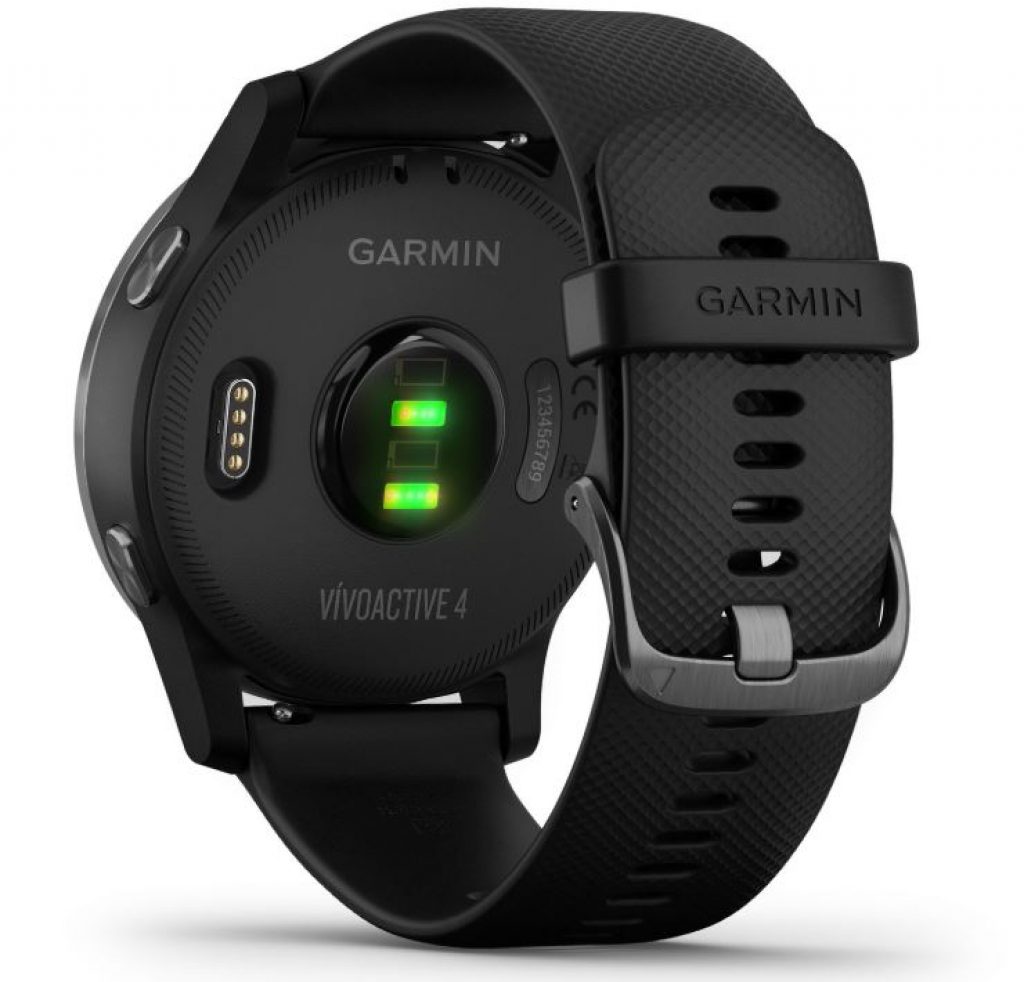 However, the lifespan of the Vivoactive 4 is slightly better than that of the smaller Forerunner 645 Music. And when we were looking at the watch, we probably played with the interface for more than three months to own it. Exercise every other day, and it should take a little over half a week, at least. Still, there's no real progress on battery efficiency here, and the Vivoactive 4 can be seen on the Huawei Watch GT 2. It will last more than a week, even with several GPS tracked runs.
The Vivoactive 4 uses a plug-in charger, a small proprietary cable just like the Vivoactive 3 and Fenix 6. Charging from zero to full takes about an hour.
Price and Configuration Options
The Garmin Vivoactive 4 was announced at the IFA conference in September 2019 and is a sequel to the Vivoactive 3 of 2017. You pay around $349.99 for one. That's slightly less than the cost of the Garmin Forerunner 645 Music, and charges less than a Forerunner 945 or Phoenix 6. This is an excellent route to Garmin-grade tracking without blowing a big hole in your finances. However, at least consider the older Vivoactive 3 in early 2020. It has older hardware, which has real effects, but at $171, it is a bargain.
Garmin Vivoactive 4 Review – Conclusion
Do you want to force yourself to shave seconds off your minutes per mile every month? Or do you want to concentrate on your performance during a session? A Garmin Forerunner is probably a better watch than a Vivoactive 4. The Forerunner 645 Music is the obvious alternative. However, if you care more about general fitness and would like to take some of the pressure off yourself, then the Vivoactive 4 is excellent. It costs less than the Forerunner models, supports music streaming, and harvests a lot of the same raw data as Garmin's most expensive trackers.
Our Verdict
The Garmin Vivoactive 4 brings the tech smarts of the watches used by the ultra-marathon-running elite into more accessible portability.
PROS
Great exercise tracking, with full GPS
On-watch music streaming
Stacks of stats
CONS
ANT+ HR broadcast mode does not work well yet
Spotify/Deezer integration should be more friendly