The LG Gram 14 2-in-1 we reviewed last year was not a fluke. After a shaky entry into the laptop market, LG has proven that it can make a laptop as good as any other. The latest Gram 14 2-in-1 is the best yet, with epic battery life and lightweight design with military durability – a significant change from the thin paperweights that LG sold just a few years ago. This is our LG Gram 14 2-in-1 Review.
$1,416.00
in stock
6 new from $1,416.00
1 used from $1,196.00
Last updated on August 5, 2021 2:06 pm ⓘ
The only major flaw in this laptop is the bad speakers and the high price. And while the design isn't the best and everything else about the laptop is just decent, the LG Gram 14 2-in-1 is a practical choice for anyone who desires a 2-in-1 laptop with a large display in a feather-light chassis. For these reasons, the LG Gram 14 2-in-1 is one of the best 2-in-1 laptops available.
Specifications
LG Gram 14 2-in-1 Specs
Price:
$1,599
CPU:
Intel Core i7-10510U
RAM:
8/16GB
Storage:
256/512GB/1TB SSD
Display:
14-inch, 1080p
GPU:
Intel UHD
VRAM
N/A
Battery life:
14 hours
Size:
12.8 x 8.3 x 0.7-inches
Weight:
2.5-pounds
LG Gram 14 2-in-1 Review: Design
You'll know why LG calls these laptops Gram as soon as you hold one. If we categorize laptops according to the weight class of the boxers, this laptop is hardly suitable for a bantamweight. It's not stylish, but it's simple, the understated design will appeal to those who prefer to blend their gadgets into their environment. On the lid is a small chromed "gram" logo etched into the dark grey magnesium alloy surface.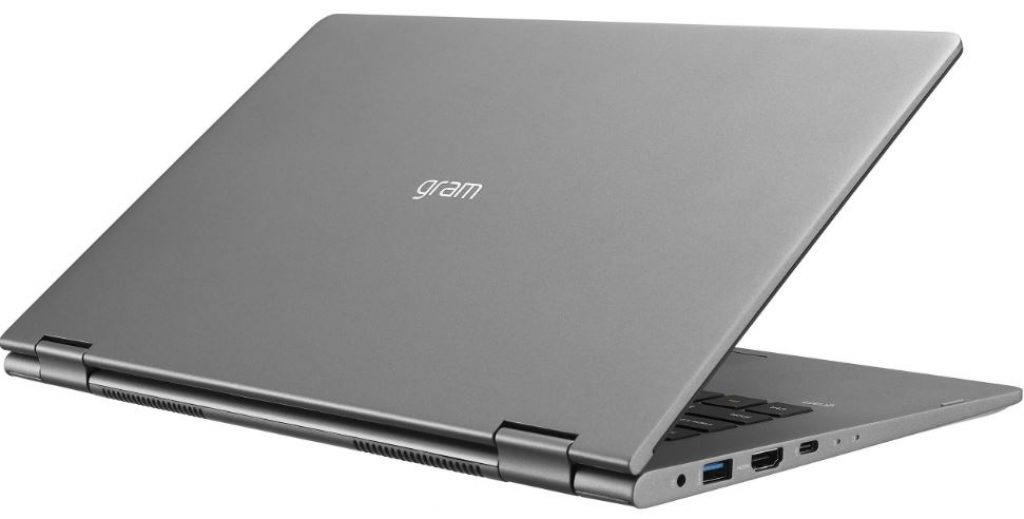 Open the lid, and you'll find more of that slate color on the deck and touchpad. The keyboard covers are black with white font and use orange text to identify shortcut commands. The front of the laptop has a small notch for opening the lid with one finger. Yes, I'm super specific, but those little details contrast with another pedestrian design. As a 2-in-1 laptop, the LG Gram 14 can be folded back into a tablet or placed in the tent position for watching movies or Powerpoint slides without the keyboard getting in the way.
The hinge feels secure, and yet it's not difficult to push back. If you've heard stories about the questionable durability of former LG Gram laptops, don't worry, these latest models feel solid; there's still a little flex in the lid, but it's not nearly as bad as older models. Besides, the Gram 14 2-in-1 MIL-STD-810G has been tested to withstand harsh handlings such as shock and exposure to low pressure, low/high temperatures, and dust.
Take note of laptop makers; this is how it's done. In a segment where the ports are at risk, the Gram 14 2-in-1 has almost everything you need to connect peripherals, project your laptop's screen onto a monitor or TV, or upload images from a DSLR. On the left side of the device are a USB 3.1 Type-A port, an HDMI 2.0 port, and a Thunderbolt 3 input. There's also a USB-C-to-Ethernet dongle in the box. To the right, there's a second USB 3.1 port, a lock, a headphone jack, and a micro-SD card slot.
Keyboard and TouchPad
The keyboard of the Gram 14 2-in-1 is ideally suited; the keys are a bit stiff to my taste, but there is a snarl in it and a satisfactory operating hump. I hope LG will find a way to add more travel because, like most ultra-thin laptops, these keys are quite shallow. I also don't like the undersized backspace button, especially since there's enough space on each side of the keyboard for bigger keys and even for the top-firing speakers. However, LG does deserve praise for the inverted T-shaped arrow keys, which are easy to find without looking down.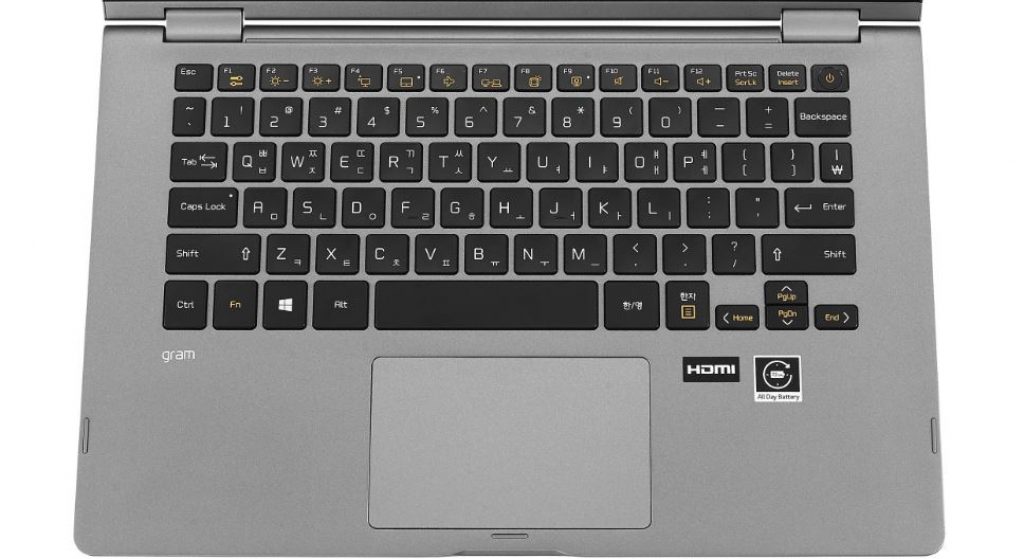 I looked at the on/off button (which also serves as a fingerprint sensor) with contempt from the moment I opened Gram 14. My grudge for on/off keys built into keyboards is well documented. And although LG has fallen into this trap, the on/off button on the Gram 14 2-in-1 is not a problem because it's flatter than the keys around it. So I had no problem identifying and resisting my urge to touch it when I got to the delete button.
I had no problem using the 4 x 2.5-inch glass touchpad to browse the web and perform various Windows 10 gestures, including pinch-to-zoom and two-finger scrolling. Most importantly, the Precision drivers kept track of my erratic swipes as I moved my cursor from one corner of the screen to the other.
LG Gram 14 2-in-1 Review: Display
This 14-inch, 1080p display on the LG Gram 14 2-in-1 is excellent, even if it doesn't break any barriers. Would I have liked a screen as delightful as my LG 4K OLED TV? Sure, but with an excellent 1080p panel, the Gram 14 2-in-1 delivers a satisfying viewing experience without sacrificing battery life or price. When I watched the trailer for Free Guy, the colors on display were so vivid that I feared what would happen to Ryan Reynolds' sky blue shirt if a single drop of blood dripped down his nose.
It's not a 4K panel, but the 1080p screen is still sharp enough. I could see small pieces of glass floating in the air when Reynolds and Jodie Comer drove an engine out of a window. We put a colorimeter on the screen of the Gram 14 2-in-1 and measured an sRGB color range of 108%. That's a reliable result, but the screens of the Acer Swift 5 (120%), the Dell XPS 13 2-in-1 (113%), and the Asus ExpertBook B9450 (117%) were all livelier. And none of these devices reached an average of 123%.
With a peak brightness of 306 nits, the panel of the Gram exceeded the Acer Swift 5 (296 nits) and the Asus ExpertBook B9450 (302 nits), but the display of the XPS 13 2-in-1 goes up to 512 nits, and the category average is also brighter (368 nits) than the Gram 14.
LG Gram 14 2-in-1 Review: Stylus
LG provides its active Stylus Pen with the Gram 14, and it's a good one. The stylus, also known as the Wacom AES 2.0, is comfortable to hold and has 4,096 pressure levels so you can draw precise lines. The stylus also has tilt detection for line variation, and battery life is estimated at 18 months of use. I used the Nebo for LG app to make some notes. First of all, it took me through a handy tutorial that showed me different gestures you can make with the pen, such as removing letters and words by scratching them out or different letters by drawing a line through them.
After proving my expertise on the app, I scribbled several notes that looked no less legible than my regular handwriting. There is a clip and two programmable keys on the Stylus. Unfortunately, I had no luck reprogramming those buttons using the stylus settings of Windows 10, and I didn't figure out what they do out of the box either.
LG Gram 14 2-in-1 Review: Audio
The dual speakers at the bottom of the Gram 14 are one of its ailing features. When I was listening to Phoebe Bridgers' "Kyoto," the guitar sounded distorted, and her supple vocals were muted and sharp. The drum hits lacked weight, and while the Gram was filling my living room, my ears were screaming for me to listen at maximum volume. I gave it another chance for redemption by listening to Glass Animals' "Your Love," but the Gram only confirmed the limitations of its speakers; the complex synths sounded like they came from a speakerphone.
LG Gram 14 2-in-1 Review: Graphics
Our review unit came with an Intel's Comet Lake processor, so it's stuck with integrated UHD graphics. And by stuck, I mean you can't play games on anything other than low graphics. Even then, some AAA titles are about to remain unplayable. Take Sid Meier's Civilization VI: Gathering Storm as an example; The LG Gram 14 2-in-1 played this game with only 10 fps (frames per second), which is nowhere near our 30-fps threshold or category average (20 fps).
And while the LG Gram 14 has just enough torque to play Dirt 3 (33fps), it can't keep up with Swift 3 (51fps) or XPS 13 2-in-1 (41fps). If the graphics matter more to you than the performance, LG sells the regular Gram 14 with Ice Lake chips and Intel's Iris Plus graphics. These chips offer modest graphics performance, but they still cannot be compared to discrete graphics.
LG Gram 14 2-in-1 Review: Performance
The LG Gram 14 2-in-1 proves that you don't need the six-core Intel Core i7-10710U to get excellent real-world performance. Our unit relied on an Intel's Core i7-10510U CPU with 16GB RAM. The laptop wasn't lagging at all when I streamed the Bundesliga match between FC Bayern and Dortmund FC, with 20 Chrome tabs open in the background. I even played a few 1080p YouTube videos with the game running in the background, and the LG didn't skip a beat.
The Gram 14 2-in-1 did well on our benchmark test, although other ultra-portable laptops can deliver a bit more raw performance. The LG Gram 14 scored a 14,639 on the Geekbench 4.3 overall performance test, outperforming the Asus ExpertBook B9450 (13,653, Core i7-10510U) but losing to the Acer Swift 5 (15,097, Core i7-1065G7) and the Dell XPS 13 2-in-1 (19,225, Core i7-1065G7).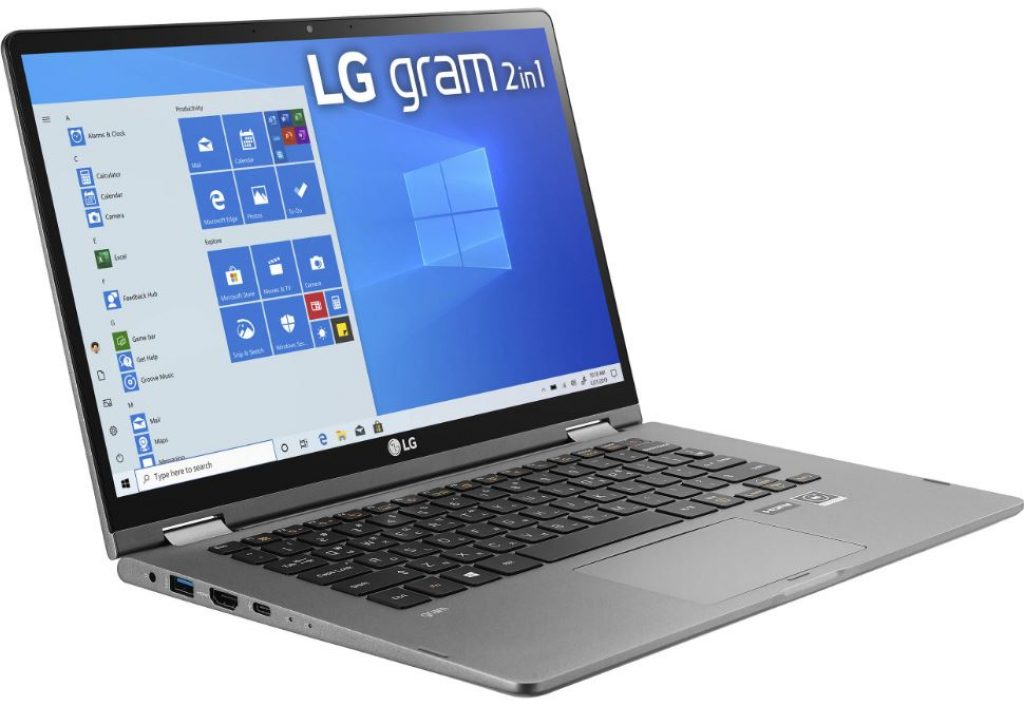 In practice, the Gram 14 2-in-1 converted a 4K video to 1080p resolution in 22 minutes and 19 minutes using the handbrake test, which is faster than the ExpertBook B9450 (28:24) and the XPS 13 2-in-1 (24:49). The Swift 5 (20:05) cut out the Gram 14.
The Gram 14 2-in-1 has a fast 1TB M.2 PCIe NVMe SSD, which has duplicated 25 GB of multimedia files in 37 seconds for a transfer rate of 745.9 megabytes per second. Only the ExpertBook B9450 (771.1 MBps) exceeded the Gram 14, while the XPS 13 was 2-in-1 (463 MBps) and the Acer Swift 5 (494.1 MBps) were slow compared to the Gram 14.
LG Gram 14 2-in-1 Review: Battery Life
LG has previously advertised ridiculous battery life figures for previous models. The outdated benchmarks used by the company were so misleading that our real battery test often showed less than half the advertised endurance. So please forgive me for turning a blind eye to the Gram 14 2-in-1's that claimed 20.5 hours of battery life. No, the Gram 14 doesn't last 20 hours – but it's much closer than I expected.
On our battery test, the Gram 14 2-in-1 took 14 hours flat. In a long race against its rivals, the Gram 14 2-in-1 survived Acer's Swift 5 (9:07) and Dell's XPS 13 2-in-1 (10:57), but couldn't keep up with the Asus ExpertBook B9450 (16:42).
LG Gram 14 2-in-1 Review: Heat
Who said you need a massive cooling system to prevent a laptop from overheating? The Gram wiped the sweat off his forehead and kept working when we played a 15-minute, 1080p full-screen video. The bottom of the laptop, at the hinge, was the warmest spot, but even that location only reached 93 degrees Fahrenheit. The touch-pad (78 degrees) and the middle of the keyboard (88 degrees) also stayed further below our comfort threshold of 95 degrees.
Price and Configuration Options
There are different configurations of the LG Gram 14 in both clamshell and 2-in-1 convertible form factors. Our review unit, the LG Gram 14 2-in-1 laptop, costs $1,599 and has a 14-inch, 1080p display, an Intel's Core i7-10510U CPU, 16GB of RAM and a 1TB m.2 NVMe SSD. If you can't spend that much, you can buy the $1,199 basic model. This traditional clamshell Gram 14 comes with a 1080p display, an Intel's Core i5-1035G7 CPU, 8GB of RAM, and a 256GB SSD storage.
Interestingly, LG sells another $1,599 (now for sale for $1,399) to configure the Gram 14 with Intel's Ice Lake processors and Iris Plus graphics. It is also a clamshell laptop and has an Intel Core i7-1065G7 CPU, 16GB RAM, and a 512GB SSD.
LG Gram 14 2-in-1 Review: Conclusion
The Gram 14 2-in-1 is a regular laptop with two killer tricks in the case: a feather-light design and an extra-long battery life. Other eye-catching features of the Gram 14 include the included active stylus and a wide choice of ports with a USB-C-to-Ethernet adapter as a bonus. For the rest, the Gram 14 is perfectly fine. The screen is sharp and quite lively, the keyboard, while a little stiff, is good enough, and the design is tedious but not aggressive.
The only big blow against the Gram 14 is the bad speakers, something that's easy to fix with good headphones or a Bluetooth speaker. And if I agree, the Gram 14 is a bit pricey, and there's no place to store the included stylus. If those things matter to you, the Lenovo Yoga C940 is the perfect alternative to the Gram. If not, the Gram 14 2-in-1 is an excellent option.
Our Verdict
LG's Gram 14 2-in-1 is a lightweight laptop with epic battery life, a durable chassis and an included active stylus.
PROS
Lightweight and durable chassis
Epic battery life
Decent performance
Decent selection of ports
Stylus pen included
CONS
Bland design
Awful speakers
A tad pricey