As we all know, a wireless network is an essential part of every digital home. A wireless router is the hub of your home or business network, passing a single Internet connection to other devices on the network through either wired Ethernet or a wireless connection. Getting one of the best wireless routers doesn't just boost performance, especially if you rent a router from your ISP. It also ensures a stable connection, often over larger rooms.
And when multiple people share the network, at home or work, a good connection is of the utmost importance. The best wireless routers are often equipped with some extra features, such as additional ports or smart home support.
Best Wireless Routers List
Choosing one of the best wireless routers listed below puts the power back in your hands, often at a price that can be recouped within a year simply by lowering your monthly bill.
Netgear Nighthawk AX8
With the Netgear Nighthawk AX8 (RAX80) Wi-Fi 6 router, top performance and enhanced security go hand in hand, combining throughput that goes through the gigabit per second barrier with malware protection and Disney's Circle app for blocking inappropriate content and managing family network usage. And with excellent performance through walls and floors, the Nighthawk AX8 works just as well in the real world as it does in the lab.
It may be expensive – most Wi-Fi 6 routers are – but the RAX80 offers easy setup and lets you configure the router precisely the way you want it. It also has a range of 90 feet, but provides better performance at distances of 50 feet, making it more suitable for medium-sized homes. The Netgear Nighthawk AX8 (RAX80) is the Wi-Fi-6 router you can get if you don't want to compromise on speed and security. This is currently the best wireless router that you can buy.
Asus ROG Rapture GT-AX11000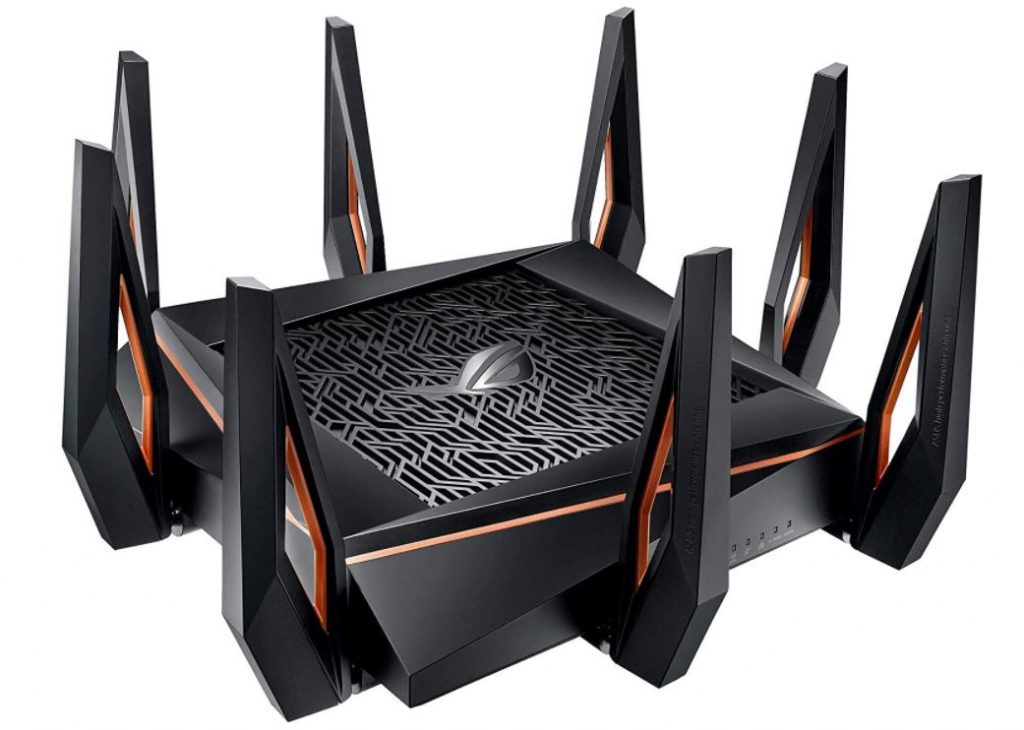 The first game router we tested and equipped with Wi-Fi 6, the Asus ROG Rapture GT-AX11000, is a pleasure for the gamer, with a speed that improves over a more extended range, low latency, and all the features that gamers expect. Add it all, and most other game routers are now second best. The GT-AX11000 is large, with a huge base, eight rotating antennas, and a huge 10.8 Gbps maximum throughput.
This router has drop-in connectivity, thanks to its tri-band design and four downstream Gigabit LAN ports, a single 2.5G Base T Ethernet connection, and two USB 3.0 ports. The built-in customization and gaming-oriented optimizations provide great control, and you can even pair it with other Asus routers for mesh networks to cover a larger home. At $450, it's expensive, but this is the best wireless router for gamers who want an edge online.
Google Nest WiFi
There are several mesh Wi-Fi solutions on the market, and while they will all cover your home in wireless signals, our favorite should be the Nest WiFi. Created by Google, the Nest WiFi is small enough to hide out of sight and stylish enough that you don't have to. But the real attraction for the compact mesh units is more than just excellent performance. Each mesh extension of the Nest WiFi system has a Google Home smart speaker built-in, giving you one of the best voice assistants in the house, along with a powerful wireless signal.
The fast Nest WiFi also delivers one of the easiest setup processes we've ever used, making it a matter of time to set up extensions around the house. What's more, it works with all the older Google WiFi units you might own. But the addition of Google Assistant puts it over the top. It provides an elegant way to add voice control throughout your home, and easy integration with many of the best smart home devices and all of the best Google Home compatible devices.
TP-Link Archer C2300
The TP-Link Archer C2300 has a deceptively gentle design, but don't be fooled – it's one of the most powerful routers you can buy. It's the reigning performance champ, pumping almost a gigabit per second of data from our standard performance tests and shooting through walls and ceilings with ease. The Archer C2300 is not only the fastest router we've seen, but it's also small, discreet, and packed with high-quality features.
The Archer C2300 comes with built-in optimization tools such as antivirus, QoS, and parental controls usually found on more expensive competitors. At $120, it's less than half the cost of comparable performing competitors and is backed by a two-year warranty. The TP-Link Archer C2300 is simply the best wireless router you can buy today.
Asus RT-AX86U
Asus has always had an excellent line of gaming-centric devices, and the Asus RT-AX86U continues that tradition. Although it's expensive compared to conventional routers, it's a competitively-priced Wi-Fi 6 router. And, given that Wi-Fi 6 has the future in connectivity, this router is a victory for Asus and an ace for gamers. It also has some great features for gamers, such as a 2.5 Gigabit Wan, the ability to assign an Ethernet port as a dedicated "gaming" port, and NVIDIA Geforce Nu Cloud Gaming Optimization. Finally, it comes with handy parental controls if you need them.
TP-Link Archer AX6000
Wi-Fi 6 routers are not cheap, but the value is the name of the game for the TP-Link Archer AX6000 router, our favorite budget-friendly Wi-Fi 6 router. It may lag in performance and range, but it offers Wi-Fi 6 speeds, for $100 less than competing Wi-Fi 6 models. Think of the Archer AX6000 as the affordable router for first-generation Wi-Fi 6 devices.
With eight wired network ports and the ability to pair two together to create a 2Gbps data stream, the Archer AX6000 router from TP-Link leads the way for Wi-Fi 6 routers that are as good with wired devices as they are with Wi-Fi. By adding router-based security, the Archer AX6000 stands alone as one of the best wireless routers you can get at a price that's hard to beat.
Netgear Nighthawk AC2300
Although priced as a high-performance or gaming router, the Netgear Nighthawk AC2300 (RS400) delivers in a different (and perhaps more critical) area: Cybersecurity. The RS400 may provide stable performance and enough range to cover most homes. Still, the real value is protection, with a fistful of security features from Netgear and Bitdefender, including three years of protection from Bitdefender Total Security software.
The RS400 is built to protect your entire connected home, from your laptops and phones to a whole range of smart devices, from TVs to ovens, thermostats, and doorbell cameras. With so many devices on today's home network, you need to be more vigilant, because one poorly secured gadget can open you up to hackers and malware. The RS400 keeps your entire home safe and easy to install and manage, making it our favorite cybersecurity router.
TP-Link Archer A7
The TP-Link Archer A7 is the best wireless router for people on a budget, delivering excellent 802.11ac performance and a surprising number of features for less than most competitive routers. The Archer A7 has excellent performance for the price – pushing through more data than most of the relatively priced routers we've tested – and features four Gigabit LAN ports and a USB 2.0 port for connecting devices.
In addition to reliable performance and features, the Archer A7 also has a straightforward setup process and convenient parental control, with an app that allows you to monitor and control network usage from anywhere. It may not be loaded with customization tools, but it offers parental control and Quality of Service (QoS) software that provides above-average performance. It is the most valuable wireless router we have tested.
TP-Link Archer C5400X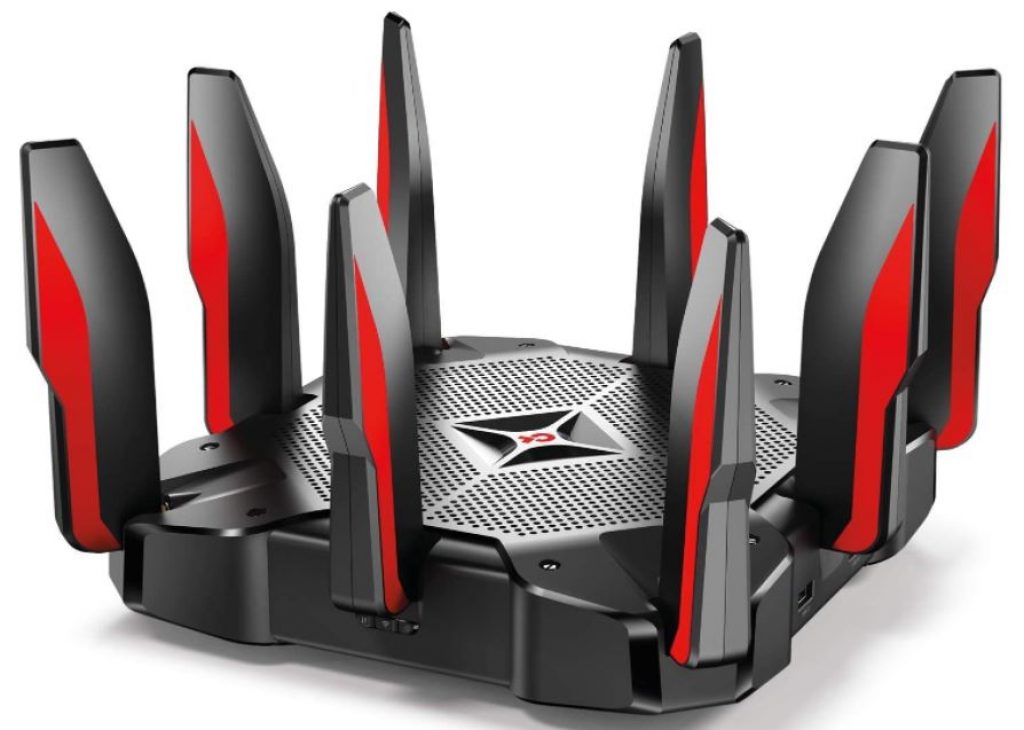 The TP-Link Archer C5400X is the gaming router to beat, with some of the best performance you'll see in a single home network device. It offers best-in-class tri-band performance and delivers 1 Gbps over the 2.4 GHz band and 2.167 Gbps over each of the two 5 GHz channels. It also has impressive coverage, with more than 100-feet of an excellent range that will cover most homes is robust and clear Wi-Fi signals.
The arachnid 8 antenna design and red-on-black color scheme will certainly make heads turn. Still, the real selling point is the set of optimization and security features that will satisfy every power user. With excellent bandwidth-allocation controls to let you use the massive throughput the way you want, this router puts incredible performance in the user's hands, for gaming or anything else. Overall, this is one of the best wireless routers on the market.
Asus RT-AX56U
Wi-Fi 6 is the new advanced technology in networking. And while it offers higher speeds, better connections, and a more fantastic range, it comes with a price tag. With the Asus RT-AX56U, the company has been able to offer Wi-Fi 6 performance at a much more reasonable price. And while it might not carry some additional features or ports that have some more robust options, it offers some important ones such as MU-MIMO and Parental Controls. So if you're looking for a no-frills way to surf the web quickly, the Asus RT-AX56U might be the best wireless router for you.