The Galaxy Note 20 Ultra is Samsung's most important device for the year. This all-around smartphone offers a top display, the best specifications, and updated software designed to help users stay one step ahead of the pack. It's a beast of a smartphone in more ways than one. It's also a bit of a re-read mish-mash from previous Samsung hits, including the Note 10 Plus and S20 Ultra. Was Samsung able to find the right mix of features in its latest flagship, or is the Note starting to lose its identity? Let's find out in our Samsung Galaxy Note 20 Ultra Review.
Specifications
Galaxy Note 20 Ultra
Price:
$1,299
CPU:
Qualcomm Snapdragon 865 Plus
Storage:
128GB/ 512GB
RAM:
12GB
Display:
6.9-inch AMOLED (WQHD; 120Hz)
Rear camera:
108MP wide (ƒ/1.8); 12MP telephoto with 5x optical zoom (ƒ/3.0); 12MP ultrawide (ƒ/2.2)
Front camera:
10MP (ƒ/2.2)
Video recording:
4K video up to 60 fps/8K at 24fps
Water resistance:
 IP68 dust and water-resistant
Battery life:
4,500 mAh, 10 hrs 26 min (7:59, 120Hz mode)
Wireless charging:
15W wireless charging/4.5W reverse charging
Fast charging:
25W wired charging
Size:
6.48 x 3.04 x 0.32 inches
Weight:
7.3 ounces
Samsung Galaxy Note 20 Ultra Review: Design
Gorilla Glass Victus
IP68 certified
164.8 x 77.2 x 8.1-mm
208g
£1,250.00
in stock
5 new from £1,250.00
Amazon.co.uk
Free shipping
Last updated on December 1, 2020 7:46 pm
$1,299.99
in stock
1 new from $1,299.99
7 used from $949.99
Amazon.com
Free shipping
Last updated on December 1, 2020 7:46 pm
Note 20 Ultra is essentially an upgraded Note 10 Plus with the beefy camera module of the S20 Ultra. In other words, we've seen this design before – and that's a pity. The Galaxy Note has always been a sophisticated piece of hardware. The series typically shuns a splashing design in favor of subdued elegance. Note 8, 9, and 10 all had their own design choices that were simple and delicate at the same time. Throw in attractive color mixes, and the Note was the best-dressed phone there was.
Samsung's Note 20 Ultra conveys the basic shape of the Note 10 Plus in the sense that it has two curved slabs of glass with an aluminum frame. If you compare both, the similarities are apparent. The frame is almost identical between them, although the overall chassis of the Note 20 is slightly thicker for the larger battery and higher for the larger display. It is a gigantic phone. With a nearly 7-inch screen, how could it be any other way? It's about the same size as the Galaxy S20 Ultra, which is downright oversized. Besides, where the S20 has rounded corners, the Note 20 Ultra has pointed corners. It's a whole package to put in your pocket.
The quality of manufacture is unmatched. Samsung has always known how to beat up glass and metal, and that is visible in the Note 20 Ultra. The fit and finish are flawless. The tight seal between the components ensures that the phone meets the requirements for IP68 certification against water and dust. The Gorilla Glass Victus must ensure that the phone is not scratched or broken when dropped gently.
The reflective color areas of the Note 10 have disappeared and have been replaced by Mystic Black, Mystic Bronze, and Mystic White, the latter of which looks strikingly like rose gold if you ask me. I like the satin look and feel of the white and bronze models. The high-quality finish ensures that fingerprints and other markings are easily removed. There are two significant changes in small parts of the design: the power and volume buttons have been reset to the right side of the phone, and the S Pen has been moved.
In a design that was incorrectly executed last year, Samsung has placed the power lock button on the left edge of the phone. For anyone coming from a Galaxy Note 8 or Note 9, the button was on the other side of the phone. Now both the volume button and the power button are on the right edge, where most people can easily find them. The feedback from these buttons is flawless. Strangely enough, Samsung has moved the S Pen from its traditional location at the bottom right to the bottom left. We can only assume that Samsung made this change to be able to place the camera module.
Samsung debuted the giganto camera module with the S20 series in February. It is significant to make room for the periscopic zoom camera. That camera module has now found its way to the Note series. It is a big, pushy thing that I am not particularly happy with. It's big enough to stick in your pockets, and it can get in the way of wireless charging on some charging pads. At the top edge, you'll find the SIM/microSD tray and a microphone, while at the bottom, you'll find the S Pen, speaker grille, USB-C port, and another microphone. No design or functional elements can be found on the left edge.
All in all, the design of the Samsung Galaxy Note 20 Ultra is excellent. I wish it were more unique, or at least it came out more clearly than its Samsung brothers. I think there is something to be said for that family resemblance.
Samsung Galaxy Note 20 Ultra Review: Display
6.9-inch Super AMOLED 2
Samsung's Infinity-O
120Hz variable
WQHD+ resolution
19.3:9 aspect ratio
What's not to love about a monster screen without bezels? The screen of the Note 20 Ultra is really impressive. It is based on the latest screen technology from Samsung and has raised the bar in several interesting ways. Let's talk about refresh rates. The biggest change this year is the jump from a 60Hz to a 120Hz refresh rate. On many phones, you can only enable the higher refresh rate, whether it is 90Hz, 120Hz, or 144Hz when the display is set to 1080p (Full-HD) resolution. For example, the Samsung Galaxy S20 Ultra has this limitation, and so does the Note 20 Ultra.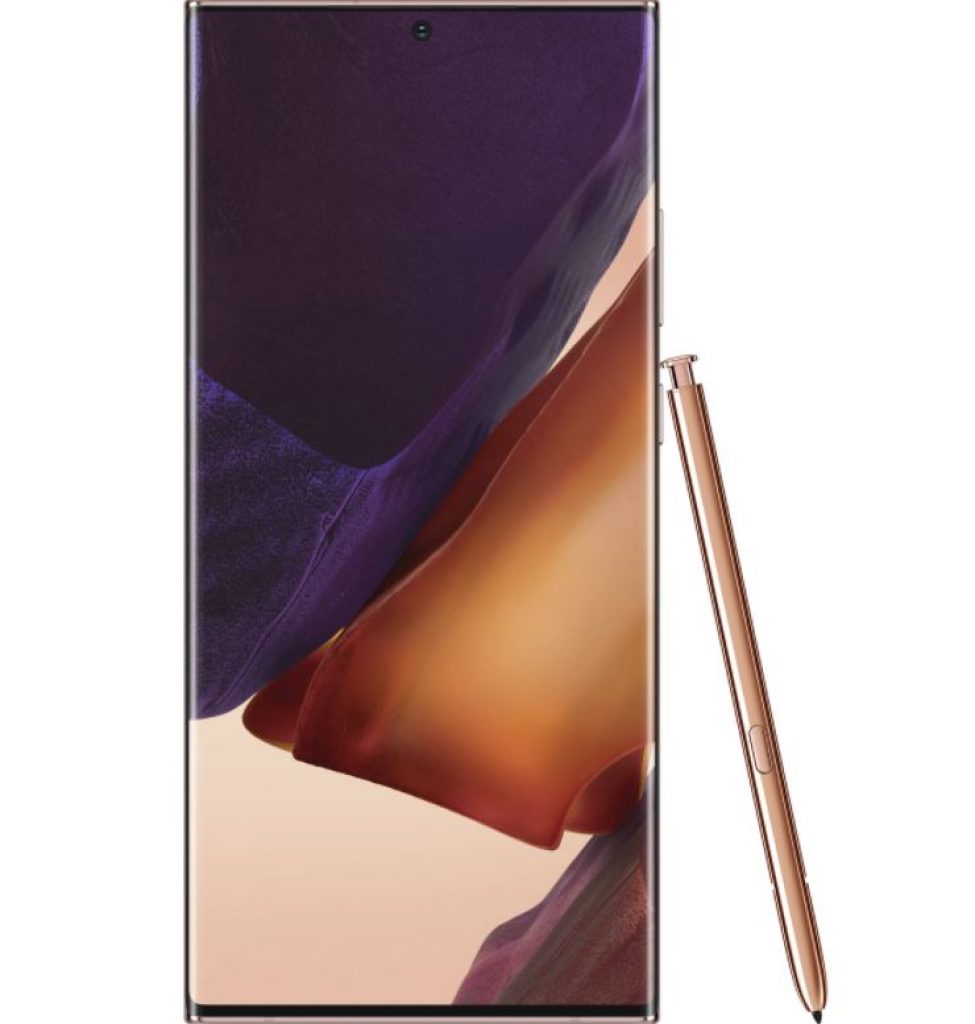 Strange, however, is that instead of remaining static at 120Hz, the refresh rate of the display of the Note 20 Ultra is variable. This varies from 11Hz when viewing a web page to 24Hz when watching a movie and 120Hz when gaming. You can not simply turn on the 120Hz setting, so it stays there. Samsung says it does this to save energy. The 120Hz speed is most apparent to your eyes as you browse through the menus because the movement is incredibly smooth.
The Galaxy Note 20 Ultra has an excellent display, but I expected some more visual punch from the screen – the feature typical of the Note series. As it is, it falls a bit flat.
The phone's optical fingerprint scanner is buried under the screen. It's a cinch to set up, although I found the positioning just a bit on the high side. The sensor is the same as the Note 10 Plus, but I found it worked more consistently when unlocking the device. That's good news.
Samsung Galaxy Note 20 Ultra Review: Software
Apart from the software that comes with the S Pen, which we will discuss below, One UI itself is identical to what is available for the Galaxy S20 series and other modern Samsung phones. One UI is a pretty harsh skin when it comes to the fonts, the icons, and the overall appearance of the desktop. Things you don't like can be changed with an icon pack or other setting options.
Importantly, Samsung has committed to three versions of Android updates for many of its top devices, including the Note, S, and A series. That's excellent news for Note 20 Ultra owners, who should see Android 11, 12, and 13. What's more, Samsung has become consistent about pushing monthly software patches to its phones.
The most crucial software feature on the Note 20 Ultra is its integration with Windows, which has been extended and empowered. It is now even easier to connect your Note to your Windows 10 PC thanks to an icon in the Quick Settings menu. Just swipe down, tap the link, and you're off. You'll need both devices to be on the same Wi-Fi network, as well as the latest patches on the Windows 10 machine. Finally, you'll need to log in to your Microsoft account on both devices.
The tool is called Your Phone. Your phone's home screen works like an emulated window on the PC screen. This effectively makes your phone just another window to manage on the desktop of your PC. In other words, you can ignore your actual, physical phone in favor of the virtual one. I found the interaction somewhat outdated, but I don't have the most modern Windows laptop.
Samsung Galaxy Note 20 Ultra Review: S-Pen
Every year Samsung finds a new way to turn the S-Pen stylus into a vital instrument. This year, it comes from new Air Actions – gestures you pull in the air to initiate particular actions with the S Pen – and new features in the Samsung Notes application. Samsung calls the new Air Actions "Anywhere Actions." Why? Because you don't have to perform the S Pen actions on or just above the screen, you can perform them anywhere.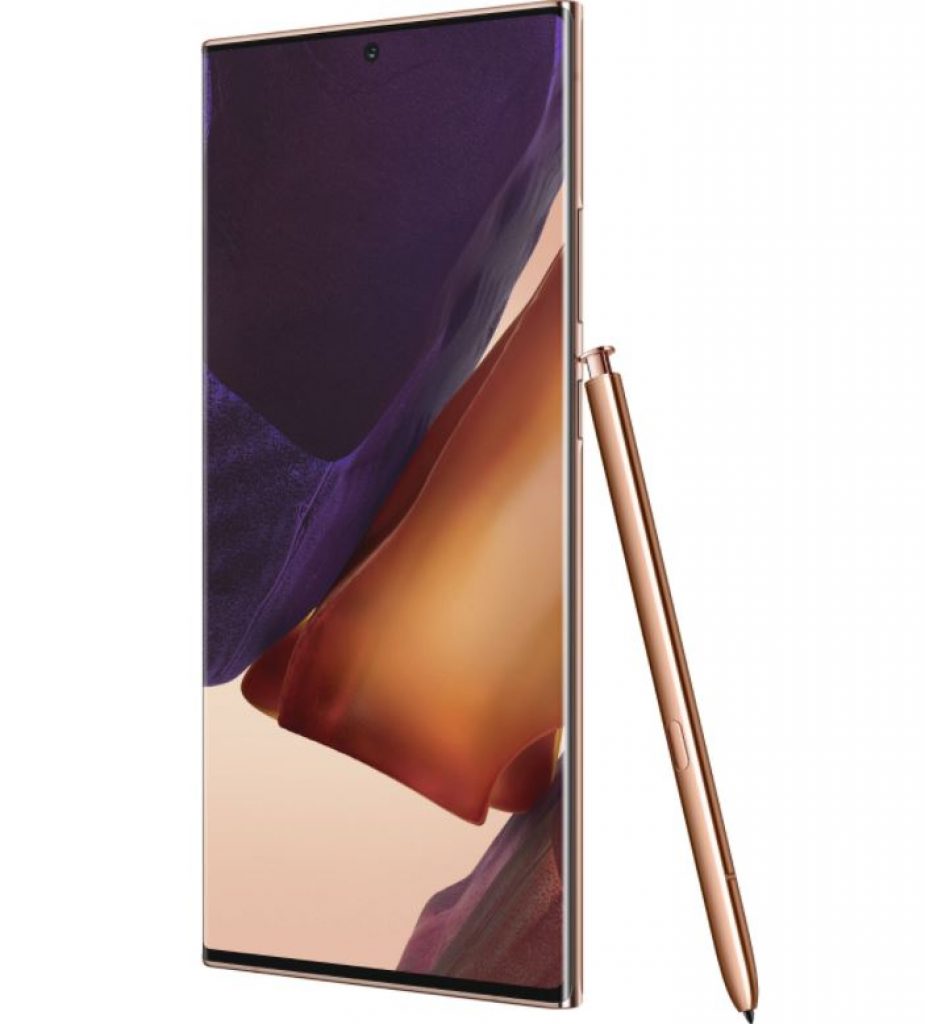 What are they? You draw a "V" in the directions up, down, left and right, or you draw a squiggle. Each of these gestures evokes a reaction on the phone as if you were waving a magic wand. Draw a reversed "V" to go to the start screen, or a leftward "V" to go back to a display. Drawing a squiggle can make a screenshot. You can also customize the actions if you want. I had trouble with some of them; however, they worked in practice.
It's hard to see the usefulness in these actions because the Android 10 swipe actions achieve the same things much faster and more consistently. I do like the screenshot gesture Air Action because drawing that squiggle in the air is often faster than pressing the two buttons on the side. Samsung has boosted the Notes application, and I think it is much more potent than it has ever been. First of all, there is autosave and sync.
Samsung Notes automatically saves your work across multiple devices (phone, tablet, PC). Synchronizing wasn't always direct, but in general, it was pretty fast. Moreover, a new folder structure makes finding your notes a faster experience. Other new features comprise the ability to annotate PDFs, set up templates, export to PowerPoint files, add audio bookmarks, and automatically straighten your text.
With audio bookmarks, you can add and synchronize voice recordings to your written notes. This makes it simpler to find a word or text note in the file and then hear the audio directly from the corresponding location. This tool worked pretty well, but you need to have a clear sound to make it work. Automatic straightening is pretty neat. Let's say you scribble out some notes at an angle. Samsung Notes can now recognize the direction, pattern, and lines of your handwriting, straighten the text, and then apply the printed text to make sure they are readable. This can be a lifesaver for me because I am terrible at making notes.
Hardware and Performance
Qualcomm Snapdragon 865 Plus
Adreno 680 GPU
12GB RAM
128/512GB storage
MicroSD up to 2TB
The North American variant Galaxy Note 20 Ultra is among the first phones to come with the Snapdragon 865 Plus processor. This hot-rodded version of the 865 pushes clock speeds to the limit, with one core capable of up to 3.06GHz. This is especially important for gaming. For taking pictures and doom scrolling via Twitter? Not so much.
The only thing I want to say about the processor, except that it's as fast as the plague, is that it gets hot. The Note 20 Ultra heats up all the time. Do you use the camera? The phone gets warm. Are you playing a game? The device gets hot. This will be something to keep an eye on overtime. It's getting hotter than regular Snapdragon 865 phones, and it's all about the efficiency and battery life. It's not too hot to hold, but you'll notice it. I expect gaming phones to get warm, but game phones also have built-in cooling measures to maintain performance.
We ran the usual benchmarks and found the results to be excellent. It wasn't necessarily better than any other phone out there, and I wonder if thermals played a role. That said, Note 20 Ultra makes mincemeat of regular tasks. It just flies through everything.
The global version of the phone comes with the Exynos 990 processor. We evaluate the performance of that device separately. Our team discovered that the Exynos model also developed considerable heat during use, so something other than the processor can play a role here. Moreover, Exynos-powered devices are not as powerful or as efficient as their Snapdragon-powered counterparts. In short, the Snapdragon version is generally superior. In this case, the Snapdragon version is reserved for North America, while the Exynos model will be sold in most other markets.
Samsung Galaxy Note 20 Ultra Review: Camera
108-MP PD OIS wide-angle (ƒ/1.8, 0.8μm)
12-MP telephoto (ƒ/3.0, 1.0μm, optical 5x zoom)
12-MP ultra-wide (ƒ/2.2, 1.4μm)
Laser AF
Front: 10-MP 2PD AF (ƒ/2.2, 1.22μm)
Video: 8K at 24fps in 16×9 or 21:9
The Galaxy Note series has long been at the forefront of the mobile photography game, and yet this year, it feels more like a catch-up. Samsung gave the Note 20 Ultra a triple camera system on the back. The standard lens is equipped with a 108MP sensor but takes standard 12MP canned photos. It is connected to an ultra-wide-angle 12MP camera, and a 5x optical telephoto 12MP camera. The time-of-flight camera of the S20 Ultra is removed from the Note 20 Ultra. Some of the functions used by Samsung include 50x zoom and 8K video recording.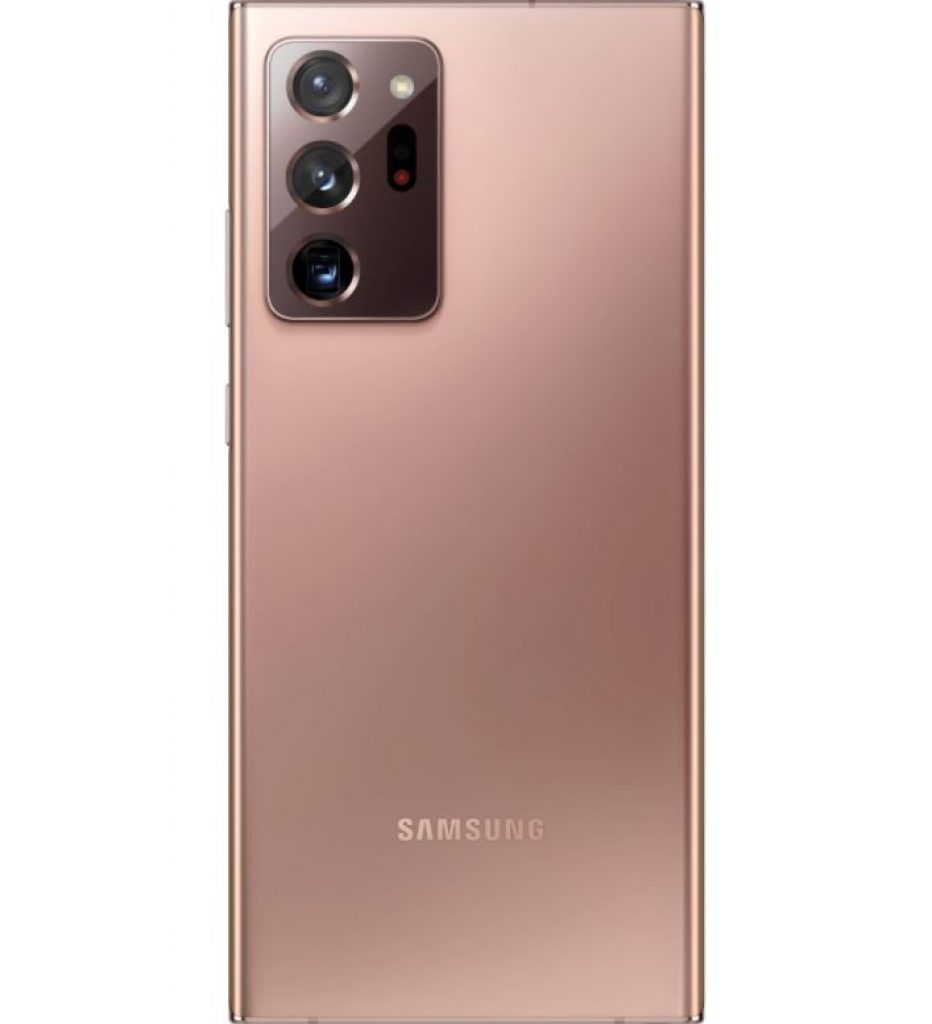 The pixel-rich primary sensor connects to a flotilla of other 108MP-capable camera phones on the market. The basic idea behind such a sensor is twofold: First, to allow more light and, second, to provide incredible detail. This sensor ensures excellent performance of the Note 20 Ultra in low light. Most standard dailies look excellent when slightly oversaturated with Samsung. All skyline and river shots below are spots on in their accuracy. Zoom in on the skyscrapers, and you will see a lot of detail, but also some noise. If you choose to shoot at 108MP instead of 12MP, you will see even more detail.
The white balance has been corrected compared to the S20 Ultra; it now looks more natural. Perhaps the essential thing is that the focus has been improved. The 108MP shooter of the S20 Ultra had no phase detection and had a problem with focus. When used, it often took time to focus, and the results were not always perfectly sharp. Note 20 added a laser focus tool to ensure sharp shots. The addition worked. It is faster to focus and produces more precise shots.
The telephoto camera is very nice. Fortunately, Samsung ruled a bit in the horses. Where the S20 Ultra had a 48MP, 4x optical telephoto camera that could perform hybrid zoom up to 100x, the Note 20 Ultra keeps it simpler with a 12MP sensor and 5x optical zoom. Hybrid zoom is possible up to 50x. You can shoot with 0.5x, 1x, 2x, 4x, 5x, 10x, 20x and 50x using simple buttons on the screen. You can also drag the slider up and down to find the right amount of zoom for the shot. The results are better than those of the S20 Ultra. I found images with different zoom lengths sufficiently sharp, although the 50x is more of a gimmick than a useful tool.
The performance in low light was excellent. The large sensor captures a lot of light and manages to retain details that might otherwise be lost. Finally, the selfie camera is a simple 10MP affair. The selfie camera loses the S20 Ultra's ToF sensor.
The camera app itself transfers most of the modes we saw on the Galaxy S20 family, including Single Take shot, Night Mode, and more. Single Take is the best of the lot. Press the shutter button to record three to ten seconds of video. The mode then mixes the images into nine different prototypes, including video, AI best shot, boomerang, and so on. It takes practice and isn't always perfect; however, I like that it gives you options.
Then there is 8K video recording. You can capture 8K video at 24 fps in 16:9 or 21:9. The regular video I recorded with the phone looked excellent. All you have to do is set it to 4K mode at 60fps and sit back and enjoy it. It is colorful, sharp, well-exposed, and on point when it comes to white balance. You will be impressed. Video also supports the live focus mode or bokeh. The live video focus is not perfect, but it can add a fresh look to your video results.
Samsung Galaxy Note 20 Ultra Review: Battery Life
4,500mAh
25W wired charging
15W wireless charging
4.5W reverse charging
Considering the large display and thirsty processor, I expected Note 20 Ultra to have a ridiculous battery. The S20 Ultra, for example, has a 5,000mAh power cell. However, this year, Samsung is stuck with 4,500mAh. That is quite an improvement over the Note 10 Plus' 4,300mAh cell, to be sure, but I was hoping for more. Will the Galaxy Note 20 Ultra battery give you a whole day? Absolutely. With the display set to 120Hz, the Note 20 Ultra is easily powered from morning to bedtime with just a little extra charge.
The Note 10 Plus' battery lasted a little longer, but not much more. Suffice it to say that with the Note 20 Ultra, you'll see about seven hours of screen time, if not more. That puts it in the middle of the battery. It's an entire story if you set the refresh rate to 60Hz. Then you're looking at almost 1.5 days of battery life, with up to eight hours of screen time.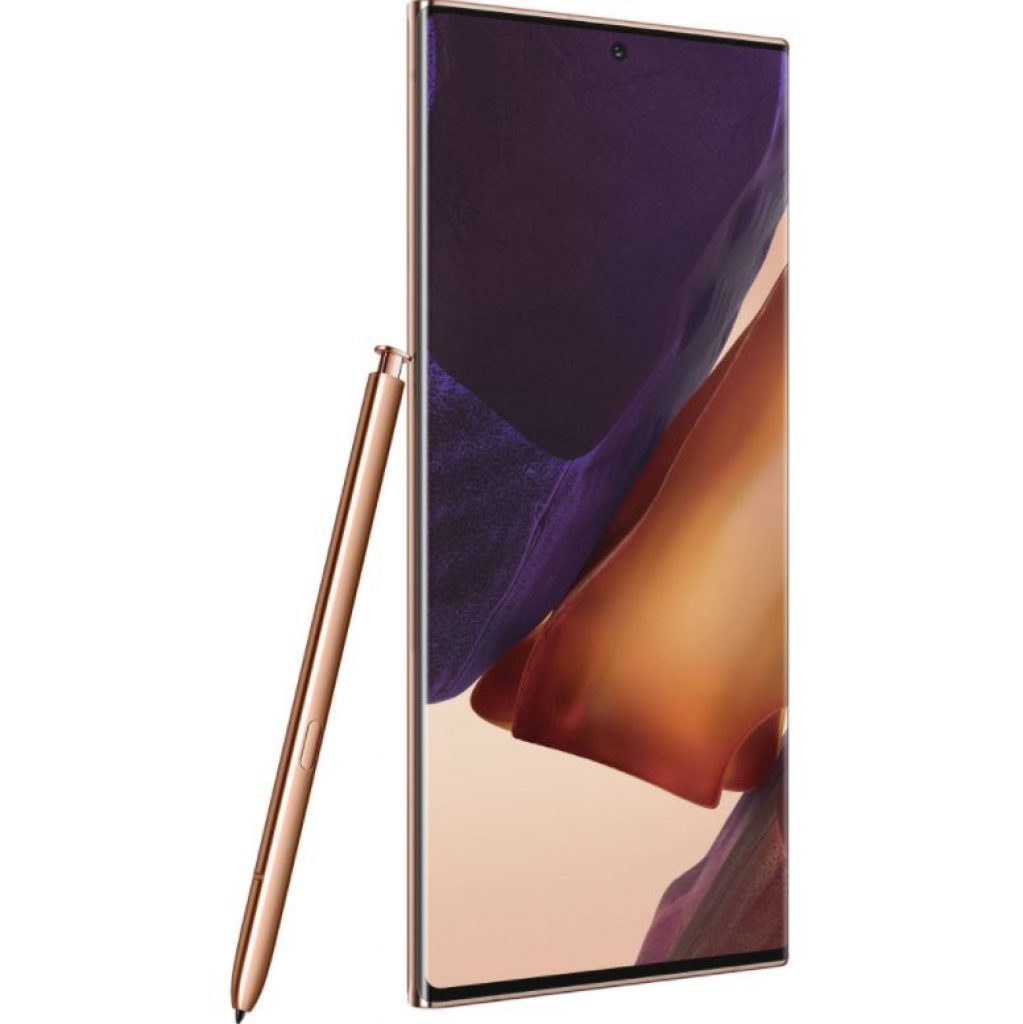 When it comes to charging, you look at some simple options. The Note 20 Ultra supports 25W fast charging and comes with a 25W charger. Charging times were good. 15 minutes on the charger delivered a 31% charge, while 30 minutes reached 58%, and 60 minutes reached 92%. It took just over 71 minutes to achieve a full charge from the dead.
Wireless charging is limited to 15W, so expect slower charging speeds, and reverse wireless charging, for accessories such as the Galaxy Watch 3, is limited to 4.5W. That's half the charging rate of the S20 series. Samsung has not given any reason for the decrease in the reverse charging rate.
Price and Configuration Options
The 'cheapest' Samsung Galaxy Note 20 Ultra costs $1,299 / £1,179 / AU$1,849. In the US, you get 128GB of internal storage, rather lean for power users, while in the UK and Australia, the base version has a more accurate 256GB. All versions have 12GB RAM and a micro-SD card slot to expand the built-in storage. The top-end Galaxy Note 20 Ultra has 512GB of internal storage (again with 12GB RAM) and costs $1,449 / £1,279 / AU$2,199. In Australia, there is also a 4G-only version of the phone that costs AU$1,849, but you can't buy that in the UK or the US.
As for India, the 5G Samsung Galaxy Note 20 Ultra will cost you to Rs 1,04,999 for 12GB of RAM and 256GB of storage. The phone will be available in Mystic Bronze, Mystic Black, and Mystic White shades.
Samsung Galaxy Note 20 Ultra Review: Conclusion
The Samsung Galaxy Note 20 Ultra is the pinnacle of phablets – for $1,299. It offers a best-in-class display, a better S Pen experience, and a boatload of new features for work and play. The cameras are stellar, fixing the focus problem with the Galaxy S20 Ultra, and the powerful zoom and Xbox gameplay give the Note 20 Ultra an advantage over the upcoming iPhone 12.
Some may prefer the regular Galaxy Note 20 for $999, but it has weaker cameras than the Ultra, less RAM, and only a 60Hz display. Plus, it has a plastic design. So while it's pricey, I would spend my money on the Galaxy Note 20 Ultra.
The $899 OnePlus 8 Pro is the better value for those who are looking for a phone with a large screen and don't want or need a stylus. But if you see that you are using the S Pen and want a superior display and cameras, the Note 20 Ultra will not disappoint you.
Our Verdict
The Samsung Galaxy Note 20 Ultra checks a lot of best for phones in 2020, including the best camera on an Android phone and the best-looking display on any phone, period. This is the only stylus-inclusive handset we recommend, and although the competition is thin, it's not undeserved - you'll have to pay a lot of money for this powerful 'all phone.'
PROS
Dynamic 6.9-inch 120Hz display
Smoother S Pen performance
Streams Xbox games
Powerful 50x zoom camera and laser autofocus
Very good battery life
CONS
Expensive
The camera bump is pretty big