You might find it a little creepy to let a flying robot float over your shoulder. I know some people do that. But nobody can deny that this is no longer science fiction. It's so cool, it's incredible. You can capture the most amazing moments with the Best Follow Me Drones. You can let it follow you while skiing, mountain biking, surfing, or whatever. There are many drones to choose from, so we wrote this guide to show you The Best follow me drones.
The Best Follow Me Drones
DJI Mavic 2 Pro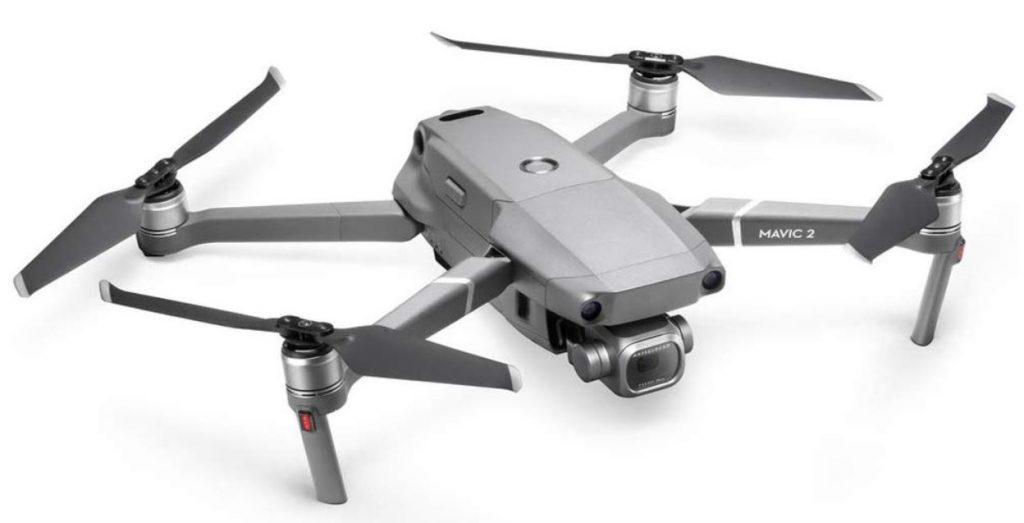 The beautiful and much sought-after Mavic 2 Pro from DJI is a high-quality camera four with a difference. It is full of everything an aerial photo videographer could wish for and more to start up. Consider the Mavic 2 Pro if you like serious travel photography and video projects. This folding drone is all that was good about the popular Mavic 1, only quieter and better. The Follow Me mode of the Mavic 2 Pro is ActiveTrack, and there are three options. This is currently The Best follow me drone that you can buy.
Pilots draw a simple framework around the subject with the DJI GO 4 app. You then select between Profile, Trace, or Spotlight. In profile mode, the DJI Mavic 2 Pro tracks and films the subject from an exact angle and distance. The tracking mode follows a set range but not at an angle. Spotlight turns off automatic tracking but keeps the camera on the subject. With the latter, the user can adjust the flight positions using the controller.
The drone is equipped with a 20MP camera made by the leading brand Hasselblad. It excels in low light with an excellent dynamic range. Both the image and video quality are excellent. Flying time is an incredible 31 minutes in perfect conditions. This drone can reach 45mph, which goes very quickly to where you want to film – and back. The operating distance is also high. Other highlights are the avoidance of obstacles on all sides and the unique controller. The drone also has three RTH functions (Return-to-Home). They are Smart RTH, Low Battery RTH, and Failsafe RTH.
Last update was on: November 24, 2021 4:08 pm
Yuneec Typhoon H Pro
If you thought the previous drone was cute and user-friendly, the Yuneec Typhoon H Pro is the exact opposite. It seems a bit like a giant bug for lack of a better description. I know I'm joking about the appearance of some drones. But let's say aesthetics, ergonomics, and all that other stuff is as important to some people as functionality. If you like the way the Typhoon H Pro looks, it will let you know that it is also a hit.
It is a follow-me drone that is designed to please everyone, from beginners to advanced. Prosumers are the most interested buyer. That is because it is currently one of the most advanced videography and aerial photography drones in this price range. Flying with the Yuneec Typhoon H Pro is a piece of cake. The large seven inches integrated screen on the all-in-one controller helps. Here you can easily manage real-time recordings of each flight.
Enjoy a complete 360° view of the world that you film in flawless quality. Seriously, you usually only have videography experiences like this with high-quality, more expensive professional crafts. There are also numerous intelligent task modes to explore. You get Orbit Me, Point Of Interest mode, Journey, Curve Cable Cam, Follow Me/Watch Me, and a Dynamic Return to Home mode. Overall, this is one for the Best follow me drones on the market.
Last update was on: November 24, 2021 4:08 pm
DJI Mavic Pro Platinum
This Follow Me drone is the DJI Mavic Pro Platinum, which comes with a smart carrying case. It is again a compact, foldable quadcopter for cameras that are aimed at people who are serious about aerial video. The ActiveTrack follows its subject no matter what it does and how it moves. One of the favorite songs is when the drone films a breathtaking video while flying perfect circles around his subject. DJI's Fly More combination here contains everything you need to start flying. There are three flight batteries, smartphone connectors, a car charger, and remote control in the box.
Whether you are a beginner or a pro, the smartphone screen gives you everything about the flight journey. It looks complicated at first, but it doesn't take a long time to get to know all the data and indicators. The unique foldable remote control from Platinum has a clamp for most smartphones. Other components are a battery-to-power bank adapter, additional props, and a charging hub for four batteries. DJI's Platinum has an extra three minutes flight time and is 60% quieter compared to the original DJI Mavic.
The extended control range is almost the same. There is also a bright platinum finish and all DJI safety functions. It uses GPS, has an ultra-stable auto-hover, and a beginner mode (one of my favorite features) for new pilots. The latter limits speed, some features, height, and distance. There are other smart modes to explore and ways to operate this incredible craft. But then it is a rather expensive drone because of the high-quality construction and refinement. Overall, this is one for the Best follow me drones that you can buy right now.
$

1,429.00

$

1,499.00
in stock
Last update was on: November 24, 2021 4:08 pm
Autel Robotics EVO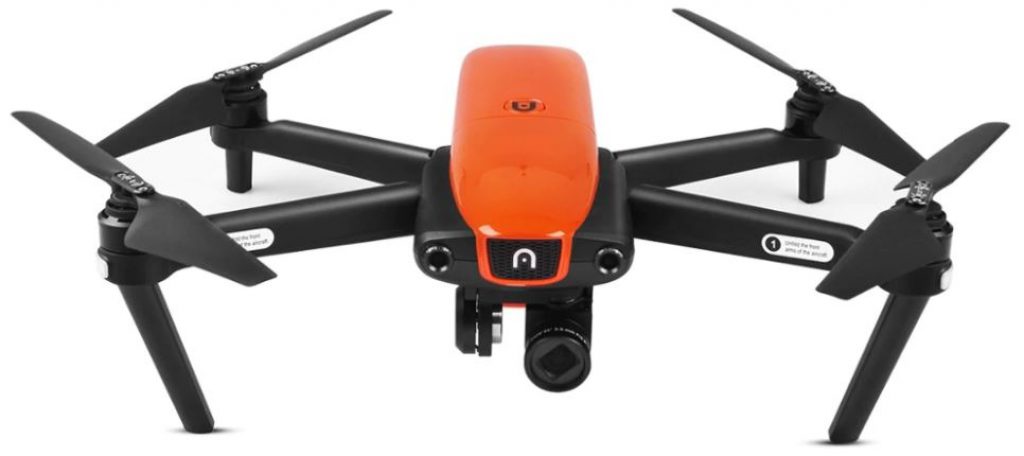 EVO from Autel Robotics is the camera quadcopter that places the cat between the pigeons. It gave – and continues to offer – the DJI alternatives with serious competition. Dynamic tracking is the tracking mode of EVO's visual recognition. The quad locks its target, for example, a person or a moving thing, and then follows it like a loyal old dog. This ultra-portable 4K quad makes recordings at 60 fps (frames per second) and is one for the Best follow me drones.
The fixed camera has a large aperture of 2.8 and an angle of view of 94°. The drone has folding arms and a shape similar to DJI's Mavic. Just like its DJI counterparts, the EVO has an abundance of intelligent flight modes. And the front, rear, and downward-facing avoidance sensors do an excellent job of avoiding obstacles. There are no shortcomings in other areas, either. The control range is 7 km (4.3 miles), the flight time is around 30 minutes and has a top speed of about 45 mph.
No telephone? No problem, thanks to the EVO remote control. It is just like most others, with the difference that it is a built-in OLED display. It not only shows all critical data but also serves as your flight monitor. The EVO quad-camera has – at the time of writing – no restrictions for height or flight bans. Experienced pilots may welcome that, but it can be problematic for novice users.
Another negative point is no memory on board. There is a MicroSD slot, although the card door is difficult to open. This drone contains at least 32 GB and 64 GB cards, so you are ready to go.
Last update was on: November 24, 2021 4:08 pm
Walkera Voyager 4
They market the Walkera Voyager 4 as a professional follow me a drone. The improved model stands out from the rest because it has an 18x optical telephoto zoom lens. With its mega-zoom lens, the Walkera Voyager 4 is another beast, but why would you do that? Well, it means that you can zoom in on people, places, things, and events from quite a long distance. This can cause several privacy problems later, mainly since you can operate this drone anywhere in the world.
However, these are not things that are interesting for the follow-me drone enthusiast. No need to worry: the Walkera Voyager 4 has a standard lens version with a stunning 4K Ultra-HD video. This is a top-quality drone with a sleek appearance. Even the controller has a beautiful ergonomic design with high-quality rubber handles for comfortable use.
Few can damage its design or functionality. The intelligent Follow Me modes on this drone include: Altitude Hold, Circle Flight, Waypoint Destination Plans, Back to Base and Fly Around Mode. Overall, this is one for the Best follow me drones that you can buy right now on the market.
DJI Mavic Pro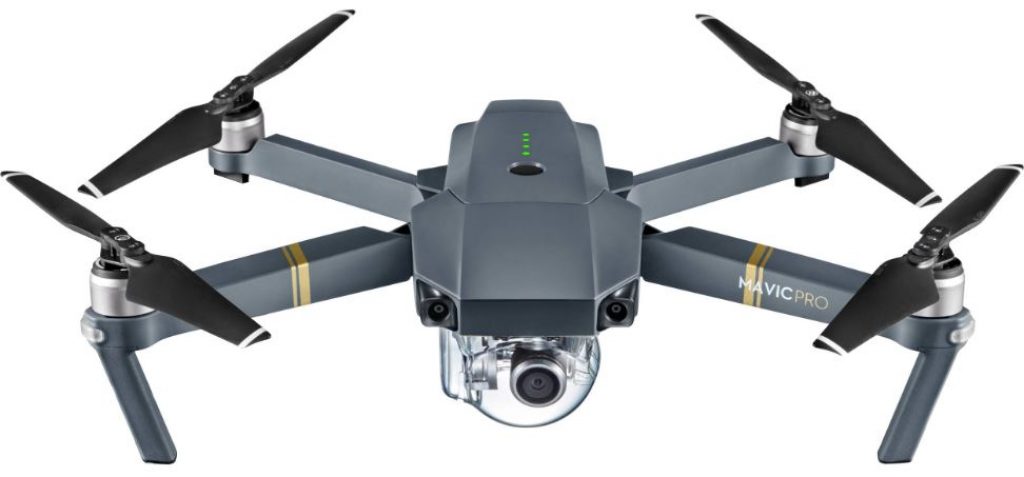 If you like small, powerful follow me drones, consider the DJI Mavic Pro. When folded, it is not much bigger than a pot of coffee. This is a great little machine for severe videographers and photographers. The Mavic Pro is a simple craft to master, despite its sophistication and professional appearance. The tripod mode is a child's play. The only thing you do is follow what the app tells you. That is it! This quadcopter has so much to do that some call it the Swiss pocket knife of drones. But don't be overwhelmed by its power, elegance, and essential functions. It is a very user-friendly vessel.
DJI Mavic Pro is one of the few machines with built-in obstacle avoidance. Although it is a great feature, remember that the drone can only see what is in front, not behind or on both sides. With the advanced gimbal settings, you can gain full control of the gimbal tilt wheel to ensure that you get the smoothest imagery from all your movements. Compared to many powerful drones, the flying time of the DJI Mavic Pro is impressive. You get about 30 minutes under optimal conditions. Some drones only give you 10-12 minutes.
In short, the DJI Mavic Pro has 4K ultra HD distortion-free video, a large flight range, and decent flight time. There is also obstacle avoidance, precision hovering, and image stabilization. Like every drone, the DJI Mavic Pro is not without a few drawbacks. The smaller size – although attractive to many – can be a letdown for others. It is also harder to monitor. The DJI Mavic Pro is a sturdy little machine, but it's not that good against windy winds. This is something to think about if you are a professional who has to take pictures outside of tight deadlines.
Last update was on: November 24, 2021 4:08 pm
DJI Mavic Air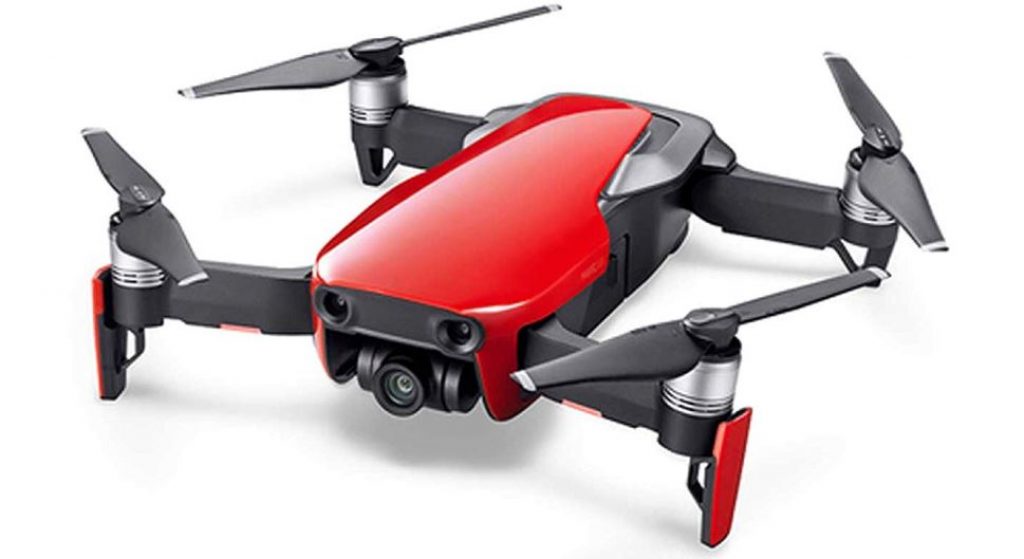 The beauty of a bright red quadcopter is that it is easy to see in the sky. It looks cool and stands out from the other drones. But the Mavic Air is more than a handsome, well-designed bird. This travel-friendly flying robot is a capable stabilized camera quad. It is lightweight, portable, and super easy to use, even for novice pilots. The image material is impressive and of high quality as standard. This drone comes with a Follow Me mode called ActiveTrack, which detects up to 16 preselected tags.
You then select the one you want to follow and let the magic happen. DJI's ActiveTrack keeps track of your pace and flight precision, regardless of how the subject moves. Skateboarding, jumping, running, or whatever, you can relax while knowing that everything is recorded on video. There are lots of other notable features with the Mavic Air too. It offers users various panorama options, slow-motion video, DJI QuickShots, and HDR photos.
The 21 minute flight time is a bit disappointing for a camera quadcopter in this category. It would not be so bad if the Intelligent Flight Batteries would become more affordable, but they will hold their price. Most users require at least one spare battery in their set. Another less serious complaint is the noise that this thing makes for a small bird. The high whine is due to the hard-working, small props. Overall, this is one for the Best follow me drones.
Last update was on: November 24, 2021 4:08 pm
DOBBY Mini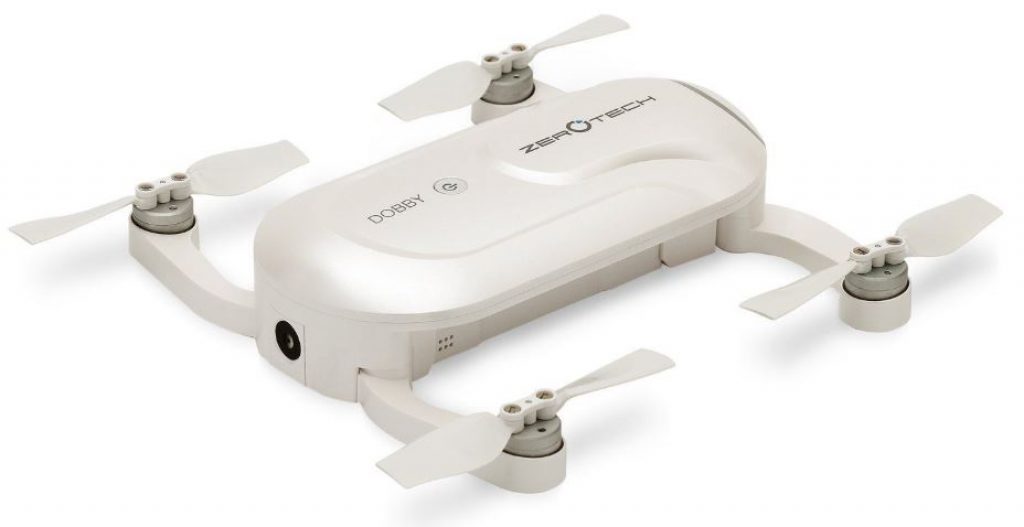 Meet the 4K ZEROTECH DOBBY. The company markets it as a pocket drone, and that is it. But it is also a capable 13MP high-def camera quadcopter for filming things other than people. The Dobby tracking mode uses the new Qualcomm Snapdragon Flight platform. This smart little quad recognizes faces, which he then captures and films as follows. It is an incredibly easy-to-use folding camera quad. It is also safe to fly both inside and outside.
This is all due to its small size, 199 g lightweight, and positive flight control. The DOBBY app is called Do.Fun, and an appropriate name. It is intuitive, reliable, and easy to navigate. Users can take off at the touch of a button and then use screen strokes and tilt to control the drone. The most annoying thing about ZEROTECH DOBBY is the short flight time of 9 minutes. The fast charge of 45 minutes compensates somewhat for the short life of the battery.
The small portable design is both a blessing and a curse. It's undoubtedly a perfect travel quad, but it doesn't go as well when the wind comes up. That is something to think about if you live in a more difficult part of the country. However, it is a stable small flyer in calm conditions, but pilot control and visual material suffer when the wind blows. There is also a handy return-to-home feature for when pilots have to get the quad back. Such specs make it one for the Best follow me drones on the market.
Last update was on: November 24, 2021 4:08 pm
DJI Spark
The DJI Spark has something sweet. It is a smart drone that follows itself and is made with the beginner's pilot. It is also small, which can be a good or bad thing depending on who you are. This belongs to a category of mini-drones (the size of a palm). It is a whole 200 grams lighter than the Parrot Bebop 2m, which is currently its biggest rival. This is the perfect model for people who travel a lot.
The DJI Spark is one of those fun machines but with a serious side. You can operate it by tapping your smartphone or even by waving your hands. Yes, you read that right. I like the manual leveling options and the Gesture control mode. Some users can find it a bit too gimmicky. I think it is valuable as long as you take the time to practice it correctly.
The video is another plus. The dual-axis gimbal (rotating support) guarantees a high-quality 1080p video. My advice would be to ensure that you always have spare batteries with you. Unfortunately, you only get about 12-15 minutes of flight time per load. That means you have to prepare before you leave. Still, this is one for the Best follow me drones that you can buy right now.
Last update was on: November 24, 2021 4:08 pm
Hubsan H501S X4
If you are an entry-level drone pilot, add the Hubsan H501S X4 to your shortlist. This is inexpensive Follow Me drone that is almost ready to fly out of the box. Don't be put off by the size. It is noticeably more significant than the competition, but it is still a breeze to control once it is in the air. It is easier to operate than many smaller models. This is the cheapest drone with follow me feature, protection against signal loss, and height difference.
The steering range and flight time are even better than what you get on more expensive crafts. There are a few flight modes to explore, including one for the beginner. This is a nice touch for anyone who wants time to get used to the controls before they go up in the air. I especially like the controller functions of the Hubsan H501S X4. There is a beautiful bright screen that lets you know how high you are, along with your proximity to the drone.
Last update was on: November 24, 2021 4:08 pm