Are you looking for the Best Gaming Monitor of 2021? Upgrading to gaming monitors is an incredibly exciting purchase to make nowadays. There is a multitude of options, offering a wide range of specifications, capabilities, and prices. Given the variety of models, sizes, and speeds (yeah, speeds), it is undeniable that there are monitors for everyone, whatever your budget. And it's worth saying right off to the bat that they're not just for PC games.
Best Gaming Monitors List
All gaming monitors are also perfect for console games, with features you may not find on all the best gaming TVs. So, if you play separately from where you watch your movies and your TV shows, a monitor is a great idea to optimize your setup.
LG UltraGear 38GN950
A killer ultra-wide gaming monitor
It's hard not to be impressed with the LG UltraGear 38GN950. If you're looking for the ultimate gaming monitor, then this is definitely the one to beat, with a 144Hz refresh rate that can easily be overclocked to 160Hz, 1ms response time, spectacular image quality, and many other gaming features like G-Sync, an ultra-wide aspect ratio, and DisplayHDR 600. If you're serious about gaming and want plenty of screen space, then this is the best gaming monitor to get – if you can afford it, that is.
$

1,596.99

$

1,799.99
in stock
Last update was on: September 20, 2021 8:06 am
Gigabyte G27Q
The best FreeSync gaming monitor
The G27Q proves that you don't have to spend a fortune for a decent IPS 1440p display. For $330, Gigabyte's 27-inch offers plenty of features, but more importantly, rich colors and smooth gameplay. The 144 Hz refresh rate doesn't hurt either. The G27Q excels with a sharp and vivid picture. The extra features are really useful, and you get a lot of display for your money. The Gigabyte G27Q is a bit of a plain Jane compared to other, more pricey options.
It's a flat, 27-inch screen with a 144 Hz refresh rate and a design that wouldn't look out of place in an office environment. But it's actually one of the best gaming monitors I've had the pleasure of using. Not only does it have a beautiful, vibrant panel, but it's also HDR-capable and has plenty of useful features to enhance your gaming enjoyment. Overall, this is one of the best gaming monitors right now.
Last update was on: September 20, 2021 8:06 am
Samsung Odyssey G7
Best of both Worlds
The best gaming monitors typically fall into two camps: fast refresh rate or high resolution. But they almost never do both. With the Samsung Odyssey, that's not the case. It manages to cram a 1440p resolution into the same screen with a 240Hz refresh rate and excellent HDR, making this an ideal choice for any gamer who wants to play Esports one day and jump into an immersive open-world game the next. It's not perfect, as it takes some work to get it running, but the Samsung Odyssey G7 is an ideal choice for gamers who have some variety in their gaming libraries. Overall, this is one of the best gaming monitors right now.
Last update was on: September 20, 2021 8:06 am
Alienware AW3418DW
The fastest ultrawide yet
The Alienware AW3418DW is one of the few gaming monitors that offers a level of immersion that only a 21:9 aspect ratio can provide, while also offering a high refresh rate. With a dense 3,440 x 1,440 resolution, ridiculously fast response times of 4 ms and a fast refresh rate of 120 Hz, this ultra-wide monitor gives you the best of both worlds. All of these features don't come cheap, though, so budget-conscious gamers might want to look elsewhere or start saving. Overall, this is one of the best gaming monitors right now.
Last update was on: September 20, 2021 8:06 am
Acer Predator X38
The best widescreen curved gaming monitor
If your mantra for displays is "go big or go home," Acer hears you, and its Predator X38 is a giant 38-inch curved screen that looks stunning. It features a not-quite-4K QHD ultrawide panel with a resolution of 3840×1600. With a 24:9 aspect ratio, the IPS panel looks great, and the size means you have plenty of screen space for gaming.
The screen also features G-Sync technology with variable refresh rates up to 175 Hz. That's a huge improvement over curved gaming monitors with lower refresh rates. It's a big, bold and beautiful looking screen, and the zero-frame bezel-less approach is another welcome addition. If you're looking for something to turn heads, this is one of the best gaming monitors out there.
Last update was on: September 20, 2021 8:06 am
Asus ROG STRIX XG17AHPE
Best portable monitor for gaming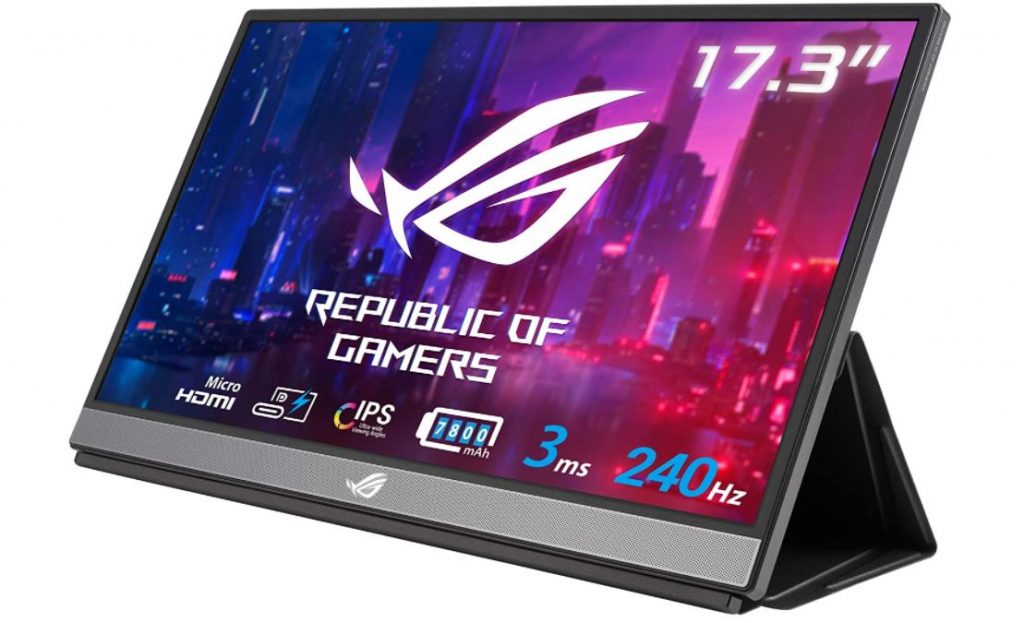 Portable monitors have always existed as a novelty. When you see one in the wild, it's usually attached to someone's boring work laptop tasked with displaying mind-numbing spreadsheets. Portable monitors give you a second screen while traveling, without the fuss. The ROG Strix XG17AHPE offers that same portability, but adds the performance of a premium gaming monitor.
This thin and lightweight 17-inch IPS display has a 240Hz refresh rate, along with a 3ms response time, making it the perfect gaming monitor for a LAN party. Shooters like CS: GO and Apex Legends benefit from the buttery smooth refresh rate. The built-in 7800mAh battery gives you a few hours of gameplay. The XG17 is the ideal companion display for work and play…. assuming you have $500 lying around. Overall, this is one of the best gaming monitors right now.
Last update was on: September 20, 2021 8:06 am
Alienware 25 AW2521H
The best 360Hz gaming monitor
It may have once been a niche, but 360Hz gaming has quickly become widespread, and Alienware has given itself an edge with the beautiful AW2521H gaming monitor. While it's not the cheapest on the market, it has the style and performance that will make you want it on your desk. Gamers will enjoy the Alienware 25's lightning-fast response time in games like Valorent and Destiny, with little to no ghosting or artifacts. This 1080p IPS panel is also bright and vibrant. Overall, this is one of the best gaming monitors right now.
Last update was on: September 20, 2021 8:06 am
MSI Optix MPG341CQR
MSI's latest new 34-inch gaming monitor
While all the extra frills make the MSI Optix MPG341CQR even more appealing to potential buyers, it also stands out excellently on its own. The use of VA rather than IPS panel technology, for example, is a welcome benefit, offering more powerful colors and better contrast. Plus, the super-wide 1440p resolution and 144Hz refresh certainly give gamers an advantage. Perhaps best of all, this screen is also reasonably priced, making it one of the best gaming monitors to consider in 2021.
Last update was on: September 20, 2021 8:06 am
Asus ROG Swift PG259QN
Another 360Hz gaming monitor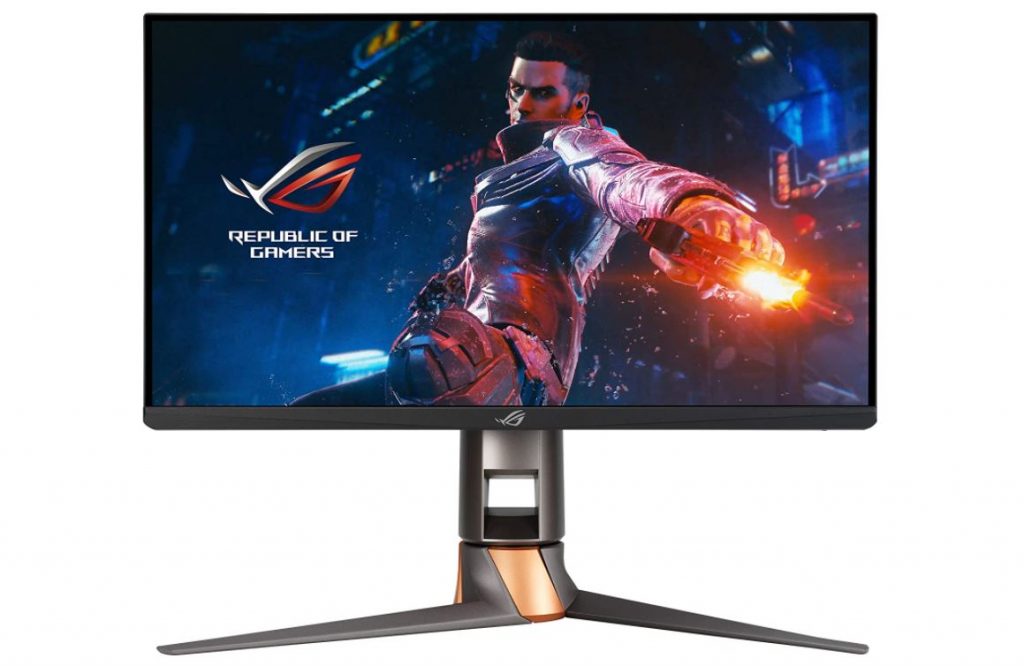 If you're a fan of outright overkill, the ROG Swift PG259QN is a hit. With this ridiculously fast 360Hz display, you can even analyze your gaming ecosystem to figure out which devices are affecting your latency, thanks to Nvidia Reflex (if you're using an RTX card). Seeing if your hardware or accessories are giving you terrible input latency is good information and will keep you from making frivolous upgrades.
This monitor is a competitive gamer's dream. Anyone looking for a competitive edge and who values speed over everything else will be thrilled with this Swift gaming monitor. If you already have a 240Hz monitor, you're probably fine with what you have, but once you see this monitor in action, it becomes a whole different story. Just make sure you have a GPU powerful enough to spit out a high number of frames. Overall, this is one of the best gaming monitors right now.
Last update was on: September 20, 2021 8:06 am
Porsche Design AOC Agon PD27
Fast 1440p monitor
If you have the need for speed – in your gaming, that is – then you have the need for this Porsche-inspired monitor from AOC. Stepping away from the usual tapered red-on-black look that many gaming monitors have, this one comes with race car design elements, so spectators know exactly that when it comes to speed, it doesn't mess around. Just look at the specs of 240Hz refresh rate and 0.5ms response time. It also comes with DisplayHDR 400 support, stylish RGB lighting and a 1000R curvature.
Last update was on: September 20, 2021 8:06 am