Almost every of the best VPN services has a decent iPhone VPN for iOS devices; however, as the software becomes more and more popular, it can be challenging to make the most of a large number of options. Apple devices are known for their resistance to malware, but there's nothing your iPhone can do once you've sent your data or connected to a risky Wi-Fi hotspot. That's where the best iOS VPN for iPhone comes into the picture.
But an iOS VPN is not just for privacy. You can install it on your iPhone, iPad, and even your iPod Touch (which still exists), and then you can access streaming content from all over the world. And since your iPhone probably travels with you the most, a VPN on your iPhone keeps you protected when you're connected to potentially unsecured public Wi-Fi networks in stores, cafes, or public transport.
Best iOS VPN
Below is an overview of the five best iOS VPNs and what they can do for you – choose which one you want to use.
ExpressVPN
The best iOS VPN right now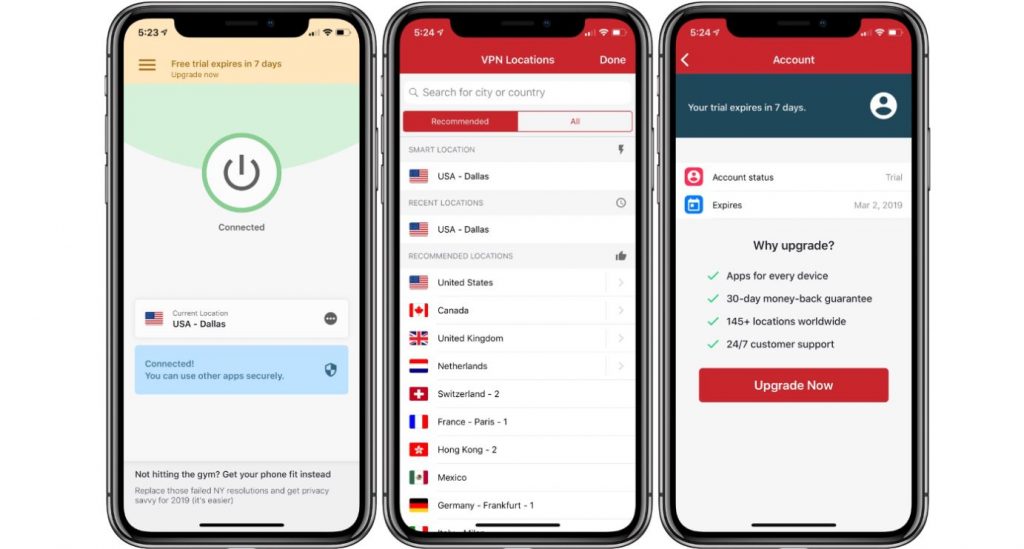 ExpressVPN provides everything you need from an iPhone VPN. It's fast, private, and easy to use, and since the apps are virtually identical on all platforms, you'll have mastered them all once you've used them. You get over 3,000 servers in 94 countries, which means you can get a quality connection wherever you are. Moreover, all your data is protected by default by AES-256 encryption, with a selection of protocols, a kill switch, and even a split-tunneling to customize your usage.
However, besides the technical aspects, the Express interface is excellent. It makes it super easy to access these in-depth features, which means you can have as simple or complicated an experience as you want – perfect for beginners as well as experts. But even with the best services, it can go wrong, so you must have a good support system. Fortunately, Express has you covered with its 24/7 live chat. You'll get reliable answers within minutes – often within seconds – and the operators are accommodating and have never failed to answer any of our questions.
If we had to split hairs, we'd want Express VPN to offer a few more simultaneous connections. However, five is enough in practice, and although you can only use five devices on the same account simultaneously, you can have the app downloaded on as many devices as you like. That's enough for the vast majority of users – and if not, you have a 30-day money-back guarantee. Overall, Express offers the complete iPhone VPN app you can buy, so if you want the best iOS VPN, you don't have to look any further. Read more in our ExpressVPN Review.
NordVPN
iPhone VPN for the privacy-obsessed
If you have heard of a VPN before, it must have been NordVPN. The security giant offers hugely popular and private services, and its iPhone VPN is no exception. With incredible speeds over most of its 5,200 servers, Nord's sure to provide you with a good connection, and its 2048-bit dual encryption and additional features like Onion over VPN and Double VPN make you beautiful and anonymous.
While effective, NordVPN's app's design isn't as clean as Express's – it retains the map-based interface, and this doesn't work as well on mobile as on a monitor, making it a little awkward to use. However, this is a tiny problem as you won't spend more than a few minutes in the app itself. Other features include two kill-switches, DNS leak detection, and auto-connect, and Nord has now even introduced Siri support, which we are sure someone will find useful.
Beyond that, Nord is also great for streaming, so if you're traveling and don't feel like taking your laptop with you when you're on the train, you can unlock almost anything directly from your phone. If you're looking for a security-oriented iPhone VPN that does everything you need and more, NordVPN can be the best iOS VPN for you – and a 30-day warranty covers you if you change your mind. Read more in our NordVPN Review.
Surfshark
Bargain iPhone VPN that doesn't scrimp on features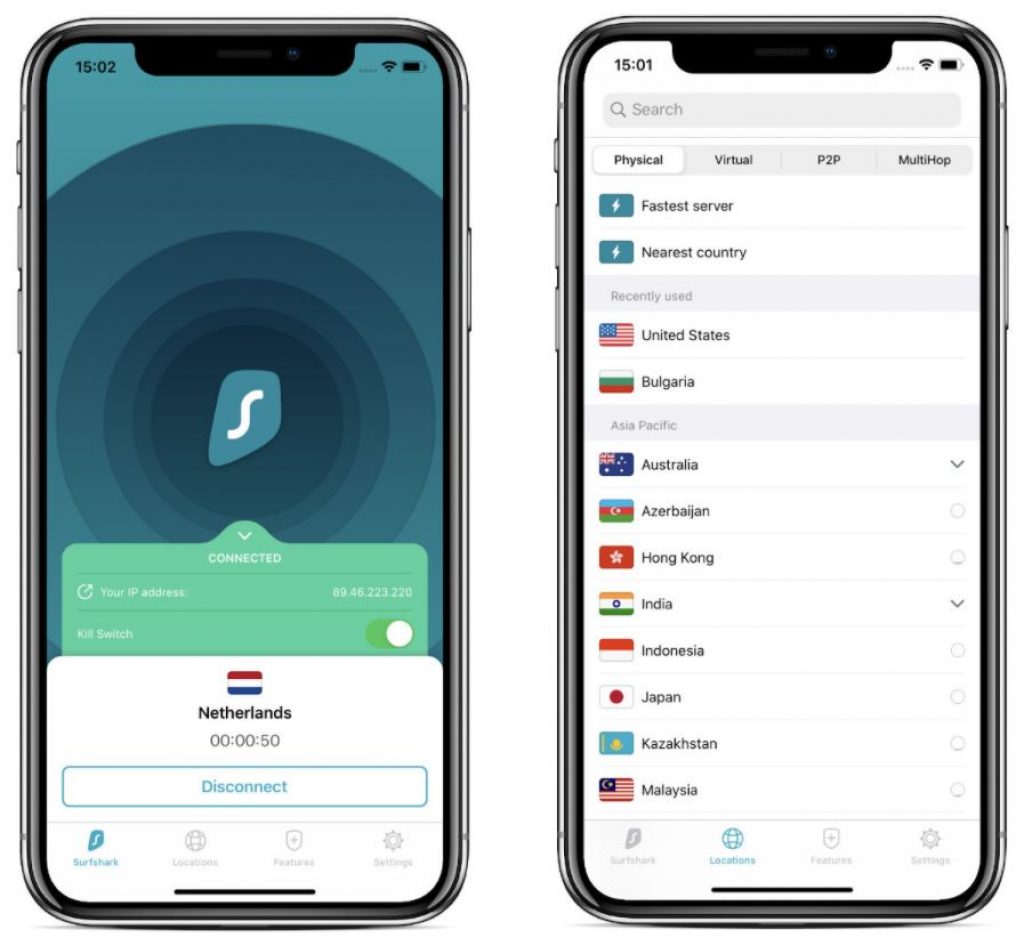 If you are looking for the cheapest iPhone VPN that will do its job well, Surfshark should be on your shopping list. With less than $2.50 a month, you might think it cuts corners and isn't competition for more expensive options, but in fact, it's a well-rounded service that would be impressive at any price. The iPhone app is entirely plug-and-play, but while many will be happy to press auto-connect, you'll also be able to explore several other features. For instance, you can switch protocols between OpenVPN UDP and TCP, and IKEv2, and use a kill switch to make sure your connection is not compromised.
One of the most significant selling points, however, is Surfshark's policy of unlimited simultaneous connections. This means that you can cover every device (whether 10 or 100) in your home on your bargain basis plan. That's worth an incredible amount. While not as powerful as ExpressVPN or Nord, Surfshark offers a deceptively simple iPhone VPN that is far above its weight and competes with the best iOS VPN, no matter what the price. Check out more in our Surfshark VPN review.
IPVanish
Info-heavy iPhone VPN with incredible speeds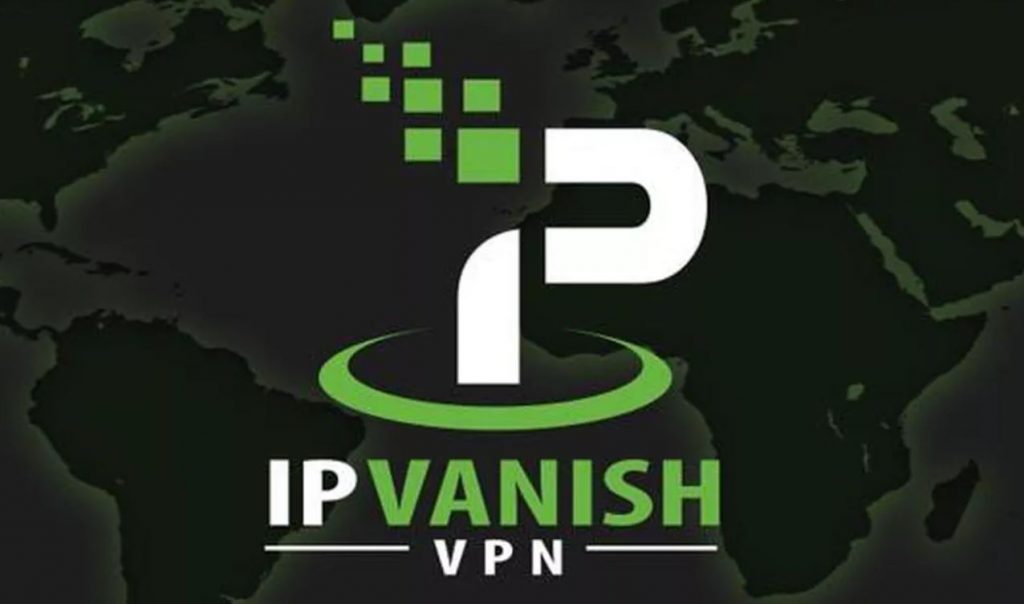 IPVanish is one of the old guards – known and loved by those who used VPNs years ago and now trusted by the new wave looking for the best iPhone VPNs. If you want high speeds – especially in the US – it's a good option.
The app's design is divided, and whether you like it depends on what you want to see in your VPN. In-use, you're provided with a heck of a lot of info, including data up and down, IP address, server name, and more. While the iPhone app has been downplayed from the desktop version – reminiscent of the black and neon-green color scheme of The Matrix – it is not as clean as the rest on this list.
However, if you like it, IPVanish offers tons of in-depth features such as auto-connect, a kill switch, and a choice of protocols. A recent update also introduced the new policy for unlimited connections, which we think adds value to the service. If you want to see a lot of technical data and aren't afraid of a graph or two, IPVanish offers a powerful iPhone app that can cover all VPN usage kinds. This is the best iOS VPN for most people. Read more in our IPVanish VPN Review.
Hotspot Shield
Basic, but incredibly fast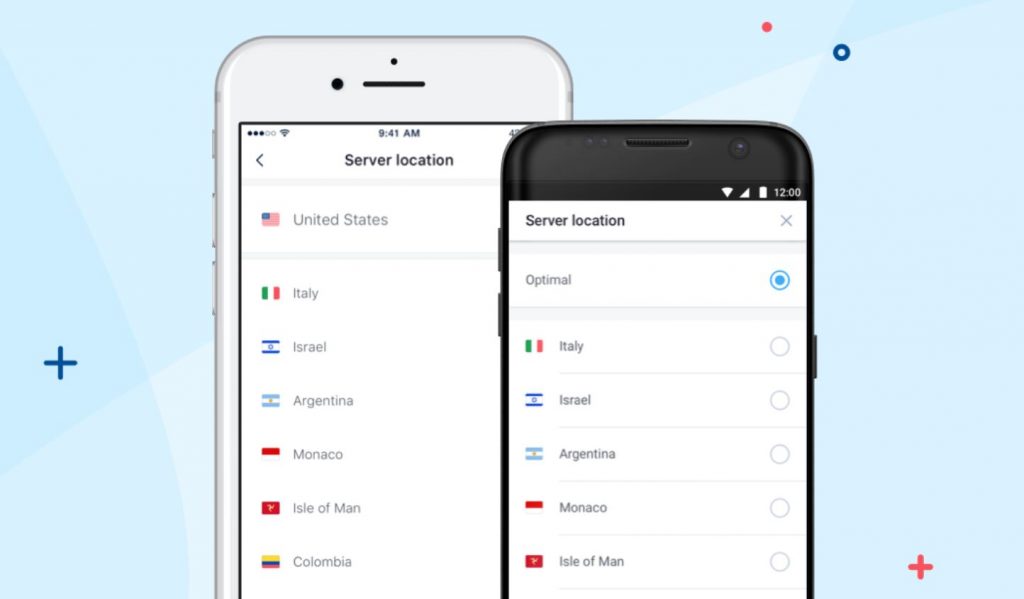 If you're not into in-depth features, Hotspot Shield is a smart, simple, and good looking iPhone VPN. The Catapult Hydra protocol delivers scorching speeds and combined with the fact that Hotspot Shield can unblock just about any streaming service, it's a perfect option for those who like to stay glued to their screen in motion. However, apart from P2P compatibility, incredible speeds and adequate protection is about all you'll get.
There's no kill switch, auto-connect, split tunneling, or anything else – but for the vast majority of users, that won't be a problem. The only thing that might be is the lack of a 'best server' feature, which would help enormously get the best connection. But for those who want something that looks fun and works, Hotspot Shield is the best iOS VPN – and you'll undoubtedly be impressed by its speeds. Check our Hotspot Shield VPN review for more.