TV technology has come a long way in recent years. Gone are the days when buying a 4K TV meant that you had to pay thousands of dollars. Nowadays you can get a decent, large 4K and one of the Best TVs Under $500. In fact, it is so easy to get a great TV of less than $500 that there are a lot of options. That's why we've put together this guide: to help you decide which of these affordable TVs is best for your living room. As usual, there are a few things that you should consider when buying a new TV. Some of them are obvious, but some are a bit more subtle.
List of the best TVs under $500
TCL 5-Series Roku TV
The TCL 5-Series Roku TV does what TCL does best: combine great features and performance with an undeniably excellent price. The 55-inch model costs around $500. You get the industry-leading color and brightness of QLED and Roku's easy-to-use Smart TV interface, which puts thousands of apps at your fingertips.
In addition to the QLED display's excellent color accuracy and full color gamut, it also offers top-notch HDR support, with Dolby Vision alongside the basic HDR10 and HLG formats. With an input lag of 13.1 milliseconds, it's also one of the best gaming TVs you can buy for under $500. If you want the best cheap TV, this is it. Overall, this is one of the best TVs under $500.
Last update was on: October 20, 2021 7:57 am
Hisense H8G Quantum Series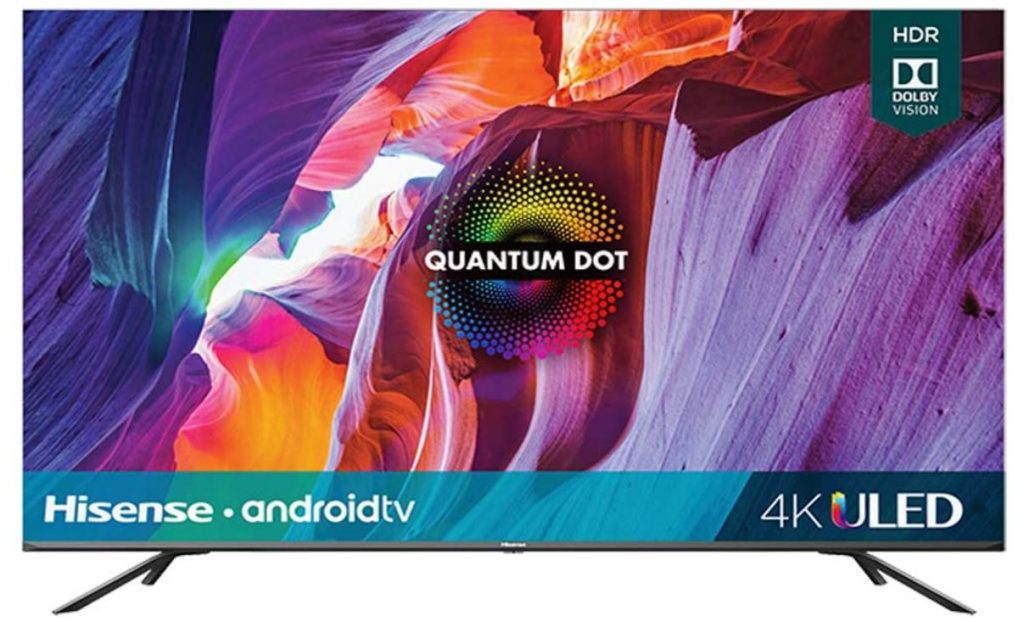 The Hisense H8G Quantum series (50H8G) offers great value for money for a 50-inch TV. From the Android TV smartness to the QLED screen and local dimming for great HDR support, the H8G is one of the best TVs you can find for under $500. The quantum-dot screen improves color performance and local dimming provides great contrast, but there are still some compromises made in the name of affordability.
The 60Hz screen and mediocre motion handling aren't what you'd see on a more premium TV, and color reproduction isn't perfect, but it's still one of the best 50-inch 4K smart TVs you'll find in this price range. Android TV offers a great smart TV experience, with built-in Chromecast and Google Assistant providing plenty of flexibility to keep up with Google's vast library of apps. With lag times under 14 milliseconds, the Hisense H8G is one of the best TVs under $500.
Last update was on: October 20, 2021 7:57 am
Konka U5 Android TV
The brand name may not be familiar, but if you want one of the best TVs under $500, the Konka U5 Android TV is the one to choose. With great smart capabilities thanks to Android TV – complete with integrated Chromecast and Google Assistant capabilities – the Konka offers great color and clarity and a fully featured smart experience at a budget-friendly price.
For a TV sold at such low prices, the Konka delivers unexpectedly good performance, with rich colors and good brightness compared to other TVs in its price range. The contrast could have been better and the sound quality will certainly benefit from adding a soundbar, but it is more than usable for watching TV and movies, and short lag times make for a decent gaming experience.
Last update was on: October 20, 2021 7:57 am
Insignia 4K Ultra HD Fire TV Edition
Amazon's Fire TV Edition TVs are often the first to go on sale when Amazon has a discount event, making them some of the most affordable and popular TVs on the market. But if you want the best Amazon Fire TV, it has to be the Insignia 4K Ultra HD Fire TV Edition (2020 model). With the 55-inch model selling for $429 at regular price, it is one of the most affordable 4K sets out there.
The Insignia also outshines other ultra-budget TVs (including the 2020 Toshiba 4K Fire TV Edition) with decent port selection and decent performance, which is more than we can say for many of the other competing low-cost TVs. While it's true that you get what you pay for – performance isn't top-of-the-line, gaming support is mediocre, and the Fire TV platform is a bit too Amazon-centric for our tastes – it's still a great option for casual viewers, and it's priced to sell. Overall, this is one of the best TVs under $500.
Last update was on: October 20, 2021 7:57 am
Vizio V-Series
If you're looking for low prices, the Vizio V Series (model 2020) may be just the budget-friendly 4K smart TV you're looking for. With exceptional affordability, Vizio's intelligent SmartCast software, and great gaming capabilities, this is a fantastic bargain even when it's not on sale – and it often is, as there are hefty discounts throughout the year. A trio of HDMI 2.1 ports offer gaming-friendly features, such as an auto low latency mode and impressively short lag times of just 13.1 milliseconds.
If you want great gaming performance for less, this is definitely the budget gaming TV to buy. Just keep in mind that this is a 60Hz display, so variable refresh rates and high refresh rates are off the table. And the overall performance is decent enough, but the brightness isn't great and the audio would benefit from adding a soundbar. Overall, this is one of the best TVs under $500.
Last update was on: October 20, 2021 7:57 am
LG 55UN7000PUB
The LG 55UN7000PUB is the best TV under $500 with wide viewing angles we tested. The 55-inch model we tested has an IPS panel, so the picture remains accurate when viewed from the side. You can also get the 50 and 60 inch models for under $500, but those have different panel types, so we don't know how they perform. This is an entry-level TV that is pretty basic and performs best for watching TV shows or sports.
While it's not bright enough to combat glare, it handles reflections well, so it still performs well in a room with a few lights. It has no problems upscaling lower resolution content, but it can't display a perfect 4k image because of its RGBW subpixel structure. This means it's better suited to cable TV or DVDs than the latest 4k movies, but that's somewhat to be expected for a cheap TV. The built-in webOS is easy to use and there are quite a few apps available for download. Overall, this is one of the best TVs under $500.
Last update was on: October 20, 2021 7:57 am
Samsung UN43TU8000FXZA
If you need a smaller gaming TV for your space, check out the Samsung UN43TU8000FXZA. It lacks VRR support and doesn't have as fast a response time as the Quantum 2020 of the Vizio M7 series, but unlike the Vizio, it's available in a 43-inch size, and has a higher contrast ratio. Although it has no local dimming feature, it still produces inky black colors that look great in the dark.
The monitor also has a remarkably low input delay, which makes gaming feel responsive. Despite handling reflections well, it doesn't get very bright, so it may have problems with glare in bright rooms. Viewing angles are narrow, so the image looks washed out from the side. Keep in mind that we tested the 55-inch model, but we expect the 43-inch to perform similarly. Overall, this is one of the best TVs under $500.
Last update was on: October 20, 2021 7:57 am
Conclusion
Nowadays almost every house is not complete without television. For this reason, there are different types of televisions from which you can choose. LED televisions are nowadays the trend with many interesting functions and different price categories. In most cases, however, you can buy a television with interesting features at an affordable price. There are many manufacturers who compete with each other to offer you the best deals. Above, we have mentioned Best TVs Under $500 that you can buy right now.