If you're looking for a primary, bare-bones VPN client for everyday tasks such as securely checking your email or watching geo-blocked videos, Encrypt.me has you covered. Just be prepared for a rather scanty user interface that can be a little confusing at first. Encrypt.me is a small and relatively new addition to the VPN community; however, that doesn't mean it doesn't have much to offer to the right kind of client. To find out if you are, keep reading our Encrypt.me VPN review.
Features
With 107 servers in 49 countries, Encrypt.me does not have the largest selection of servers, but it is wide enough to cover most bases, and with its relatively small user base, bandwidth should not be a problem. However, if we dig into the details, we can't say that Encrypt.me is the most secure VPN we've tested for a few reasons.
You have no choice in the protocol: macOS/Android clients use OpenVPN, Windows, and iOS apps use IPSec. Although this is not a problem in itself, different protocols offer different advantages, so be sure to feel comfortable with the protocol choices in question. Secondly, there is reasonably necessary logging in progress: records of incoming and virtual IP, sent and received bytes, time connected, and starting/end times are kept for 16 days.
Finally, Windows, Android, and iOS clients do not have a "kill switch." However, the OverCloak feature for Mac users blocks data leakage until a secure connection is established, which is a similar feature. However, it's strange how this is limited to Macs only.
On the positive side, we are happy to say that Encrypt.me has undergone (limited) third-party monitoring, which we believe all VPNs should do nowadays. None of the above security issues are catastrophic for Encrypt.me target audience is the average user who wants to monitor email securely and occasionally watch an overseas YouTube video. However, investigative journalists operating under authoritarian regimes should stay away.
We had no problems connecting to the US Netflix or BBC iPlayer even though the Encrypt.me website says explicitly that the service cannot be used to do this (and even recommends StrongVPN instead). However, as promised, neither Disney+ nor Amazon Prime worked.
Encrypt.me VPN review: Privacy and logging
Figuring out what a VPN provider does with your data can be a struggle. In our reviews, we often plow through thousands of words of fine print, FAQs, support pages, and more, and still don't come up with real answers. But Encrypt.me does it differently, with perhaps the most transparent and most detailed privacy policy we've ever seen.
All sections have clear and straightforward summaries, with no complicated legalese. Read on, and there's inevitably a lot more detail, but the text is accurate, well-formatted, and tells you exactly what you need to know.
Take, for example, logging. The company explains that, although it does not check where you go online, a record is kept of your last 16 days of session data: the incoming IP address, the virtual IP address, the bytes sent and received, the time you are connected, and the source port of each outgoing connection, with start and end time. (The latter records the existence of a connection, but not where it goes).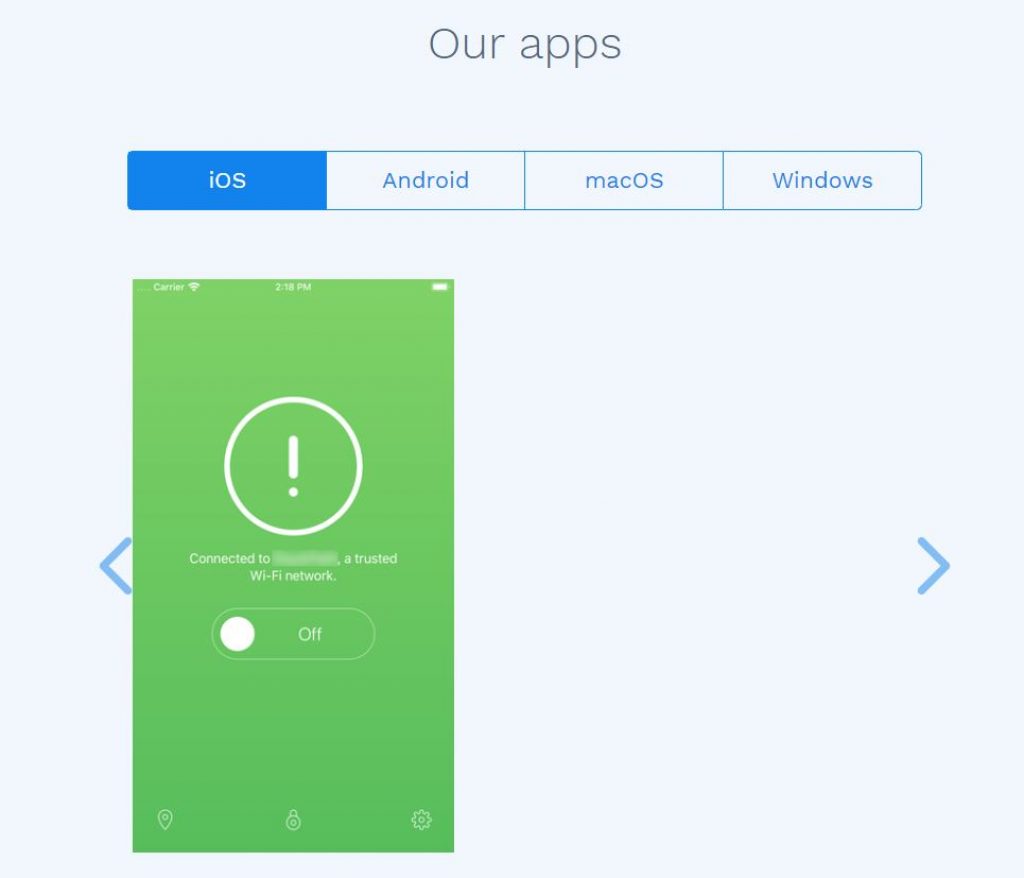 The company brought better news in September 2019, when it announced the results of a public audit. Encrypt.me had contracted Security Innovation consultancy to thoroughly test its apps 'and, to a limited extent, the Encrypt.me website', and issued a full report. Only two vulnerabilities were found, one low severity, one medium, and both were resolved before the report appeared.
However, this is not the most thorough check we have seen. For example, only the apps were examined in detail, and even then, Security Innovation didn't get the source. There is also no clear involvement in ongoing audits. This contrasts with TunnelBear, which now conducts an annual audit of the 'complete codebase, server infrastructure, website, and apps.'
Encrypt.me VPN review: Performance
Encrypt.me makes no claims about its website unblocking capabilities, saying that attempts 'may or may not work at some point' and 'this is not a market we serve.'
We tried the service anyway with a few platforms. It did much better than the company's official line might suggest, to get us into the US YouTube, BBC iPlayer, the UK and the US Netflix (Disney+ and Amazon Prime Video were the only failures). Encrypt.me is not the best choice to unblock because the company is not committed to supporting these services in the future, but at least at the moment, it is a reasonable performer.
There was even better news in our leak tests. Encrypt.me's apps provided excellent privacy protection, with no DNS or WebRTC leakage to jeopardize our identity, and our browsing was protected at all times. We found that our local UK servers averaged 67Mbps on a 75Mbps test line in the latest speed tests, very close to the maximum we would expect from a VPN.
However, the real highlight came in our U.S. tests, where Encrypt.me delivered an exceptionally consistent 225-240Mbps on our 600Mbps connection. We've seen a handful of VPNs deliver better results recently – NordVPN managed 260-290Mbps, Speedify a variable but fast 275-400Mbps – but Encrypt.me's performance trapped most of the competition.
Encrypt.me VPN review: Pricing and plans
Let's start with the basics. Encrypt.me offers a monthly rate of $9.99, which is about the industry standard, and an annual rate of $99.99, which is a little more expensive than many of its competitors. However, there are some attractive options here. First, you can get a one-week pass for $3.99, which is inexpensive and suitable for out-of-town business travel, for example – and, while it works out more per month than a service like Surfshark, you're not tied into a two-year plan.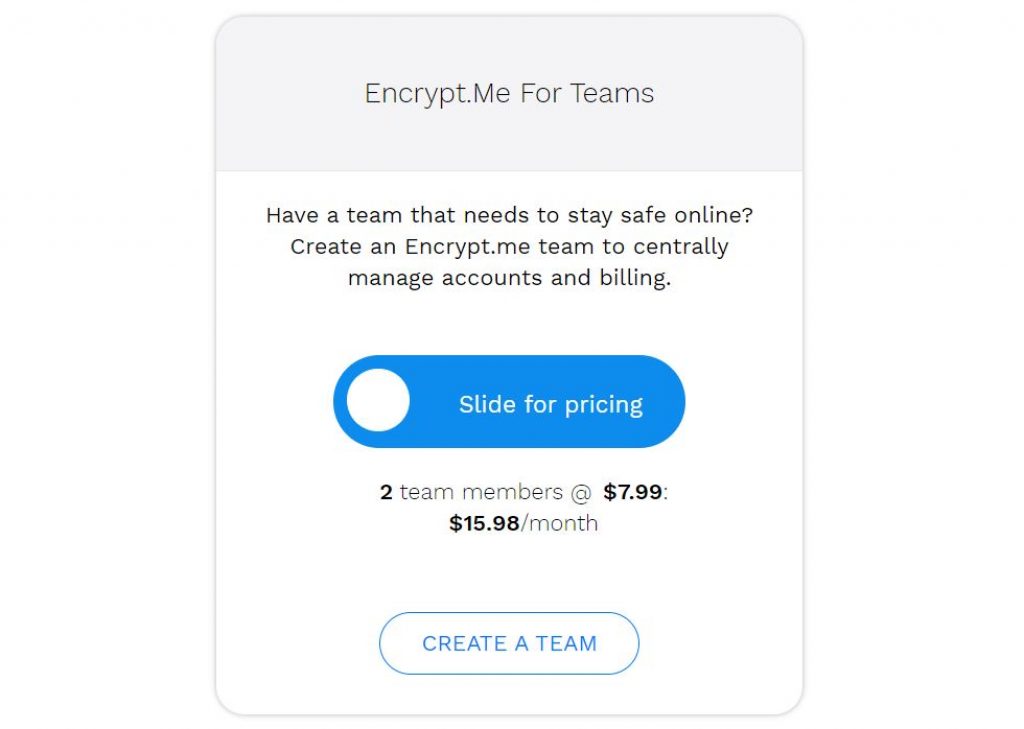 Families can save with a $12.99 per month or $149.99 per year plan that includes five licenses, while teams only pay $7.99 per month for up to 25 users, $6.99 per month for up to 100 users, $5.99 per month for more than that. A huge bonus is that all plans allow for an unlimited number of devices and simultaneous connections, which means you can cover your entire household with just one plan. A two-week trial period is also available without the need for payment information.
Encrypt.me VPN review: Customer support
Encrypt.me support is available in the form of a knowledge base or online chat. Our online chat experience was not great: we waited 10 minutes, and the advice we got to get our Windows client working was not enough. Besides, although the website claims that the live chat is open 24/7 while writing this article, the service is currently offline. As for the knowledge base, you should find answers to your most basic questions, but you won't find advanced troubleshooting here if you have a catch.
Final words
Encrypt.me is fast and has useful mobile apps, and has good plans suitable for individuals and teams. However, despite its focus on the tech unsavvy, some questionable design choices and a second-rate knowledge base make us reluctant to recommend it to novices. That said if you're looking for a VPN solution with no fuss to check your email from cafes securely and occasionally connect to YouTube overseas, logging the session.
The lack of a kill switch doesn't have to be a deal-breaker – plus the unusual fitting system that allows you to get cheap; short-term coverage is beneficial if you're not planning on being a regular user.
Our Verdict
Encrypt.me delivers good speeds and a bare-bones client that may appeal to some users. However, security enthusiasts will want to be wary of extensive logging, and those new to VPNs, despite the simplified interface, may want to reconsider given the second-rate user support.
PROS
Good connection speeds
Service has been externally audited
Successfully unblocks Netflix and others
Simple design
CONS
No customizability
Session logging
Somewhat pricey
No kill switch in Windows, iOS or Android