FastComet review: Some web hosting companies market themselves on features, others on power, price, or ease of use, but San Francisco-based FastComet strives to win in just about every department. Want a wide range of products to choose from? FastComet offers shared hosting, VPS, dedicated servers, WordPress hosting, a graphical website builder, WooCommerce, Magento, and more.
Even the most basic shared hosting product includes SSD only storage, a free CDN, Let's Encrypt SSL, SpamExperts spam filtering, malware scanning, free daily backups, cPanel site management, Softaculous for easy installation of WordPress and hundreds of other apps, and live chat support. This is our FastComet review.
Getting started
Many web hosts give only the most basic information about what is included in their various plans. You may need to spend time browsing the support site to find low-level technical details if any. FastComet is refreshingly different. The comparison table for shared hosting is full of information, and even the email section, for example, contains 16 separate items.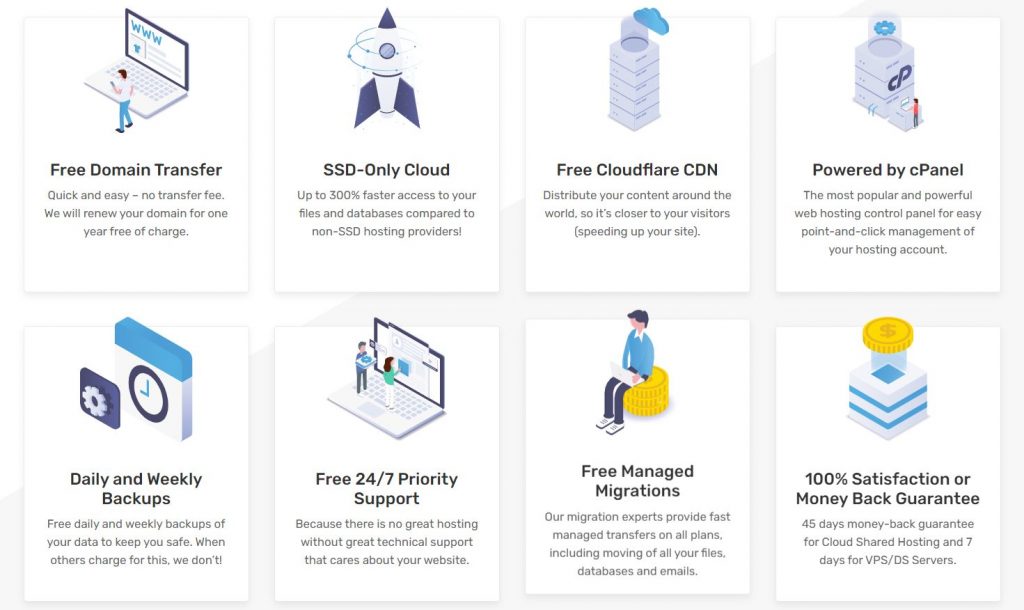 Although there are a lot of technical details here, it's not just for nerds. For example, the Mail Quotas panel explains that FastComet supports 50MB attachments and that the inbox size varies from 500MB to 2GB on the shared hosting plans. This is the kind of information that should be readily available before signing up for a hosting package, but this is rarely the case. Choose a plan, and signing up works much like usual: choose a domain, select a data center and the length of the subscription, choose a payment method (card or PayPal) and hand over your money.
All this went smoothly for us. On the purchase page, the renewal price was indicated, and the special deal made it clear that there would be a price increase at the bottom of the line. There are a handful of optional extras – search engine submission, SEO audit – but FastComet does not add them by default. The payment went as expected, and the company didn't hit us with requirements to verify our identity or any other hassle: it just sent us an email with our account details, and we were ready to go.
FastComet review: Creating a site
The company's custom dashboard manages FastComet accounts. This usually is bad news – most providers only use a custom control panel because they don't want to buy a WHMCS license – but surprisingly, FastComet's panel works very well. It covers all core areas of the service, including planning, domain management, billing, and support. There are useful shortcuts to everyday tasks, and a cleverly designed Observer Dashboard shows detailed site resource usage and keeps you informed of any alerts.
If you're not interested, that's no problem. As with any other hosting dashboard, you can view your account and start a standard cPanel installation with a single click.
Standard' might be a bit unfair, as FastComet has taken more opportunity to customize cPanel than usual. For instance, scroll down to the Software section, and you can use Softaculous to automate the installation of WordPress and hundreds of other top apps. But you can also launch FastComet's graphical website builder, browse its themes, maybe install and manage a Ghost blog.
If you prefer the do-it-yourself approach, there are plenty of manual options, from uploading files through the File Manager, creating and using FTP accounts, or creating and managing databases for phpMyAdmin and more.
Immediate help is available on the company's support site. This has a disappointing knowledge base with minimal content (only five articles on cPanel and WHM), but this seems to be because FastComet has spent its time on the Tutorials section. This section has a lot of useful advice that goes far beyond the basics.
For instance, the WordPress section starts by explaining how to install the app from within Softaculous. But then it continues by discussing the manual installation, configuring WordPress settings, installing a custom theme, managing messages, importing and exporting content, and even discussing useful plugins you might want to try.
If that doesn't help, you can open a chat window or a support ticket with just a few clicks. We talked to an agent within minutes, and he answered our test questions quickly and clearly.
FastComet review: Performance
Speed is essential, even with simple shared hosting – a non-responsive website will take many of your visitors elsewhere. We monitor performance by using Uptime.com to measure the availability and response time of our test site. This means that every 5 minutes, we download a page from our site, giving us a total of over 2,000 data points.
The average response time was only 231 ms, good news if the industry average for shared plans is closer to 300 ms. In fact, in our most recent tests, several providers with big names have never managed a 231ms response time in any of our checks (DreamHost, Hostwinds, Bluehost, more). Keep in mind that this is a test based on a provider's most basic shared hosting plan. Upgrade to a plan with more resources, or opt for cloud hosting, VPS, or dedicated product, and the results can be very different.
FastComet review: Pricing and plans
FastComet's pricing is not all it seems. Sure, shared hosting plans look great, starting from just $2.95 billed per month or more than one to three years. But that's more in line with the steep introductory discount, and the plan is renewed for $9.95.
It's a similar story with VPS plans, where even the baseline Cloud 1 product starts at $35.97 billed per month, $59.95 on renewal. That looks expensive, especially when some providers have a price of $10 per month or less, but look at the specifications and the reasons for that. You get 2GB of RAM, 50GB of storage, 2TB of bandwidth, twice what you see with some starter VPN plans. This is a fully managed product, with FastComet taking care of the low-level technology for you. CPanel, Softaculous, and WHM are included (they are often expensive extras elsewhere), and premium features such as daily backups and spam filtering are also included in the price.
FastComet might not be the best provider if you are looking for unlimited resources at the absolute lowest price. Still, suppose you are more interested in features and functionality. In that case, there is a lot to love, especially since the awesome money-back guarantee gives you 45 days to decide if FastComet is the provider for you.
FastComet review: Customer support
It is available 24 hours a day, seven days a week, 365 days a week, and can be reached via live chat, tickets, telephone, and e-mail. There is also a significant knowledge base and many step-by-step tutorials that even a complete beginner can follow and go from zero to hero.
Wonder why I said "really"? Because while many hosts advertise support 24/7, there are often surprises waiting for their unsuspecting users. After signing up, it's not uncommon to get a message that says something like, "Yes, we're always available! Only, you know, not now. Whether "now" is an hour, five, or all the time, depends on your luck.
Final words
FastComet is generally a great host, but if you're still unsure, let me make it easy for you. FastComet's prices can seem high, but that's mainly because they're full of high-end features that are usually paid for elsewhere (and the excellent results in our speed tests also deserve a small price premium). If hosting power is your top priority, try the company.
Our Verdict
FastComet is not the cheapest web host in the long run and it has some strict bandwidth limits, but even the most basic plans are filled with features, shared hosting performance is excellent, and convenient 24/7 support is just a click or two away.
PROS
Vast product range
Loads of features
cPanel, Softaculous, and a quality custom control panel
Great results in our speed tests
CONS
Above-average prices
Very basic support knowledgebase
Storage and bandwidth limits on some plans