VyprVPN review: For those who put safety and security above all else in their VPN, VyprVPN will be an exciting proposition. VyprVPN is known for its airtight privacy policy and the rare claim that it owns all the servers it uses; on paper, VyprVPN is a powerful contender. Add to that excellent features such as protocol camouflage and automatic connection on public Wi-Fi, and it looks like a fantastic product – but can its usability match the best security credentials?
In this full VyprVPN review, we'll take a thorough look at every aspect of this virtual private network, and at the end, you should be able to decide whether it's the best VPN for you and your needs.
VyprVPN review: Features
At first glance, VyprVPN does not have the largest or most impressive server network – the company controls only about 700 servers, most of which are in the US and Europe. However, VyprVPN does own all of its servers. This is a big problem, especially for privacy, because the VPN provider has authority over all additional software (including logging software) that runs on its servers.
Besides, one of the best features of VyprVPN is its privacy policy. The company provides a simple policy statement that clarifies that it does not log any of your data – it does not keep track of your IP address, browser history, or even timestamps when you connect to the VPN network.
Better yet, VyprVPN underwent an independent audit in 2018 to identify and eliminate any remaining privacy flaws. The results of the audit were then made public, significantly increasing our confidence in this provider. We want every VPN to do this, but unfortunately, VyprVPN is still in the minority.
Another unique feature that helps VyprVPN stand out from the pack is the Chameleon connection protocol. This is built on OpenVPN, but with a few tweaks to help hide the fact that you are using a VPN. If you need a VPN for China – or any other country that limits VPN usage, this additional coverage is essential. Of course, you can also switch to the more standard OpenVPN protocol.
VyprVPN also offers some useful security features. These include a kill switch and a toggle to automatically open a VPN connection when connecting to public Wi-Fi. The latter is especially useful for securing your devices if you don't always forget to activate the VPN manually.
VyprVPN review: Privacy
VyprVPN protects your privacy with well-chosen protocols and industry-standard power encryption. It supports the AES-256-GCM and SHA384 HMAC standard for OpenVPN, with TLS-ECDHE-RSA-2048 for Perfect Forward Secrecy. (This is a smart technique that ensures that a different key is used for each connection so that even if an attacker gets a private key, he can only access the data in that particular session).
WireGuard is now supported on all platforms. IKEv2 is also available and on more of the apps since our last review (it is now an option, e.g., Windows). After many other services, VyprVPN has now dropped support for the older protocols, PPTP and L2TP.
As we discussed, you can now also choose VyprVPN's Chameleon 2.0 protocol, which may allow you to bypass aggressive VPN blocking and connect. It is also a new option on the iOS app. We're not trying to test access from China, but VyprVPN is much more preoccupied with service issues than most providers and publishes details of any current issues on its Service Status page.
If you have problems connecting to the service, unblocking specific streaming sites, or anything else, the Service Status page usually has more information. We can't say if it contains every problem the company encounters. Still, it seems to be regularly updated with many useful details, and the fact that it exists is an excellent credit to VyprVPN. We wish other providers were just as forthright about their service difficulties.
Back to privacy: VyprVPN offers an encrypted, zero-knowledge DNS service, a convenient way to avoid "man-in-the-middle" attacks, DNS filtering, and other snooping strategies. Works for us, although if you're less satisfied with the idea, the apps also allow you to switch to a third-party service (enter all the IP addresses you need).
Individual customers also have privacy-protection technologies, including options to defend against DNS leaks and bundled kill switches to reduce the risk of data leaks if the VPN connection goes down. See individual app evaluations later in this review for more details.
VyprVPN review: Logging
Finding out a VPN's proper logging procedures may require you to look up an age in the privacy policy, terms of service, support documents, and more before trying to decide how much you can rely on what the provider has said.
VyprVPN immediately improves this with a privacy policy that comes directly to the point and explains no logging of source or destination IP addresses, connection start or stop times, user traffic, or DNS requests.
Even better, you don't have to take VyprVPN at its word because, in September 2018, the company hired Leviathan Security Group to audit the platform and produce a public report on its logging practices.
The results are available to everyone on the VyprVPN website and are enjoyable to read. Experts will find an enormous amount of detail about how VyprVPN works and the in-depth tests performed by the auditors (logging into servers, inspecting ongoing processes, examining the source code, and much more).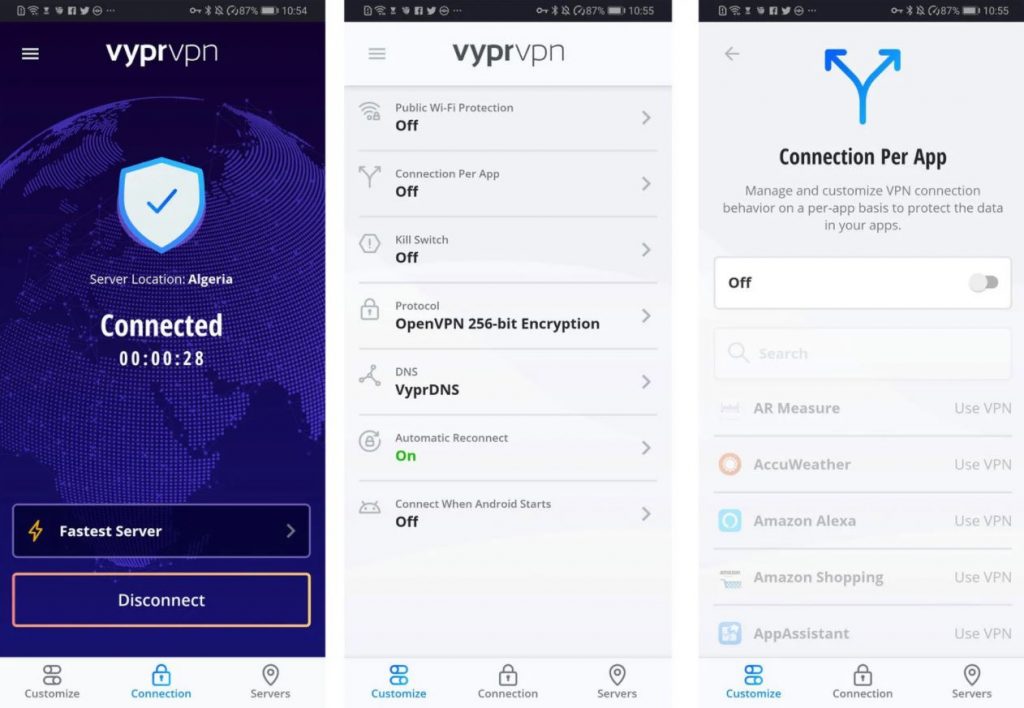 Everyone else can check the summary, which explains that the audit initially found a few limited problems ('from unintentional configuration errors'). Still, these were 'quickly resolved,' and 'as a result, can give VyprVPN users assurance that the company is not registering their VPN activity.'
While this is excellent news, and still much more than the majority of VPN providers have done, we hope VyprVPN will not stop there. It's been almost two years since this audit, enough time to solve new problems. TunnelBear now has annual security audits of its service (it has had three so far), and we'd like to see other providers do the same.
VyprVPN review: Performance
To understand the performance of a VPN in practice, we subject each service we assess to a series of intensive tests. Our VyprVPN checks started with setting up a custom script connected to all 73 VyprVPN locations via OpenVPN, measured the connection time and recorded any connection errors, and used geolocation to verify the server location, and performed ping tests to look for any latency issues. (And then we reran the script, to be on the safe side).
We had seven connection errors over our two runs (about 5% of our connection attempts.) That's slightly higher than average, but generally not bad, especially when using third-party software (we expect VyprVPN's apps to do a much better job of avoiding connection problems).
On the positive side, connection times were faster than our last review at about 4-5 seconds, latencies were as we would expect, and all 73 servers returned IP addresses from their advertised locations.
We then connected to our nearest VyprVPN server from two locations – a U.S. location with a 600Mbps test connection, a UK data center – and checked our speeds with the benchmark sites SpeedTest and TestMy. OpenVPN speeds were low everywhere, averaging 30Mbps in the UK, 50-70Mbps in the US.
However, the move to WireGuard made a big difference, for example, by increasing our UK speeds from 30Mbps to 140-180Mbps. This is a capable result that places VyprVPN in a similar performance range to Surfshark (150Mbps in a recent test) and ExpressVPN (160-170Mbps), although it still lags far behind NordVPN (340Mbps) and Hotspot Shield (360Mbps).
We verified worst-case performance by measuring download speeds from the UK to New Zealand, the most remote location on VyprVPN's list. The results were very reasonable at 15-20Mbps, enough for browsing and HD streaming.
VyprVPN review: Pricing and plans
VyprVPN costs $12.95 per month if you pay monthly – which may be quite expensive. However, if you are willing to commit to the software for longer, a one-year plan costs $3.75 per month, and a two-year program costs just $2.50 per month. That's quite advantageous even compared to other VPN budget providers. While it does not offer a VPN free trial, VyprVPN does offer a 30-day money-back guarantee, so if you are not sure, you can still test the software without risk. Each plan includes unlimited bandwidth and up to five concurrent VPN connections between devices.
However, for true privacy nuts, the lack of Bitcoin or other crypto credit support can be a drawback – VyprVPN only accepts payment with credit cards, PayPal or UnionPay.
Customer support
VyprVPN provides support via email or live chat. There is also a user forum, which seems to be quite active, with new messages appearing about once a week. The company's website also has quite a bit of documentation that you can use for troubleshooting. There is a whole section dedicated to passing through China's infamous Great Firewall, as well as a simple link for finding information about the network or nationwide service issues.
Final words
VyprVPN review does almost everything right and offers excellent value to its longer plans. We are thrilled that this VPN provider owns all of its servers and has publicly audited its logging practices to maximize user privacy. Meanwhile, features such as the Chameleon protocol and automatic VPN connections on public WiFi are incredibly convenient. However, we would like to see better performance and a more extensive server network in the future. But, given that the service is relatively inexpensive, these are far from being fatal.
Our Verdict
VyprVPN is doing well. We like that it owns all of its own servers and has publicly audited its own logging practices, and features such as the Chameleon protocol and automatic VPN connections on public WiFi are extremely useful. We would like to see better performance and a more extensive server network, but these are far from fatal mistakes.
PROS
Owns all the servers it uses
Publicly audited no-logging claims
Tons of apps for almost everything
Nifty features like auto-connect on public Wi-Fi
CONS
Performance is lackluster
Small server network