Technology continues to change the world around us and the realm of DJs has certainly not been an exception. In the old days, when I first started with a Stanton mixer and two turntables that I had received for Christmas and bought my parents at a garage sale, I thought I would have had them made. Although I think about it now, it was much more difficult than I thought it would be – watching the DJs from Scribble Jam made me think I could be like them in no time.
Boy, I was wrong, but through practice, I eventually learned it. Back to now, with the rising popularity of digital systems based setups, we have received some useful and versatile DJ tools, especially for those who were just like us who started first and started DJing. Today we did some research and found the Best DJ Controllers For Beginners.
Best DJ Controllers For Beginners List
Navigating through the vast jungle of DJ controllers in today's market can often be a challenge for a beginner. Jog wheels, loop and effect controls, microphone inputs, integrated sound cards, and a variety of controllers that offer multiple functions to enhance your mix. In this article, we have selected the Best DJ Controllers For Beginners can start mixing from their computers and take their first steps in the world of DJing.
Pioneer DJ DDJ-200
Pioneer's CDJs are pretty much the industry standard, and their extensive range of mid- and pro-level DJ controllers are consistently among the best on the market. Their DDJ-200 offers a stripped-down version of these higher-end devices, with jog wheels, a simple mixer and performance pads that look the part without overloading novice DJs with complexity.
On the software front, the DDJ-200 can be used with Algoriddim Djay, edjing Mix or Pioneer's own rekordbox and WeDJ applications. The latter is an iOS/Android app with some great tutorial features aimed at getting newbies up to speed with the basics of DJing. The ability to move up to the more pro-featured rekordbox software also provides a nice route to advanced mixing.
The DDJ-200 is equipped with Bluetooth to connect wirelessly to mobile devices or laptops, and its power requirements are low enough that it can run smoothly on a portable USB charger. The WeDJ app also allows users to mix with tracks from SoundCloud Go+ or Beatport LINK – although separate subscriptions to these services are required. Overall, this is one of the best DJ controllers for beginners.
Last update was on: September 20, 2021 12:59 pm
Numark Mixtrack Platinum FX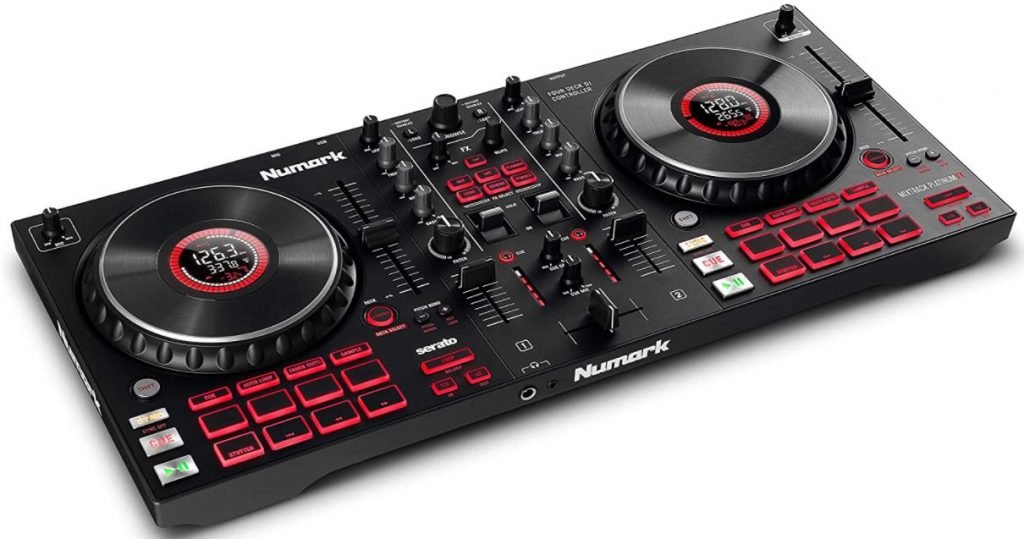 Numark's Mixtrack series is one of the longest standing names in entry-level DJing and has always brought a great balance of features for a low price. The newest addition, the Platinum FX, is perhaps the best value for money yet. The Platinum FX is the top end of the Mixtrack controller, meaning it has professional features like 4-deck mixing, large jog wheels with hi-res displays and a microphone input. The FX part of the name represents the addition of a range of cool performance/remix tools such as Hot Cues, Auto Loop, Sampling and Fader Cuts.
There are also a few handy switches designed for quick access to Serato's built-in effects. All of this adds up to a lot of potential fun, making seemingly advanced DJ tricks easy to pull off. Although the Platinum FX is probably the best value for money, if you can live without 4-deck mixing and the jog wheel displays, the Mixtrack Pro FX offers many of the same features for about $/£50 cheaper than the Platinum. Overall, this is one of the best DJ controllers for beginners.
Last update was on: September 20, 2021 12:59 pm
Numark DJ2GO2
When it comes to balancing size and features, Numark's updated DJ2GO is one of the most jam-packed DJ controllers on the market. Its slim shape can rightfully be called pocket-sized, but the unit still has room for two jog wheels, a crossfader, a built-in interface and four performance pads for each deck.
Numark claims that the DJ2GO2's touch-capacitive jog wheels are capable of scratching, which is technically true, although their compact size makes them too awkward for moves with real finesse. Still, there's plenty of fun to be had here. The controller is designed for use right out of the box with the free Serato DJ Lite, but it's mapped and ready to use with the full paid version-as well as other software-if and when you're ready to upgrade. Overall, this is one of the best DJ controllers for beginners.
Last update was on: September 20, 2021 12:59 pm
Roland DJ-202
Roland is a relative newcomer to the field of DJ equipment, but its controllers have a great USP: emulations of the brand's iconic 808, 909 and 707 drum machines are packed into the controller itself. There are fewer controls here than on the more expensive DJ-505 and DJ-808 controllers, which means sequencing those drum sounds is a little trickier. That said, the generously sized performance pads are still more than enough to allow users to jam drum patterns on the fly, mid-mix.
The DJ-202 also includes a microphone input and several onboard vocal effects, including a gate, filters, reverb and echo. Software-wise, the DJ-202 is designed for use with Serato Lite (included), but if you own or purchase a Serato Pro license, the 202 is fully mapped to take advantage of the software's more pro-level features. You're paying for those quality drum sounds and vocal effects here, so if those appeal to you, this is a decent value package, otherwise you might get more for your money elsewhere.
Last update was on: September 20, 2021 12:59 pm
Hercules DJControl Inpulse 200
The Inpulse range from Hercules is designed for DJs just starting out. Not only are they affordable and easy to use, but they have also been specifically designed to teach you how to mix. The controllers come with Hercules' proprietary DJUCED software, which uses integrated video tutorials and a light guide on the controller itself to show you what-what to do.
These tools are coupled with visual "beat align" guides to visualize the synchronization of your two decks, along with an "Intelligent Music Assistant" tool, which automatically suggests the next track to keep your mix going.
The controller itself is a bit toy-like and, unlike most controllers in this roundup, there is no real integration with any of the major DJ applications (Serato, Traktor, Rekordbox). However, the price is very affordable and for younger budding DJs, this might be the perfect controller. Overall, this is one of the best DJ controllers for beginners.
Last update was on: September 20, 2021 12:59 pm
Numark Party Mix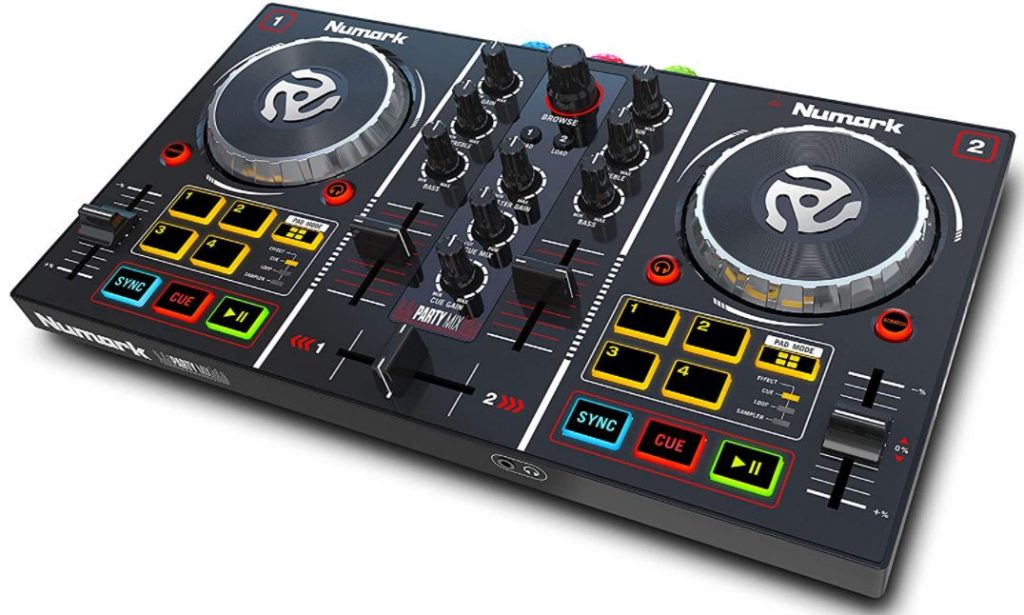 A bit gimmicky and toy-like, but nevertheless pleasantly affordable and fun, the USP of Numark's Party Mix lies in the trio of LEDs along the front edge. These provide what Numark calls a "built-in light show. This is perhaps a bit of an exaggeration – basically it's three colored lights that flash in sync with the tempo of your tracks; a nice little effect but with little variation and not enough presence to make a difference in an environment larger than a small house party.
Cynicism aside, the Party Mix boasts a fair number of features for its price, including two jog wheels, faders, EQ controls and performance pads for each deck. You can also turn off the lights if you wish. Overall, this is one of the best DJ controllers for beginners.
Last update was on: September 20, 2021 12:59 pm
Numark Mixtrack 3
We wanted to choose a controller that gave us all the necessary functions in a DJ controller that can offer beginners an all-in-one experience. First, Numark DJ equipment is one of the biggest names in the DJ industry, so we get confidence in the brand's reputation. They have a majority of the market in terms of DJ controllers and popularity, and the Mixtrack 3 is one of our favorites. To make this the best DJ controllers for beginners, we first have two units for scratching to emulate turntables. They are of very nice quality and you can also stop a song by touching the top of the plateau.
Best DJ Controllers Under $200
You can also adjust the pitch and tap in the loop, sample, and hot cue mode to continue playing your sounds. The mixer in the middle is also solid, though not too fancy with crazy features: you get a crossfader (the landmark of a DJ setup), 3-band EQ to mess with the levels and filters, and a big plus that we Great find is the library navigation in case you want to do everything from the controller and do not run around with your mouse to browse through tracks and sound Overall, this is one of the best DJ controllers for beginners.
Last update was on: September 20, 2021 12:59 pm
Behringer CMD Studio 4A
Behringer is one of our favorite brands of music equipment because they literally make everything. They are cheaper in price than many others but give us a solid, long-lasting machine park without many luxury things attached to it. The nice thing about this is the control with 4 decks and the built-in audio interface (gives us a slightly better sound quality when we record the sounds).
It also comes with a software called Deckadance LE software (made by the same makers of Fruity Loops) and is compatible with most of those that exist when you have another workstation. The sensitive signs are 6 "and are great to scratch on, grab it if you have a few dollars, need a built-in audio interface, but do not mind missing the performance pads again. Overall, this is one of the best DJ controllers for beginners.
Last update was on: September 20, 2021 12:59 pm
Pioneer DDJ-SB
We love Pioneer equipment because of the long-term construction they offer. Here is a better DJ controller and if you learn the functions, you can be better off in the long term. It is USB powered and has a built-in sound card and offers us some extras such as a filter fade function, hot cue, manual loop, and sampler functions. We also love it (cannot you tell our fascination?) Because of the built-in performance pads, although only four on each side. Finally, we like the fact that it comes with a Serato DJ intro so that you can try one of the (if not the most popular) DJ software in the world. Overall, this is one of the best DJ controllers for beginners.
Last update was on: September 20, 2021 12:59 pm
Native Instruments Traktor Kontrol S2 MK2
We can not even count how many controllers Native Instruments has for their Traktor software, but we wanted to offer this option in case you wanted to go this route. This is by far one of the best DJ controllers for beginners if there was no money. It mainly comes with their famous Traktor DJ software, but it also gives us some handy hands-on operation. The performance pads are of extremely nice quality, you get a microphone input, song management with direct iTunes integration, and more. Not to mention it works well with iPad and iPhone software if you are interested in this.
It would be more of a long-term plan by purchasing one of the Native Instruments' pieces of acceleration and Traktor DJ software (although this is included). Once you have purchased the bundle, you can always add the add-on to the set-up with their other different controllers and add-ons. Many people swear by Traktor while others are Serato DJ, but if you are a beginner grabbing a controller we mentioned earlier and trying out their trial software is probably the best choice. Overall, this is one of the best DJ controllers for beginners.
Last update was on: September 20, 2021 12:59 pm